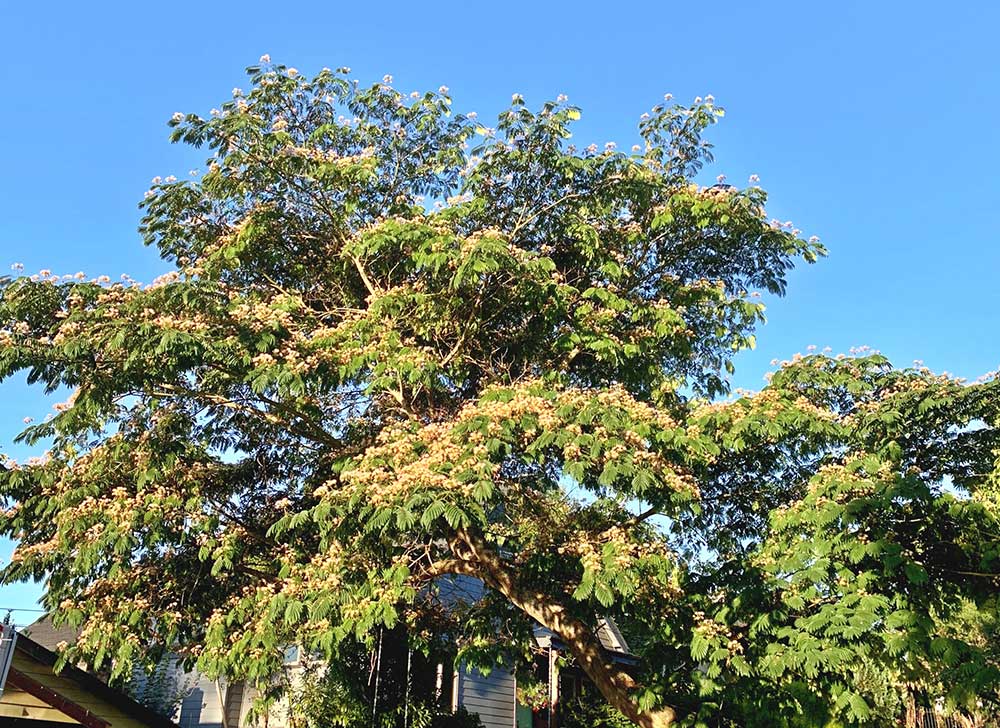 Tree-dimensional Tacoma: Mimosa Tree
"This week's Tree-dimensional Tacoma is just southwest of Mason Middle School in the Proctor District. If you head down North 28th Street between Stevens and Mason, you might notice some delicate pink flowers in a small but sprawling tree on the right side of the road. And if you see it, you will know it as a mimosa tree, Albizia julibrissin," says Sarah Low, executive director of the Tacoma Tree Foundation. "Mimosa trees, also called silk trees (the name "julibrissin" comes from the Persian word for "silk") can be seen here and there in Tacoma. The lovely, puffy flowers close up at night or during storms and open up again with the sun. I have a particular fondness for plants that are so visibly responsive to environmental conditions."
This mimosa tree is this week's Tree-dimensional Tacoma, Peaks & Pints' weekly Tacoma tree column. Inspired by our house beer, Kulshan Brewing Tree-dimensional IPA, Peaks & Pints branches out for a weekly look at terrific trees of Tacoma, in conjunction with our friends at Tacoma Tree Foundation.
"Mimosas were once very popular and widely planted on the East Coast but were eventually identified as highly invasive spreading along highways and railroad tracks," continues Low. "Luckily, in our region, mimosas do not currently exhibit the same tendency to take over, so we can admire the beauty of the flower and appreciate the dappled shade under the canopy of the occasional yard tree."
Check out this mimosa tree, and then head a few block east for a Campfire Crowler fill of Tree-dimensional IPA (6.8%) at Peaks & Pints. Kulshan Brewing collaborated with the Tacoma craft beer lodge on their house beer. Paying homage to the outdoor enthusiasts who join Peaks daily in Tacoma's Proctor District, Tree-dimensional IPA is the perfect beer to toast the powder, currents or trails, as well as reveal the sprains. Tree-dimensional IPA, or Tree-D, continues Peaks & Pints' love affair with old school piney IPAs, this time brewed with Simcoe, Idaho 7, CTZ, Centennial, and whole leaf Cascade in the hop back for all the pine, a little citrus, with a creamy mouthfeel and bitter finish.
Tacoma Tree Foundation is dedicated to educating, empowering, and supporting community members in neighborhood-based greening. In other words, the Tacoma organization strives for a greener, healthier, more connected Tacoma — which plants well with Peaks and Pints.
LINK: Kulshan brews Peaks and Pints Tree-dimensional IPA
LINK: Tree-dimensional Tacoma: Sugar Maple
LINK: Tree-dimensional Tacoma: Tulip Poplar
LINK: Tree-dimensional Tacoma: Giant Sequoia
LINK: Tree-dimensional Tacoma: Pin Oak
LINK: Tree-dimensional Tacoma: Douglas Fir
LINK: Tree-dimensional Tacoma: Incense Cedar
LINK: Tree-dimensional Tacoma: Plume Sawara Cypress
LINK: Tree-dimensional Tacoma: Western Red Cedar
LINK: Tree-dimensional Tacoma: Ponderosa lemon hybrid
LINK: Tree-dimensional Tacoma: London planetrees
LINK: Tree-dimensional Tacoma: "Vanderwolf's Pyramid" limber pine
LINK: Tree-dimensional Tacoma: Pacific Madrone
LINK: Tree-dimensional Tacoma: Bradford callery pear
LINK: Tree-dimensional Tacoma: Birth Trees
LINK: Tree-dimensional Tacoma: Red Maple
LINK: Tree-dimensional Tacoma: Magnolias
LINK: Tree-dimensional Tacoma: Western Hemlock
LINK: Tree-dimensional Tacoma: Yoshino Cherry
LINK: Tree-dimensional Tacoma: Weeping Willow
LINK: Tree-dimensional Tacoma: Dunkeld Larch
LINK: Tree-dimensional Tacoma: Flowering Dogwood
LINK: Tree-dimensional Tacoma: Sequoiadendron Giganteum "Pendulum"
LINK: Tree-dimensional Tacoma: Cimmaron Ash
LINK: Tree-dimensional Tacoma: Scarlet Oak
LINK: Tree-dimensional Tacoma: Bigleaf Maple
LINK: Tree-dimensional Tacoma: Garry Oak and Chief Leschi
LINK: Tree-dimensional Tacoma: Northern Red Oak
LINK: Tree-dimensional Tacoma: Kousa Dogwood
LINK: Tree-dimensional Tacoma: Austrian Pine
LINK: Tree-dimensional Tacoma: Cedar of Lebanon
LINK: Tree-dimensional Tacoma: Copper Beech and Giant Sequoia
LINK: Tree-dimensional Tacoma: Deodar Cedar
LINK: Tree-dimensional Tacoma: Southern Magnolia
LINK: Tree-dimensional Tacoma: Fig Tree
---