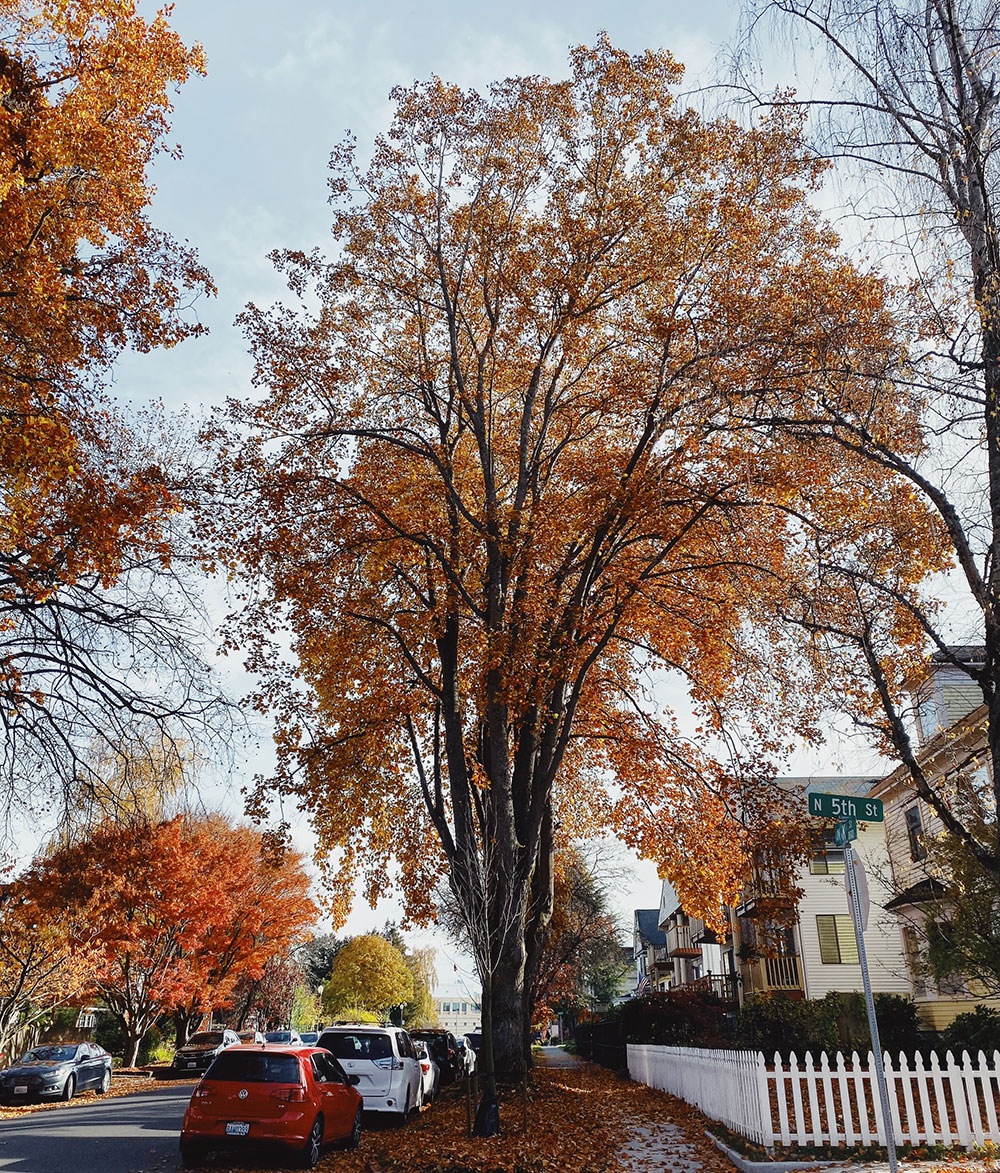 Tree-dimensional Tacoma: Tulip Poplar
"There is a really terrific tulip poplar at the corner of Fifth and K streets," says Tacoma Tree Foundation Executive Director Sarah Low. "It's special because the community members who admire the tree protected it from removal about year ago when a street improvement project was set to cut it down. The result of saving the tree led to a different design at the intersection which reduced the amount of impervious surfaces, such as reduced flooding and stormwater runoff, and has a traffic calming effect on the intersection. All sorts of benefits came from people speaking up on behalf of the tree. It might even still have some leaves on it for a little bit."
Sounds like a popular poplar, which fits Tree-dimensional Tacoma, Peaks and Pints' weekly Tacoma tree column. Inspired by our house beer, Kulshan Brewing Tree-dimensional IPA, Peaks and Pints branches out for a weekly look at terrific trees of Tacoma, in conjunction with our friends at Tacoma Tree Foundation. This week, the TTF recommends Tree-dimensional Tacoma: Tulip Poplar.
A member of the magnolia family, tulip poplar (Liriodendron tulipifera) receives its name from the deeply lobed, bright-green leaves shaped like tulips. The trees have straight, dark gray trunks up to 3 feet wide. Tulip poplars also produce tulip-shaped yellow-and-orange, cup-shaped flowers in summer, followed by cones that emit "winged" seeds.
While the tall, pyramidal canopy of brilliant green leaves is attractive in spring and summer, tulip poplars are among the first trees to change color in the fall, as you can see at Fifth and K. The large leaves turn a dazzling yellow, which is one reason the tree is also called yellow poplar.
Check out the magnificent tulip poplar in Tacoma's North Slope neighborhood, then head to Peaks and Pints for a Tree-dimensional IPA (6.4%). Kulshan Brewing collaborated with Peaks and Pines on the Tacoma craft beer lodge's house beer, Tree-dimensional-IPA. Paying homage to the outdoor enthusiasts who join Peaks daily in Tacoma's Proctor District, Tree-dimension IPA is the perfect beer to toast the powder, currents or trails, as well as reveal the sprains. Tree-dimensional IPA, or Tree-D, continues Peaks & Pints' love affair with old school piney IPAs, this time brewed with Simcoe, Idaho 7, CTZ, Centennial, and whole leaf Cascade in the hop back for all the pine, plus creamy mouthfeel and bitter finish.
Tacoma Tree Foundation is dedicated to educating, empowering, and supporting community members in neighborhood-based greening. In other words, the Tacoma organization strives for a greener, healthier, more connected Tacoma — which plants well with Peaks and Pints. We will host TTF fundraisers during Tree-dimensional IPA's reign as our house beer, which pours through October 2020.
LINK: Kulshan brews Peaks and Pints Tree-dimensional IPA
LINK: Tree-dimensional Tacoma: Sugar Maple
---