Tree-dimensional Tacoma: Sugar Maple
Walt Whitman wrote in his preface to Leaves of Grass, "Whatever satisfies the soul is truth." Peaks and Pints' soul-satisfying spots can be found under trees. Inspired by our house beer, Kulshan Brewing Tree-dimensional IPA, Peaks and Pints branches out for a weekly look at terrific trees of Tacoma, in conjunction with our friends at Tacoma Tree Foundation. The TTF recommends we kick the series off this week with Tree-dimensional Tacoma: Sugar Maple.
Sure, it's lost all its leaves, and probably feeling really naked, but the sugar maple in Tacoma's Wright Park is definitely Tree-dimensional material. It's the largest sugar maple in Washington state, as well as maybe the most popular tree in the 27-acre park nestled between Tacoma's North Slope, Stadium District, Wedge District and St. Helens neighborhood. Wright Park was first established in the late 1800s with 20 acres donated by Charles B. Wright. Now at 27 acres, much of planting dates back to the 1890s. Many of those saplings are now impressive giants, including the sugar maple planted in 1895, dubbed a "Champion Tree" by author Robert Van Pelt.
In botanical circles, the sugar maple goes by Acer saccharum. The word Acer may be derived from the Celtic word ac, which meant "hard" and likely referred to the denseness of the wood. Acer is also Latin for "sharp," which may refer to its pointed leaves. Saccharum is the Latin word for sugar and certainly refers to the sugar content of its sap, which is about twice that of other maples. Best known for its syrup, the sugar maple supports one of the largest industries in the United States, producing nearly two million gallons of maple syrup every year valued between $29 and $42 million. In other circles the sugar maple has ben dubbed "hard maple," "rock maple" and "bird's eye maple," large tree in the soapberry family (Sapindaceae), native to eastern North America and widely grown as an ornamental and shade tree. One of the best of the larger shade trees, sugar maple is Canada's national tree, as represented by the maple leaf on its flag.
"There isn't another tree that is quite so sweet," says Tacoma Tree Foundation Executive Director Sarah Low. "It is easy to admire the lovely fall colors and indulge in the tasty maple syrup, but what might not be so obvious is how sensitive maples are to weather conditions. The amount of sap that flows and the amount of sugar in that sap is directly related to temperature conditions. In order to have the delicious syrup we enjoy on pancakes, the late winter days need to be warm enough for sap to flow, but if it is too warm the sap will have a low sugar content, and when it gets even warmer the sap stops flowing all together. So, when you are marveling over the fall beauty of the leaves or taking a bite of your favorite maple covered food, you might pause to appreciate how in tune the maple tree is to the world around us."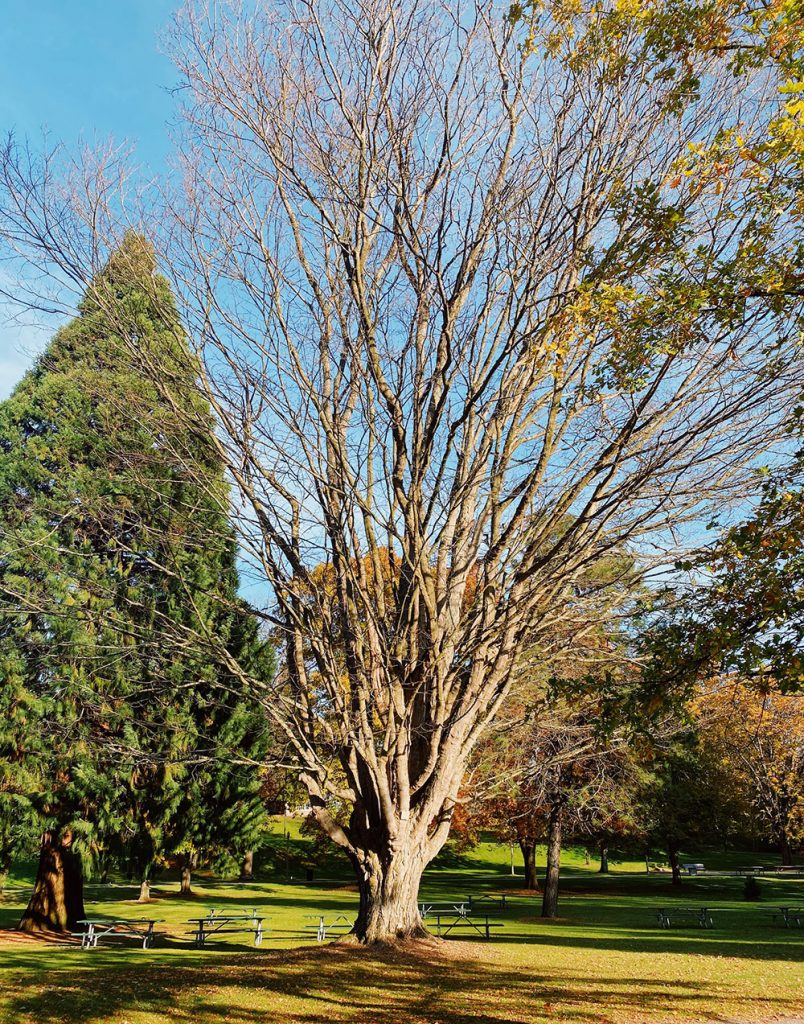 Check out the magnificent sugar maple is Wright Park, then head to Peaks and Pints for a Tree-dimensional IPA (6.4%). Kulshan Brewing collaborated with Peaks and Pines on the Tacoma craft beer lodge's house beer, Tree-dimensional-IPA. Paying homage to the outdoor enthusiasts who join Peaks daily in Tacoma's Proctor District, Tree-dimension IPA is the perfect beer to toast the powder, currents or trails, as well as reveal the sprains. Tree-dimensional IPA, or Tree-D, continues Peaks & Pints' love affair with old school piney IPAs, this time brewed with Simcoe, Idaho 7, CTZ, Centennial, and whole leaf Cascade in the hop back for all the pine, plus creamy mouthfeel and bitter finish.
Tacoma Tree Foundation is dedicated to educating, empowering, and supporting community members in neighborhood-based greening. In other words, the Tacoma organization strives for a greener, healthier, more connected Tacoma — which plants well with Peaks and Pints. We will host TTF fundraisers during Tree-dimensional IPA's reign as our house beer, which pours through October 2020.
LINK: Kulshan brews Peaks and Pints Tree-dimensional IPA
---