Picture this: you go through a mental checklist while deciding where to meet friends after work. A great beer? That's a must. Some good goes-with-beer food? That's Peaks and Pints in Tacoma's vibrant Proctor neighborhood. Peaks and Pints co-founders Robby and Justin Peterson — owners of Peterson Bros. 1111 on Hilltop Tacoma and The Valley near Tacoma's Amtrak Station — created the Peaks and Pints food menu, which includes their sandwich, salad and appetizer talents.
Order Peaks and Pints via Uber Eats
Order Peaks and Pints via Grub Hub
Save
Sandwiches
Peaks and Pints sandwiches are served with a bag of Tim's chips — Original, Jalapeño or Salt & Vinegar — and pickle chips. You may substitute a side salad or daily soup special for $2.25.
THE ROASTMARY
Choice roast beef, smoked Gouda, red onion and rosemary mayonnaise on marbled rye bread / $9.99
Suggested Beer Pairing: Brown Ale
Our roast beef sandwich is a wonderful thing: succulent paper-thin slivers of choice roast beef, perched on marbled rye bread, slathered with Gouda and rosemary mayonnaise.
Beer geeks and craft brewers tend to turn their noses up at brown ales because they lack the extreme flavors and hoppiness that is fashionable, but these are tasty beers that pair well with many different foods. The dark and rich notes of chocolate and coffee complement Peaks and Pints' roast beef and smoked Gouda sandwich. It's simple, hearty and delicious.
Suggested brown ales: Alaskan Heritage Coffee Brown, AleSmith Nut Brown, Avery Ellie's Brown, Dogfish Indian Brown, Rogue Hazelnut Brown Nectar, Sam Smith Nut Brown
THE ORLEANS
Ham, pepperoni, salami, Kalamata, green + black olive tapenade and melted provolone with spicy mayonnaise on herb French bread / $9.99
Suggested Beer Pairing: Sour/Wild Ales
Peaks and Pints' sandwich, The Orleans, is a twist on a New Orleans' muffuletta, which is as twist on an Italian sub. Our hearty sandwich is served on a soft, herb French roll and liberally filled with ham, pepperoni, salami and melted provolone. The ingredient that really sets this sandwich apart is the Kalamata/green and black olive tapenade.
Beers are soured by introducing acidifying bacteria (Lactobacillus and Pediococcus being the most common) to fermenting beer. Wild beer is generally used to describe any beer that displays the earthy characteristics of Brettanomyces yeast strains regardless of whether the beer is a light golden ale or a strong dark stout. Often these styles receive all three of the bacteria to blend a funky, sour character that cause beer geeks to freak out. A sour beer will play up the tartness from the olives and cut the fattiness of the meats.
Suggested sour/wild ales: Brabandere Petrus Oud Bruin, Duchesse de Bourgogne, E9 Nefelibata, New Belgium Le Terrior, Rodenbach Grand Cru, The Breury Terreaux Tart of Darkness
HAM + PESTO GRINDER
Ham, Parmesan cheese shavings, red onion, tomato and arugula with a light spread of mayonnaise and pesto on sourdough bread / $9.99
THE SHERPA
Turkey, goat cheese, arugula, red onion, tomato and spicy mayonnaise on French bread /$9.99
Suggested Beer Pairing: Pilsners
The Sherpa delivers robust flavor using simple ingredients. French bread is smothered with goat cheese then topped with arugula, red onion, tomato, warmed slices of roasted turkey and a dash of spicy mayo.
Goat cheese has a distinct, tart, sweet and earthy flavor. It pairs well with IPAs and saisons, but Peaks and Pints grabs a pilsner when we sit down with The Sherpa. Pilsner might be the most versatile food beer, with hops being able to cut through the spicy mayo and enough bubbles to cleanse the palate after the goat cheese. When in doubt, grab a pils.
Suggested pilsners: Ayinger Bavarian Pils, Breakside Pilsner, pFriem Pilsner, Reubens Brews Pilsner and 7 Seas 235 Pilsner
THE RAINIER
Field roast loaf, chao vegan cheese, herbed vegan mayonnaise, tomato, red onion and arugula on sourdough bread / 9.99
BEEF + BEECHER'S
Choice roast beef, Beecher's aged white cheddar with mayonnaise on toasted French bread /9.99
AGED WHITE CHEDDAR TUNA MELT
Beecher's aged white cheddar, tuna salad and tomatoes on toasted sourdough bread / 9.99, add bacon $2 or try it on marbled rye bread
PESTO PASTRAMI
Brisket pastrami, pesto, melted provolone, tomato and red onions on herb French bread / 9.99
CHICKEN BACON GORGONZOLA
Chicken breast, bacon, garlic gorgonzola spread, arugula and tomato on French bread / 9.99
ITALIAN GRINDER
Ham, pepperoni, salami, provolone, Caesar dressing and fresh tomato on herb French / 9.99
PEAKS REUBEN
Thinly-sliced brisket pastrami, creamy Havarti, sauerkraut and housemade 1000 on marble rye bread / 9.99
Although the origins of the Reuben sandwich are unclear, the earliest references to it in print are New York-based. According to one account, it was created by Arnold Reuben, the German owner of the now defunct Reuben's Delicatessen in New York City. Regardless of its origin, it's delicious and made even more so at Peaks and Pints, with thinly sliced brisket pastrami, creamy Havarti, sauerkraut and housemade 1000 on marbled rye bread.
Suggested Beer Pairing: Citrus IPA
It's an outstanding sandwich on its own, but it gets even better when paired with a drink that enhances all the ingredients, such as a pungent beer like an IPA. The bitterness of an IPA doesn't get lost amongst the liberally seasoned and smoked deli meat, rye bread and sauerkraut. The citrusy finish from the beer will quench your thirst after the salty pastrami.
Suggested citrus IPAs: Stone Tangerine Express, Track 7 Blood Orange Transfusion, Ballast Point Grapefruit Sculpin and Dogfish Head Flesh & Blood
BBQ TURKEY BLEU
Roasted turkey, provolone, bleu cheese, light barbecue sauce, arugula and red onion on sourdough bread / $9.99
Suggested Beer Pairing: Stout
Between the roasted turkey meat, blue cheese crumbles, provolone and barbecue sauce, Peaks and Pints' barbecue turkey sandwich is packed with a powerful punch of flavor. Add red onion, arugula and toasted sourdough and this sandwich screams for a stout.
Stouts feature barley malt roasted like coffee beans, and the flavors created in the process — chocolate, coffee and even smoky char — mirror many flavors present in barbecue sauce. These "flavor bridges" create a pleasing harmony that can elevate both the sandwich and the brew and even reveal subtle flavors in one (or both) that are easy to miss on their own. The blue cheese's sharp flavor is a better foil for the roastier notes in a stout, too.
Suggested stouts: Deschutes Obsidian Stout, Oskar Blues Ten Fidy Imperial Stout, Pelican Tsunami Stout, Sierra Nevada Narwal Imperial Stout, Skookum Murder of Crows Imperial Stout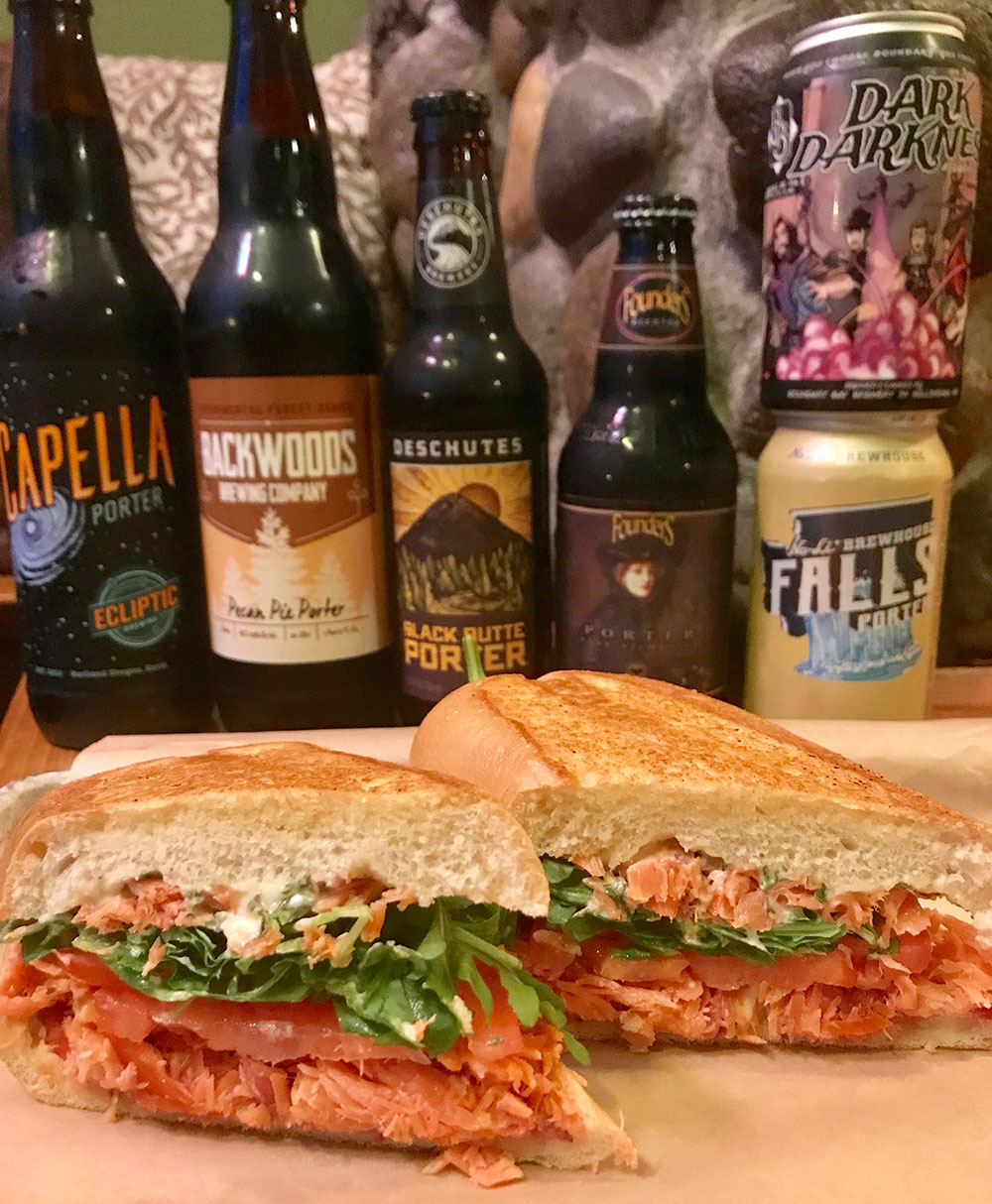 SMOKED SALMON BLT
Red King smoked salmon, bacon, arugula, tomato and herb mayonnaise on a toasted French roll / 9.99
Suggested Beer Pairing: Porter
Smoked salmon has a distinct flavor that pairs best with a porter. Normally it is not recommended to pair a heavy beer such as a porter with a lighter dish such as seafood, but smoked salmon has an intense aroma that can match the dark beer. Plus, the roasted flavor of a porter compares with the smokiness of the salmon and the bacon.
Suggested porters: Ecliptic Capella Porter, Backwoods Pecan Pie Porter, Deschutes Black Butte Porter, Founders Porter, No-Li Brewhouse Falls Porter and Boundary Bay Dark Darkness Porter
Breakfast Sandwiches
Every day 11 a.m. to 2 p.m.
Peaks and Pints breakfast sandwiches are served with a bag of Tim's chips — Original, Jalapeño or Salt & Vinegar — and pickle chips.
THE CLASSIC
Ham, bacon, egg, melted Beecher's aged white cheddar and light mayonnaise on a toasted baguette / $9.99
THE FLORENTINE
Spinach, egg, Havarti and a light spread of rosemary aioli on a toasted baguette / $9.99
THE GOUDANDHOT
Bacon, egg, jalapeño, melted Gouda and a spicy mayonnaise spread on a toasted baguette / $9.99
Small Bites
GARLIC GORGONZOLA DIP
Sundried tomato, green onion and cream cheese served with grilled rustic French crostinis / $8.99
PRETZEL BREAD STICKS
With spicy beer mustard / $6.99
PEAKS CHARCUTERIE BOARD
Beecher's aged white cheddar, manchego, cambozola, soppressata, capicola, dill pickles, candied walnuts, crackers, spicy mustard blend, olives and breadsticks / $14
SPICY DEVILED EGGS
Classic recipe with a kick (5 per order) / $5.49
SMOKED SALMON JALAPENO BACON SPREAD
Served with grilled rustic French crostinis / $8.99
Salads
Salad Dressings: Ranch, Caesar, balsamic vinaigrette, honey mustard, creamy pesto and 1000 Island
SMOKED SALMON CAESAR
Fresh Red King salmon, Parmesan, tomato and romaine lettuce / $11.50
PEAKS BEET
Mixed greens, roasted beets, tomato, carrots, candied walnuts and goat cheese with white balsamic dressing / $9.99
THE BACON BLEU
Chicken breast, bleu cheese crumbles, bacon, fried onions, tomato and mixed greens / $11.50
PEAKS HOUSE SALAD
Mixed greens, carrots, tomato, Parmesan and fried onions with creamy pesto dressing / $8.99
SMALL HOUSE SALAD
Mixed greens, carrots, tomato, Parmesan and fried onions with your choice of dressing / $2.75
Desserts
BELGIAN CHOCOLATE CHIP COOKIE
Tacoma's own "Bite Me" cookie for Peaks and Pints with Belgian chocolate, walnuts and pure cane sugar / $3.50, with ice cream / $4.89
CHOCOLATE PEANUT BUTTER CAKE
Chocolate cake layered with chocolate-peanut butter mousse, topped with roasted and salted peanuts / $6.99
ORDER OUR FOOD ONLINE