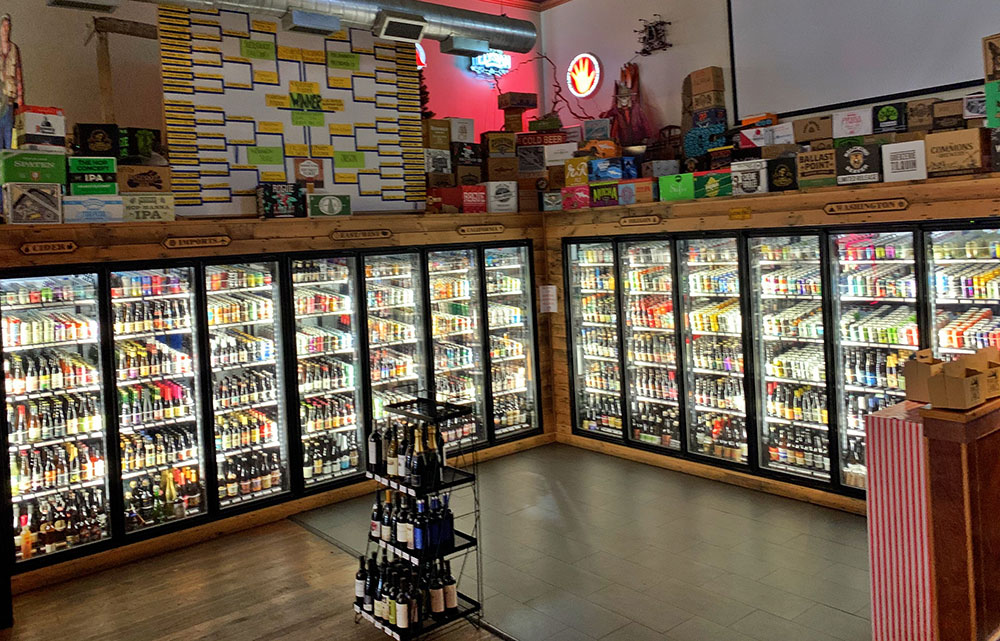 Peaks and Pints Cooler bottles and cans
Peaks and Pints Cooler bottles and cans houses more than 800 craft beer and cider cans and bottles, not counting all the bottles of wine on our shelves. Peaks & Pints strives to fulfill customer requests and supply our neighbors with the latest craft beer and cider. If you have questions regarding beer availability or special orders, please contact feedback@peakcandpints.com. Shop our cooler at 3826 N. 26th St. in Tacoma's Porctor District. Call ahead at (253) 328-5621 to verify our stock of your favorite beer.
Looking for our latest new arrivals? Check out what's new on our Beer Line Blog, updated at least twice a week. Cheers!
LIST UPDATED: SUNDAY MAY 31 2020
Beer Bottles and Cans
10 Barrel                    Raspberry Crush
10 Barrel                   Apocalypse IPA
21st Amendment      Brew Free of Die Blood Orange
21st Amendment      Tasty Juicy Pale Ale
21st Amendment       Sparkale Sparkling Rose Ale
7 Seas                         Pilsner
7 Seas                         Nomadic IPA
7 Seas                         Double IPA
7 Seas                         IPA
7 Seas                        Saison
7 Seas                        Hazy IPA
Abita                          Purple Haze
Abomination             Apelsiner
Aecht Schlenkerla      Marzen Rauchbier
Against The Grain     35K Stout
Airways                       Pre-Flight Pilsner
Alaskan                       Imperial Oatmeal Stout
Ale Apothecary         Sahalie
Ale Apothecary         Sahati
Ale Apothecary         AP One Thousand
AleSmith                    Nut Brown
AleSmith                    Speedway Stout
AleSmith                    Sublime Mexican Lager
Alesong                      Framboise
Alesong                      Rhino Suit Imperial Milk Stout
Alesong                      Señor Rhino Suit Imperial Milk Stout
American Solera      Pals Pale Ale
American Solera       Terpy Galaxy
Anchor                        Steam
Anderson Valley       Boont Amber
Anderson Valley       Old Fashioned
Anderson Valley       Briny Melon
Anderson Valley       Bbl Salted Caramel Porter
Anderson Valley       Framboise Rose Gose
Aslan                          Batch 15
Aslan                          Dawn Patrol
Atwood                      1918 Dubbel
Avery                         Raspberry Sour
Avery                         Vanilla Bean Stout
Avery                         Mephistopheles
Avery                         White Rascal
Avery                         Plank'd Porter
Avery                         Maharaja
Avery                         Pear of Peaches
Avid                            Seven Peaks Hard Seltzers
Ayinger                      Altbairisch Dunkel Lager
Ayinger                      Brau Weisse
Ayinger                      Celebrator
Backwoods                The Stumbler
Bale Breaker              Leota Mae
Bale Breaker              Topcutter
Bale Breaker              Bottomcutter
Bale Breaker              Desert Bite IPA
Bale Breaker              Hazy L IPA
Bale Breaker              Mango IPA
Ballast Point              High West Barrel Aged Victory at Sea
Barrel Mountain       No Bad Days IPA
Barrel Mountain       Trail Builder Imperial IPA
Belching Beaver       Peanut Butter Stout
Belching Beaver       Viva Peanut Butter Stout
Belching Beaver       Buenos Tiempos Mexican Lager
Belching Beaver       Ninja Orchard
Belhaven                   Black Scottish Stout
Belhaven                   Scottish Ale
Bellevue                    WTA Tangerine Pale
Bitburger                   Triple Hop'd Lager
Bitburger                    Pilsner
Bitburger                    Drive
Black Raven              Trickster
Black Raven              Splinters Scotch
Black Raven              Coco Jones
Black Raven              Kitty Kat Blues
Black Raven              Grandfather Raven
Black Raven              Feather Weather
Black Raven             Corvus Frambicus
Black Raven             Wisdom Seeker DIPA
Blanche De BruxelleWitbier
Block 15                    Nebula Stout
Boneyard                   Funky Bunch
Boon                          Marriage Parfait
Boon                          Oude Kriek Schaar
Boon                          Oude Geuze Vat 92
Bosteels                    Triple Gift Pack
Bosteels                    Pauwel Kwak Gift
Bosteels                    Karmelet Tripel
Bosteels                    Pauwel Kwak
Boulevard                  Tank 7
Boulevard                  Whiskey Stout
Boulevard                  Chocolate Ale
Boulevard                  Smooth Fuzz
Boulevard                  Phantom Haze
Boulevard                  Whiskey Cab Cask Stout
Boulevard                  Big Blueberry Ox
Boulevard                  Maple Rye On Rye
Boulevard                  Sixth Glass Quadrupel
Boundary Bay           Nutward Bound California Common w/Chuckanut
Brabandere               Sour Power Pack
Brabandere               Petrus Aged Pale
Breakside                   Pilsner
Breakside                   Passionfruit Sour
Breakside                   Wanderlust IPA
Breakside                   Mnts of Instead
Breakside                   French Barleywine
Breakside                   Salted Caramel Stout
Breakside                   Fitzcarraldo
Breakside                   India Pale Ale
Brothers Cascadia    Ninja Dust
Brothers cascadia     Bold As Love
Buoy                            Czech Pilsner
Buoy                           Another IPA
Caldera                      Mogli Imperial Porter
Cascade                    Peche Fume
Cascade                    Framblanc
Cascade                    Brunch Line
Cascade                    2017 Vlad
Cascade                    2017 Bourbonic
Cascade                    Tropical Grasslands
Cascade                    Chene Des Fous
Cascade                    Mayan Bourbonic 2017
Cascade                    Citrus Noyaux
Chainline                 Puget Sound Hazy Juicy
Chimay                      Cinq Cents
Chimay                      Grand Reserve
Chimay                      Premiere Red
Chimay                      Grand Reserve Blue small botlles
Chuckanut                Citra Leaf Pilsner
Chuckanut                 Pilsner
Counterbalance         Kushetka
Counterbalance         IPA
Courage                     Russian Imperial Stout Gift Box
Crooked Stave         St Bretta Citrus Saison
Crooked Stave         Serenata
Crooked Stave         Mama Bear's
Crooked Stave          Nightmare On Brett Raspberry
Crux                            Pilsner
Crux                            Cast Out
Crux                            Gimme Mo IPA
Crux                            PCT Porter
Crux                            All Worked Up Wheat Wine Ale
Culmination                Native Oregonism
de Garde                     The Maison
De Proef                    Zwart Black Star
De Silly                      Stupid Silly Sour
Deschutes                  Black Butte Porter
Deschutes                  Obsidian Stout
Deschutes                  Abyss Old World
Deschutes                  Abyss Stout 2018
Deschutes                  Abyss Stout 2017
Deschutes                  Planet Rouge
Deschutes                  The Ages
Deschutes                  Fresh Haze
Deschutes                  Lil Squeezy
Deschutes                  Fresh Squeezed
Deschutes                  Neon Daydream
Destihl                        Cerise
Dirty Couch                Herdsman
Dirty Couch                Mog Walk Sour Stout
Dirty Couch               Highland Blasphemy
Dirty Couch               Breakup Playlist
Dogfish Head            90 Minute
Dogfish Head            Namaste
Dogfish Head            SeaQuench
Dogfish Head            Slightly Mighty
Dogfish Head            Super 8 Gose
Dogfish Head            Midas Touch
Dogfish Head            60 Minute
Dogfish Head            American Beauty Hazy Ripple
Double Mountain      Kolsch
Double Mountain      Viola
Double Mountain      Peche Cuvee
Double Mountain     The Other Matt's IPA
Dubuisson                 Scaldis Prestige
Dubuisson                 Scaldis Triple
DuClaw                      Dirty Little Freak
Dugges                      Sunshine Orchard
Dugges                      Coffee Vanilla Deluxe
Dugges                      Big Idjit Stout
Dugges                      Mango Mango Mango Sour
Dupont                      Saison Dupont
Duvel                          Duvel
E9 Brewing                Tacoma Brew
E9 Brewing                O'Leary's Coffee Milk Stout
E9 Brewing                Tac City Lager
E9 Brewing                Ambient Sounds DIPA
Eagle                           Banana Bread
Ecliptic                        Capella Porter
Ecliptic                        Carina Peach Sour
Ecliptic                        Starburst
Ecliptic                        Phaser Hazy IPA
Ecliptic                        Italian Style Pilsner
Elysian                        Space Dust
Epic                            Cabernet Sauvignon Sour
Epic                            Big Bad Baptist
Erdinger                    Hefe-Weizen
Everybody's             Local Logger
Everybody's             The Cryo IPA
Everybody's             Country Boy IPA
Evil Twin                     Even More Pecan Pie Jesus
Evil Twin                     Molotov Cocktail
Evil Twin                     More Coffee Porter? Sey No More
Evil Twin                     Even More Cocoa Jesus
Evil Twin                     Molotov Lite
Evil Twin                     Imperial Biscotti Break
Fat Orange Cat           Sweet Jane Blues
Fat Orange Cat          Do The Escalator to the 13th Floor
Fat Orange Cat           Bruno The Baby Beer Cat
Ferment                      12º Pilsner
Ferment                      India Pale Ale
Ferment                      L'or de Noir
Firestone Walker       Easy Jack
Firestone Walker       Pivo Pilsner
Firestone Walker       Krieky
Firestone Walker       Union Jack
Firestone Walker       Nitro Merlin
Firestone Walker       Under Current
Firestone Walker       Seventh Nail
Firestone Walker       Coconut Merlin
Firestone Walker       Cherry Barrel Blossom
Firestone Walker       Violet Underground
Firestone Walker       Flyjack
Firestone Walker       Mind HAze IPA
Firestone Walker      Mole Merkin
Fort George               Optimist
Fort George               Cavatica Stout
Fort George               Vortex
Fort George               City of Dreams
Fort George               Cathedral Tree Pilsner
Fort George                Spruce Budd Ale
Fort George                 Sunrise Oatmeal Pale
Fort George               Hammock District Farmhouse Ale
Fortside                      Night King
Fortside                      Sunshine Dreamin IPA
Fortside                       Orange Whip IPA
Founders                    Dirty Bastard
Founders                    Breakfast Stout
Founders                    Backwoods Bastard
Founders                    Porter
Founders                    Barrel Runner 750ml
Founders                    KBS
Founders                     Mas Agave Tequila Barrel Aged Gose
Founders                     Mas Agave Tequila Barrel Aged Gose Grapefruit
Fremont                      Dark Star
Fremont                      Lush IPA
Fremont                      Summer Pale Ale
Fremont                      Interurban IPA
Fremont                      Space Danger
Fremont                      Sister Imperial IPA
Fremont                      Day Flying Coconut IPA
Fuller's                        London Pride
Future Primitive       Zwick'l
Garden Path              Curious Mix
Garden Path              Fruitful Barrel
Garden Path              The Wet Hopped Ship
Garden Path              Buffalo x 11
Georgetown              Lucille IPA
Georgetown              Bodhizafa
Georgetown              Johnny Utah Pale
Geuzestekerij de CamOude Lambiek
Ghostfish                    Vanishing Point
Ghostfish                    Grapefruit IPA
Ghostfish                    5th Anniversary Tart Saison
Gigantic                      Most Premium Russian Imperial Stout
Gigantic                      Pilsner Project Galaxy
Gigantic                      Most Most Bbl Premium Stout
Gigantic                      Smackdab Hazy IPA
Gigantic                      Colossal Panthera
Gilgamesh                 Shalom Stout
Giraidin                     Gueuze 1882
GoodLife                   Comatose IIPA
GoodLife                   Sweet As Pacific
GoodLife                   Aged Dortmunder
GoodLife                   G. Love & Special Sauce The Juice IPA
Great Divide              Barrel Aged Yeti
Great Divide              Wood Werks #4
Great Divide              Wood Werks Old Fashioned
Great Divide             Mexican Chocolate Yeti
Great Divide              Yeti Imperial Stout
Great Divide              Pablo's Coffee Porter
Great Divide              Chocolate Cherry Yeti
Guinness                    Dry Irish Stout
Guinness                    Bulleit Bourbon Stout
Hacker Pschorr           Hefe Weisse
Hair of the Dog          Doggie Claws
Hair of the Dog          Adam
Hair of the Dog          Bourbon Fred From The Stone
Hair of the Dog          Fred
Hair of the Dog          Maja
Heater Allen               Sticke Alt
Heater Allen               Schwarz
Heathen                      Highland Charge Wee Heavy
Heathen                     Seeds of Darkness: Seduction
Hellbent                     Dang Citra IPA
Hellbent                     Seattle Sunshine
Hellbent                     Hazy At Home
High Water                Campfire Stout
Hof Ten Dormaal       Bourbon Blonde
Hofbrau                      Original
Holy Mountain           Beyond Life and Death
Hoof Hearted              Saizzurp Peach and Apricot Saison
Hoof Hearted             Even More Tennis Elbow
Hoof Hearted             Roller Blabe IPA
Hopworks Urban      Abombable Winter Ale
Hopworks Urban      Joker Imperial Hazy IPA
Huyghe                      Delirium Tremens
Huyghe                      Delirium Red
Icicle                            Boot Jack IPA
Icicle                            Dark Persuasion
Icicle                            Kickstand Citra Pale
Iron Goat                    Brewski's Blonde
Iron Horse                  Irish Death
Iron Horse                  Aloha Death
Jolly Pumpkin            Biere De Mars
Jolly Pumpkin            Ale Absurd
Jolly Pumpkin            Forgotten
Jolly Pumpkin            No Problem
Jolly Pumpkin            Turbo Bam
Kees                             Imperial Stout 1850
Kees                            Double Shot Stout
Knee Deep                 Breaking Bud IPA
Kulshan                       Premium Lager
Kulshan                       Bastard Kat
Kulshan                       Pilsner
Kulshan                       Heliotrope
Kulshan                       Greenwood Summer Ale
Kulshan                       Cherry Gose
Kulshan                       Kolsch
Lagunitas                    Imperial Stout
Lagunitas                    IPA
Lagunitas                    Hop Stoopid
Lagunitas                    Willetized Imperial Stout
Lagunitas                    Hop Water
Lagunitas                    Maximus
Lagunitas                    Lucky 13
Left Hand                   Nitro Milk Stout
Left Hand                  Peach Beerllini
Left Hand                  Death Before Disco Porter
Left Hand                  Peanut Butter Milk Stout
Left Hand                  Flamingo Dreams Nitro
Level                          Fatality
Level                          Low Resolution
Lindemans                Framboise
Lindemans                 Kriek
Lindemans                 Kriek Cuvee
Lindemans                 Ginger Gueuze
Lindemans                 Gift Box
Little Beast                 Bes Tart Wheat
Little Beast                 Midnight Riot
Little Beast                Maiden West IPA
Little Beast               Treasure Hunter
Logsdon                    Peche N Brett
Logsdon                    Far West Vlaming
Logsdon                    Spontane Blanc
Logsdon                    Spontane Wilde
Logsdon                    Golden Raven
Logsdon                    Deep River Blues
Logsdon                    The Continental
Logsdon                    Zuur Pruim
Logsdon                    Eagle Kriek
Logsdon                    Logsdon Lager
Loowit                       Tiamat
Loowit                         Iron Rabbit Hazy IPA
Lost Coast                 Tangerine Wheat
Lucky Envelope        Peanut Butter Cream Stout
Machine House         Cambridge Bitter
Machine House         Dark Mild
Matchless                   Pome Moon Saison
Matchless                   Off The Cuff
Matchless                   MPH west Coast IPA
Maui                            Imperial Porter
Maui                            Coconut Hiwa Porter
Maui                            Coconut Dolce
Maui Brewing            15th Asnniversary Blend
Midnight Sun             Arctic Devil Barleywine
Migration                    Straight Outta Portland
Migration                    Mo-Haze-Ic
Mirage                        Battle of Cameras
Modern Times           Blazing World
Modern Times           Black House
Modern Times           Fruitlands Rose Gose
Modern Times           Fortunate Isalnds
Modern Times           DDH Orderville
Modern Times           Themisto Hazy IPA
Montucky                   Cold Snack
Mother Earth              Cali Creamin
Mother Earth              Creamsicle
Mother Earth              Sin Tax Peanut Butter Imperial Stout
Mother Earth              Big Mother Triple IPA
LINK: Peaks and Pints Cooler Bottles and Cans new arrivals
Narrows                      Octo IPA
Narrows                      HWY 16 Blonde Ale
Narrows                      2020: A Hop Oydessy
Narrows                      Lockdown IPA
New Belgium             La Folie
New Belgium              Le Terrior
New Belgium              Felix
New Belgium              Oscar
New Belgium               Geisha La Folie
New Belgium                Abbey
New Belgium                L'mour En Cage
New Belgium              Oakshire
New Belgium              Voodoo Ranger Starship IPA
New Belgium               Voodoo Ranger Imperial IPA
New Holland              Blue Sunday
New Holland              Dragon's Milk
Nightmare                   Drawn & quartered
Nightmare                   Matricide
Nightmare                   Torn Apart By Trees
Ninkasi                        Prismatic
Ninkasi                        Peach Maiden In The Shade
Ninkasi                        Heart & Science
Ninkasi                        Dawn of the Red
No-Li                          Wrecking Ball
No-Li Brewhouse     Porch Glow
North Coast               Grand Cru
North Coast               Old Rasputin
North Coast               Old Stock Ale
North Coast               Pranqster
North Coast               Scrimshaw
North Coast               Bourbon Barrel Old Rasputin
North Coast               Tart Cherry Berliner Weisse
North Coast                Brother Thelonious
North Jetty                  Leadbetter Red Scottish Ale
North Jetty                 Graveyard of the Pacific
Oakshire                     Overcast Stout
Oakshire                     Barleywine
Occidental                  Maibock
Occidental                  Kolsch
Off Color                    Coffee Dino Smores
Off Color                     Yuzu Fierce Berliner Weisse
Offshoot                     Relax It's A Hazy
Offshoot                     Retreat It's A Hazy
Old Schoolhouse      Imperial Stout
Old Schoolhouse      Barleywine
Old Schoolhouse      Crystal Visions IPA
Old Schoolhouse      Better Days IPA
Old Schoolhouse      Brite Side IPA
Old Schoolhouse     Eddy Hopper
Old Schoolhouse     East Runaway
Old Schoolhouse       Stoaway Pale
Ommegang               Rosetta Kriek
Ommegang               Bourbon Barrel Vanilla Smoked Porter
Ommegang               Super Kriek
Omnipollo                Hippodamia
Omnipollo                Nebuchadnezzar
Omnipollo                Fatamorgana IPA
Orval                           Orval
Oskar Blues               Old Chub
Oskar Blues               G'Knight Imperial Red
Oskar Blues               Dale's Pale
Oskar Blues               Wild Basin Lime
Oud Beersel              Green Walnut
Pabst                          Hard Coffee
Paradox                      Tart Noir
Paulaner                     Salvatore
Pelican                        Father of All Tsunamis
Pelican                        Captain of the Coast
Pelican                        Kiwanda Cream Ale
Pelican                        Tsunami Stout
Perennial                    Fantastic Voyage
Perennial                    Abraxas
pFriem                        Peche
pFriem                        Oude Kriek
pFriem                        Oud Bruin
pFriem                        IPA
pFriem                        Pilsner
pFriem                        Nectarine Bourbon Golden
pFriem                        Flanders Blonde
Pike                             Monk's Uncle
Pike                             Octopus Ink Black IPA
Pike                             XXXXX Stout
Plan Bee                    BeeRoo
Plan Bee                    Barn Beer
Port Brewing              High Tide IPA
Port Brewing              Shark Attack Red
Port Brewing              Wipeout
Postdoc                      You Are Not Alone Hazy IPA
Rainier                        Rainier
Rainy Daze                Goat Boater
Rainy Daze                Disturbing The Peace
Reuben's                   Crikey
Reuben's                   Pilsner
Reuben's                   Hazealicious
Reuben's                   Robust Porter
Reuben's Brews       Wembley IPA
Reuben's Brews        Summer IPA
Reuben's                     Southsun Lager
Revision                     Citra Slam
Revision                     Sparkle Muffin
Revision                     Hop Anatomy
Riverbend                  Hawaiian Crunk Milkshake IPA
Riverbend                  Oregonized Love IPA
Rochefort                   6 Trappist Ale
Rochefort                   8 Trappist Ale
Rochefort                   10 Trappist Ale
Rodenbach                Alexander
Rodenbach                Grand Cru
Rodenbach                Fruitage
Rodenbach                Classic
Rodenbach                Vintage
Rogue                         Hazelnut Brown
Rogue                         Dead Guy
Rogue                         Chocolate Stout
Rogue                          Nitro Chocolate Stout
Rogue                         Double Chocolate Stout
Rogue                         Shavasana Imperial Blonde
Rothaus                      Pils Tennenzapfle
Samuel Smith            Chocolate Stout
Samuel Smith            Apricot Ale
Samuel Smith            Raspberry Ale
Samuel Smith            Cherry Ale
Samuel Smith            Oatmeal Stout
Samuel Smith            Yorkshire Stingo
Samuel Smith            Strawberry
Samuel Smith            Nut Brown Ale
Samuel Smith            Gift Box
Schneider Weiss        Aventinus Weizenbock
Schofferhofer             Grapefruit Hefeweizen
Scuttlebutt                  Pineapple Hefe
Short Throw               Cop and Go IPA
Sierra Nevada           Pale Ale
Sierra Nevada           Fantastic Haze
Sierra Nevada           Trip In the Wood Bigfoot
Sierra Nevada           Hazy Little Thing
Sierra Nevada           Tequila Otra Vez
Sierra Nevada           Hoptimum
Sierra Nevada           Bigfoot
Silver City                  Tropic Haze
Silver City                  Plump Bastard
Silver City                  Charming Disarmer Peach
Silver City                  Kwik Stout
Silver City                  Bbl Kwik Stout
Silver City                  Magnificent Scotch Ale
Silver City                  Bavarian Hefeweizen
Silver City                 Sultry Siren Raspberry Sour
Single Hill                 Star Platinum Hazy IPA
Single Hill                  Eastside IPA
Skookum                    Solitary Confinement
Skookum                    WBP3 Saison
Skookum                   Amber's Hot Freind
Skookum                  Murder of Crows
Skookum                   Brumation Pils
Spenser                      Monks Reserve Ale
Spoetzl                      Shiner Bock
Spoetzl                      Smores
St. Bernardus            Abt 12
St. Bernardus            BA sour Abt 12
St. Bernardus            Prior 8 Brown
St. Bernardus             Wit
Steenberge               Tripel De Garre
Stieglbrauerei            Stiegl-Radler Grapefruit
Stillwater                   On Fleek Stout
Stillwater                   Duck Sauce IPA
Stillwater                   Kung Pao Stout
Stillwater                   Gose Gone Wild
Stillwater                   Stillwater Is Nothing Big Bunny Is Everything
Stillwater                  Surf Imperial Gose
Stone                         Arrogant Bastard
Stone                         Delicious IPA
Stone                         IPA
Stone                         Scorpion Bowl
Stone                         Buenaveza Lager
Stone                         Soaring Dragon IIPA
Stone                         Arrogant Bastard Bourbon Barrel
Stoup                          Citra IPA
Stoup                          Mosaic Pale
Structures                   Navigation
Structures                   Isolation
Structures                   Biere De Miel
Sumerian                    Holy Water
Tacoma                        Broken Window IPA
Tacoma                       Mo Pale Ale
Telegraph                  Obscura Vulpine
The Bruery                 Triple Kriek
The Bruery                 Xata Blonde
The Bruery                 Frucht Guava
The Bruery                 Quadrupel Tonnellerie
The Bruery                 Terreux Gypsy
The Bruery                 Oude Tart
The Bruery                 Wit The Funk
The Bruery                 Frucht
The Bruery                 Goses Are Red
The Bruery                 Oatmeal Cookie Imperial Stout
The Bruery                 Hold The Spoon Chocolate Cake Stout
The Lost Abbey       Santo Ron Diego
The Lost Abbey       Ghosts In The Forest
The Lost Abbey       Red Poppy
The Lost Abbey       Devotion
The Lost Abbey       Farmhouse Lager
The Lost Abbey       Lost & Found
The Lost Abbey       Judgment Day
The Lost Abbey       Serpents Stouts
Tilquin                         Gueuze
Tilquin                         Mure Gueuze
Tilquin                         Gueuzerable
Tilquin                         Oude Myrtille Sauvage
Tilquin                         Mure Rullquin
Timber Ales               The Pugs and the Pit
Timber Ales               Insominaic's Daydream
Tin Dog                      House Saison
Tin Dog                      Black Tripel
Top Rung                  My Dog Scout Stout
Top Rung                  Rye Lager
Trap Door                  Tang IPA
Trap Door                  Untitled #4
Trap Door                  Gabriels Horn
Triceratops                 Pennsyltucky
Triceratops                TriceraMOB IPA
Trve                            Roisin Dubh
Two Beers                 Overhang
Two Beers                 Wonderland Trail
Uinta                           Hazy Nosh IPA
Unibroue                    La Fin Du Monde
Unibroue                    Terrible
Unibroue                    Trois Pistoles
Unibroue                    Megadeth Saison 13
Unibroue                    Blanche de Chambly
Unsung Brewing       Nebuloid: Conehead
Unsung                       Vater Von Pils
Upright                       Hearts' Beat Wild
Upright                       Pathways
Upright                       Saison Vert
Urban Family            Violet Tempest
Urban Family            Forbidden Sorcery
Van Honsebrouck     Kasteel Cuvee du Chateau
Varietal Beer Co.      Nectarinia Farmhouse Ale
Varietal                       Green Ritual IIPA
Varietal                       Coral Motel Pale
Varietal                       Mighty Juice IPA
Verhaeghe                 Duchesse De Bourgogne
Victor 23                    Skyjacker IPA
Wander                      Act One Kriek
Wander                      Intermission
Wander                      Right Here Right Now IPA
Wander                      Crepuscular Rays IPA
Wander                      Mango Antlers IPA
Westmalle                 Tripel
Westmalle                 Dubbel
Westmalle                 Gift Box
Wet Coast                 Centennial Single Hop IPA
Wet Coast                 Sneak Thief Milk Stout
Wet Coast                 Bindle Punk v5 IPA
Wet Coast                 Cream Ale
Wet Coast                 Hi Jack! Red Ale
Widmer                     Hefeweizen
Wingman                   Ace IPA
Wingman                   P-51 Porter
Wingman                   Peanut Butter Cup Porter
Wittekerke                  Witbier
Worthy                       Lights Out Stout
Youngs                      Double Chocolate
Zundert                       Trappist 8
LINK: Peaks and Pints Cooler bottles and cans new arrivals
Cider, Hard Kombucha, Hard Seltzer Bottles and Cans
2 Towns                     Made Marion
2 Towns                     BrightCider
2 Towns                     Camp Clementine
2 Towns                     Pommeau
Ace Cider                  Space Bloody Orange
Ace Cider                  Pineapple
Ace Cider                   Guava
Alpenfire                    Glow
Alpenfire                    Cuvee
Alpenfire                    Calypso
Alter Ego                    Guardian Angel
Avid                            Acai Blueberry Lemonade
Axis Meads               Raspberry
Chatter Creek            Kingston Black
Double Mountain      Rose Cider
Double Mountain      Dry Cider
Double Mountain      Estate Heirloom Dry Cider
Dragon's Head          Kingston Black
Dragon's Head          Russet Cider
ds Wicked Cider       Baked Apple
Eaglemount               Log Cabin Cider
Eric Bordelet              Sidre Tendre
Fierce County            Boysen
Fierce County            Gig Gin Cran
Fierce Country           Mango
Finnriver                      Black Currant
Finnriver                      Pommeau
Finnriver                     Sojourn
Finnriver                      Honey Meadow
Herb's Cider              Rim Shot
Incline                          White Peach
Incline                          Blood Orange
Incline                          Explorer Hopped
JuneShine                  Midnight Painkiller Hard Kombucha
Lost Giants                Elderberry
Moonlight Meadery  Fling
One Tree                   Lemon Basil
One Tree                    Stay-Cation Pineapple and Mango
Portland Cider           Cider-Ade
Reverend Nat's         Viva La Pineapple
Schilling                      Grapefruit & Chill
Schilling                      Passport Pineapple
Sea Cider                  Wolf In the Woods
Seattle Cider             Semi Sweet
Seattle Cider             Dry
Seattle Cider             Berry Rose
Superstition Meadry Blueberry Spaceship Box
Tieton                         Bourbon Peach
Tieton                         Apricot
Tieton                         Hazy Strawberry
Tieton                         Bourbon Barrel Cherry
Union Hill                  Hard Harvest
White Claw                Mango Hard Selt
Whitewood               Barrel Aged Newtown
Winsome                   Apricot Hop