Peaks and Pints Tournament of Beer Headquarters
Every April, Peaks and Pints craft beer bar, bottle shop and restaurant in Tacoma's Proctor District hosts the Tournament of Beer. The Tournament of Beer follows the same logic as the NCAA March Madness college basketball tournament — through a seeded bracket system, 64 themed beers battle for craft beer supremacy.
Every February, Peaks and Pints asks our patrons and the public to seed the tournament — meaning we poll people for their favorite beer under a certain theme, and thus determining seedings and matchups in the knockout bracket.
The top 64 vote getters — the cream of the hops — compete Monday through Friday at tournamentofbeer.com (forwards to peaksandpints.com) in April. Through online voting, craft beer drinkers pick daily winners until the best beer is crowned. It's just like March Madness, only with way more alpha acids.
The IBU-to-IBU battle grand champion is then announced at the Tournament of Beer Party at Peaks and Pints. The final two beers battle live pouring from our Western red cedar tap log with the champion brewery receiving a trophy and permanent handle at Peaks and Pints through the spring and summer 2017.
The next Peaks and Pints Tournament of Beer will feature 64 American lagers brewed in Washington and Oregon battling in April 2023. Keep an eye out for the nomination solicitation in February 2020.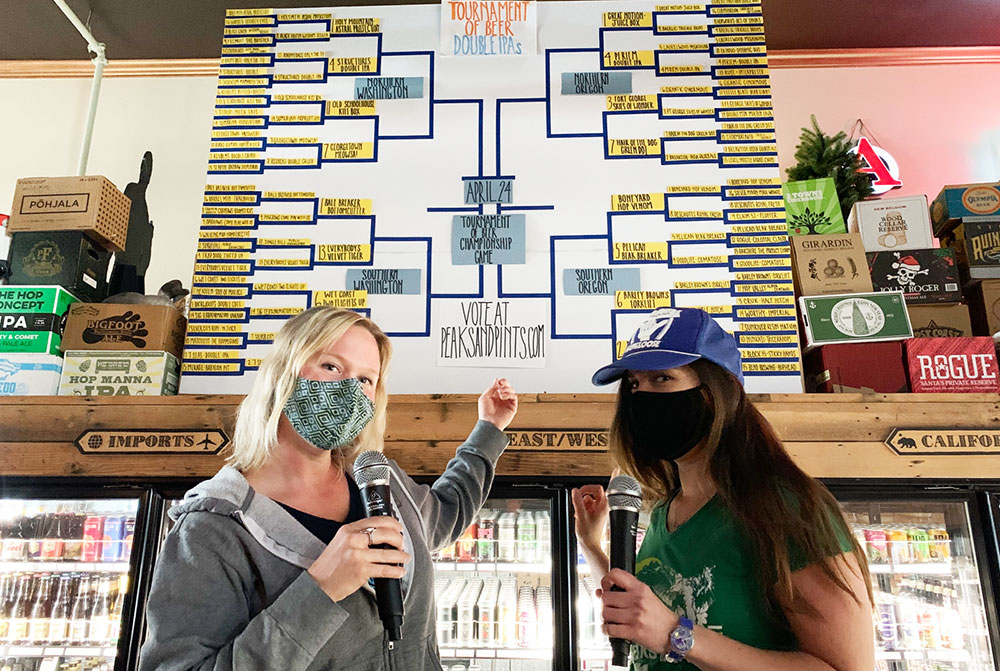 Tournament of Beer: NW Double IPAs 2021
The public nominated 64 Northwest double IPAs for the Tournament of Beer: NW Double IPAs that ran April 2-24, 2021, with Block 15 Brewing Sticky Hands beating Bale Breaker Bottomcutter in the Championship Game.
Tournament of Beer: NW Double IPAs recap
Tournament of Beer: NW Double IPAs Championship preview
Tournament of Beer: NW Double IPAs Final Four preview
Tournament of Beer: NW Double IPAs games
Tournament of Beer: West Coast Flagships 2020
Tournament of Beer: West Coast Flagships recap
Tournament of Beer: West Coast Flagships Championship preview
Tournament of Beer: West Coast Flagships Final Four preview
Tournament of Beer: West Coast Flagships games
Tournament of Beer: Northwest Pilsners 2019
Tournament of Beer: Northwest Pilsners recap
Tournament of Beer: Northwest Pilsners Championship preview
Tournament of Beer: Northwest Pilsners Final Four preview
Tournament of Beer: Northwest Pilsners games
Tournament of Beer: Northwest Porters 2018
Tournament of Beer: Northwest Porters recap
Tournament of Beer: Northwest Porters Championship preview
Tournament of Beer: Northwest Porters Final Four preview
Tournament of Beer: Northwest Porters games
Peaks and Pints Tournament of Beer Headquarters: Washington IPAs 2017
Tournament of Beer: Washington IPAs recap
Tournament of Beer: Washington IPAs Championship preview
Tournament of Beer: Washington IPAs games