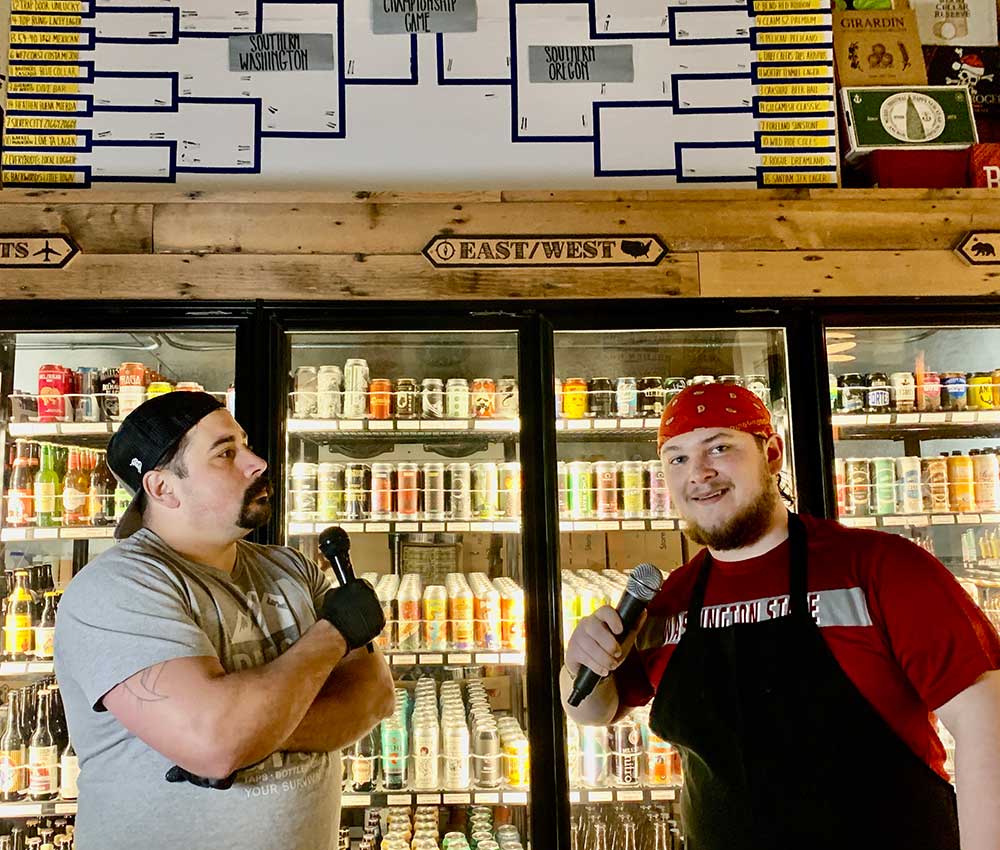 Peaks and Pints Tournament of Beer: Northwest Lagers begins
Peaks & Pints salutes Northwest brewers and their breweries with a Northwest-brewed lager. After all, it's the beer style they enjoy brewing. It's the beer style they drink after their shift or at beer festival. It's a beer style they deserve after brewing their way through the pandemic while still performing feats of genius. Today, Peaks & Pints kicks off our sixth Tournament of Beer pitting 64 Washington and Oregon brewed craft lagers for a three-week run to the Peaks and Pints Tournament of Beer: Northwest Lagers championship game April 30. Even though lagers take longer to brew than other styles, are difficult to perfect, and aren't as popular as IPAs and dessert pastry smoothie sours, brewers insist they're one of the most-rewarding beers to create. This year's Tournament salutes well-craft Northwest brewed lagers and the amazing people who help bring them to market. Opening Day Voting is now closed.
Lager Love
Walk into a Northwest brewery taproom today and it's no surprise the menu is littered with IPAs. The hop bombs keep the lights on. But look to the far left of the beer list and you'll likely see a humble lager. Order it. It's crisp, cold, and refreshing, but it's also so much more. It crosses the boundaries of age, gender, ethnicity, and social class. It is a sociable drink, with ideal sessionability and broad appeal. Though American light and pale lagers have traditionally been the domain of Yellow Beer pre-1980s, craft breweries have increasingly waded into the realm of easy drinking. After decades of staking their claims on bitter and piney, sweet and sour — everything that Yellow Beer wasn't — craft brewers have taken a turn toward what is sometimes known as "beer-flavored beer." Because for all the hype that haze and hops receive, lager is where a brewer can really shine. And it's the beer they are most likely sipping at the end of the day.
Lager Logic
Lagers are the most carefully brewed beer on tap. While loud and bold IPAs are brewed for the consumer, subtle and highly drinkable lagers are brewed for the brewer. After all, lagers are hard to brew. Like, solving the first level of Wordle kind of hard. There are a few reasons why lagers are hard to brew. They're one of the most complex and difficult styles to brew due to the lower fermentation temperatures, longer tank residency, and general finesse required in getting it right. If a lager has a flaw, it is very easy to detect due to the clean nature of the beer and the low levels of esters and hop oils that can often mask flaws in other beer styles.
Study the Peaks & Pints draft beer menu and you'll discover, like most taprooms and beer bars, beers fall into two streams: ales and lagers. The defining difference between these two families of beer is yeast. Ale yeast ferments faster, at warmer temperatures, and adds more flavor. Lager yeast is slower, enjoys the cold, and instead of adding fruity or spicy flavors, provides a blank canvas for the hops and barley to shine. Lager yeast needs more time to process and remove unwanted byproducts of brewing, like diacetyl, which leaves the unappetizing taste of popcorn butter. Because of that cool environment, fermentation and conditioning typically take at least four weeks (about twice that of an ale). Due to a lager's empty canvas, these beers take more technical skill to brew. If anything goes wrong with a lager, the consumer will taste it. If everything goes right, brewers will drink it all.
Why don't lagers command half a tap list? It takes ideally around 6 weeks to brew a lager, which in turn means that twice as many tanks are required to produce the same volume. The investment of time and equipment is much higher for lager producers, which makes creating lager a huge gamble for new craft breweries. Lagers also require a mastery of brewing unparalleled in other beer styles, as the margin for error and inconsistency is huge. A faulty batch can't be rescued through a big dose of dry hopping. Most craft breweries won't load precious tank space with lagers due to the high-risk and high investment when they can instead play it safe with an IPA.
Lager Limits
While lagers cover a broad range of styles — from helles and pilsner, to dunkel, dortmunder and amber lager — Peaks & Pints chose light and pale lagers for this year's Tournament of Beer. As you may remember, Kulshan Brewing's Pilsner beat 63 other Northwest-brewed pilsners in our 2019 Tournament of Beer: Northwest Pilsners in 2019. Tournament of Helles could be a thing down the road. Tournament of Dortmunder might not be seen for years. In early March 2022, through online voting, the public nominated this year's Tournament of 64 Northwest brewed based on the BJCP Style Guide Category 1A American Light Lager, 1B American Lager, 2A International Pale Lager. The breweries also had to be recognized by the Washington Beer Commission or Oregon Brewers Guild.
This voter-based public tournament follows the same format as the NCAA Division I Basketball Tournaments — 64 "regular" craft lagers from Washington and Oregon, separated into four geographical regions — Northern Washington, Southern Washington, Northern Oregon, and Southern Oregon — will battle for three weeks, Monday-Friday, until the final two — the lager that receives the most votes from Washington and Oregon top vote-getter — will face off in the Championship Game at the end of the month. It's just like March Madness, only with way more Saccharomyces pastorianus yeast.
Lager Layers
Over the next three weeks, Peaks & Pints pits 64 of the Northwest's best in a head-to-head battle of pale and light lagers. This is a tournament, folks, not a playoff. Each match is do or die — one misstep and you're out of the dance. Ferment at warm temperatures, cut short the lagering, and you can pack your brewer's paddle and go home.
We speak, of course, of the Tournament of Beer: Northwest Lagers. Sixty-four Washington and Oregon lagers were selected and seeded by the public, and now the time has come to see what lager reigns supreme.]
Only one can be crowned king — so vote on this website daily. The top 64 vote getters — the cream of the hops — will compete Monday through Friday right here, April 8-30. Through online voting, lager drinkers will pick daily winners until the best lager in the Northwest is crowned.
Use the bracket below to guide you through the daily matchups or pick one up at Peaks & Pints in Tacoma's Proctor District.
The crispy bois grand champion will be announced at the Tournament of Beer Party, April 30, at Peaks and Pints, 3816 N. 26th St., in Tacoma's Proctor District. The final two lagers will battle live pouring from our Western red cedar tap log with the champion brewery receiving a permanent handle at Peaks and Pints through the spring and summer 2022.
Real Lager For Genius
As part of this year's tournament, Peaks & Pints shines a light on the nominated breweries' heroes who deserve a delicious, crisp, and refreshing lager at the end of the day. Yes, money comprises the base of their business, but idealism, balance, and good vibes more than tops the peak. Some craft breweries act as liquid philanthropists as they donate a piece of their pie to charity. They believe true fulfillment never comes from financial or material success. Happiness and deep sense of connection is their goal. We're also highlighting Northwest brewers and brewery staff that go beyond manipulating the brewers paddle or organize a beer flight board. They pour their souls into the product through incredible skills, acts above-and-beyond hospitality, generous donations, volunteerism, or excel at projects outside beer. Folks who, as previously mentioned, deserve the beer they producer, market, and sell.
Let's Get Ready To Laaaaaagggeeeerrrr!
BRANDON CRESPIN: Welcome to the 2022 Peaks & Pints Tournament of Beer Northwest Lagers edition. Once again, Peaks & Pints bartenders will break-down the action and re-cap the previous day's action. I'm bartender and cook Brandon Crespin. For those of you who are still tuned in after that lengthy introduction, let's dive into today's opening round of eight lager battles. Please vote for one beer per game. Voting for today's lager battles ends at 11:45 p.m. Bartenders Erin and Matt will announce the winners tomorrow morning around 10 a.m. The next round of eight lager battles will commence at 10 a.m. Monday, April 11.
CALEB PLETCHER: And I'm Peaks & Pints cook Caleb Pletcher. Please vote for one beer per game. Please only vote once. Voting for today's four games ends at 11:45 p.m. Ladies and gentlemen, please join in the singing of our national anthem.
PLETCHER: Thank you Macy Gray! OK, let's do this thing!
Friday, April 8, First Round Northwest Lager Games
GAME 1, NORTHERN WASHINGTON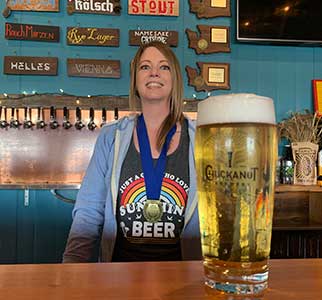 Player: Asian Style Lager (#1 seed)
Team: Chuckanut Brewing, Burlington, Washington
Stats: 4.8%, 18 IBU
CRESPIN: Chuckanut Brewery's Asian Style lager is fresh and easy drinking with a light body and color developed from the use of rice flakes, commonly used in this type of lager, which is often called a Japanese lager. This crisp, sparkling lager is dry and nicely balanced with a touch of Noble hop bitterness making for a dry finish.
PLETCHER: Chuckanut South Nut bartender Phoenix points out that the Asian Style Lager grabbed a gold medal at this year's Best of Craft Beer Competition, which she hung next to the beer's 2021 Great American Beer Festival Gold Medal in the South Nut taproom. Mari Kemper, co-owner of Chuckanut, says she's shocked that her Asian Style Lager was seeded number one. She says its not widely distributed, and is often called Japanese Lager, but gold medals carry weight. No doubt it's seeded number one because it's an excellent lager.
Player: Cantina Lager (#16 seed)
Team: Diamond Knot Brewing, Mukilteo
Stats: 5.1%, 12 IBU
BRANDON: Crisp and clear, this Mexican lager has a mild and pleasant noble hop aroma with a full flavor from high quality Pilsner malt and maize.
PLETCHER: Diamond Knot Brewery is still shaken over co-founder Bob Maphet's death after complications from surgery. He and Brian Sollenberger founded Diamond Knot in 1994. Maphet retired in 2017, moving into the chairman seat as a company advisor. Ask any Diamond Knot employee and they'll tell you he was an owner, leader, and mentor yet had a soft side that you couldn't help but want to be his friend.
VOTING IS CLOSED >>>>>>>>>>>>>>>>>>>>>>>>>>>>>>>>>>>>>>>>>>>>>>>>>>>>>>>>>>>>>>>>>>>>>>>>>
COMMERCIAL: Hie thee to Peaks & Pints 6-Pack of Things To Do newsletter, friend. It's free. It's easy. It's sweet and sour and makes you pucker and swoon.
GAME 2, NORTHERN WASHINGTON
Player: PNW Lager (#8 seed)
Team: Premium Northwest, Tukwila
Stats: 4.3% ABV
CRESPIN: Premium Northwest is a partnership with Toshi Kojima, owner of Orcas Distributing, and Warren Hellman, a former Orcas sales executive and former Firestone Walker sales executive.  Kojima and Hellman created Premium Northwest Beer Co. to give beer drinkers an affordable, locally brewed beer option.
PLETCHER: Kojima and Hellman launched this crisp, uncomplicated lager to sell a six-pack for less than $8. Genius!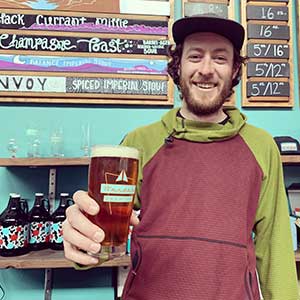 Player: Wander Litely Lager (#9 seed)
Team: Wander Brewing, Bellingham
Stats: 4.2% ABV, 10 IBU
CRESPIN: Created for Memorial Day 2019, Wander Litely has a stripped-down malt bill of Pilsner malt and flaked barley for a light and dry American light lager with a slight graininess balanced by a whisper of floral and earthy hops.
PLETCHER: Wander bartender Forrest says the entire Wander Brewing staff deserves a Wander Litely Lager. He says they stayed together during the pandemic, held strong, brewed great beer, and kept things lively and light — even behind their masks. He's proud to be a part of this organization.
VOTING IS CLOSED >>>>>>>>>>>>>>>>>>>>>>>>>>>>>>>>>>>>>>>>>>>>>>>>>>>>>>>>>>>>>>>>>>>>>>>>>
GAME 3, SOUTHERN OREGON
Player: Sunstone Lager (#7 seed)
Team: ForeLand Beer, McMinnville
Stats: 4.4% ABV
CRESPIN: Named in honor of the Oregon gemstone, this feldspar crystal is brewed with Adeena hops that add an herbal, slightly spicy flavor, and unique floral aroma with a hint of lemon citrus.
PLETCHER: It'll be interesting to see if ForeLand can put their full attention on their Sunstone Lager after nabbing gold medals for their Strand Plain Stout and Rain Harvester farmhouse ale at Wednesday's Oregon Beer Awards.
Player: Cole's Lager (#10 seed)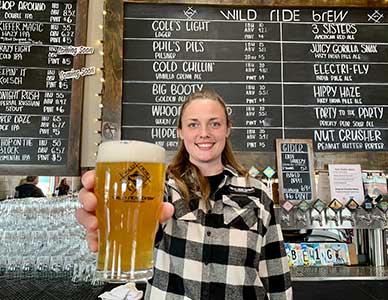 Team: Wild Ride Brewing, Redmond, Oregon
Stats: 5% ABV, 15 IBU
CRESPIN: Cole's Lager is brewed with Northwest grown 2-row malted barley and hops, Cole's hits the nose with malt followed by a clean, bright, and fresh classic pale European flavor with a little honey note.
PLETCHER: We chatted with Wild Ride bartender Lindsey who told us she wants to dedicate a Cole's Lager to former Wild Ride Brewing bartender Kiefer Leutschaft who died by suicide last October at the age of 26. Wild Ride Head Brewer Michael "Curly" White brewed Kiefer Magic Hazy IPA in Kiefer's honor. Nice.
VOTING IS CLOSED >>>>>>>>>>>>>>>>>>>>>>>>>>>>>>>>>>>>>>>>>>>>>>>>>>>>>>>>>>>>>>>>>>>>>>>>>
GAME 4, SOUTHERN OREGON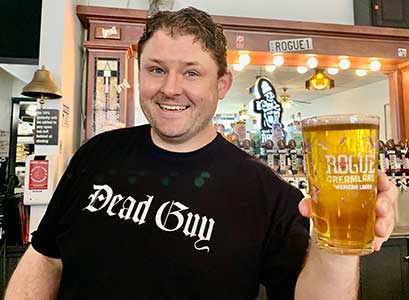 Player: Dreamland American Lager (#2 seed)
Team: Rogue Ales, Newport
Stats: 4.8% ABV, 14 IBU
CRESPIN: This is a light, refreshing American lager that's clean and crisp with a subtle sweetness, married with a touch of spice and earthiness from the Sterling hops in the finish.
PLETCHER: A portion of Dreamland's proceeds go toward Dreamland Skateparks' efforts to building safe and clean skateparks around the world, including Newport, Oregon, home of Rogue's company headquarters.
CRESPIN: That's righteous, but I'd also cheers Rogue for its effort to support Ukrainians during the Russian invasion. Rogue Ales brewed F*#K Putin, an IPA with one hundred percent of the proceeds from that beer benefiting Global Giving's Ukraine Crisis Relief Fund, which helps local, trusted nonprofits provide access to food, medicinal services, and education. The current crisis hits home for Rogue President Dharma Tamm, whose family was displaced when Russia invaded Estonia for the second time in 1944.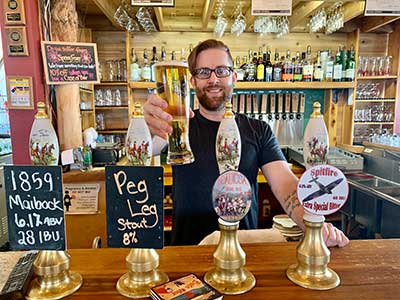 Player: JFK Domestic Lager (#15 seed)
Team: Santiam Brewing, Salem
Stats: 4.5% ABV, 11 IBU
CRESPIN: Santiam's JFK Domestic Lager is brewed with North Star Pils malt, Dextrin, rice syrup and Cascade hops for a classic American beer for classic American rock. Can you figure out the association?
PLETCHER: The Byrds' "He Was a Friend of Mine?" Bob Dylan's "Chimes of Freedom? The Rolling stones' "Sympathy for the Devil"? Anyway, I highly suggest everyone make their way to Santiam Brewing, drink this lager and enjoy authentic British food.
VOTING IS CLOSED >>>>>>>>>>>>>>>>>>>>>>>>>>>>>>>>>>>>>>>>>>>>>>>>>>>>>>>>>>>>>>>>>>>>>>>>>>>>>>>>>>

Monday, April 11 Tournament of Northwest Lagers action
Game 1: Wet Coast Costa Mejor (sixth seed) vs. Brothers Cascadia Blue Collar Lager (11th seed)
Game 2: Grains of Wrath Dive Bar (third seed) vs. Heathen Brewing Buena Mierda (14th seed)
Game 3: Ruse Shifting Dreams (fifth seed) vs. Ancestry Japanese Lager (12th seed)
Game 4: Baerlic Dad Beer! (fourth seed) vs. Occidental Japanese Lager (13th seed)
LINK: Hot Damn! Yes, I want to subscribe to 6-Pack of Things To Do newsletter and be hip to local happenings!
LINK: Past Tournament of Beer competitions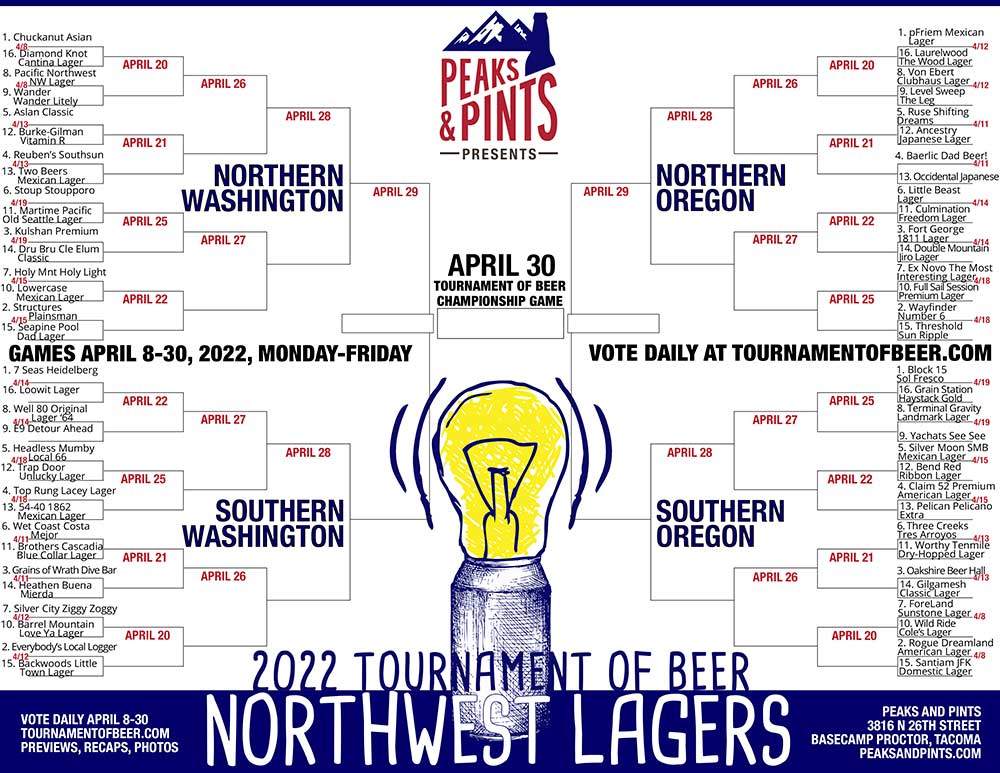 ---