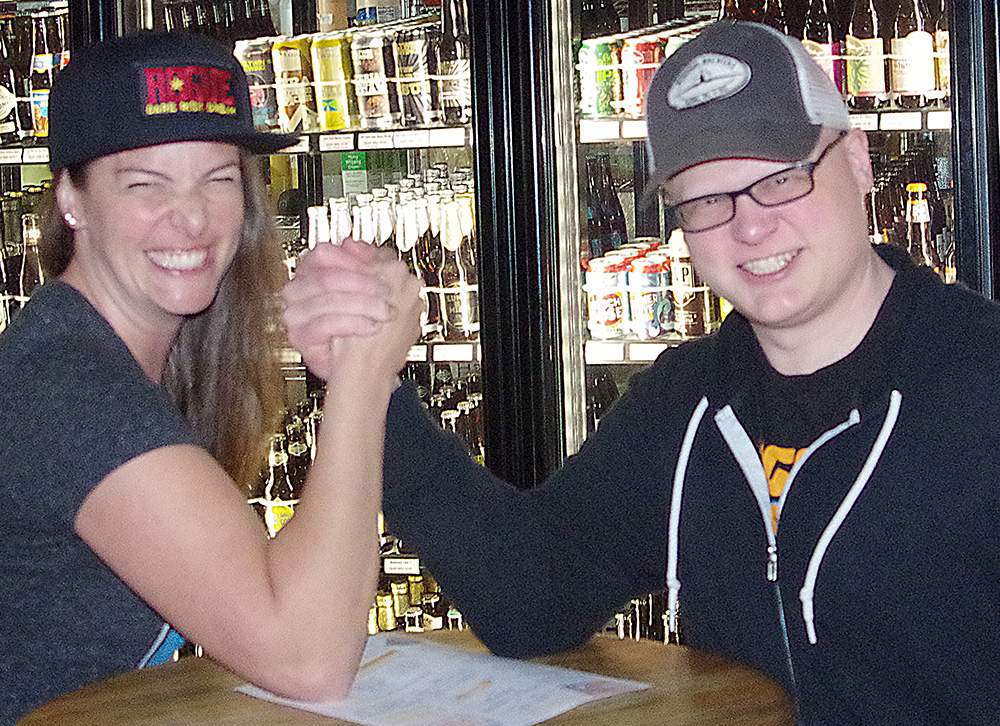 Tournament of Beer: Northwest Porters winner and recap
Porters — as in, the style of beer — originated in the United Kingdom several centuries ago as a way to appease the working class. The beer gets its name from the porters that carried goods around the streets of London, rough and tumble workers who wanted something more substantial than the table beers known as bitters. The porter, with its heartier flavor profile, was exactly what they were seeking.
The style of beer has developed over the years, and these days there are several sub-varieties of porters to explore. Three distinct types of porters are now mainstream: Baltic, brown and robust. Regardless of the style, all porters retain certain characteristics that bond them together as a style: they are all dark beers; all porters contain some roast and/or chocolate malt character, though the extent can vary widely; and they are also all considered to be malt-showcased beers.
In March 2018, Peaks and Pints surveyed Pacific Northwest denizens to nominate their favorite porter from Washington, Oregon or Idaho. Then, April 6-28, Peaks and Pints bottle shop, taproom and restaurant in Tacoma's Proctor District pitted the top 64 nominated porters against one another in the mother of all craft beer brackets. You saw the carnage: No. 1 seeds fell, powerhouses butted heads, and surprise porters made a run at the prize. Below is a recap of the 2018 Tournament of Beer: Northwest Porters.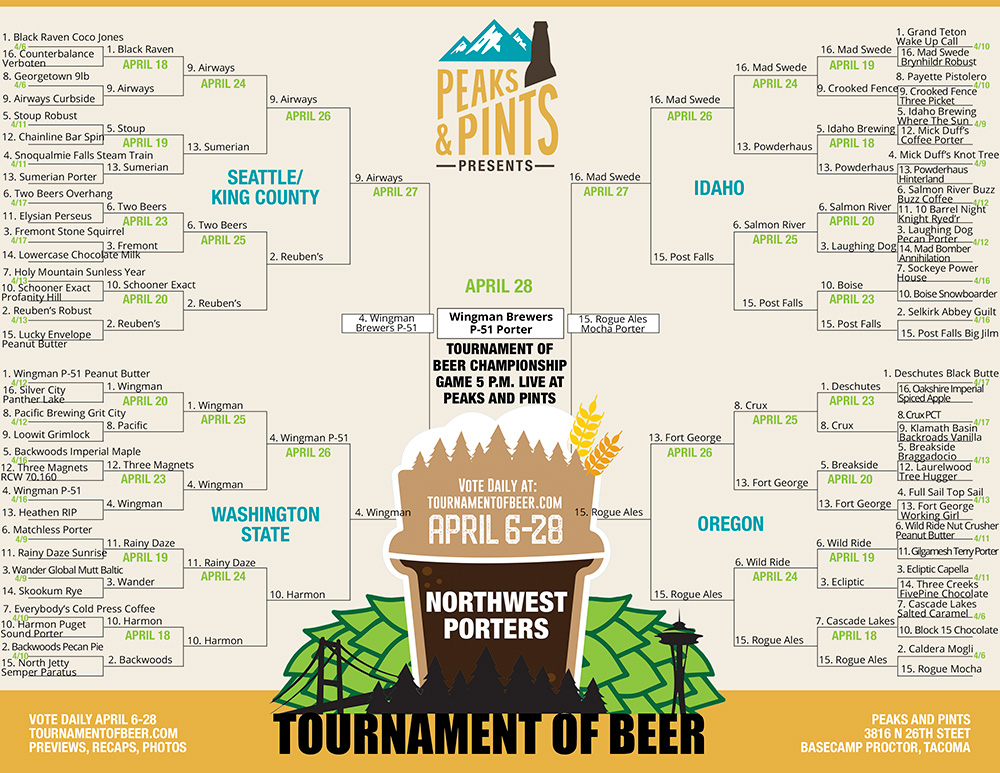 The first two weeks saw the bracket shaking off the flagships and one-offs as early matches cut the field from 64 to the Sweet Saccharification 16. Three top seeds didn't make the cut, including Black Raven Coco Jones Coconut Porter in the Seattle/King County Region, Grand Teton Wake Up Call Imperial Coffee Porter in the Idaho Region and Deschutes Black Butte Porter in the Oregon Region, leaving three-fourths of the bracket wide open.
Week three was when the serious work began, with only the best of the bracket trying to brew porters into the Fermentation Four.
In the Seattle/King County Region, multiple gold medalist Reuben's Brews Robust Porter made it to the Sweet Saccharification 16 only to be knocked out in the next round by aviation-themed Airways Brewing's Curbside Porter, landing the ninth seed Curbside a seat in the Fermentation Four.
In the Idaho Region, Cinderella (wearing Viking horns) story and 16th seed Made Swede Brewing Brynhildr Robust Porter shocked the world by beating Grand Teton's Wake Up Call, then pillaging Crooked Fence Brewing's 3 Picket Fence Porter and Powerderhaus' Hinterland Porter before hammering Post Falls Big Jilm Imperial Coffee Porter to make it into the Fermentation Four.
In Oregon, 13th seed Fort George Brewery's Working Girl Porter and 15th seed Rogue Ales' Mocha Porter won easy victories on the way to the region's Ethanol Eight, with amazing victories over tough opponents Crux Fermentation Project's PCT Porter and Wild Ride Brewing's Nut Crusher Peanut Butter Porter, respectively. Rogue, with its multiple statewide brewpubs and powerful Rogue Nation membership club, sent Working Girl back to Astoria as Mocha Porter moved into the Fermentation Four.
In the Washington State Region, Wingman Brewers gobbled up votes left and right with their fourth seed P-51 Porter and number one seed Peanut Butter Cup Porter — two porters that meet in the Sweet Saccharification 16 with P-51 moving on to face the popular Harmon Brewing Puget Sound Porter in the Ethanol Eight. Unexpectedly, this was an epic battle … the kind of thing Tournament of Beer "instant classics" are made of. P-51 won earning a slot in the Fermentation Four.
Airways Brewing's Curbside Porter, Mad Swede Brewing's Brynhildr Robust Porter, Rogue Ales' Mocha Porter and Wingman Brewers' P-51 Porter — each porter has a different porter philosophy. Airways head brewer and former Alaska Airlines employee, Alex Dittmar, brews his creamy and nutty London-style Curbside Porter with Brown, Crystal and Chocolate malts with East Kent Golding hops. Mad Swede founders Jerry and Susie Larson were engineers before putting on their Viking lab coats and brewing Brynhildr, a lovely beer with sweet chocolate roast coffee and floral notes. Both are fabulous examples of the porter art, but neither of them could top Wingman's P-51 Porter and Rogue's Mocha Porter. These are the porters that made it into the Tournament of Beer: Northwest Porters Championship Game.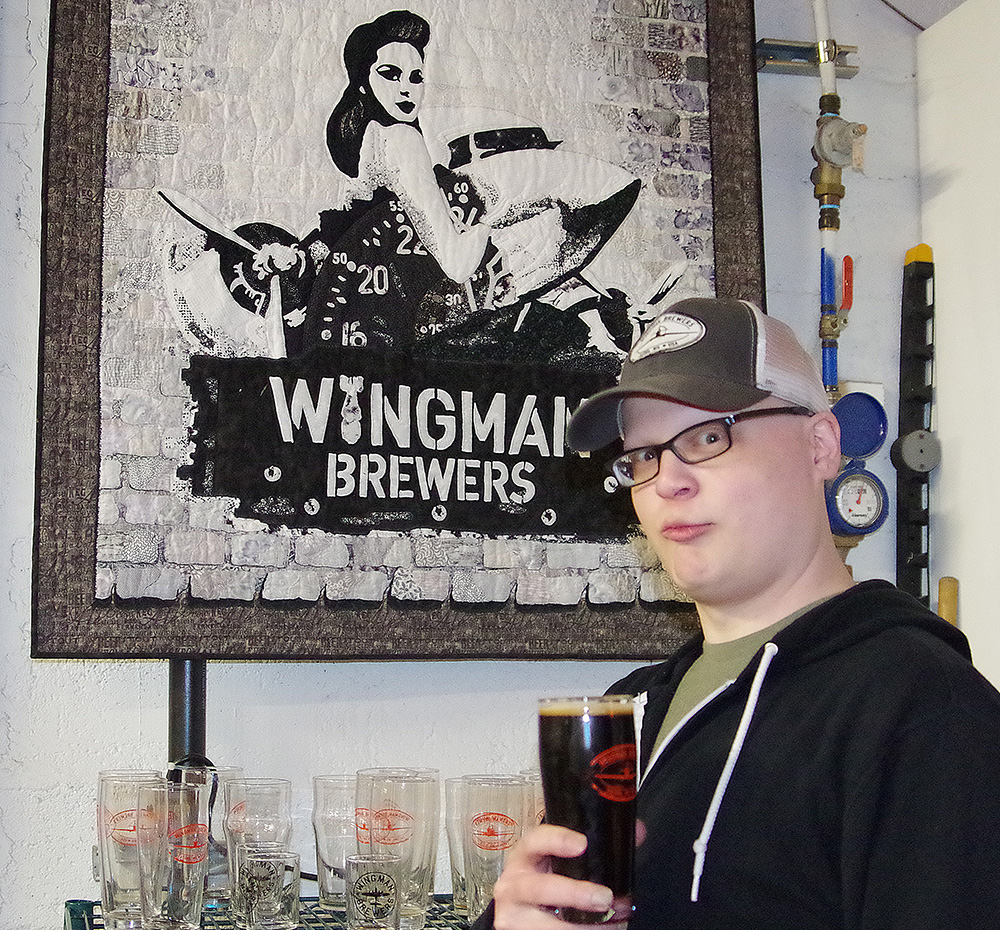 The P-51 Porter was Wingman's first real beer recipe. "It goes back to 2008 when Derrick (Moyer) and I were home brewing," explains Wingman co-founder Ken Thoburn. "At the time, Lazy Boy Porter from Everett was my favorite beer around, so we tried to emulate that. The beer was initially made for a friend's birthday and called Nalty's Tall Order Porter since he's a tall dude and asked us to make a Porter for his birthday party. The beer went over so well with our friends that it remains the only recipe we've never changed since Wingman started … with Washington-grown barley and Moxie valley hops." The P-51 Porter is a robust and clean-finishing porter that offers rich, malty flavors that highlight hints of chocolate, coffee, nuts and smoke. Wingman is known for their porters. It's what they do. Wingman probably has the more "talented" porter on paper, but as we all know the Tournament of Beer isn't played on paper (it's played with finger taps).
In May of 1989, John Maier arrived in the small Oregon coastal town of Newport just in time to create Rogue Ales brew #1. Twenty-eight years and more than 20,000 brews later, Maier still rides his bike daily over the Yaquina Bay Bridge to the brewery where he continues to create innovative brews that have garnered international acclaim. One of the pioneers in the craft-brewing world, Rogue consistently puts out award-winning beers year after year, winning gold in national and international competitions. Mocha Porter hits the nose with coffee beans, light espresso, roasted malts, dark chocolate and some sweet creamy milk notes, followed by balanced bitter, mocha coffee, roasted malts and dark chocolate — what you get in the nose but the roastiness is stronger. Rouge Ales has brewpubs scattered all over Oregon, and a strong membership club, Rogue Nation; they'll be tough to beat. Did the battle with the Viking wear them down?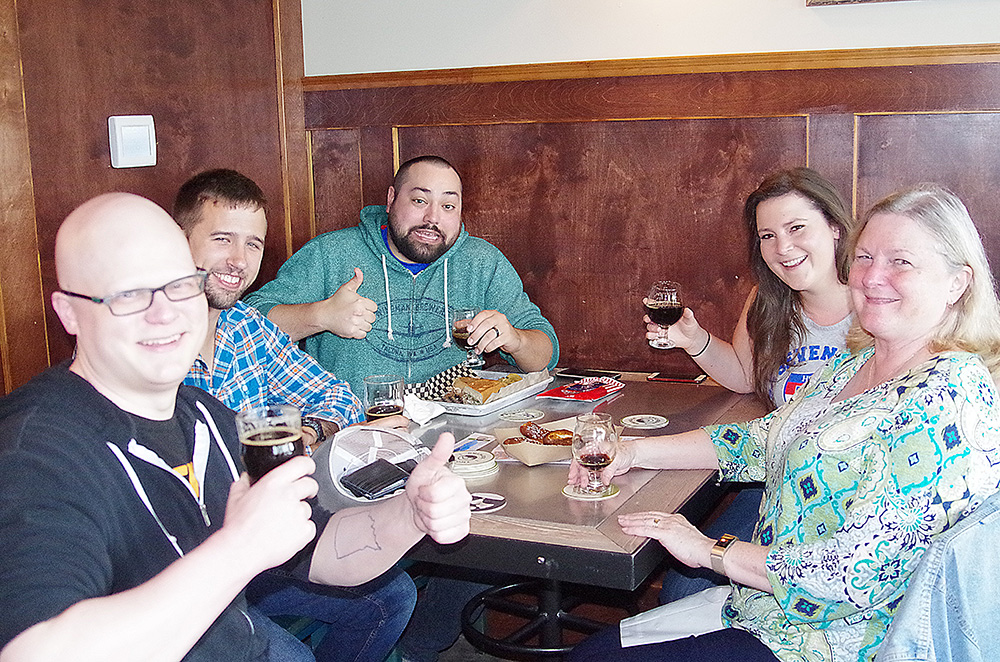 Saturday, April 28, 2018, the Tournament of Beer: Northwest Porters Championship Game began with Wingman P-51 Porter gobbling up online votes for an early lead. In aviation, the P-51 Mustang was considered one of the top fighters of its day. Even now, more than 70 years later, it is still very much a flying hot rod. It's no wonder Mustangs continue to be the fastest propeller-driven racing planes. It takes tremendous skill and training to maintain control of that much power. Apparently, that's also true in the craft beer world. Wingman's P-51 raced through the Tournament of Beer: Northwest Porters, including the Championship Game. The Rogue Nation either forgot about the Championship Game or it just was too much of a rad day in Rogue's hometown of Newport, Oregon, fishing a big 6mm or 8mm hard bait and potting in over the top with micros, as they say in the commercial fishing world.
When the 4 o'clock bell chimed, and the online voting closed, Wingman had a 628-vote lead.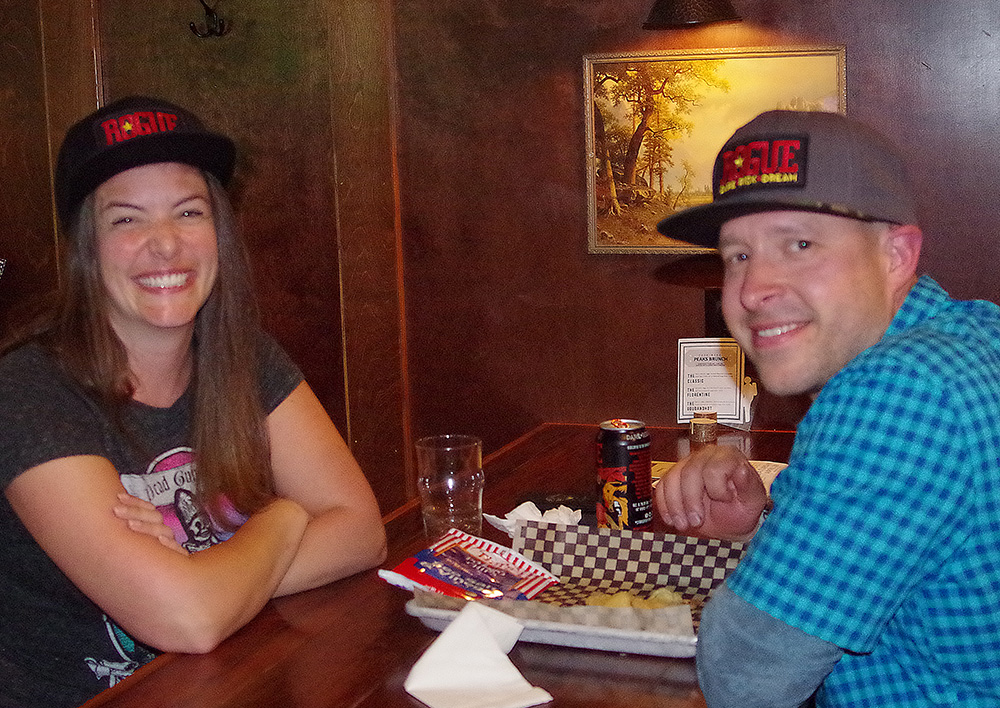 At 5 p.m., the Tournament of Beer moved into the live vote portion of the Championship Game, initiating a ballot vote and a bunch of craft beers — including both competing porters — at Peaks and Pints in Tacoma's Proctor District. Huge beer festivals in Bellingham and Seattle consumed most of the Wingman and Rogue contingents, with Wingman founder Derrick Moyer, brewer Peter Brown and Task Force Brewing co-owner Jim Leise in the house for Wingman and Rogue Washington Sales Executive Sarah Ashworth and Columbia Distributing Sales Executive Bryan Nedley representing Rogue Nation. Brewer Mike Montoney, whose Rainy Daze Brewing's Goat Boater IPA won last year's Tournament of Beer: Washington IPAs, chatted with both breweries offering pointers as he sipped his Sunrise Coffee Porter, which was on tap.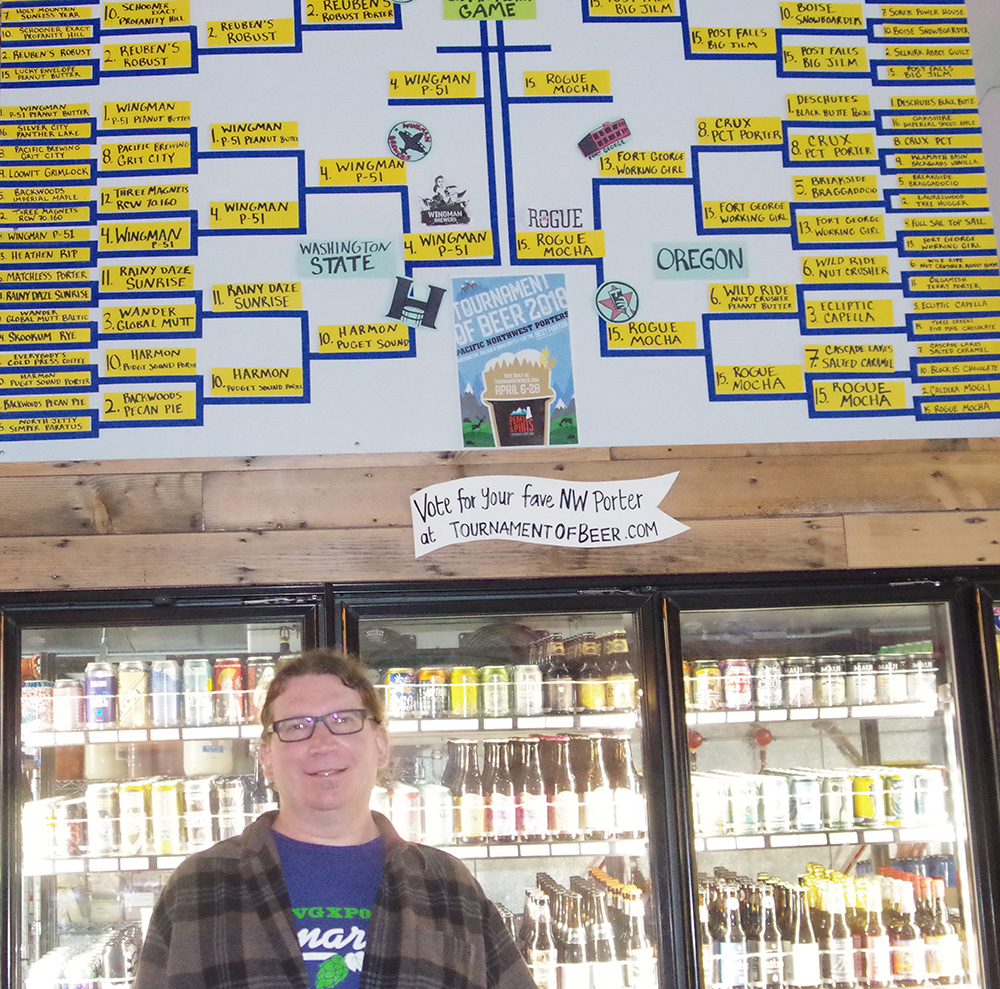 As promised, Peaks and Pints tallied the on-location votes around 8:30 p.m. of the porter showdown, which Wingman managed to own. After the raffle prizes found homes, and the funk soundtrack was switched off, and we stumbled through a long explanation of past Tournament action, Wingman Brewers' P-51 Porter was crowned the Tournament of Beers: Northwest Porters champion by a 694 margin.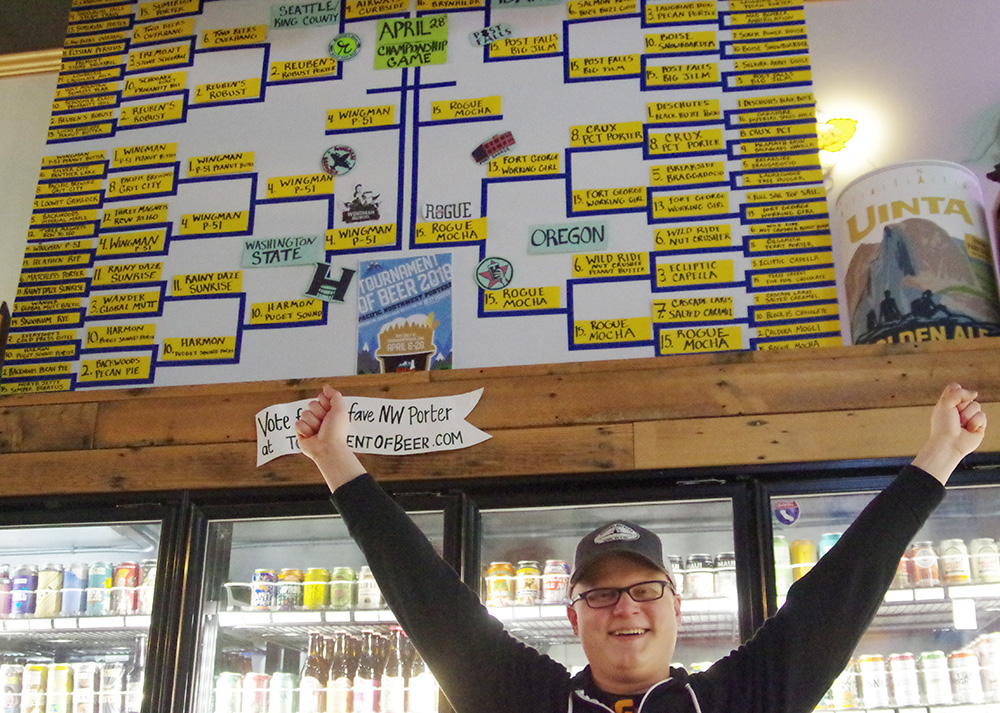 Wingman Brewers will receive the Tournament of Beer trophy after completion of the engraving and a permanent handle at Peaks and Pints through the summer.
So it's official: Wingman Brewers P-51 Porter is the winner of Peaks and Pints' Tournament of Beer: Northwest Porters. Drink it up, Pacific Northwest.
Thank you!
Peaks and Pints would like to thank its staff. All the Tournament explanations, the giant wall bracket, the endless handouts and ballots — they held their composure and trademark smiles. But, most of all, thanks to all the awesome folks who voted. You rock.
See you next year for the Tournament of Beer: Northwest Pilsners.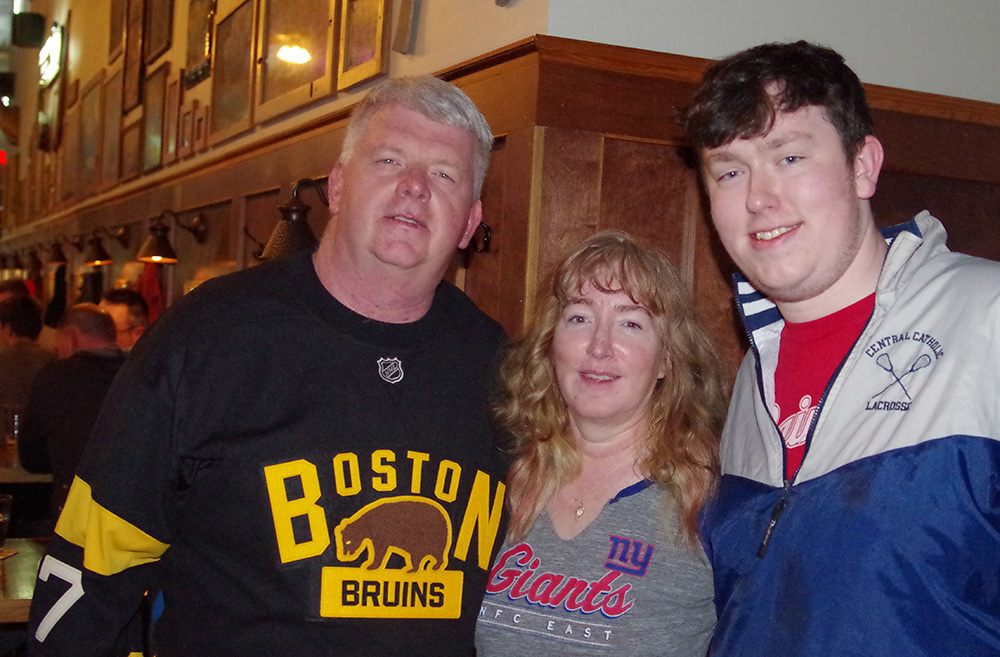 ---