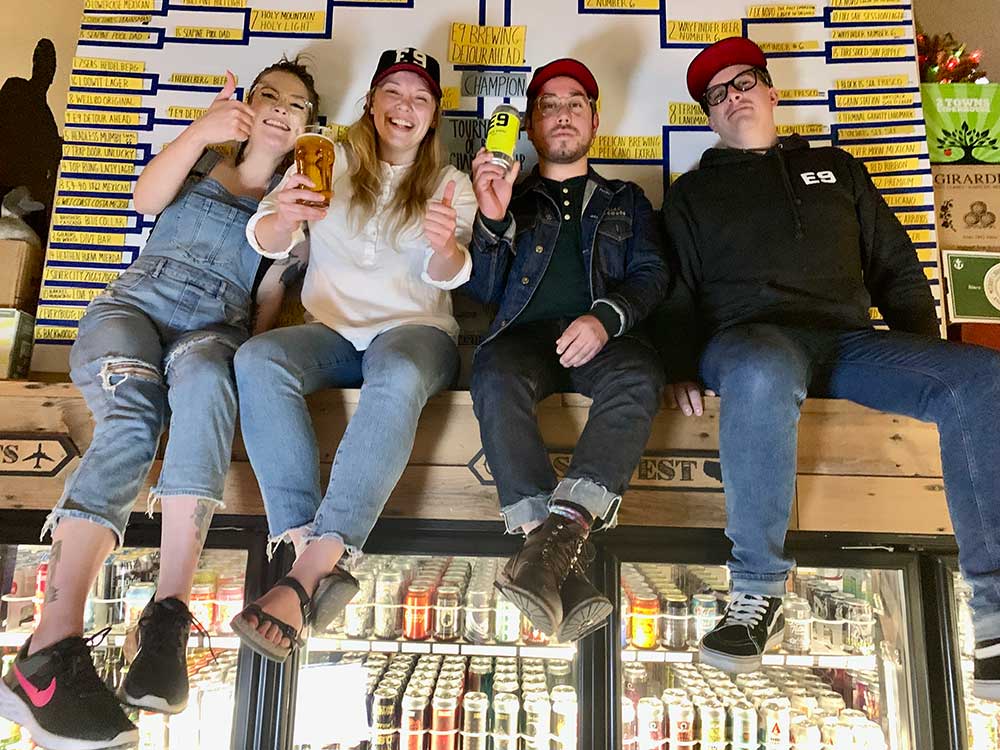 Peaks and Pints Tournament of Beer: Northwest Lagers Champion crowned
If you walked into Peaks & Pints last night you most likely weren't surprised to see five IPAs tapped on our Western red cedar tap log. The hop bombs keep the lights on. But left of the IPAs on our log were two crisp, cold, and refreshing lagers. Our bartenders pulled lager tap handles all night for folks 21 to 84 years of age, male and female, all ethnicities, and all social status. You see, lagers are a historically a sociable drink, with ideal sessionability and broad appeal. OK, last night was also the Peaks and Pints Tournament of Beer: Northwest Lagers Championship Game. People drank each lager while voting.
In early March 2022, we ask the public to nominate their favorite Washington and Oregon brewed pale and light lagers. Then, April 8-30, Peaks and Pints bottle shop, taproom and restaurant in Tacoma's Proctor District pitted the top 64 nominated lagers against one another in the mother of all craft beer brackets. You saw the carnage: all the number one seeds fell, powerhouses butted heads, and surprise lagers made a run at the prize. Here's a recap of the 2022 Peaks and Pints Tournament of Beer: Northwest Lagers. …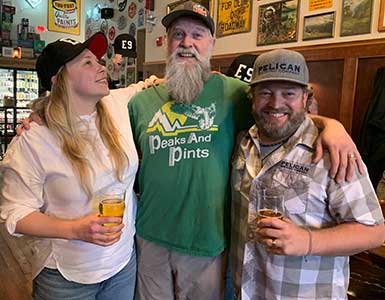 Bracket Madness
The first two weeks saw the bracket shaking off the seeded lagers as early matches cut the field from 64 to the Sweet Wort Sixteen. Half of the top seeds didn't the make cut, including Heidelberg Premium Lager in the Southern Washington Region and Block 15 Sol Fresco and Rogue American Dreamland in the Southern Oregon Region, leaving the bottom half of the bracket wide open.
Week three was when the serious work began, with the best of the bracket trying to brew lagers into the Final Four.
In the Northern Washington region, number one seed Chuckanut Brewery's Asian Styler Lager made it to the Sweet Wort Sixteen where in beat Burke-Gilman Vitamin R for a slot in the Ethanol Eight. Number seven seed Holy Mountain Light Lager met Kulshan Brewing Premium Lager in the Sweet Wort Sixteen where Kulshan didn't take the game lightly and advanced to the Ethanol Eight. Kulshan rallied the votes and landed in the Final Four.
In the Southern Washington region, number nine seed E9 Brewing Detour Ahead moved past local notables Well 80 Original Lager '64, Heidelberg Premium Lager, and Headless Mumby Local 66 grabbing a seat in the Ethanol Eight. Number 2 seed Everybody's Local Logger beat Silver City Ziggy Zoggy Party Beer and Wet Coast Costa Mejor Golden Mexican Lager to face E9. It was a brutal battle with E9 finding a seat in the Final Four.
Over on the Northern Oregon region, number one pFriem Mexican Lager knocked of lagers brewed by Laurelwood, Level, and Ruse for an Ethanol Eight slot. Number 2 seed Wayfinder Beer Number 6 beat Ex Novo's The Most Interesting Lager In The World and Fort George 1811 Lager for an Ethanol Eight date with pFriem. The two Oregon powerhouses battled back and forth with Wayfinder eventually squeaking out a win.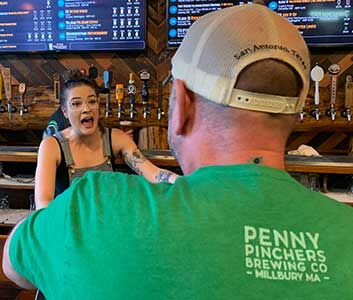 In the Southern Oregon region, after Santiam Brewing's JFK American Lager pushed number two seed Rogue American Dreamland out of the Tournament, Wild Ride Brewing Cole's Lager took care of JFK, then Worth Brewing's Tenmile Dry Hopped Lager for as slot in the Ethanol Eight. Number one seed Block 15 Sol Fresco didn't make it out of the Second Round thanks to Terminal Gravity's Landmark Larger. Number 13 seed Pelican Brewing Pelicano Extra! Mexican lager crushed its competition, including Landmark Lager and Cole's Lager, for a slot in the Final Four.
Kulshan Brewing Premium Lager. E9 Brewing Detour Ahead. Wayfinder Beer Number 6. Pelican Brewing Pelicano Extra. Each brewery has a different lager philosophy — Wayfinder Brewmaster Kevin Davey scientifically brews his lager with his trademark Wayfinder Crispness® to Kulshan Brewing Head Brewer Wesley Finger brews his delicate Premium Lager with U.S. Malted Barley, German Pilsner malt, and Yakima Valley hops. Both are fabulous examples of the lager art, and both are well worth a visit. But neither of them could top the lagers at Tacoma's E9 Brewing and Pacific City's Pelican Brewing. These are the lagers that made it into the Tournament of Beer: Northwest Lagers Championship Game.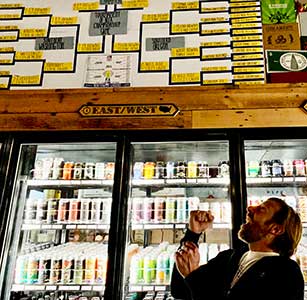 Tournament of Beer Championship Game
Columbia Brewing Co. brewed Tacoma Brew in the late 1800s in Tacoma's now Historic Brewery District. As I mentioned previously, Columbia and its successor, Heidelberg Brewing, are gone but Tacoma Brew, a Kolsch, is still being brewed. I'll get to that in a second. Originally built in 1907, Engine House No. 9 doused fires via horse-drawn service. The ground floor was the stable; the second floor the living quarters for the firemen. Engine House No. 9 doused fires until the mid-1960s. In 1965, two News Tribune employees saved the abandoned building and by the early '70s the Engine House No. 9 tavern was pouring beer. In 1995, Dusty Trail converted the early 20th century firehouse into a brewpub, and brought back the Tacoma Brew, the famous Tacoma lager of 1888. Dick Dickens grabbed the reins in 2002, bringing in head brewer Doug Tiede. Heads turned and medals were hung. In 2011, X Group purchased Engine House No. 9, with former chef turned head brewer Shane Johns and brewer Donovan Stewart eventually breaking the brewery off from the restaurant with the new name, E9 Brewing Co. In the spring of 2019, E9 moved its entire brewery across town to a massive space in Tacoma's Brewery District. E9's Detour Ahead hoppy lager is a single hop lager brewed with Palisade hops with aromatics of stone fruit and earthy floral notes.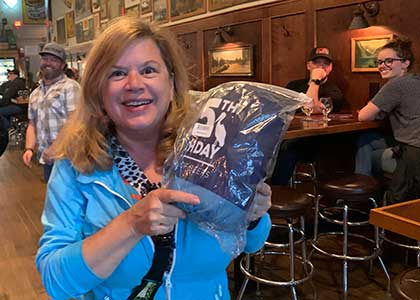 In 1996, Jeff Schons and Mary Jones founded English-focused Pelican Brewing Company in Pacific City — Oregon's only oceanfront brewpub. Celebrating its 26th year, the brewing company has created tasty treats such as Kiwanda Cream Ale, India Pelican Ale, MacPelican's Scottish Ale, Tsunami Stout and Doryman's Dark. Founding brewmaster Darron Welch and Pelican have won more than 450 awards including the Peaks & Pints 2020 Tournament of Beers: West Coast Flagships with their Kiwanda Cream Ale. They're Oregon's most awarded brewery. Inspired by the lagers of Latin America, Pelican Brewing's Pelicano Extra Mexican lager is brewed with 6-row malt with floral Tettnang hop aroma and a spicy hop finish.
Saturday, April 30, 2022, the Tournament of Beer: Northwest Lagers Championship Game began with E9 Brewing's Detour Ahead gobbling up online votes for an early lead. The Pelican Pelicano Extra kept the game within a hop leaf's length for the first six hours. Then Tacoma said that's enough. E9 Brewing began receiving a nine to one ratio of votes that Pelican couldn't flap its wings hard enough to keep up.
When the 4 o'clock bell chimed, and the online voting closed, E9's Detour ahead had a 65-vote lead.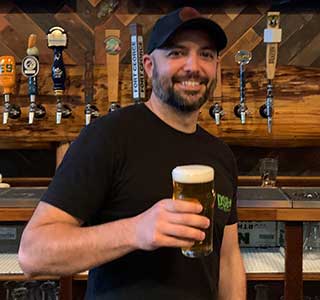 At 5 p.m., the Tournament of Beer moved into the live vote portion of the Championship Game, initiating a ballot vote and a bunch of craft beers — including both competing lagers — at Peaks and Pints in Tacoma's Proctor District. The Pelican contingent arrived a half-hour before Team E9 made its way down Proctor Street. Folks from Whole Foods in University Place and The Beer Vault in Purdy chatted with Pelican Sales Executive Mike Shawver and E9 Sales Executive Katie Johnson. The Seattle Mariners bats would ever so often steal a lager conversation.
As promised, Peaks and Pints tallied the on-location votes around 8:30 p.m. of the lager showdown, which E9 managed to own. After the raffle prizes found homes, and the weird "sports themed" soundtrack was switched off, we stumbled through a long explanation of past Tournament action, E9 Detour Ahead was crown the Tournament of Beers: Northwest Lagers champion by a 104-vote margin.
Then, a lager love fest broke out. Both breweries congratulated each other, tossing out compliments and posing for pictures. E9's Katie Johnson gave an emotional acceptance speech, thanking the voters and the Tacoma community. Pelican's Shawver also expressed gratitude, giving props to Pelican's Oregon Coast population. Both breweries and their peeps signed autographs and told stories of early bracket victories.
E9 Brewing will receive the Tournament of Beer trophy after completion of the engraving and a permanent handle at Peaks and Pints through the summer.
So, it's official: E9 Brewing Detour Ahead hoppy lager is the winner of Peaks and Pints' Tournament of Beer: Northwest Lagers. Eat it up, Washington state.
Thank you!
Peaks & Pints would like to thank its staff. All the Tournament commentary, the giant wall bracket, the endless handouts, and ballots — they held their composure and trademark smiles. But, most of all, thanks to all the awesome folks who voted. You rock!
LINK: Tournament of Beers: Northwest Lagers explained
LINK: Hot Damn! Yes, I want to subscribe to 6-Pack of Things To Do newsletter and be hip to local happenings!
LINK: Past Tournament of Beer competitions
More Peaks and Pints Tournament of Beer: Northwest Lagers Championship Game photos below. …
---