Tournament of Beer: Northwest Pilsners final vote and tonight's party
RON SWARNER: The titanic pilsner throwdown finale is on! Voting for Peaks and Pints Tournament of Beer: Northwest Pilsners Championship Game is live.
After three weeks of voting, you have picked the most popular pilsners in the Pacific Northwest. What began as 64 Saaz-slinging pilsners has been narrowed down to two!
PEAKS AND PINTS WEATHER GUY: A 50 percent chance of snow showers at Mt. Rainier today. High 10 degrees. Blustery, with a west-northwest wind 26 mph, with gusts as high as 34 mph. AccuWeather map shaped like Abe Vigoda. Bartenders are making me wear Snow Miser mask.
RON SWARNER: First, let's take a look at yesterday's Final Four action, and then vote on the Championship Game. …
Friday, April 26, Final Four Northwest Pilsners results
FINAL FOUR GAME 1
2. Reuben's Pilsner vs 4. Kulshan Pilsner
RON SWARNER: After mounting quite a tear through the Tournament of Beer: Northwest Pilsners, #2 seed Reuben's Brews Pilsner's run came to a halt when it faced #4 seed Kulshan Brewing Pilsner yesterday. The Bellingham brewery grabbed 54 percent of the vote and enters the Championship Game today. Kulshan Lead Brewer Jenn Tadder orchestrated a powerful team that ripped though Silver City Cold One, Boundary Bay Pilsner, Scuttlebutt Ray of Hope and Farmstrong Cold Beer. She now has her eye on the trophy.
PEAKS AND PINTS WEATHER GUY: Jenn Tadder was a medaled homebrewer. In 2016, Tadder and Aslan Brewing grabbed gold in the ProAm category at the Washington Beer Awards for her Lucky Break Vienna Lager. It became the first Pro-Am Beer in Bellingham's history.
FINAL FOUR GAME 2
4. Occidental Bohemian Pilsner vs 1. pFriem Pilsner
RON SWARNER: Our beer line cleaners called it the game of the tournament, which is hard to argue with two breweries that know how to brew award-winning pilsners. When the last pint was poured, and a lead it never gave up the entire day, Occidental Brewing Bohemian Pilsner grabbed an impressive 69 percent of the vote and moves on to today's championship game.
PEAKS AND PINTS WEATHER GUY: Wow.
Saturday, April 27, Northwest Pilsners Championship Game
RON SWARNER: Welcome to the Big Dance. Online voting will end at 4 p.m. Please vote only once. Voting will resume at 5 p.m. live at Peaks and Pints craft beer bar, bottle shop and restaurant in Tacoma's Proctor District. Ballots will be handed out, which will also serve as raffle tickets. The live vote will close at 8 p.m. and roughly a half-hour later the Northwest Pilsner champion will be announced. The winning brewery will receive a permanent handle at Peaks through the summer.
Player: Kulshan Pilsner (#4 seed)
Team: Kulshan Brewing, Bellingham
RON SWARNER: For the past couple years, when a mention of Bellingham breweries awards comes up, there's always a discussion that starts with "Kulshan, again?", but even though the rest of Bellingham's growing craft beer scene is pretty damn awesome, the stamp that Kulshan Brewing has put on Bellingham can't be denied. The brewery's German-style "Pilsner" grabbed a gold medal at the 2017 Best of Craft Beer Award and a silver at the 2018 Washington Beer Awards, no doubt for its traditional clean and bready malt flavors supported by herbal, floral and slightly spicy hop aromatics and flavor. With a medium body and a dry finish, Kulshan Pilsner is going to be hard to beat.
Player: Bohemian-Style Pilsner (#4 seed)
Team: Occidental Brewing, Portland
RON SWARNER: Long before the Portland neighborhood of St. Johns finally hit its long-anticipated growth spurt, the Occidental Brewing Company set up shop near the bridge and quietly started brewing some of the best German-style ales and lagers in Oregon. Thanks to an expansion into a Wursthaus, you can get a grilled brat, as well as a number of other options, to go with your Bohemian-style pilsner. Occidental Brewing Co. was founded in 2011 by Ben and Dan Engler. Focusing on largely traditional continental European beer styles, Occidental has won numerous awards. Plus, gotta love a pilsner in a big-boy, 16-ounce tallboy can. It's an easy-drinking, Bohemian style pilsner on the fruity/malty/grainy/grassy side of things, but gets a crisp kick from the Czech Saaz hops.
PEAKS AND PINTS WEATHER GUY: Untie me bartenders! I want to vote!
VOTE BELOW>>>>>>>>>>>>>>>>>>>>>>>>>>>>>>>>>>>>>>>>>>>>>>>>>>>>>>>>>>>>>>>
Be sure to click the blue DONE button after selecting your favorite pilsner!
Thanks again everyone for voting! See you at Peaks and Pints at 5 p.m.
LINK: Tournament of Beers: Northwest Pilsners explained
LINK: Hot Damn! Yes, I want to follow Peaks and Pints Weather Guy on Twitter!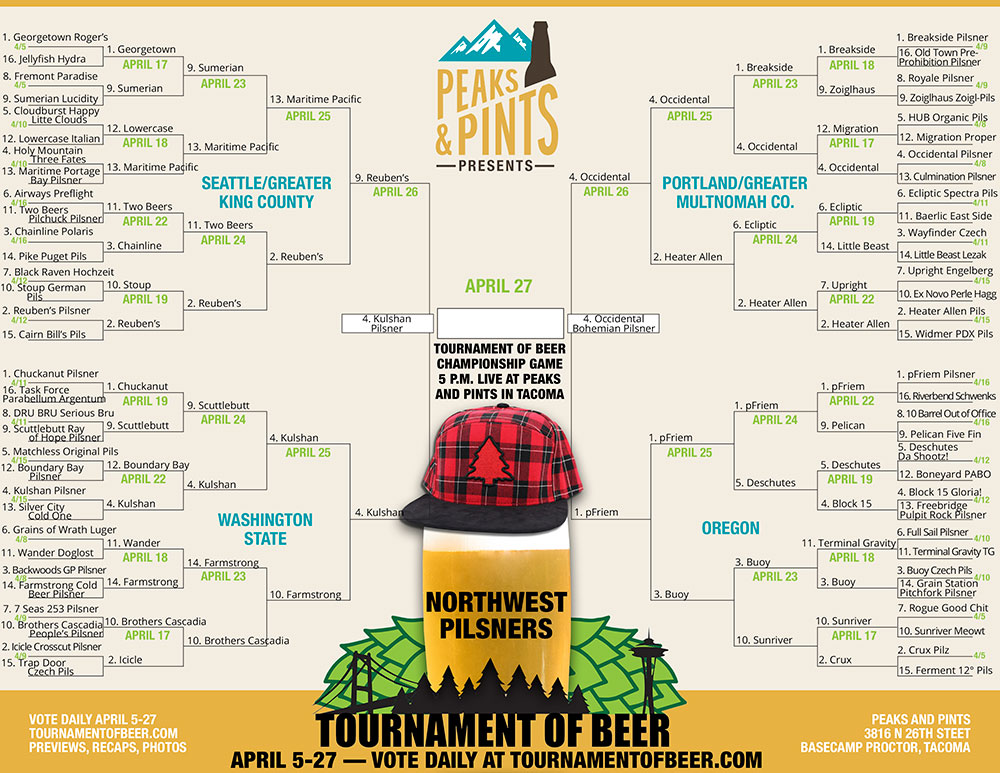 ---