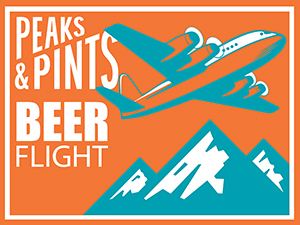 During the month of February, we asked our Peaks and Pints patrons and the public to vote for their favorite pilsners brewed in Washington and Oregon. Through an online nomination system, beer enthusiasts listed 81 pilsners with the top 64 seeding the Tournament of Beer: Northwest Pilsners' knockout bracket, which kicked off Friday, April 5 when the first eight pilsners met on our wooden floor. Today, the final four pilsners face off until the final buzzer at 11:45 p.m. Peaks and Pints is offering a chance to taste all four in a beer flight we call Craft Beer Crosscut 4.26.19: A Flight of Final Four Pilsners. Pick the best tasting pilsner from each game, and then vote at tournamentofbeer.com. The Championship Game Party will be held at 5 p.m. Saturday, April 27 at Peaks and Pints in Tacoma's Proctor District. Online voting will launch around 9 a.m. tomorrow morning, closing at 4 p.m. At 5 p.m., the voting will resume live at Peaks and Pints during the Official Tournament of Beer Party. Both pilsners will be flowing from our Western red cedar tap log. The winner will be announced around 9 p.m. There will be much rejoicing! Bonus: As a thanks for tasting all four competing pilsners, we offer dessert as the final beer.
Craft Beer Crosscut 4.26.19: A Flight of Final Four Pilsners
Reuben's Brews Pilsner
5.4% ABV, 35 IBU
Seattle/Greater King County Region, #2 seed
Adam Robbings' beer recipes had much success at homebrew competitions, including winning the silver medal at the National Homebrewing Competition in 2012, and his talent, along with a Kickstarter campaign that raised close to $11,000, eventually earned him his own brewery — Reuben's Brews officially opened in Seattle's Ballard district in August 2012. Since then, the team has accrued an astounding amount of accolades, including a 2016 Washington Beer Awards gold medal for its Czech-style Pilsner, a clean, crisp and bright lager with bready malt notes and spicy traditional hops.
— VERSUS —
Kulshan Brewing Pilsner
5.2% ABV, 30 IBU
Washington State Region, #4 seed
For the past couple years, when a mention of Bellingham breweries awards comes up, there's always a discussion that starts with "Kulshan, again?", but even though the rest of Bellingham's growing craft beer scene is pretty damn awesome, the stamp that Kulshan Brewing has put on Bellingham can't be denied. The brewery's German-style "Pilsner" grabbed a gold medal at the 2017 Best of Craft Beer Award and a silver at the 2018 Washington Beer Awards, no doubt for its traditional clean and bready malt flavors supported by herbal, floral and slightly spicy hop aromatics and flavor from Hallertau Magnum, Hallertau Perle, and Spalt Spalter hops. With a medium body and a dry finish, Kulshan Pilsner is going to be hard to beat.
Occidental Brewing Bohemian-Style Pilsner
4.8% ABV, 35 IBU
Portland/Greater Multnomah County Region, #4 seed
Long before the Portland neighborhood of St. Johns finally hit its long-anticipated growth spurt, the Occidental Brewing Company set up shop near the bridge and quietly started brewing some of the best German-style ales and lagers in Oregon. Thanks to an expansion into a Wursthaus, you can get a grilled brat, as well as a number of other options, to go with your Bohemian-style pilsner. Occidental Brewing Co. was founded in 2011 by Ben and Dan Engler. Focusing on largely traditional continental European beer styles, Occidental has won numerous awards. Plus, gotta love a pilsner in a big-boy, 16-ounce tallboy can. It's an easy-drinking, Bohemian style pilsner on the fruity/malty/grainy/grassy side of things, but gets a crisp kick from the Czech Saaz hops.
— VERSUS —
pFriem Family Brewers Pilsner
4.9% ABV, 35 IBU
Oregon region, #1 seed
Seattle native Josh Pfriem began homebrewing while at Western Washington University in his early 20s then moved to Utah as a ski bum. He worked at Utah Brewers Cooperative for a few years before moving back to his old college town of Bellingham to brew at Chuckanut Brewery, where he helped win the Great American Beer Festival Small Brewpub of the Year in 2009. He moved to Hood River, Oregon to work at Full Sail but left in December 2011 to open pFriem Family Brewing — across the highway from Full Sail along the banks of the Columbia River — in August 2012. The brewery prides itself on its strong family focus and community involvement, as well as its ingredients — while many craft brewery websites list the notable spices and hops used in their brews, none we've encountered boast the encyclopedic cataloging of every ingredient the way pFriem does. pFriem's Pilsner is seeded No. 1, which isn't shocking considering it hits the nose with fresh grass, spring flowers, with a touch of lemon zest before landing on the tongue with zesty spiciness and a touch of honey before finishing crisp, snappy, and refreshing
— DESSERT —
Revision Barrel-Aged Finite Madness 2018
12.5% ABV, 55 IBU
Jeremy Warren and his Revision Brewing crew grabbed their Finite Madness Imperial Stout and aged it in Woodford Reserve and Heaven Hill barrels, producing only 110 cases. Peaks and Pints managed to grab one case, the only one in the state, of this velvety, viscous, and rich stout with dark chocolate, roasty coffee notes, delicious vanilla, caramel, and oak character with a lasting bourbon whiskey heat.
---