Tournament of Beer: Northwest Pilsners Final Four April 26
RON SWARNER: The Pacific Northwest loves pilsners — at least according to the thousands that have voted in our Tournament of Beer: Northwest Pilsners. Yesterday's pilsner voting action doubled the previous highest vote count for a single day. Every winner yesterday won by capturing 60 to 65 percent of the vote, except the pFriem Pilsner versus Buoy Czech Pils game with the winner grabbing 53 percent of the votes.
PEAKS AND PINTS WEATHER GUY: Mostly sunny for a La Center Loop hike today. High near 65. Few more clouds and 20 percent chance of rain tomorrow. Chance I'll ever be the craft beer buyer: 10 percent. Chance Peaks and Pints will use my jar of combs idea: 0 percent.
RON SWARNER: What four noble-hop-slinging breweries will move onto the Final Four?
The barrel roll please …
Thanks to your votes, we've narrowed down the Tournament of Beer to these four pilsners. …
PEAKS AND PINTS WEATHER GUY: Just tell us!
RON SWARNER: Let's remember that every pilsner that made it into the tourney is worth a sip. Still, there has to be winners. We started with 64 of the best pilsners Washington state and Oregon have to offer. Now, these four boss pilsners face off for the ultimate glory — pillowy foam to pillowy foam battles to determine the best pilsner in the Northwest. Which pilsner has the moxie to nail down the championship? What brewery's pilsner will win it all?
Today's Final Four match-ups are:
GAME 1: 2. Reuben's Pilsner (5010 14th Ave. NW, Seattle) vs 4. Kulshan Pilsner (1538 Kentucky St., Bellingham)
GAME 2: 4. Occidental Bohemian Pilsner (6635 N. Baltimore Ave., Portland) vs 1. pFriem Pilsner (707 Portway Ave., Hood River)
OK, let's do a quick liver-size check, then dive into today's Final Four pilsner battles. Vote for one pilsner per game (one device per game). Voting for today's pilsner battles ends at 11:45 p.m.
Friday, April 26, Final Four Northwest Pilsners Games
FINAL FOUR GAME 1
2. Reuben's Pilsner vs 4. Kulshan Pilsner
RON SWARNER: Last year, the Reuben's Brews team released more than 140 different beers, including unveiling the first beers from its barrel-aged sour program. In addition, the brewery took home its 200th medal from regional, national and international award programs, including a Best of the Northwest award from the U.S. Beer Tasting Championship for its ever-evolving Crush Hazy IPA. Reuben's has saved promoting its new taproom until today. The new Reuben's Brews brewery and adjoined taproom are located at the corner of 8th Avenue Northwest and Northwest 46th Street in Ballard is housed in a 70-year-old restored building that champions the original architectural features, such as the rough beams, barrel roof, and open joists. Their award-winning Czech style Pilsner is a clean, bright lager with bready malt notes and floral with a firm bitterness. Since opening their doors in 2012, Kulshan Brewing Company has been brewing true-to-style, award-winning ales and lagers in Bellingham, with great success. Just a few short years after opening their Sunnyland neighborhood location, they opened a 30-barrel production brewery in response to an overwhelming demand for more beer. But with growing competition in a thriving craft beer community, they recognized it was time to throw the same passion and energy into the brand and messaging as they had been devoting to the beer, which they have done over the past year. Crisp and refreshing with balanced bitterness, Kulshan Pilsner showcases the finest German malt and noble hops. Traditional clean and bready malt flavors support herbal, floral and slightly spicy hop aromatics and flavor. Czech versus German. Seattle versus Bellingham. Here we go. …
PEAKS AND PINTS WEATHER GUY: Which Washington state brewery could beat the Oregon winner?
SCROLL DOWN TO VOTE >>>>>>>>>>>>>>>>>>>>>>>>>>>>>>>>>>>>>>>>>>>>>>>>>>>>>>>
FINAL FOUR GAME 2
4. Occidental Bohemian Pilsner vs 1. pFriem Pilsner
Number 4 seed Occidental Brewing Bohemian Pilsner has killed it so far in the Tournament of Beer. The Portland St. John neighborhood German-style brewery beat their opponents by the largest margins of the tournament. Most prognosticators still assumed the Bohemian Pilsner would go down when facing multiple awarded, number two seed Heater Allen Pils yesterday. Au contraire Saazheads! Today, Occidental Bohemian Pilsner faces the most awarded pilsner of the tournament — the number one seed pFriem Family Brewers Pilsner, which took down Riverbend, Pelican, Deschutes and Buoy. We'll let that sink in for a second. Seriously. pFriem Pilsner is the real deal, folks. So here we go. …
PEAKS AND PINTS WEATHER GUY: Which Oregon brewery could beat the Washington winner?
VOTE BELOW >>>>>>>>>>>>>>>>>>>>>>>>>>>>>>>>>>>>>>>>>>>>>>>>>>>>>>>>>>>>>>>
Be sure to click the blue DONE button after selecting your favorite pilsners!

Check out tournamentofbeer.com tomorrow morning and vote on the Champion Game Saturday, April 27. The online voting will launch around 9 a.m. Saturday morning, closing at 4 p.m. At 5 p.m., the voting will resume live at Peaks and Pints during the Official Tournament of Beer Party. Both pilsners will be flowing from our Western red cedar tap log. The winner will be announced around 9 p.m. There will be much rejoicing!
LINK: Tournament of Beers: Northwest Pilsners explained
LINK: Hot Damn! Yes, I want to follow Peaks and Pints Weather Guy on Twitter!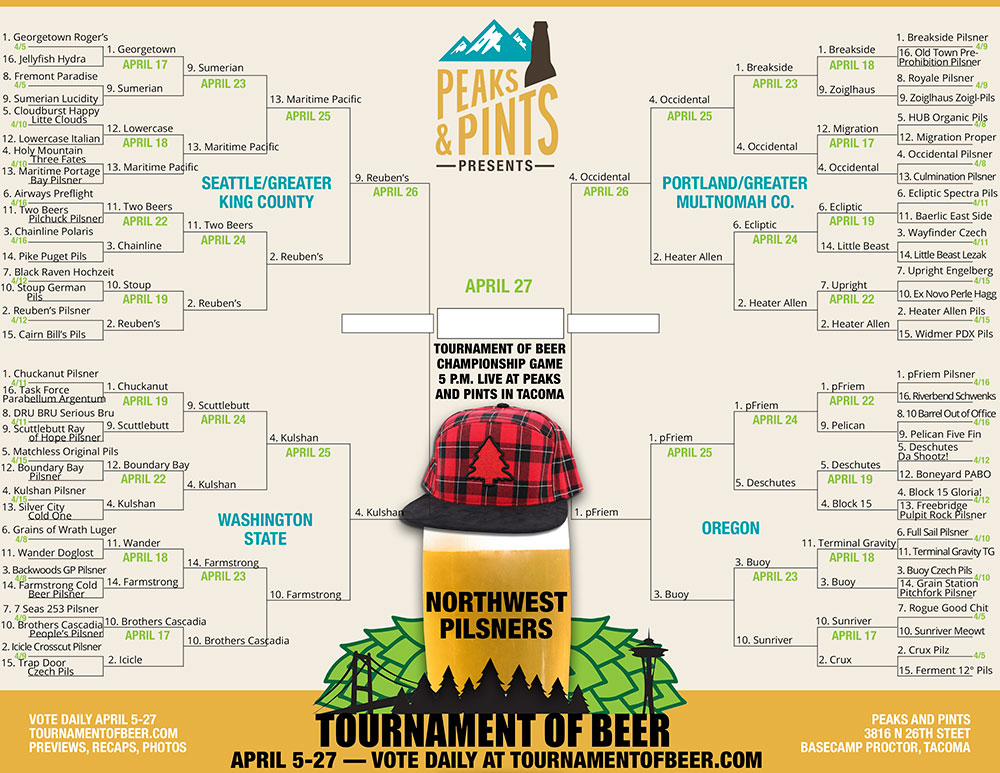 ---