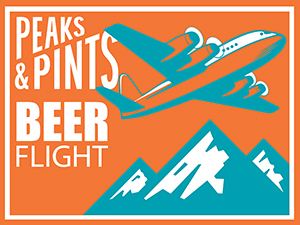 The mosquito season in the Northwest starts right now and lasts until early October. The National Weather Service says there is a 50 to 80 percent chance the region will be hotter than usual, and the Northwest is expected to get more precipitation throughout the summer of 2019 than usual, which means there will most likely be more mosquitoes throughout the region this year, too. We need to take action before mosquitoes darkened the sky of a summer's evening, strafing our villages and carrying off children and livestock. Together, we need to pray for no mosquitoes … while drinking beer. Peaks and Pints will host a Pray For No Mosquitoes Party with Elysian Brewing and others at 6 p.m. tonight. In addition to an official mosquito exorcism tonight, we present an all-day flight of beers to drink while you pray for no mosquitoes that we call Craft Beer Crosscut 4.25.19: A Flight of Praying For No Mosquitoes.
Craft Beer Crosscut 4.25.19: A Flight of Praying For No Mosquitoes
Avery Bug Zapper
6% ABV, 10 IBU
An electrifyingly tart sour ale from Avery Brewing, the Bug Zapper will send a jolt of fruit and funky goodness straight through your taste buds and into your blood vessels ready to disintegrate blood-sucking mosquitoes.  Brewed with a varied malt bill, Rocky Mountain spring water, lime zest, ginger, mint, plus specifically chosen hops and yeast, this limited release will mess up mosquitoes with a ton of ginger.
Elysian Salute The Sun
4.7% ABV
The common house mosquito and many other types of mosquitoes are most active during the night. They avoid daylight at all costs because sun exposure can dehydrate and kill them. Therefore, we salute the sun. Elysian Brewing conditioned their Salute The Sun light bodied pale ale on sun-dried black limes and vibrates with a ridiculous amount of Citra hops for a nose of lime, biscuit, citrus hops, and leafy hops. Flavor is floral with lime notes, citrus, biscuit, cereal and a little salinity. It's good, a little weird, but nice and refreshing.
Silver City Sun Glitter
6.5% ABV, 60 IBU
For species that die off in the winter, 50°F is the point at which mosquito eggs start hatching. You may also witness a late-season re-appearance of your mosquito population. After that first frost, your local mosquitoes will disappear. However, the sun can reinvigorate them and some mosquitoes will re-emerge from hibernation to seek out sources of food. Virtually all species of mosquito in the United States will be most active during the warmest summer months when the sun glitter reflects off the ocean waves at sunset. Silver City Brewery's Sun Glitter IPA is a fusion of peach flavor with a dense, hazy malt profile and lactose sugar, yielding a deliciously creamy and vanilla-like sweetness. Dip the nose for peach and tropical flavor. It's not a peach bomb, but rather sports bitter citrus with some peach sweetness.
Sunriver Vicious Mosquito
7% ABV, 70 IBU
It's obvious why this IPA is on this flight. What should also be obvious is that since Brett Thomas became head brewer, he has turned Sunriver Brewing Co. from a ski resort brewpub to a fast growing, award-winning brewery that even the beer geeks are now keeping their eyes on, including voters in Peaks and Pints Tournament of Beer: Northwest Pilsners that pushed the beer through the three rounds before Buoy Beer's pilsner knocked them out. Sunriver's flagship West Coast-style IPA is brewed with Warrior, Cascade, Centennial, Columbus, and Simcoe delivering a resinous punch of grapefruit, pine, lemon, and a hint of dankness. Well balanced and moderately bitter, this brew finishes crisp and dry.
Two Beers Wonderland Trail IPA
7.1% ABV, 84 IBU
Peaks and Pints suggests you hike Mt. Rainier's Wonderland trail in early September. It's cold enough at night to reduce the mosquito population, still enough daylight to hike 10 hours a day, and the snows haven't started falling. And the weather is generally good. No better way to end this mosquito beer flight than Two Beers Brewing's salute to the famous trail circumnavigating Mount Rainier. It's the Seattle brewery's first foray into the West Coast-style, a light bodied IPA complemented by 2-Row, Vienna and Munich malts while featuring a seamless blend of Washington-grown Amarillo, Citra, Mosaic and Cascade hops. Expect a slightly sweet aroma of tangerine followed by a wave of citrus and passion fruit.
---