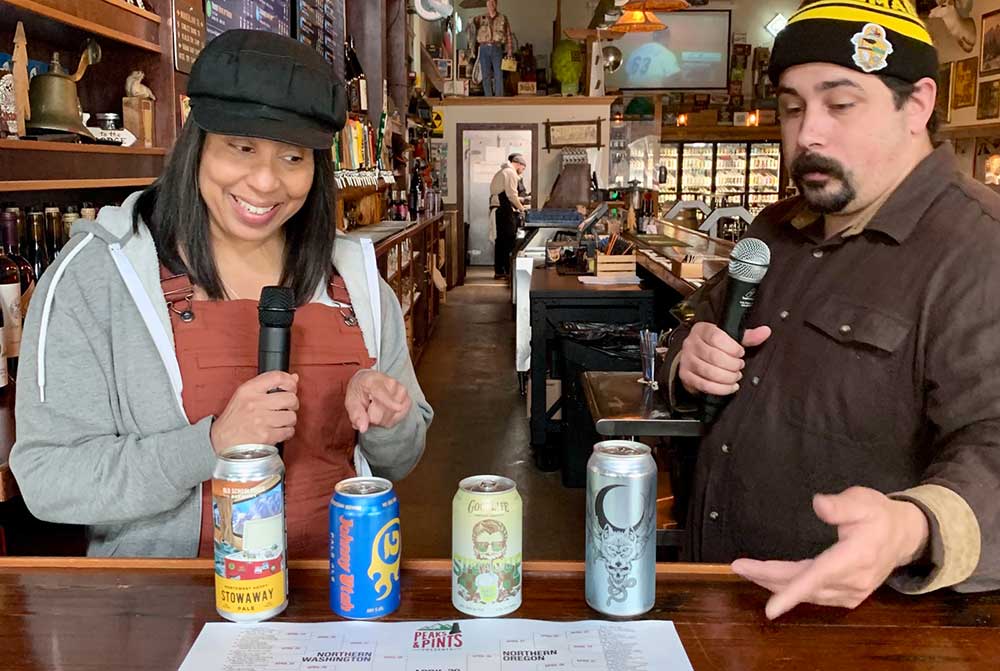 Peaks and Pints Tournament of Beer Northwest Pale Ales begins
Peaks & Pints hosts our seventh Tournament of Beer kicking off Friday, April 7, 2023, National Beer Day, with 64 Northwest brewed pale ales battling for the championship game April 29. Patterned after the NCAA Division I Men's Basketball Tournament, the Tournament of Beer features 64 pales brewed in Oregon and Washington, all seeded by public vote, and separated into four geographical regions: Northern Washington, Southern Washington, Northern Oregon, and Southern Oregon with only one pale per brewery.
The Tournament of Beer: Northwest Pale Ales nomination process produced a few surprises. Many Oregon and Washington breweries don't brew a pale ale or haven't brewed one in several years. Georgetown Brewing Johnny Utah received enough nominations to seed it number one in Northern Washington, and even though the brewery's Manny's Pale Ale received more nominations than many other Northern Washington breweries, Tournament of Beer Officials had to eliminate Manny's due to the one pale per brewery bylaws. The other top seeded pale ales are E9 Brewing Don of Time in Southern Washington, Fort George City of Dreams in Northern Oregon, and Boneyard Bone-A-Fide in Southern Oregon. The Tournament includes several seasonal pales ales currently unavailable to drink, including Three Creeks Brewing Cone Lick'r Fresh Hop Pale.
The top 64 vote getters — the cream of the hops — will compete Monday through Friday, April 7-29. Through Peaks & Pints Instagram Stories voting, Northwest pale drinkers will pick winners until the best pale in the region is crowned. It's just like March Madness, only with way more 2-row malts.
The Tournament of Beer: Northwest Pale Ales grand champion will be announced at the Tournament of Beer Party, April 29, at Peaks and Pints, 3816 N. 26th St., in Tacoma's Proctor District. The final two pales will battle live pouring from the bottle shop, taproom, and restaurant's Western red cedar tap log with the champion brewery receiving a permanent handle through the spring and summer 2023. The Tournament of Beer Party in-house ballots will also function as a raffle ticket for a Yeti Cooler plastered with as many pale ales Tournament participating brewery stickers as possible.
History of Pales Ales
In 1703, an English chap did coke, and by did "coke" we mean roast malt with fuel derived from coal, "coke," resulting in lighter roasted malts that produced paler ales. Someone called it a "pale ale," since the ale in the glass was visibly lighter when placed next to the other beers at the bar. In addition to the lighter color, because the resulting malt had a milder flavor, the hops were able to shine through more prominently, thus pale ales came to be associated not only with their pale color, but their mild hop flavor as well. The "pale ale" name is often used interchangeably with the English term "bitter" — and to this day the difference in these two styles is somewhat vague. Even before the porter craze in the early 1700s, pale beers made with top-fermenting yeast were brewed and loved in England. Pale ales were brewed commercially, but the best versions were brewed on feudal, Downton Abbey-like estates. Estate brewers tackled a range of styles, since they weren't beholden to profits: they were simply brewing what got workers through the day and what they loved to drink on special occasions.
At first, the new pale malt was expensive, so the pale beers were limited to wealthier drinkers. But as pale malt became more affordable, pale-colored ales displaced dark ales in popularity, slowly overtaking porter and stout. Bass Brewery of Burton-upon-Trent, England, made pale ales famous, thanks to their local hard water suited for the production of pale ale. This alkaline water not only brought an impression of dryness in the finished beer, but also rounded out the hop bitterness, a good quality in a brew with a lot of bitter character.
In 1829, English chaps living in the British colonies, specifically India, were stunned when their imported English pale ales were hoppy AF due to the much stronger backbone of hops and alcohol, protecting them on their lengthy journey across the sea. And thus, the IPA was born. Technically, an IPA is a more assertively hopped and stronger version of a pale ale, yet what that actually means differs depending on the brewer making both beverages.
Pale ales have gone through growing pains. Pale beers in the UK changed dramatically during and after World War II since ingredients were scarce, and brewers were forced to lessen the malt bills of their pale ales. To this day, the low-gravity beers that resulted from that conflict remain the most popular beer in pubs around London, where they are still referred to as "bitters." English pale ale encompasses many variations, but is in general the archetypal bottled English beer, balanced and dry with snappy hop bitterness. By adding zestier American hops in place of the earthier English variety, a new style was born.
American Pale Ales
Ken Grossman started Sierra Nevada Brewing Company in 1979, where he brewed his first batch of Sierra Nevada Pale, often credited as the progenitor of the style, in November of 1980. Boldly American in its hop character, this beer continues to be one of the most popular brews in the craft sector, and for good reason. Grossman took what he could learn from British brewing literature, which at the time largely focused on the bitters, and brewed a similar beer with American ingredients. While hops from the Pacific Northwest are now infamous for their wonderful pine, citrus, and resin aromatics, they weren't always favored by brewers back in the day. Grossman bet on American hops, specifically Cascade hops from Washington's Yakima Valley, and he won big. Sierra Nevada's Pale Ale has been the beer drinker's gateway craft brew for more than three decades. Peaks & Pints doesn't know how many times we've heard someone tell us that, for some reason, they ordered a Sierra Nevada Pale Ale at a bar instead of a Bud or Coors. And that this seemingly insignificant decision in their life was transcendent. No longer would they settle for watered-down corporate beer. Sierra was their introduction to the world of craft. To the possibility of bitter hop flavors. It was a palate shocker. The proverbial beer awakening. Magnum and Perle gives this craft beer a clean, bitter taste. Generous quantities of premium Cascade hops provide Pale Ale with its fragrant bouquet and spicy flavor.
Sierra Nevada's Pale Ale, a beer hopped higher than anything else in its day, for all intents and purposes kicked off the highway to hops, inspiring a generation of brewers to push the boundaries. Eventually, the bolder, clearer, brighter-hopped West Coast IPAs we all know and love started cropping up across the coast. And although American pale ales have a storied past, they're continuing to evolve. Today, you'll find Northwest breweries producing extra pale ales (a sort of bigger APA, but not yet an IPA), hazy pales, and fruity pales.
Peaks and Pints Tournament of Beer Northwest Pale Ales begins
PHAEDRA MILLER: Welcome to the 2023 Peaks & Pints Tournament of Beer Northwest Pale Ales edition. Once again, Peaks & Pints bartenders will break-down the action and re-cap the previous day's action. I'm bartender Phaedra Miller. For those of you who are still tuned in after that lengthy introduction, let's dive into today's opening round of eight pale ale battles. Please vote for one beer per game on the Peaks & Pints Instagram Stories. Voting for today's pale ale battles ends at 11:45 p.m. Peaks & Pints' bartenders will announce the winners tomorrow morning around 10 a.m. The next round of eight pale ale battles will commence at 12:01 a.m. Monday, April 10.
BRANDON CRESPIN: And I'm Peaks & Pints bartender Brandon Crespin. Ladies and gentlemen, please join in the singing of our national anthem.
MILLER: Thank you Chris Stapleton! OK, let's do this thing!
Friday, April 7, First Round Northwest Pale Ales Games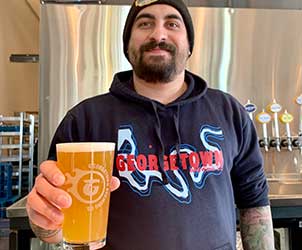 GAME 1, NORTHERN WASHINGTON
Player: Johnny Utah (#1 seed)
Team: Georgetown Brewing, Seattle
Stats: 5.6%, 55 IBU
CRESPIN: For the uninitiated, Georgetown Brewing was founded in 2002 by Manny Chao and Roger Bialous. They moved their operation from their garage to a space at the historic Seattle Brewing and Malting Plant, where Rainier Beer was once produced. The company relocated to a larger Georgetown neighborhood space in 2008 to increase capacity and sell to-go beer only. At one point, Georgetown sold more than 1,700 growlers of Manny's Pale Ale every month. In October 2019, the brewery added 1,600 square feet to the existing 800 square foot tasting room for in-house drinking with fire pits and small Japanese maple trees.
MILLER: Their Johnny Utah Pale Ale is the craft beer equivalent of jumping out of an airplane without a parachute, this single hop pale ale surfs Citra hops. Dude, expect pronounced grapefruit and pine flavors with a faint grass note, obvs.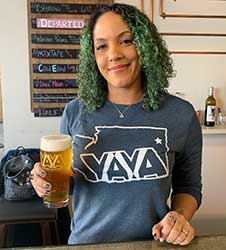 Player: Genie Pale Ale (#16 seed)
Team: YaYa Brewing, Spokane Valley
Stats: 5.5%
CRESPIN: If you dream of a Genie with tropical fruit notes and slight backend notes of pine, then YaYa has the pale ale for you. It's brewed with nearly 100-percent LINC Genie Pale malt and hopped with Simcoe, Cascade, and Warrior. It's easy drinking and super approachable.
MILLER: Speaking of dreams …. Christmas Day 2016, Spokane brothers Jason and Chris Gass traded stories about their sister, Lara, including her community contributions and her sudden passing two months shy of graduating from law school. Her tragic car accident in March 2014 left a huge hole in their hearts. On that fateful Christmas Day, the brothers decided to help fill that hole with craft beer. Their initial plan was to open in Portland, Maine, but their hometown of Spokane felt better — more opportunities and certainly cheaper.  Named after their sister's nickname, they opened the Spokane Valley YaYa Brewing in October 2019. Then, the pandemic hit forcing YaYa to be not quite NoNo and more SoSo with to-go, curbside pickup and delivery operations allowing them to stay afloat. The Gass brothers survived the pandemic to see their Genie Pale Ale take on Johnny Utah in the Tournament of Beer: Northwest pales Ales.
VISIT PEAKS & PINTS INSTAGRAM STORIES TO VOTE >>>>>>>>>>>>>>>>>>>>>>>>>>>>>>>>>>>>>>>>>>
COMMERCIAL: Hie thee to Peaks & Pints 6-Pack of Things To Do newsletter, friend. It's free. It's easy. It's sweet and sour and makes you pucker and swoon.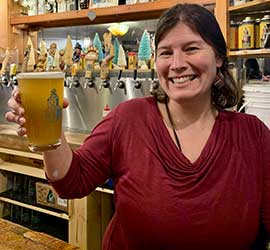 GAME 2, NORTHERN WASHINGTON
Player: Stowaway Pale (#8 seed)
Team: Old Schoolhouse Brewery, Winthrop
Stats: 5.8% ABV, 47 IBU
CRESPIN: Casey and Laura Ruud purchased the floundering Winthrop Brewery in 2008, changed the name to Old Schoolhouse Brewery, cleaned it up, and quickly turned it into an award-winning gem of a brewpub. Life happens, and the Ruud's sold the brewery to three gentlemen who grew up in New Hampshire together, brothers Nathan and Jacob Young and Troy Anderson. Jacob and Nathan knew restaurants and bars inside and out. Troy coached high school track with Jacob and worked at Microsoft with Nathan. All three enjoy the outdoors, which is almost mandatory since the original riverfront brewery and gastropub is in Winthrop, which sits east of Mazama and north of Twisp in Okanogan County. Old Schoolhouse Brewmaster Kyle Koger, who worked his way up at the brewery, mostly brews in their larger production facility and taproom in Twisp. Koger is responsible for taking the brewery to the next level — integrating the art and science of brewing beers with the medals to prove it.
MILLER: Their Northwest-style pale is light and crisp with a pleasant, citrus lemon hop character from Citra, Simcoe, and Mosaic.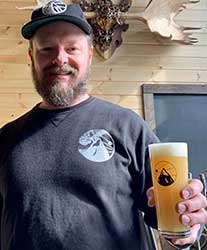 Player: Frost (#9 seed)
Team: Structures Brewing, Bellingham
Stats: 5.9% ABV
MILLER: With a wolf, skull and snake donning the can — designed by Jen Borror, an illustration artist and graphic designer working out of York, Pennsylvania, Hoot Design Studio — Structure's Frost is essentially a Simcoe and Chinook hoppy, papaya and Valencia orange smelling American pale ale with a lovely mouthfeel.
CRESPIN: I can't help but think, Phaedra, that Structures Brewing might take advantage of their momentum from opening a new location in Bellingham and transfer the positive vibes to votes for their Frost pale. A little over a year ago, Structures bought Chuckanut Brewery's former location in Bellingham's Old Town — a hop, skip and run from Structures' current State Street location. For 14 years, Chuckanut called its Bellingham "North Nut" brewery and restaurant on Holly Street home. Chuckanut is doubling its "South Nut" brewery and taproom in Burlington and going strong at its recently opened "P. Nut" location in Portland, Oregon. Anyway, a large black-and-white Structures Brewing sign now sits outside the old Bellingham Chuckanut location, and the remodel is gorgeous.
VISIT PEAKS & PINTS INSTAGRAM STORIES TO VOTE >>>>>>>>>>>>>>>>>>>>>>>>>>>>>>>>>>>>>>>>>>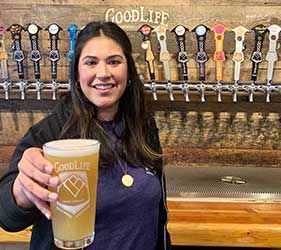 GAME 3, SOUTHERN OREGON
Player: Sippy Cup Hazy Pale Ale (#7 seed)
Team: GoodLife Brewing, Bend, Oregon
Stats: 6.4% ABV
CRESPIN: Here's your Sippy Cup, Phaedra! GoodLife utilizes a yeast strain from Imperial Organic Yeast, aptly named "Juice," as well as a light malt bill with fruit-forward hops Galaxy, Mosaic, and El Dorado. Melon, pineapple, black tea, and citrus notes are upfront in the aroma with a light, medium-bodied mouthfeel, bursts of citrus/tropical flavors and a very subtle bitterness.
MILLER: Thanks Brandon! Incorporated in 2009 as Noble Brewing Co., Brewmaster Curt Plants, Ty Barnett and Pratt Rather signed a lease in 2010 for the space it now occupies in Bend, Oregon. In 2011, just before opening their taproom, they changed the name to GoodLife because plenty of businesses used the name Noble and they wanted to set their enterprise apart. Plants passed away in 2017 at the age of 33. It hit the brewery hard, obviously, but Barnett restructured, opened new markets and grew the brand, always asking, "What would Plants do?" He would probably help push Sippy Cup to the championship game.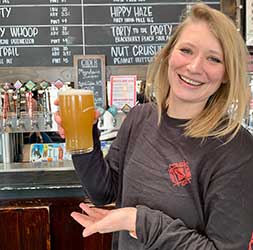 Player: Hidden Trail NW Pale Ale (#10 seed)
Team: Wild Ride Brewing, Redmond, Oregon
Stats: 5.4% ABV, 35 IBU
CRESPIN: The "wild ride" began in 2011 when Brian Mitchell, along with a group of life-long friends — and Redmond, Oregon natives — started plotting the course and teamed up with brewer Paul Bergeman. They found their brewery a home in 2013 in an old lumber storage building in downtown Redmond and that's when the wild ride really took off!
MILLER: The Pacific Northwest is full of hiking trails and some of the best are worth exploring even on a cloudy day. While Wild Ride's NW Hazy Pale Ale may not be clear, it will take your taste buds on an epic adventure. This beer is full of fruit and tropical flavors created by the unique blend of hops, including Mosaic and El Dorado, among others.
VISIT PEAKS & PINTS INSTAGRAM STORIES TO VOTE >>>>>>>>>>>>>>>>>>>>>>>>>>>>>>>>>>>>>>>>>>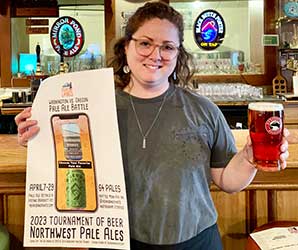 GAME 4, SOUTHERN OREGON
Player: Mirror Pond (#2 seed)
Team: Deschutes Brewery, Bend, Oregon
Stats: 5% ABV, 40 IBU
MILLER: Mirror Pond is the quintessential Northwest pale ale. Cascade hops and more Cascade hops give this tawny colored ale delicious hop-forward aroma and flavor. Pale malt allows the hops to linger, not overpower.
CRESPIN: Deschutes has been brewing in Bend, Oregon, along the river of the same name since 1988. With a strong and diverse resume of fantastic year-round beers, Mirror Pond Pale Ale catches the eyes with a label that conjured memories of camping and hiking in beautiful country. Would this pale ale, whose name reminds of nature's more promising moments, be enough to beat Enterprise, Oregon's favorite pale ale?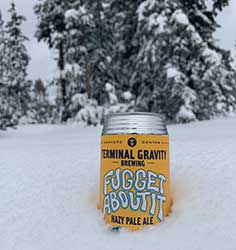 Player: Fuggetaboutit (#15 seed)
Team: Terminal Gravity Brewing, Enterprise, Oregon
Stats: 5% ABV
MILLER: In 1997, Steve Carper and Dean Duquette founded Terminal Gravity Brewing in the "Middle of Nowhere" — Enterprise, Oregon. The Duquettes built most of their equipment. Terminal Gravity was so old school and do-it-yourself that the brewers milled the grains using a large coffee grinder that took so long they had to begin a whole day before brewing to prepare enough. Of course, TG has modernized a bit since 1997; the brewery now has an 18bbl brewhouse and still puts out a respectable 6,000 barrels of beer a year.
CRESPIN: Their hazy pale is light but flavorful. It was dry hopped with Fuggle and Eureka hops, giving it a hazy straw color. I can smell effervescent notes of tropical peach on the nose, and I notice a bright mouthful.
VISIT PEAKS & PINTS INSTAGRAM STORIES TO VOTE >>>>>>>>>>>>>>>>>>>>>>>>>>>>>>>>>>>>>>>>>>
Monday, April 10 Tournament of Northwest Pale Ales action …
Game 1: Single Hill Brewing Sightglass Pale (sixth seed) vs. Grains of Wrath Papermaker Pale (11th seed)
Game 2: Wet Coast Brewing Baronesse Pale (third seed) vs. Odd Otter Brewing Ottzel Quatzel (14th seed)
Game 3: Buoy Beer Pacific Pale (fifth seed) vs. Ruse Brewing Phantom Shore (12th seed)
Game 4: Great Notion Thumb Splitter (fourth seed) vs. Breakside Brewery Woodlawn Pale (13th 1Seed)
LINK: Hot Damn! Yes, I want to subscribe to 6-Pack of Things To Do newsletter and be hip to local happenings!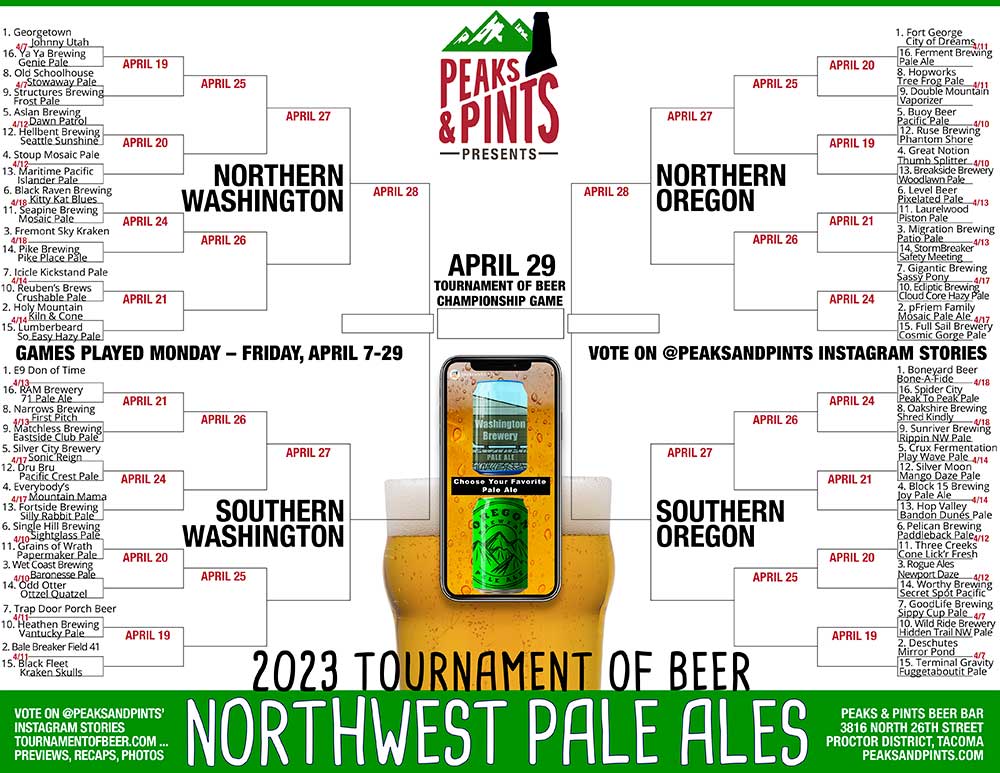 ---