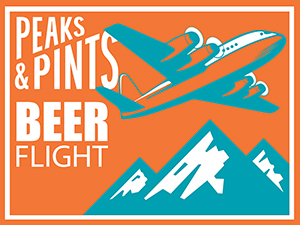 It's not a national holiday, at least not yet. But that doesn't stop people from celebrating. National Beer Day is today. The day is historically relevant because it commemorates the date in 1933, when the Cullen-Harrison Act, signed into law by President Franklin Roosevelt, went into effect. That allowed beer to once again be legally manufactured and sold in this country. The law allowed for the legal sale of low-alcohol beer in the United States, several months before Prohibition was completely repealed. Enough states then approved the 21st Amendment later that year to formally bring an end to Prohibition, which started in 1919. So, while National Beer Day isn't a national holiday, it doesn't mean you can't celebrate. Peaks & Pints presents a low ABV, to-go craft beer flight of the nation. You're low ABV six-pack holder will board on the East Coast and continue until reaching in the Hawaiian Islands. Peaks and Pints Pilot Program: National Beer Day Flight is ready to board.
Peaks and Pints Pilot Program: National Beer Day Flight
Dogfish Head SeaQuench Ale
4.9% ABV, 10 IBU
DELAWARE: Sam Calagione started making beer in 1995 when he opened Dogfish Head Brewings & Eats in the beach community of Rehoboth Beach, Delaware. It was the smallest commercial brewery in America at that time. Within a few successful years, the company activated a major expansion, switching from making very small, homebrew-style batches to industrial-sized sessions in a sizeable brew house. His SeaQuench Ale is a session sour mash-up of a crisp Kolsch with lots of wheat and Munich malt, a salty gose with black limes, coriander and sea salt, and a citrusy-tart Berliner weiss made with lime juice and lime peel, blended in the fermentation tank to create this German hybrid. Dogfish Head's experimentation focuses on three thirst-quenching styles with German roots, but no single style quite hit the mark and mood the brewery was going for — so it blended them for a cloudy gold brew with a savory and citrusy smell. It has a fair amount of tart wheat and coriander character, but the salt and lime are extremely strong. There are many goses brewed in the same vein, but not many are this dry, bright and thirst quenching.
Abita Purple Haze
4.2% ABV, 13 IBU
LOUISIANA: The Abita Brewing Company is nestled in the piney woods 30 miles north of New Orleans. In its first year, 1986, the brewery produced 1,500 barrels of beer. By 1994, they outgrew the original site (now their 100-seat brew pub) and moved up the road to a larger facility to keep up with demand. Their Purple Haze is wheated lager with pureed raspberries. Abita's accompanying explanation of the beer kind of feels like there should be a cloud of smoke around you and Jimi Hendrix blaring in the background: "Experience the magic of Purple Haze.  Clouds of real raspberries swirl in this tart and tantalizing lager inspired by the good spirits and dark mysteries of New Orleans. Brewed with pilsner and wheat malts along with Vanguard hops, let the scent of berries in the hazy purple brew put a spell on you." Now, excuse us why we kiss the sky.
450 North Mellow Meltz Slushy XXL
5.3% ABV
INDIANA: After farmers David and Brenda Simmons switched from selling their slow-moving culinary grapes to making wine, they eventually added a brewery, taproom, and restaurant to their Columbus, Indiana, farm. Then, in April 2016, their 450 North Brewing released a hazy IPA. Things blew up, in a good way. They rebranded and grew exponentially. Just as they were a pioneer of hazy IPAs, 450 North was also ahead of the smoothie fruited sour game. Their smoothie sours are often brewed with so much fruit puree that they look less like beer than a thick smoothie — including their Mello Meltz Slushy XXL pastry sour conditioned on apricot, mango, marshmallow, blueberry, and papaya.
Montucky Cold Snacks
4% ABV
MONTANA: Montucky Cold Snacks is a canned premium lager, specifically geared toward light beer consumers in Montana. As opposed to the status quo of microbreweries in the state that focus on refinement and sophistication in beer, Montucky Cold Snacks aims to differentiate itself by focusing on and appealing to customers through crisp cold refreshment, pricing, and the celebration of Montana culture.
Heidelberg Premium Lager
4% ABV
WASHINGTON: In the summer of 2016, 7 Seas Brewing opened a new location spanning two city blocks in Tacoma's historic Brewery District adjacent to the University of Washington campus. Housed in the Heidelberg Brewery's former distribution warehouse, the new facility was a ten-fold increasing in brewing capacity compared to their Gig Harbor location. In February 2022, 7 Seas relaunched the Heidelberg brand canning their version of the premium lager — although not tin cans like the original brewery in 1936, three years after tin cans were invented. Brewed with mostly malted barley, with some rice and corn, and Old-World hops, Heidelberg Premium Lager is crisp, clean, and quaffable.
Maui Bikini Blonde Lager
5.2% ABV, 18 IBU, can
HAWAII: Maui Brewing Bikini Blonde isn't a blonde ale; it's a Munich helles-type lager, made with Pilsner and Munich malts and German Hersbrucker and some American German-style hops. The result is light and drinkable but not mindless: bright and crisp with a good deal of quiet, malty heft. Although it's a little less hoppy than a pilsner, you detect lively hops as well as malt in the nose. On the palate, it enters crisp and even a little tart, and then round malty body appears. The finish is clean and dry, with a little residual malt sweetness.
LINK: Peaks & Pints cooler inventory
---