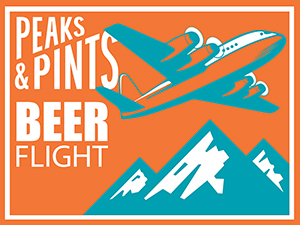 Today, April 6, is the day we all celebrate New Beers Eve. This is a real thing. New Beer's Eve was the night before the first alcoholic beer became legally available after 13 years of Prohibition. From 1920 to 1933, no alcoholic beverages were legal in the United States. Franklin Delano Roosevelt had barely been president for a month when he and a new anti-prohibition majority in Congress known as "The Wets" brought back beer. The Cullen-Harrison Act increased allowable alcohol in beer from 0.5 percent to 3.2 percent. Prohibition would be completely reversed later that year with ratification of the 21st Amendment to the Constitution. The 21st Amendment repealed the 18th Amendment. It took effect at 12:01a.m on April 7, 1933. On the evening of April 6, anxious Americans lined up at breweries and distilleries to purchase legal beer and alcohol at the stroke of midnight. That night, someone coined the term "New Beer's Eve," and a new annual holiday was born. Peaks and Pints offers cheers to FDA and "The Wets" with a to-go flight of new craft beers we call Peaks and Pints Pilot Program: New Beers Eve Flight.
Peaks and Pints Pilot Program: New Beers Eve Flight
Vice Coast Malone
7.5% ABV
In the United States, a malt liquor generally refers to a strong lager in which sugar, corn, or other adjuncts are added to the malted barley to boost the total amount of fermentable sugars in the wort. This in turn boosts the alcohol by volume percentage without making it any fuller or sweeter, offering a potent, yet cheaply made drink. Malt liquor can come across as sweet, and that is because of the exceedingly low bittering of many brands. Vice Beer's malt liquor, Coast Malone — a collaboration with North Jetty Brewing — isn't as harsh as malt liquor back in the day, but rather offering a crisp, clean lager with a subtle corn finish.
Mirage Off The Windows
4.9% ABV
Mirage Beer brewed their annual Opening Day beer with fellow M's super fans No Boat Brewing this year. To celebrate that moment and this coming season, the two breweries brewed a West Coast-style pale ale with Nelson Sauvin and double dry-hopped it with Motueka and more Nelson. Off The Windows references Big Dumper's iconic drought-busting homerun, a clip Mirage defies you to watch without tearing up like a big baby.
Trap Door Riwaka&Nelson&Jandals&Hobbits
5.7% ABV
Thrilled they finally scored some New Zealand Riwaka hops, Trap Door Brewing brewed a West Coast hazy pale ale with the hops, as well as Nelson Sauvin hops and their non-expressive house ale yeast. Riwaka&Nelson&Jandals&Hobbits offers notes of passionfruit, diesel-y tropical fruit, and dank hops, plus clean bitterness with a slightly elevated malt sweetness.
Sig Out West IPA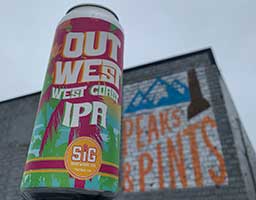 7% ABV
Citra, Mosaic, and Simcoe hops belong together — if for no other reason than they were bred by the same person, Jason Perrault. A fourth generation hop grower, Perrault started his education at Washington State University, where he earned a Bachelor of Science degree in Agricultural Economics, followed by a Master of Science in Plant Breeding and Genetics. In the early 2000s, he birthed Citra, Mosaic and Simcoe as the general manager of Perrault Farms, where he is the CEO today. Perrault went on to be the CEO of Yakima Chief Ranches where he continues to develop new hop varieties. Back to the three hops, Simcoe is one of the most intense American hops and is often used in conjunction with its brethren Citra to soften Simcoe's potentially overwhelming character of dank pine and woody/earthiness. Citra it is full of (shockingly!) citrus, as well as peach, lychee, and tropical fruit character. Perrault was searching for a higher yielding Simcoe-like variety that led to Mosaic and its tropical, berry (blueberry), and slightly piney aromas and flavors. Sig Brewing takes full advantage of these three hops in their West Coast IPA, Out West.
Single Hill Tectonic Chronic
8.9% ABV
Speaking of Citra, Mosaic and Simcoe hops, the above description also applies to Single Hill Brewing's Tectonic Chronic hazy double IPA for equal parts hoppy and fruity.
LINK: Peaks & Pints cooler inventory
---
Category:
Beer Flight
,
Beer Line Blog
,
Craft Beer
,
Critical Drinking
,
Events and Festivals
,
In The Cooler
,
Learn
,
New Releases
,
News and Updates
,
Peaks and Pints Pilot Program
,
Shop
,
Specials