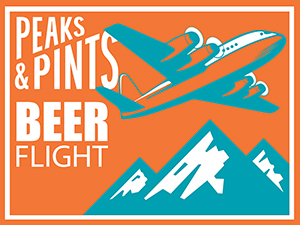 Today is National Caramel Day! Let's get to learning. … Americans began making sugary syrups in the 1600s, but the delicious chewy caramel we know and love today is a more recent innovation. Caramel candy emerged during the 18th century and quickly became one of the most popular sweets on the market. In fact, Milton Hershey's first business was the Lancaster Caramel Company. Caramel is made with butter, brown and white sugar, milk or cream, and vanilla. It is usually enjoyed as an ice cream topping, a candy filling, or as a flavor in craft beer, at least according to Peaks & Pints. We have at least five beers in the cooler with caramel notes, which is enough to make a to-go flight of bottles and cans that we call Peaks and Pints Pilot Program: National Caramel Day Beer Flight.
Peaks and Pints Pilot Program: National Caramel Day Beer Flight
Everybody's Old Soul Porter
5.8% ABV, 32 IBU
To be an old soul is about more than having an enhanced level of maturity. It's about having a solid sense of self and forging your own path in the world. Old souls focus on positive thinking, understand what makes the world go round, and look at the big picture. They are wise beyond their years and are grounded and intuitive. Everybody's Brewing's new Old Soul Porter forges its own path with Bravo, Cascade, and Chinook hops for layers of toffee and caramel topped with dark roast and a subtle spice.
Anderson Valley Boont Amber
5.8% ABV, 18 IBU
Anderson Valley Brewing's Boont Amber is our customer's go-to for highly drinkable amber. Boont Amber arrives a dark copper with a massive, pearly head. The aroma is clean and dry, like field grasses with subtle, sweet orange scents. The flavor is balanced and clean, with caramel, toffee, macadamia nuts and pecan that last long into the aftertaste. The hops lend both a citrus flavor and a moderate level of bitterness. Boont Amber's thin body goes down easy; the carbonation only slightly bites the sides of the cheeks.
Iron Horse Quilter's Irish Death
7.8% ABV, 12 IBU, can
Ellensburg, Washington's Iron Horse Brewery is an iconoclastic brewery. They're not ones to copy/paste a style into their profile just to compete with the Irish beer giants. Quilter's Irish Death was born of a reverence to the dry Irish stout. Created by the Iron Horse Brewery founder Jim Quilter, this dark ale has been called a sweet stout, strong ale, and Scotch ale. We call it delicious with a massive amount of malt that goes down easy. On the nose, caramel malt was definite and distinct. On the tongue, is over-the-top malty with sweetness and caramel flavor.
Firestone Walker Parabolita
9.2% ABV
Firestone Walker ages their Parabola barrel-aged imperial stout for one year in premium bourbon barrels, then blends it with a complement of Velvet Merlin milk stout, and finally infuses with whole Madagascar vanilla beans, cocoa nibs, and sea salt to for a salted caramel-style stout for roast, cocoa nibs, vanilla, and caramel notes with a big vanilla bean finish in a 16-ounce can.
AleSmith Speedway Stout Salted Caramel Brownie Edition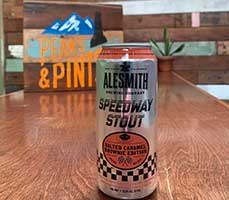 12% ABV
This indulgent flagship variant of the iconic Speedway Stout is brewed using Madagascar vanilla beans, fleur de sel sea salt, cacao nibs, and cocoa powder. Clocking in at 12 percent, AleSmith Brewing's Speedway Stout: Salted Caramel Brownie Edition has all the makings of a dessert beer with roasty aromas, bold espresso flavors, sweet notes of caramel, and a smooth balance between bitter chocolate and salty sweetness.
LINK: Peaks & Pints cooler inventory
---