Tournament of Beer: Northwest Porters Championship vote and party
For more than three weeks, Peaks and Pints challenged 64 of the Pacific Northwest's best porters to go malt-to-malt in a showdown of craft combat. Some fell easily by the wayside, either due to a rogue mash tun cleaner or simply because they faced a superior opponent. Hop by hop, you voted down to the final four: Airways Brewing's Curbside Porter, Wingman Brewers' P-51 Porter, Mad Swede Brewing's Brynhildr Robust Porter and Rogue Ales' Mocha Porter. It was do-or-die, win-or-fly, bring-your-best-or-oxidize.
Friday, April 27, Final Four Northwest Porters Games results
GAME 1, WASHINGTON STATE REGION
Curbside Porter, Airways Brewing (8611 S. 212th St., Kent) vs 4. P-51 Porter, Wingman Brewers (509 1/2 Puyallup Ave., Tacoma)
Peaks and Pints statisticians called it the "game of the tournament," which is hard to argue with since these two delicious Washington state porters are practically in our backyard, have huge followings and handily beat their opponents. When the last porter was poured, and a lead it never gave up all day, Wingman's P-51 Porter grabbed 60 percent of the vote and moves into today's Championship Game.
GAME 2, IDAHO/OREGON REGION
Brynhildr Robust Porter, Mad Swede Brewing (2772 S. Cole Road, Boise, Idaho) vs 15. Mocha Porter, Rogue Ales (748 SW Bay Blvd., Newport, Oregon)
When the Tournament of Beer polls closed at 11:45 p.m. last night the Peaks and Pints staff ran to the Tournament of Beer Lead Statistician, Dexter. We stood before him with big eyes — a few of us donning Viking horned helmets; Jack wearing goatskin pants. Would number 16 seed Mad Swede Brewing Brynhildr Robust Porter's epic journey continue? "Wait!" Kristen yelled. She ran to the remote and called up Erik The Viking movie. "OK!" she yelled again. Huddled around Dexter, we waited. Dexter reached over to Erika's horned helmet and turned one of the horns upside down. "It was close," said Dexter. "By Thor's hammer that Viking porter almost pulled it off. Rogue's Mocha Porter pulled it out in the last minutes, winning by 10 votes." Deep in our hearts we knew Rogue had the network, and frankly the porter, to pull it off, but what a thrill ride it has been. Skål Mad Swede! Skål Brynhildr!
Saturday, April 28, Northwest Porters Championship Game
The titanic porter throwdown finale in on! Voting for the 2018 Tournament of Beer: Northwest Porters Championship Game is live. (See below)
After three weeks of voting, you have picked the most popular porters in the Pacific Northwest. What began as 64 malt-slinging porters has been narrowed down to two: Wingman Brewers P-51 Porter and Rogue Ales Mocha Porter.
Welcome to the big dance. Online voting will end at 4 p.m. Voting will resume at 5 p.m. live at the Tournament of Beers Party at Peaks and Pints, 3816 N. 26th St. in Tacoma's Proctor District. Ballots will be handed out, which will also serve as raffle tickets for sweet prizes. The live vote will close at 8:30 p.m., tallied and the Northwest Porter champion will be announced at 9 p.m.
Player: P-51 Porter (#4 seed)
Team: Wingman Brewers, Tacoma
Player Stats: The P-51 Porter was Wingman's first real beer recipe. "It goes back to 2008 when Derrick (Moyer) and I were home brewing," explains Wingman co-founder Ken Thoburn. "At the time, Lazy Boy Porter from Everett was my favorite beer around, so we tried to emulate that. The beer was initially made for a friend's birthday and called Nalty's Tall Order Porter since he's a tall dude and asked us to make a Porter for his birthday party. The beer went over so well with our friends that it remains the only recipe we've never changed since Wingman started … with Washington-grown barley and Moxie valley hops." The P-51 Porter is a robust and clean-finishing porter that offers rich, malty flavors that highlight hints of chocolate, coffee, nuts and smoke. Wingman is known for their porters. It's what they do. Wingman probably has the more "talented" porter on paper, but as we all know the Tournament of Beer isn't played on paper (it's played with finger taps).
ABV: 8% IBU: 31, Malts: Absurd amount of specialty malts
Player: Mocha Porter (#15 seed)
Team: Rogue Ales, Newport
Player Stats: In May of 1989, John Maier arrived in the small Oregon coastal town of Newport just in time to create Rogue Ales brew #1. Twenty-eight years and more than 20,000 brews later, Maier still rides his bike daily over the Yaquina Bay Bridge to the brewery where he continues to create innovative brews that have garnered international acclaim. One of the pioneers in the craft-brewing world, Rogue consistently puts out award-winning beers year after year, winning gold in national and international competitions. Its Mocha Porter hits the nose with coffee beans, light espresso, roasted malts, dark chocolate and some sweet creamy milk notes, followed by balanced bitter, mocha coffee, roasted malts and dark chocolate — what you get in the nose but the roastiness is stronger. Rouge Ales has brewpubs scattered all over Oregon, and a strong membership club, Rogue Nation; they'll be tough to beat. Did the battle with the Vikings wear them down? This one could be close.
ABV: 5.3%, IBU: 54, Malts: 2-Row, Munich, C120, Chocolate, Black, Kiln Coffee, Rogue Farms Dare and Risk
VOTING IS CLOSED! SEE YOU AT PEAKS AND PINTS FOR LIVE VOTING AND TOURNEY PARTY!
Be sure to click the blue DONE button after selecting your favorite porter!
Thanks again everyone for voting! See you at Peaks and Pints at 5 p.m.
LINK: Hot Damn! Yes, I want to follow Peaks and Pints on Twitter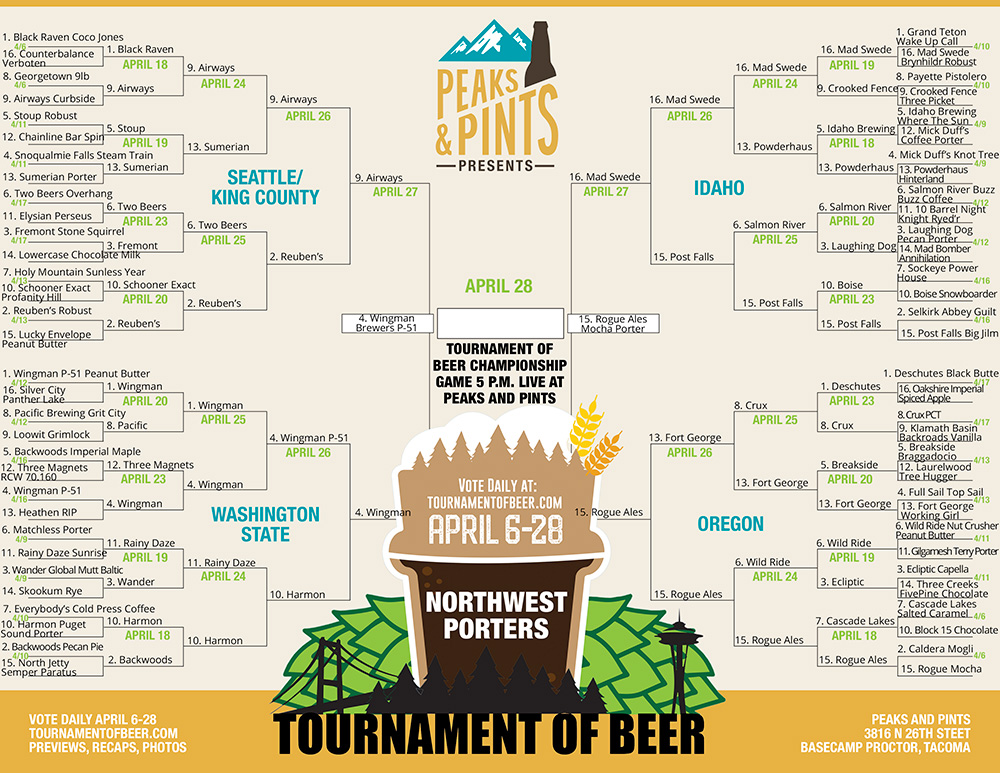 ---