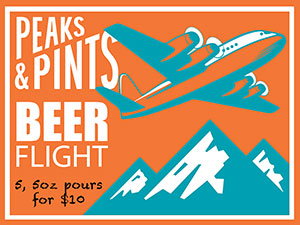 April 6-28, 2018, Peaks and Pints pitted 64 of Pacific Northwest's best in a malty head-to-head battle of porters. We speak, of course, of the Tournament of Beer: Northwest Porters. Sixty-four Washington, Oregon and Idaho were selected and seeded by the public in March 2018. Some porters fell easily by the wayside, either faltered due to a defective mash tun paddle or simply because they faced a superior opponent. Malt by malt, the tri-state region drank its way through the first two rounds followed by the Sweet Saccharification 16, the Ethanol Eight, the Fermentation Four and today's Championship Game between Wingman Brewers P-51 Porter and Rogue Ales Mocha Porter with online voting will end at 4 p.m. then the voting will resume at 5 p.m. live at the Tournament of Beers Party at Peaks and Pints. The live vote will close at 8:30 p.m., tallied and the Northwest Porter champion will be announced at 9 p.m. In conjunction with today's Championship Game, Peaks and Pints offers a sample beer flight of Northwest porters from the Tournament of Beer. Drop by Peaks and Pints today, vote and enjoy our Craft Beer Crosscut 4.28.18: A Flight of Tournament of Northwest Porters.
Backwoods Imperial Maple Porter (#5 seed, Washington State Region)
7% ABV, 20 IBU
This is Backwoods Brewing's second porter nominated for the Tournament of Beer: Northwest Porters. It's first porter, Pecan Pie Porter, lost to Harmon's Puget Sound Porter in the Second Round play. Backwood's Imperial Maple Porter is brewed with real maple syrup. While maple syrup and granulated sugar both have the same sugar breakdown — 50 percent glucose, 50 percent sucrose — maple syrup has a lot going for it both beerwise and healthwise. Unlike processed sugar, maple syrup contains some antioxidant polyphenols as well. It also has a richer, deeper flavor than white sugar, which adds its own spin to mixed drinks. But, this isn't the Tournament of Maple; it's about porters, and this one had maple on the nose, followed by balanced notes of vanilla, maple and chocolate, with a subtle roast on the finish to make the tournament, although lost in the Frist Round to Three Magnets' RCW 70.160 Smoked Porter.
Rainy Daze Sunrise Coffee Porter (#11 Seed, Washington State Region)
5.8% ABV, 30 IBU
You know the story. Longtime homebrewer Mike Montoney scores a brew system from closed Battenkill Brewing of Poulsbo, apprentices on a professional with Brad Ginn and Mark Hood of Sound Brewery, goes on to brew awarding-winning craft beers under the Rainy Daze Brewing brand. The story received another hit of joy when Rainy Daze's Goat Boater IPA won Peaks and Pints' Tournament of Beer: Washington State IPAs last spring. This year, the story continues as his Sunrise Coffee Porter advanced to the Sweet Saccharification 16 in the Tournament of Beer: Northwest Porters. This porter is on the dark chestnut brown side, and the smell of coffee hits your nose from the start. And the coffee doesn't finish there — this beer hits your mouth with delicious coffee notes while finishing smooth and sweet. It's well balanced and drinkable.
Wingman Brewers P-51 Porter (#4 seed, Washington State Region)
8% ABV, 31 IBU
The P-51 Porter was Wingman Brewers' first real beer recipe. "It goes back to 2008 when Derrick (Moyer) and I were home brewing," explains Wingman co-founder Ken Thoburn. "At the time, Lazy Boy Porter from Everett was my favorite beer around, so we tried to emulate that. The beer was initially made for a friend's birthday and called Nalty's Tall Order Porter since he's a tall dude and asked us to make a Porter for his birthday party. The beer went over so well with our friends that it remains the only recipe we've never changed since Wingman started … with Washington-grown barley and Moxie valley hops." The P-51 Porter is a robust and clean-finishing porter that offers rich, malty flavors that highlight hints of chocolate, coffee, nuts and smoke. Wingman is known for their porters. It's what they do.
Everybody's Cold Press Coffee Porter (#7 Seed, Washington State Region)
5.4% ABV, 45 IBU
In 2008, Christine and Doug Ellenberger opened Everybody's Brewing in White Salmon, Washington after years of planning the craft brewery when they weren't working their shifts at Full Sail Brewing Company directly across the Columbia River. Doug's 20-plus years brewing and Christine's years in the restaurant industry melded into a popular brewpub with a killer view of Mt. Hood. And … the view will soon be even better. The Ellenbergers are currently building a new, larger, fancier brewery and pub next door to their existing brewery. But, this isn't the Tournament of Buildings; it's porters — and Everybody's has a delicious one. After fermentation and aging, Everybody's blends their porter with Stoked's Bluebird cold press coffee. Cold Press Coffee Porter offers flavors of roasted malts, sweet lactose, light vanilla and milk chocolate with a lingering dry roasted malt finish.
Rogue Ales Mocha Porter (#15 seed, Oregon Region)
5.3% ABV, 54 IBU
In May of 1989, John Maier arrived in the small Oregon coastal town of Newport just in time to create Rogue Ales brew #1. Twenty-eight years and more than 20,000 brews later, Maier still rides his bike daily over the Yaquina Bay Bridge to the brewery where he continues to create innovative brews that have garnered international acclaim. One of the pioneers in the craft-brewing world, Rogue consistently puts out award-winning beers year after year, winning gold in national and international competitions. Its Mocha Porter hits the nose with coffee beans, light espresso, roasted malts, dark chocolate and some sweet creamy milk notes, followed by balanced bitter, mocha coffee, roasted malts and dark chocolate — what you get in the nose but the roastiness is stronger.
---