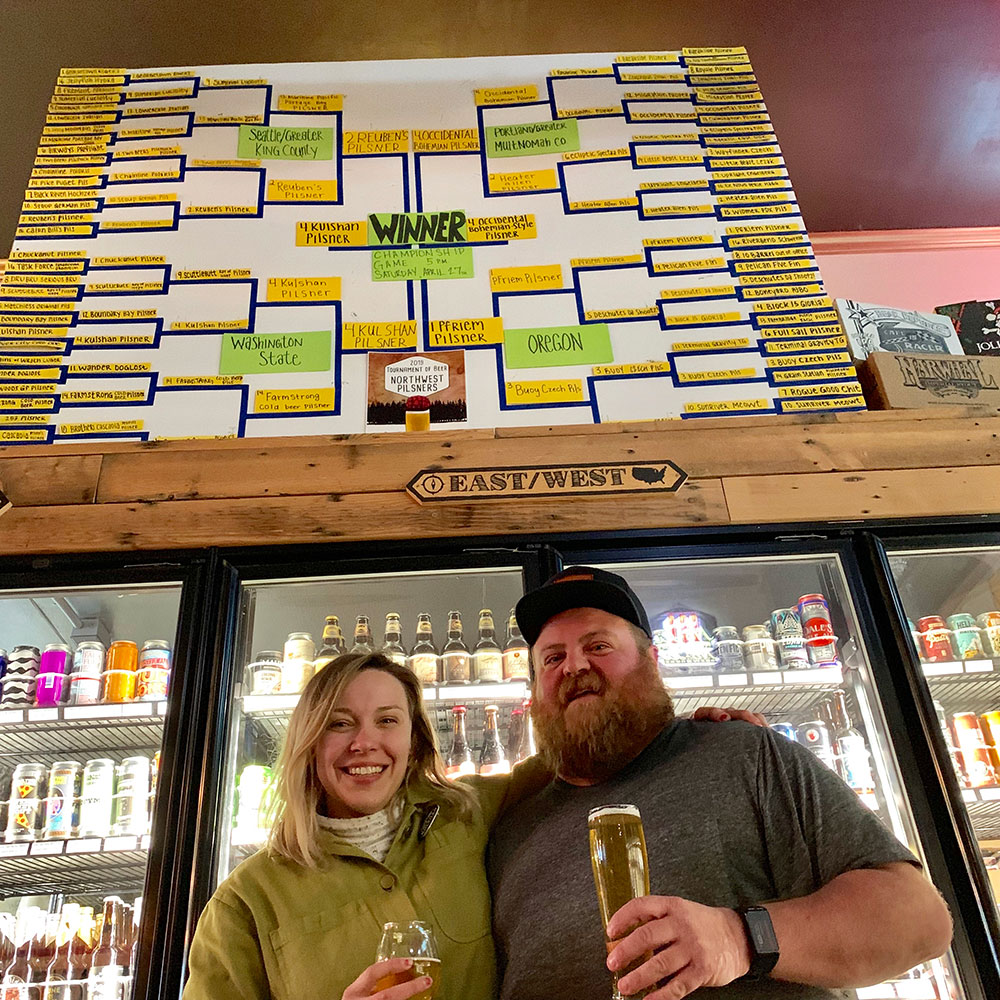 Tournament of Beer: Northwest Pilsners Champion
It's a simple equation: Water plus grain, hops and yeast. But hidden within this simple formula is a universe of variety. German or Czech? Saaz and Hallertau noble hops? Open fermentation, long boils, extra-long lagering? Pacific Northwest brewers who brew pilsners have choices to make. And in those choices lie the path to greatness.
In February 2019, we ask Washington and Oregon resident to nominate their favorite pilsners from their home state. Then, April 5-27, 2019 Peaks and Pints craft beer bar, bottle shop and restaurant in Tacoma pitted the top 64 nominated pilsners against one another in the mother of all craft beer brackets. You saw the carnage: No. 1 seeds fell, powerhouses butted heads, and surprise pilsners made a run at the prize. Here's a recap of the 2019 Tournament of Beer: Northwest Pilsners. …

The Road to the Championship
The first two weeks saw the bracket shaking off high seeds and award winners as early matches cut the field from 64 to the Sweet Wort 16. Half of the top seeds didn't the cut, including Georgetown Roger's Pilsner in the Seattle/King County Region and Chuckanut Pilsner in the Washington State Region, leaving the left side of the bracket wide open.
Week three was when the serious work began, with only the best of the bracket trying to brew pilsners into the Final Four.
In the Seattle/King County Region, Sumerian Lucidity Pilsner, which beat powerhouses Fremont Brewing and Georgetown Brewing in the first two rounds, made it to the Sweet Wort 16 only to be knocked out in the next round by Maritime Pacific's Portage Bay Pilsner. Reuben's Brews Pilsner, exhausted from battles with Stoup German Style Pilsner and Two Beers Pilchuck Pilsner, reach deep down for a win over Maritime Pacific for a seat in the Final Four.
In the Washington State Region, No. 14 seed Farmstrong Cold Beer Pilsner and residents of Skagit Valley, eased past Backwoods Brewing and Wander Brewing with little effort, while Kulshan Brewing dominated the same region knocking off Scuttlebutt Ray of Hope Pilsner in the Sweet Wort 16, then handing Farmstrong a lost to make it into the Final Four.
In the Portland/Multnomah Country Region, Occidental Brewing Bohemian Pilsner and Heater Allen Pils beat experienced pilsner brewers. Breakside Pilsner, Zoiglhaus Zoigl-Pils, Ecliptic Spectra Hoppy Pils, Upright Engelberg Pilsner, Wayfinder Czech Pilsner — hell, the whole region — could have grabbed the title if the award-winning Occidental and Heater Allen pilsners made a misstep. Beer scholars will study the Occidental versus Heater Allen Hot Break Eight game for years to come. Occidental, however, had the votes their entire journey to the Final Four.
In the Oregon region, pFriem Family Brewers gobbled up votes left and right, moving past Pelican Brewing, Deschutes Brewery and Buoy Beer as predicted by the Tournament of Beer officials. It should be noted, the Sweet Wort 16 battle between pFriem Pilsner and Deschutes DA Shootz! was the kind of thing Tournament of Beer "instant classics" are made of. The exhausted pFriem Pilsner had just enough support from the windsurfing community to win by one vote.
The Final Four
Reuben Brews Pilsner. Kulshan Pilsner. Occidental Brewing Bohemian Pilsner. pFriem Family Brewers Pilsner. Each brewery has a different pilsner philosophy. Reuben's head brewer James McDermet highly carbonates his pilsner, with spicy, lemony hops set against a biscuity malt base. It's tough to wrangle from the beer additional descriptors, but sometimes the best pilsners exhibit a sophisticated simplicity. pFriem head brewer Gavin Lord's favorite pFriem beer is, in fact, his pilsner, with its imported German pilsner malts, plus a blend of European hops including Perle, Saphir, Tettnang, and Spalter Select. pFriem Pilsner also boasts one of the squeaky-cleanest fermentation profiles you'll come across, meaning all those high-quality ingredients really come to the fore. But neither McDerment or Lord could top the pilsners at Kulshan and Occidental, respectively. These are the pilsners that were voted into the Tournament of Beer: Northwest Pilsners Championship Game.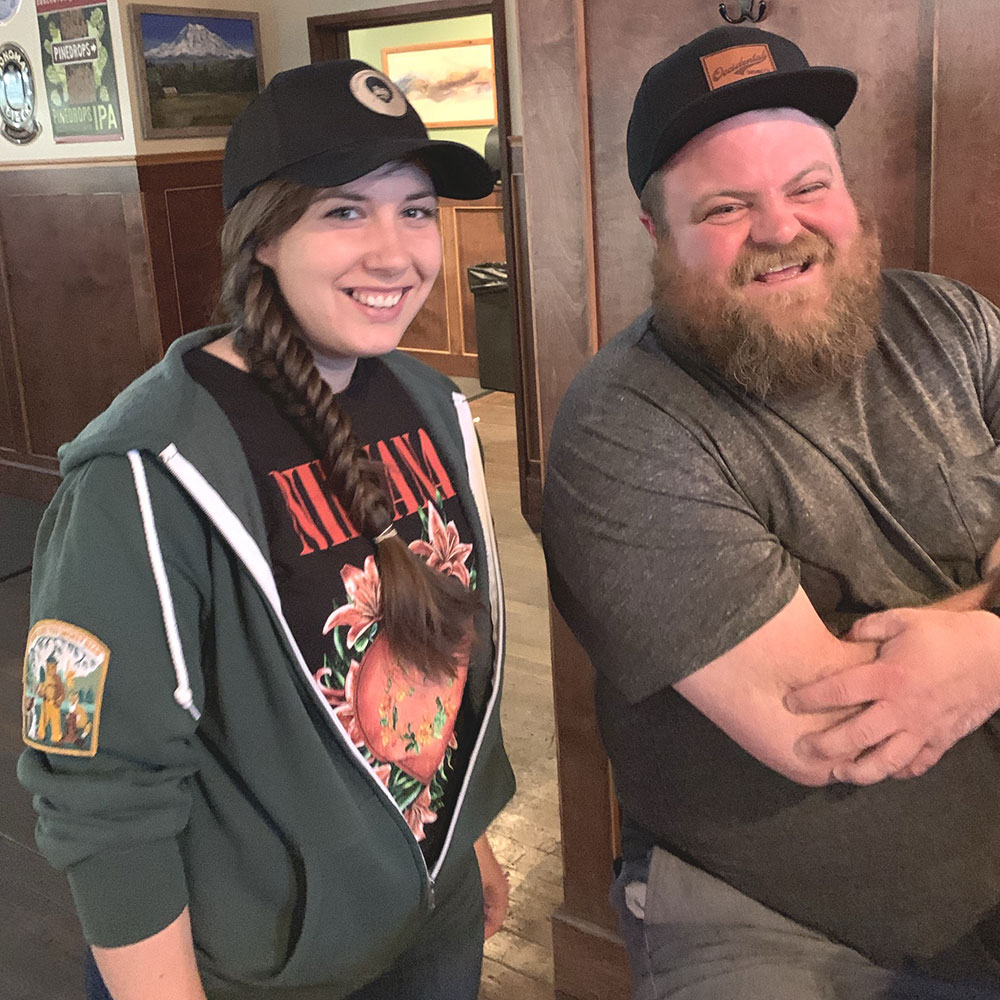 Championship Game
For the past couple years, when a mention of Bellingham breweries awards comes up, there's always a discussion that starts with "Kulshan, again?", but even though the rest of Bellingham's growing craft beer scene is pretty damn awesome, the stamp that Kulshan Brewing has put on Bellingham can't be denied. The brewery's German-style "Pilsner" grabbed a gold medal at the 2017 Best of Craft Beer Award and a silver at the 2018 Washington Beer Awards, no doubt for its traditional clean and bready malt flavors supported by herbal, floral and slightly spicy hop aromatics and flavor. Would the brewery dangle their award hardware before Occidental? This brewery is too classy for such tomfoolery.
Long before the Portland neighborhood of St. Johns finally hit its long-anticipated growth spurt, the Occidental Brewing Company set up shop near the bridge and quietly started brewing some of the best German-style ales and lagers in Oregon. Thanks to an expansion into a Wursthaus, you can get a grilled brat, as well as a number of other options, to go with your Bohemian-style pilsner. Occidental Brewing Co. was founded in 2011 by Ben and Dan Engler. Focusing on largely traditional continental European beer styles, Occidental has won numerous awards for its easy-drinking, Bohemian style pilsner. Their Pilsner, which beat its Tournament of Beer competitors by hundreds of votes, strutted into the Championship Game humbled but confident.
Saturday, April 27, 2019, the Tournament of Beer: Northwest Pilsners Championship Game began with Kulshan Brewing Pilsner gobbling up online votes for an early lead. Occidental Bohemian Pilsner kept the game within a hop leaf's length for the first two hours, which puzzled Tournament of Beer statisticians. Contrary to what Al Gore believes, Occidental owns the Internet, at least in terms of online voting. Why wouldn't they own it again for the Championship Game? Kulshan Brewing, as we later discovered, has fans worldwide. They received votes from such faraway lands as England and Germany. The Occidental voters either forgot about the Championship Game or are still numb after cheering for nearly 20 minutes straight as streamers rained down onto the Trailblazers court as the Jumbotron replayed Damian Lillard's shot over and over.
When the 4 o'clock bell chimed, and the online voting closed, Kulshan Brewing had a 36-vote lead.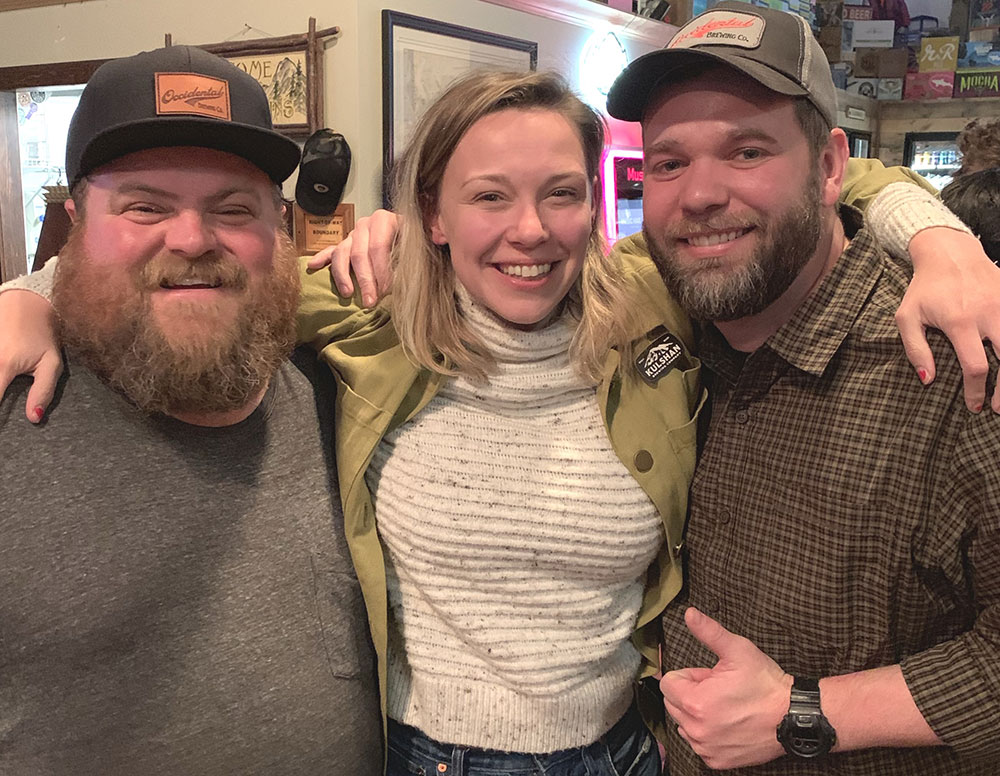 At 5 p.m., the Tournament of Beer moved into the live vote portion of the Championship Game, initiating a ballot vote and a bunch of craft beers — including both competing pilsners — at Peaks and Pints in Tacoma's Proctor District. The Occidental contingent, including head brewer Sam Carrol, arrived a half-hour before Team Kulshan made its way down Proctor Street. Wacky door prizes such as beer cowbells, Star Trek Cats book and massage gloves would ever so often steal a pilsner conversation.
The Winner
As promised, Peaks and Pints tallied the on-location votes around 8 p.m. of the pilsner showdown, which Occidental Brewing managed to own. After the raffle prizes found homes, and the weird Miami Sound Machine soundtrack was switched off, we stumbled through a long explanation of past Tournament action, Kulshan Brewing Pilsner was crown the Tournament of Beers: Northwest Pilsners champion by a 35 vote margin.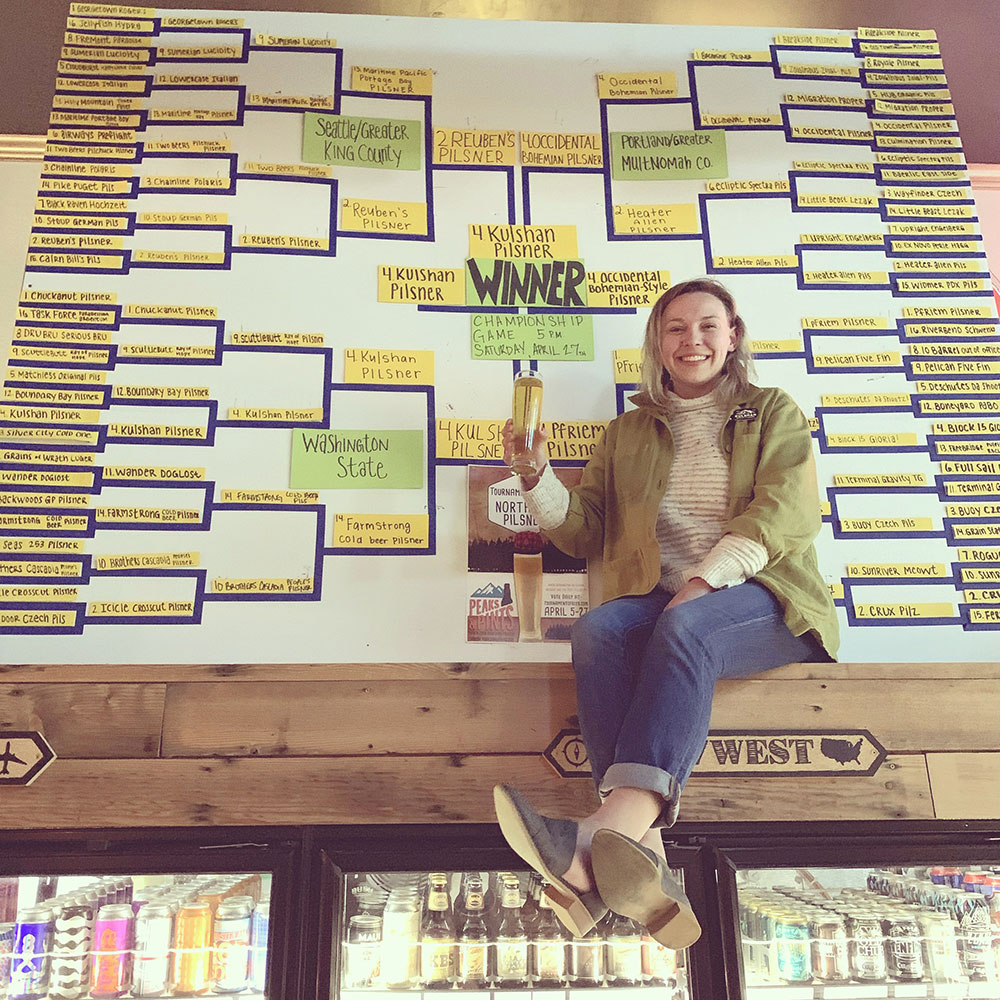 Then, a pilsner love fest broke out. Both breweries congratulated each other, tossing out compliments and posing for pictures. An hour after Kulshan Pilsner won, both breweries and their peeps still held court at Peaks and Pints, signing autographs and telling stories of early bracket victories.
Kulshan Brewing will receive the Tournament of Beer trophy after completion of the engraving and a permanent handle at Peaks and Pints through the summer.
So it's official: Kulshan Pilsner is the winner of Peaks and Pints' 2019 Tournament of Beer: Northwest Pilsners. Eat it up, Washington state.
Thank you!
Peaks and Pints would like to thank its staff. All the Tournament explanations, the giant Big Board above the cooler, the endless handouts and ballots — they held their composure and trademark smiles. But, most of all, thanks to all the awesome folks who voted. You rock.
See you next year for the Tournament of Beer: Flagships of the Decades.
Cheers!
LINK: Tournament of Beers: Northwest Pilsners games
LINK: Tournament of Beers: Northwest Pilsners explanation
LINK: Follow Peaks and Pints on Twitter
---