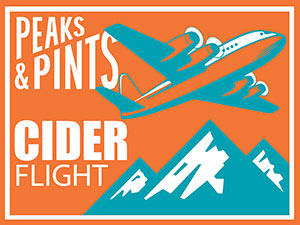 It's not surprising that craft cider has taken root in Washington state — a region of wine and craft beer enthusiasts. Washington is the second largest wine producer and has the second highest number of craft breweries in the country. But when it comes to cider, Washington is fourth in the nation. In 2008, there were maybe four cideries in Washington state; now about 66 dot the state from San Juan Island to Pullman, and even wineries are getting in on the action. Meet five Eastern Washington state ciders in what we call Peaks and Pints Monday Cider Flight 4.29.19: Eastern Washington.
Peaks and Pints Monday Cider Flight 4.29.19: Eastern Washington
Bad Granny Nice Pear
5.5% ABV
Julie and Bret Pittsinger opened Karma Vineyards in the fall of 2007, creating the first traditional style champagne in Chelan County, Washington. As the brand grew the Pittsingers saw an opportunity to partner with his long-term relationships of apple growers in the area that he's cultivated over several decades. The chemistry between the quality of apple and the knowledge of the traditional French champagne method, created a unique hard cider and Bad Granny Hard Cider was born. They released their Nice Pear in stovepipe cans, which means 19.2 ounces of Washington state fermented pear juice, cane sugar and pear concentrate.
Longdrop Vanilla Honey
6% ABV
In August 2014, Chris Blanchard and Carol Crosswhite, in a partnership with Crooked Fence Brewing, founded Longdrop Cider as the first production cidery in the state of Idaho. Seven months later Longdrop had cider in the market — Semi Sweet (now Northwest Apple) Cider, and the award-winning Vanilla Honey Cider. By fall of 2015 major retailers across the state of Idaho carried our ciders. In 2016, Chris and Carol assumed full ownership of the cidery, only to turn around and form another partnership with the Furfaro/Carson family — longtime orchardists and apple processors in North Central Washington state, which led to opening a new production facility in Cashmere, Washington. Recently, Longdrop opened a tasting room in Leavenworth. Made with Fuji, Gala, Golden Delicious, Red Delicious, and Granny Smith apples, Vanilla Honey is all apple with nice vanilla notes on an otherwise fairly sweet cider.
d's Wicked Baked Apple
6.9% ABV
Let's talk Baked Apple, as in Kennewick-based hard cider maker d's Wicked Cider's 2015 U.S. Open Beer Championship gold medal winning creation. The cider company, which is owned by Daniel and Heidi Washam, owners of Sun River Vintners, also in Kennewick, opened shop with Baked Apple, which uses Washington apples to makes its three cider varieties. This off-dry cider hosts the flavors of Red Delicious, Honey Crisp and Granny Smith apples, finishing with a touch of allspice and cinnamon. Think grandma's apple pie without the crust.
Ole Swede Bada Bing!
6.9% ABV
About a 1,000 people live in Tonasket, a city in Okanogan County, Washington. Lucky them to have Ole Swede Cider in their backyard. Tonasket native Casey Oberg launched Ole Swede Cider on his family farm in 2014. His semi-dry Bada Bing features 90 percent apple with the rest bing cherries. The medium bodied hits the nose with apple and cherry followed by tart, mild real cherry flavor.
Snowdrift Red
7.6% ABV
Snowdrift Cider Company sits in Central Washington near East Wenatchee. The cidery controls its own source of apples, tending an orchard that not only produces dessert apples, but also an array of traditional cider apples including Dabinett, Foxwhelp, Golden Russet, Brown's, Wickson Crab, Calville Blanc d'Hiver, Yarlington Mill and Ashmead's Kernel. Snowdrift crafted this cider with apple varieties only a couple generations removed from their native ancestors in the hills of Kazakhstan. Their brilliant red flesh yields a crimson red cider with bright acidity, packed with flavors of cranberries, watermelon, rhubarb and strawberries, finishing with soft toffee tones.
---