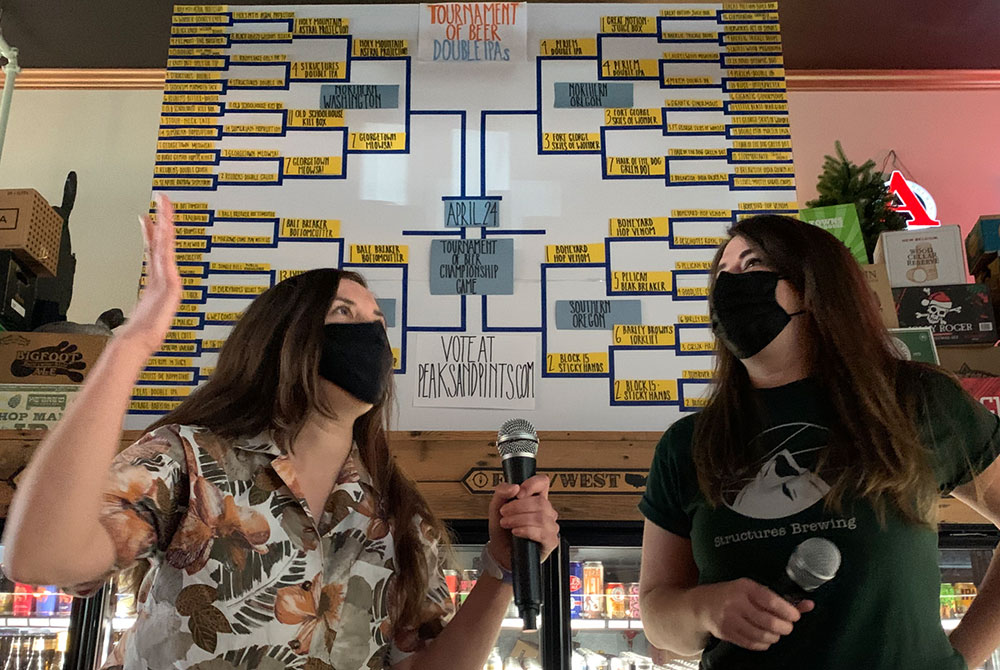 Peaks and Pints Tournament of Beer: NW Double IPAs Championship
ERIN: This year's Peaks & Pints Tournament of Beer journey began with 64 double IPAs all eyeing the chance to be crowned the first Northwest champion in the Tournament of Beer: NW Double IPAs. The craziness now in the rearview mirror, we are down to the final two. On the heels of one of the most interesting beer tournaments in modern history, the two teams that began the season at No. 1 and No. 2 will meet for the Northwest title today.
SARAH JANE: For more than three weeks, Peaks and Pints challenged 64 of the Pacific Northwest's best double IPAs to go IBU-to-IBU in a showdown of craft combat. Some fell easily by the wayside, either due to a rogue keg cleaner or simply because they faced a superior opponent. Hop by hop, you voted down to the final four: Georgetown Meowsa, Bale Breaker Bottomcutter, pFriem Double, and Block 15 Brewing. It was do-or-die, win-or-fly, bring-your-best-or-oxidize.
ERIN: Let's take a quick moment to recap yesterday's Final Four before the Championship Game begins.
Friday, April 23, Final Four Northwest Double IPA Games results
GAME 1, WASHINGTON STATE REGION
Georgetown Meowsa (#7 seed) vs. Bale Breaker Bottomcutter (#1 seed)
SARAH JANE: The cat's out of the bag — and out of the Tournament. The largest brewery in Washington state, and one of the largest in the nation, Georgetown Brewing didn't see it coming. Their Meowsa double IPA hates loud noises. It adds stress and can cause skittishness. Bale Breaker fired up all their bottomcutter machines during the game, freaking out Meowsa several times, including a 10-minute time out to coax Meowsa out of a beer box.
ERIN: The ploy worked. Bale Breaker commanded the game from top to bottomcutter grabbing 67 percent of the vote and the Washington state slot in the Championship Game.
GAME 2, OREGON REGION
pFreim Double IPA (#4 seed) vs. Block 15 Sticky Hands (#2 seed)
SARAH JANE: Any brewery that offers a hop decrescendo that begins with an aromatic blast of tropical fruits, citrus, and dank herbs, then transitions into intense hop flavor and ends with a balanced bitter finish, should be taken very seriously. At Block 15 Brewing, this double IPA exists. Sticky Hands goes through massive late hop additions across three different stages with a custom-designed hop extract and dry-hopping that utilizes two times the hops as those added to the kettle. Block 15 is good with their Hands.
ERIN: pFriem Family Brewers are a serious group. Most of their beers are named after the beer's style because they are expertly brewed to the exact style, including their Double IPA. That said, pFriem did surprise Block 15 by bringing their new double IPA off the bench — a beer with a fun name even: Big IPA. Even more fun, pFriem brought a cheer squad who pounded Sticky Hands with the perfect cheer, "We name our hop recipe! Yes we do! We name our hop recipe! How about you?!"
SARAH JANE: Haha while pFriem's game plan kept them in the game the entire day, the double IPA with the secret hop recipe ended up with the most votes, 63 percent, and a date with Bottomcutter today.
Saturday, April 24, Northwest Double IPAs Championship Game
ERIN: The titanic double IPA throwdown finale in on! Voting for the 2021 Tournament of Beer: NW Double IPAs Championship Game is live. After three weeks of voting, you have picked the most popular double IPAs in the Pacific Northwest. What began as 64 hop-slinging double IPAs has been narrowed down to two: Bale Breaker Bottomcutter and Block 15 Sticky Hands.
SARAH JANE: Welcome to the big dance. Because we're back in Phase 2 COVID restrictions, the Peaks & Pints Tournament of Beer: NW Double IPAs Championship Game Party has been reduced to a normal night at Peaks & Pints — normal if you call having the best two double IPAs in the region on tap. Online voting will end at 8 p.m., tallied and the Northwest Double IPA champion will be announced around 8:30 p.m. We highly suggest you reserve a table via the Open Table app.
ERIN: Ladies and gentlemen, please join in the singing of our national anthem.
SARAH: Thank you Jordan Smith!
ERIN: What else can be said about these two worthy opponents? This is Washington versus Oregon. This is for double IPA bragging rights for the entire region.
SARAH JANE: I'm doubly excited. Let's get to voting!
VOTE BELOW>>>>>>>>>>>>>>>>>>>>>>>>>>>>>>>>>>>>>>>>>>>>>>>>>>>>>>>>>>>>>>>>>>>>>>>>>>>>
Be sure to click the blue DONE button after selecting your favorite double IPA!
Thanks again everyone for voting! See you at Peaks & Pints today.
LINK: Peaks and Pinks Tournament of Beer: NW Double IPAs previous games
LINK: Tournament of Beers: NW Double IPAs explanation
LINK: Hot Damn! Yes, I want to subscribe to Peaks & Pints 6-Pack of Things To Do newsletter and be hip to local happenings!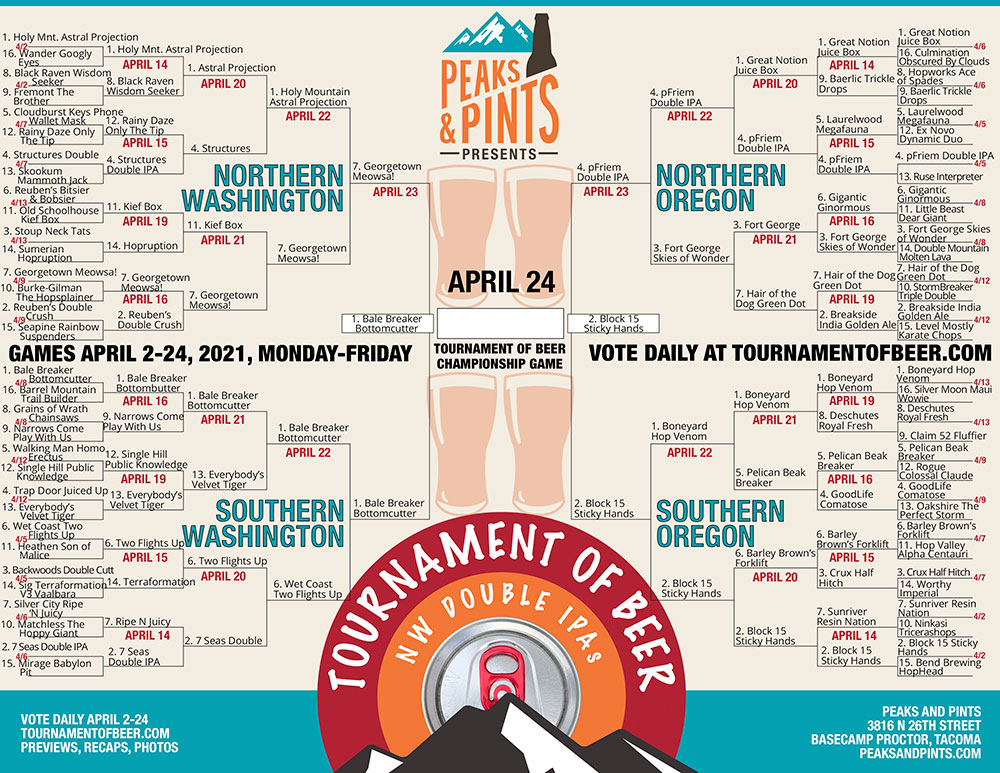 ---