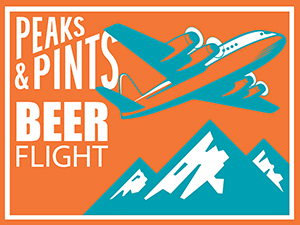 The last three weeks, Peaks and Pints pitted 64 of the Pacific Northwest's best in a hoppy head-to-head battle of double IPAs. We speak, of course, of the Tournament of Beer: NW Double IPAs. Sixty-four double IPAs brewed in Washington and Oregon were selected and seeded by the public in February 2021. During this tournament, some double IPAs fell easily by the wayside, either faltered due to a defective mash tun paddle or simply because they faced a superior opponent. Hop by hop, double IPA enthusiasts drank his or her way through the first two rounds followed by the Sweet 16, the Great Eight, and today's Final Four between Georgetown Meowsa, Bale Breaker Bottomcutter, pFriem Double IPA and Block 15 Brewing with online voting on this website ending at 11:45 p.m. In conjunction with today's Final Four games, Peaks and Pints offers a to-go flight of the four beers, a flight that we call Peaks and Pints Pilot Program: Final Four Doubles On The Fly.
Peaks and Pints Pilot Program: Final Four Doubles On The Fly
Georgetown Meowsa! (#7 seed, Northern Washington)
8.4% ABV, 60 IBU
If you force fed a watermelon a steady diet of mandarin oranges and pineapples and then dropped said watermelon into a woodchipper, the resulting aromas and flavors would be the best way to describe Georgetown Brewing Meowa!, the beer. As much as Meowsa, the Georgetown Brewing cat, dislikes the term "juicy," this double IPA is juicy and has very little bitterness for the style, thanks to Citra, Simcoe, and El Dorado hops. Meowsa! beat Burke-Gilman The Hopsplainer, Reuben's Double Crush, Old Schoolhouse Kief Box, and Holy Mountain Astral Projection to arrive at the Final Four and its game against Bale Breaker Bottomcutter.
Bale Breaker Bottomcutter (#1 seed, Southern Washington)
8.25% ABV, 100 IBU
More than 5 pounds of Bale Breaker Brewing's homegrown Citra, Simcoe, Ekuanot, and Mosiac hops are added from brew day through dry-hopping of Bottomcutter for a supremely drinkable double IPA with pine, honey, orange and grapefruit swirling around a bunch of caramel. It's brewed to finish dry. Bottomcutter beat Barrel Mountain Trail Builder, Narrows Come Play With Us, Everybody's Velvet Tiger, and Wet Coast Two Flights Up to arrive at the Final Four to take on Georgetown Meowsa!
pFriem Big IPA (Northern Oregon)
8.2% ABV, 77 IBU
pFriem Family Brewers' Double IPA is brewed with Chinook, Mosaic, Citra, Nelson Sauvin, and Equinox hops for flavors of baked grapefruit, ripe papaya, with a touch of malty sweetness, plus a touch of tangerine rind melded with resiny hoppy goodness on the finish. Unfortunately, pFriem's Double isn't available on draft or package. Therefore, we're substituting with the Hood River brewery's new Big IPA, which has the same ABV and IBUs, but brewed with Nelson Sauvin, Mosaic, Citra, and Vic's Secret for flavors of fresh berry jam, pineapple, tangerine, and tropical punch. pFriem Double IPA beat Ruse Interpreter, Laurelwood Megafauna, Great Notion Juice Box, and Fort George Skies of Wonder to arrive at the Final Four to take on Block 15 Sticky Hands.
Block 15 Sticky Hands (#2 seed, Southern Oregon)
8.1% ABV
In late 2011, homebrewers Nick and Kristen Arzner opened Block 15 Brewing serving beers true-to-style with ingredients imported from different parts of the world, along with all the Willamette Valley produced grains, hops, fruits, herbs and yeast. Its Sticky Hands double IPA is a "Hop Experience Ale" featuring ample additions of sticky, resinous, lupulin packed hop buds grown in the Pacific Northwest. Sticky Hands begins with an aromatic blast of tropical fruits, citrus and dank herb; transitions into luscious hop flavor; and ends with a balanced bitter finish. Sticky Hands beat Bend Brewing HopHead, Sunriver Resin Nation, Barley Brown's Forklift, and Boneyard Hop Venom to face pFriem Double IPA in the Final Four.
---