Peaks and Pints Tournament of Beer: NW Double IPAs April 2
ERIN MILLER: Good day, ladies and gentlemen, and welcome to the 2021 Peaks and Pints Tournament of Beer: NW Double IPAs from the historic Proctor District in beautiful Tacoma, Washington. I'm Peaks & Pints bartender Erin Miller and I'm thrilled we're hosting another Tournament of Beer. Now in its fifth year, this year's Peaks & Pints bracketed beer competition pits 64 Washington and Oregon double IPAs against one another in frothy head-to-head matchups voted on by craft beer enthusiasts. Joining me is another OG Peaks bartender, Nicole Allen.
NICOLE ALLEN: Thanks Erin! What a day! What a day! First, we must relay the obvious restrictions. Peaks & Pints promotes good sportsmanship by breweries, brewers and fans. We request your cooperation in supporting the craft beer community in a positive manner. Profanity, derogatory comments and other intimidating actions directed at officials, brewery representatives and other craft beer drinkers will not be tolerated, as well as stacking votes online. We appreciate your cooperation in creating a safe and positive game environment. Respect, it's the name of the game.
MILLER: Before we get into the nitty gritty of the Tournament, we need to address two things: What is a double IPA and what the hell was up with all the trailhead posts leading up to the Tournament.
ALLEN: I got the style. The first India pale ales originated in Great Britain as a modestly hopped pale ale, with just a little bit more hop flavor than other beer. Years later, American brewers started using newfangled hops such as Cascade, which Anchor's Liberty Ale and Sierra Nevada Pale Ale use to great effect, giving the beer big citrus aromas and flavor. Next, Lagunitas Brewing founder Tony Magee brewed his Lagunitas IPA in the mid-1990s, invented the West Coast IPA, which is all about the hops with pine and citrus notes. Then along came Vinnie Cilurzo who brewed the first double IPA at his Blind Pig Brewing in Temecula sometime in 1994. Bam! The double IPA was a thing. Soon after, Cilurzo left Blind Pig to work at Russian River Brewing, which he eventually bought. He first brewed Pliny the Elder in 2000, for the first double IPA festival in Hayward, California.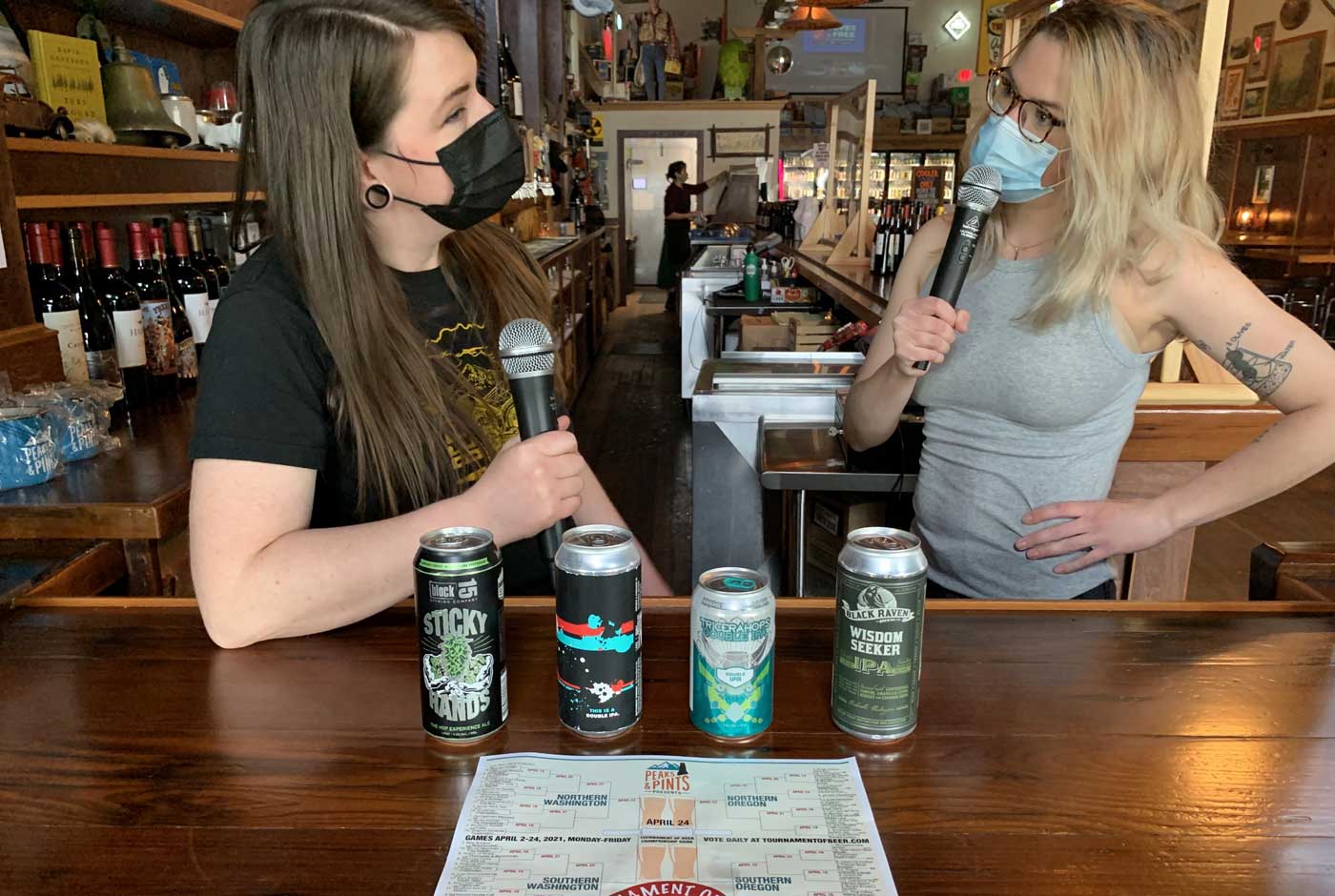 MILLER: The name Blind Pig was Prohibition slang for a speakeasy, referring to a police officer that would turn a blind eye.
ALLEN: The double IPA, also known as an imperial IPA, takes both alcoholic strength and hop intensity to new levels. These big, bold IPAs have a strong hop profile with resiny, piney and/or citrus tones, depending upon the type of hops in the recipe. There should be some maltiness that lends balance and flavor complexity. Strength should range from 7.5 percent to 9.99 percent ABV, at least in my book. Many hop-centric beers seem to be in a race to out-bitter each other. I'm more reserved in what I like in a hoppy beer — I look for something solidly hopped with a bit of malt sweetness for balance. Unfortunately, you and I, Erin, and the rest of the Peaks crew, can't vote in this Tournament, baby.
MILLER: The no-vote rule applies to our boss, Pappi Swarner, too, who invented these crazy tournaments.
ALLEN: Crazier the latest two years with COVID.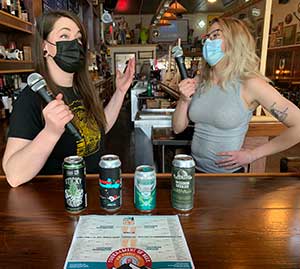 MILLER: Indeed. Pappi wanted to change the name of this Tournament of Beer: NW Double IPAs to Tournament of Beer: NW Double Trouble. As you may remember, we held last year's Tournament of Beer: West Coast Flagship during a very COVID April 2020. The shutdown was announced on the last day of Pappi's pre-Tournament research tour. A month before every Tournament he tries to drive to all 64 breweries to drink the beer, chat with brewers and snap photos of the beers with the bartenders pouring them. Last year, the virus seemed to be four days behind him the whole way, and he snapped the last photo at an empty Iron Horse Brewery, the day before the March shutdown.
This year, he skipped the pre-Tournament brewery visits for obvious reasons. Instead, he began pairing the 64 nominated Northwest double IPAs with his second love, hiking. He gathered the double IPAs from our cooler, and other bottle shops, then hike with each double IPA at trailheads near the beer's brewery. It ensured less human contact and, well, as some much-needed exercise for the guy. That is, until an early Tuesday, March 23 morning. With a good portion of Washington state double IPAs paired with Washington trails, Pappi headed to Oregon with several boxes full of nominated beers. He logged in four hikes, grabbed a box of Voodoo Doughnuts, and enjoyed an available Pliny The Elder while gazing at the Willamette River from his Portland hotel room. During the night, ruffians smashed his car's window and grabbed most of the Tournament beer. They also took his Nalgene full of water, obviously to stay hydrated after drinking 50 or so double IPAs. With a two-day window repair time and almost all the nominated double IPAs brewed in Oregon gone, Pappi drove back to Peaks depressed, and rather cold. The Tournament tour was over.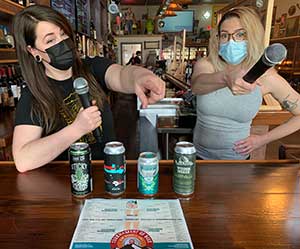 ALLEN: Yeah, not good. Thankfully you talked him out of canceling the Tournament, suggesting us bartenders take it over. Sure, we'll mention the hikes, but with only half the hikes accomplished, it's best to move on from the outdoors thing and run this Tournament like years past — straightforward, head-to-head matchups voted on by craft beer enthusiasts who follow Peaks & Pints. As a reminder, the Tournament of Beer: NW Double IPAs features 64 imperial IPAs from Washington and Oregon, all seeded by public vote, and separated into four regions: Northern Washington, Southern Washington, Northern Oregon and Southern Oregon. The top 64 vote getters — the cream of the hops — will compete Monday through Friday on our website, April 2-24. Through online voting, double IPA drinkers will pick daily winners until the best double IPA is crowned.
MILLER: It's just like March Madness, only with way more piney hops. The Tournament of Beer: NW Double IPA grand champion will be announced at a reservation only Tournament of Beer Party (hopefully), April 24, at our craft beer bar, bottle shop and restaurant in Tacoma's Proctor District. We'll tap the final two doubles that morning and cut off the online voting at 8 p.m. then announce the winner shortly after. We hope the two breweries will be in the house to join in on the fun. Like every year, the champion brewery will receive a permanent handle at Peaks through the spring and summer 2021.
ALLEN: For those of you who are still reading, let's dive into today's opening round of eight double IPA battles. Please vote for one beer per game. Voting for today's double IPA battles ends at 11:45 p.m. Bartenders Justin and Shane will announce the winners tomorrow morning around 10 a.m. The next round of eight beer battles will commence at 10 a.m. Monday, April 5.
MILLER: Ladies and gentlemen, please join in the singing of our national anthem.
Allen: Thank you Carrie Underwood! OK, let's do this thing!
Friday, April 2, First Round Northwest Double IPA Games
GAME 1, NORTHERN WASHINGTON
Player: Astral Projection (#1 seed)
Team: Holy Mountain Brewing, Seattle
NOTES: There are more than 430 breweries in Washington state, but there's only one Holy Mountain, which debuted in October 2014, and instantly blew up through word-of-mouth. Colin Lenfesty and Mike Murphy opened the Seattle brewery after gaining experience at Schooner Exact Brewing Co., Bainbridge Island Brewery and Westland Distillery. The two, well-respected local beer veterans gained quick respect for their outstanding farmhouse and sour barrel-aged beers. Their juicy, unfiltered Astral Projection double IPA needs to be added to the "outstanding" list.
Let's Break It Down: 8.5% ABV • Mosaic, Galaxy, and Citra hops • pair Astral Projection with a hike up Mount Si
MILLER: Holy Mountain's Astral Projection was seeded number one by a large margin — the third highest nomination votes in the Tournament. This year's Astral Projection batch was brewed for Holy Mountain's sixth anniversary back in January.
ALLEN: If a pint of Astral Projection sits in a room, you'll know it immediately by its fruit splash aroma. On the tongue, it's creamy, juicy hoppy, and fruity all the way. Astral will be tough to beat.
Player: Googly Eyes (#16 seed)
Team: Wander Brewing, Bellingham
NOTES: Colleen and Chad Kuehl wander. The Midwesterners wandered into each other at the University of Iowa many years ago, then wandered around the world. Then engineer Chad wondered about craft beer, eventually attending the American Brewer's Guild in 2011 before working at Hilliard's Beer in Seattle. They wondered what would happen if they started Wander Brewing in Bellingham. After brewing Google Eyes, we wonder if they wonder how they could ever top it. The hazy double IPA offers big tropical notes, oranges, with an earthy dank resin flavor.
Let's Break It Down: 8.5% ABV • flaked oats, unmalted wheat • Citra, Strata, Mosaic, and Chinook hops
MILLER: If we brought food trucks into the mix, the adorable Pete's Poutine food truck parked outside Wander Brewing could change the outcome of the game. So damn delicious!
ALLEN: Holy Mountain, hello!
SCROLL DOWN TO VOTE >>>>>>>>>>>>>>>>>>>>>>>>>>>>>>>>>>>>>>>>>>>>>>>>>>>>>>>>>>>>>>>>>>>>>>>>>>>>
GAME 2, NORTHERN WASHINGTON
Player: Wisdom Seeker (#8 seed)
Team: Black Raven Brewing, Redmond
NOTES: In 2000, Mississippi homebrewer Robert "Beaux" Bowman moved to Washington and landed at Mac and Jack's Brewing in Redmond. After that he worked at Far West Ireland Brewing (now closed), The Ram, and Lazy Boy Brewing, and anywhere else that needed his services. In April 2009, Beaux and Kat Gillespie opened Black Raven Brewing Company in Redmond. His Wisdom Seeker double IPA is brewed in the West Coast double IPA style with tons of orange citrus with some grapefruit and resin on the nose. On the tongue, we get more pine and resin with some citrus fruit, a little onion and light herbal notes.
Let's Break It Down: 8.9% ABV • 85 IBU • Summit, Nugget, Chinook, Centennial, Simcoe, Amarillo and Citra hops • Pair Wisdom Seeker with the Palouse to Cascades State Park Trail
MILLER: Black Raven has a huge flock of followers. In fact, before COVID, they still had long lines at festivals, with their kegs often tapping out early. Wisdom Seeker sells well in the Peaks cooler, in fact all Black Raven beers sell well.
ALLEN: Folklore and mythology present the raven as an omniscient creature with special powers and abilities. That's certainly going to come in handy during this tournament.
Player: The Brother (#9 seed)
Team: Fremont Brewing, Seattle
NOTES: Long-time environmentalist, community organizer and homebrewer Matt Lincecum brought his bank statement to a well-known real estate developer to lease space for his startup craft brewery in the middle of a recession in the "center of the universe" aka Seattle's funky Fremont neighborhood. Apparently $10,000 and awesome homebrewed beers CAN get you somewhere. In August 2009, Lincecum kegged his first Fremont Brewing craft beer. Today, Fremont is regarded as one of the best craft breweries in Washington state, and known throughout the land. In addition to its reputation for consistent quality and innovation, Fremont Brewing is a recognized leader in sustainable brewing operations and community engagement. Fremont's The Brother, hits the nose with mango dipped in citrus juice, lying amongst spring grasses and tastes of medium sweet malt with hints of dried dark fruit.
Let's Break It Down: 8.5% ABV • 1 billion IBU • Centennial, Chinook and Citra hops with Amarillo extract
MILLER: The Brother was the first beer Fremont Brewing developed in their Imperial Series. It was inspired by the Seattle brewery's desire to thank brothers everywhere. You might notice my past tense. The Brother has been discontinued making way for Fremont's Disco Wolf Hazy Double IPA. That said, it's still in the Tournament with a long history of awesomeness.
ALLEN: The Brewers Association recently released their annual list of the top 50 producing craft brewing companies and Fremont was listed at number 45, with the only other Washington brewery on the list is Georgetown at 28. That's pretty damn impressive.
SCROLL DOWN TO VOTE >>>>>>>>>>>>>>>>>>>>>>>>>>>>>>>>>>>>>>>>>>>>>>>>>>>>>>>>>>>>>>>>>>>>>>>>>>>>>
GAME 3, SOUTHERN OREGON
Player: Sticky Hands (#2 seed)
Team: Block 15 Brewing, Corvallis
NOTES: The original Block 15 Brewing sits heart of downtown Corvallis, only a few blocks from Oregon State University. The brewery's name hails from Corvallis' previous incarnation as Marysville and the old plat map location from the old town. In late 2011, homebrewers Nick and Kristen Arzner opened the brewery and restaurant serving beers true-to-style with ingredients imported from different parts of the world, along with all the Willamette Valley produced grains, hops, fruits, herbs and yeast. Its Sticky Hands double IPA is a "Hop Experience Ale" featuring ample additions of sticky, resinous, lupulin packed hop buds grown in the Pacific Northwest.
Let's Break It Down: 8.1% ABV • 100 IBU • Block 15's privately banked Brewers yeast
MILLER: Sticky Hands begins with an aromatic blast of tropical fruits, citrus and dank herb; transitions into luscious hop flavor; and ends with a balanced bitter finish.
ALLEN: At times it feels like you're chomping into a dank piece of weed — and if your thing is hops, this is your beer.
Player: HopHead (#15 seed)
Team: Bend Brewing, Bend
NOTES: Bend Brewing Co. was established in 1995 and is the second oldest brew pub in Bend. Located in historic downtown Bend, right on Mirror Pond, the ownership changed close to five years ago when Packy and Leslie Deenihan purchased the beloved brewery from Wendy Day. Since its purchase the new owners have added a massive outdoor space, added a northeast Bend production facility and hired former Three Creeks Brewing head brewer, Zach Beckwith. Prior to joining Three Creeks, Beckwith brewed at the former New Old Lompoc on Northwest 23rd Avenue in Portland. A year ago, Beckwith revamped Hophead modernizing the classic recipe with a renewed focus on intense hop flavor and increased drinkability over bracing bitterness.
Let's Break It Down: 8.5% ABV • 100 IBU • Chinook, Centennial, Columbus, Amarillo, and Simcoe
MILLER: I've been driving to Bend for years. HopHead has been very popular, even winning the gold medal at the 2006 Great American Beer Festival. But, I get it. Tastes have evolved and changed over the past 15 years.
ALLEN: It's a solid, bitter IPA full of grapefruit and resiny goodness. Can it beat Sticky Hands? The votes will tell.
SCROLL DOWN TO VOTE >>>>>>>>>>>>>>>>>>>>>>>>>>>>>>>>>>>>>>>>>>>>>>>>>>>>>>>>>>>>>>>>>>>>>>>>>>>>>
GAME 4, SOUTHERN OREGON
Player: Resin Nation (#7 seed)
Team: Sunriver Brewing, Sunriver
NOTES: When Brett Thomas became head brewer, he turned Sunriver Brewing Co. from a ski resort brewpub to a fast growing, award-winning brewery that even the beer geeks are now keeping their eyes on, including those who nominated Resin Nation into the Peaks and Pints Tournament of Beer: NW Double IPAs. Thomas moved on to director of Brewery Operation, handing over the head brewer job to Patrick Raasch who continues to dump 8 pounds of hops per barrel into Resin Nation for layers of pine oil, tropical fruit, citrus and blueberries.
Let's Break It Down: 8.6% ABV • 80 IBU • Pale malt • Simcoe, Mosaic, Amarillo
MILLER: Thomas has earned the brewery multiple GABF gold medals. He is a 2010 Falconer Foundation scholarship recipient and a 2011 graduate of the American Brewers Guild with a degree in Intensive Brewing Science and Engineering. If he and Raasch take this seriously, and why wouldn't they, Resin Nation could see Final Four action.
ALLEN: If Sunriver Brewing wins it all maybe they can hook us up with a sweet vacation at Sunriver Resort.
Player: Tricerahops (#10 seed)
Team: Ninkasi Brewing, Eugene
NOTES: Ninkasi, the mythical god of beer, would be afraid of this Ninkasi Brewing double IPA. Hops explode in the nose, cascading pithy grapefruit, sticky pinesap and floral notes atop a caramel foundation. It hits the tongue hard with sweet caramel before a blend of hops offer floral, fruity, and earthy notes, yet with a malt background. It's hop-forward, full-bodied and strong. Yet the balance with the malt lends enough depth and a spicy complexity to make Tricerahops a worthy opponent in the Tournament of Beer.
Let's Break It Down: 8% ABV • 84 IBU • Chinook, Cascade, Summit, Centennial and Palisade hops
MILLER: Ninkasi was the ancient Sumerian tutelary goddess of beer (and alcohol). She symbolized the socially important role of women in brewing and preparation of beverages in ancient Mesopotamia. Ninkasi, the brewery, should channel that awesomeness.
ALLEN: Dinosaur means "terrible lizard" in Greek. I bet Tricerahops vs. Godzilla and King Kong would be a good battle.
VOTE BELOW >>>>>>>>>>>>>>>>>>>>>>>>>>>>>>>>>>>>>>>>>>>>>>>>>>>>>>>>>>>>>>>>>>>>>>>>>>>>>>>>>>>>>

Monday, April 5 Tournament of Northwest Double IPAs action …
Game 1: Wet Coast Two Flights Up (sixth seed) vs. Heathen Son of Malice (11th seed)
Game 2: Backwoods Double Cutt (third seed) vs. Sig Terraformation 1.5x IPA (14th seed)
Game 3: Laurelwood Megafauna (fifth seed) vs. Ex Novo Dynamic Duo (12th seed)
Game 4: pFriem Double IPA (fourth seed) vs. Ruse Interpreter (13th seed)
LINK: Hot Damn! Yes, I want to subscribe to Peaks & Pints 6-Pack of Things To Do newsletter and be hip to local happenings!
---