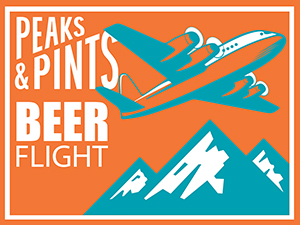 In the early '90s, Dusty Trail converted the historic Engine House No. 9 bar into a brewpub at the corner of Sixth Avenue and Pine Street, officially becoming the first microbrewery in Tacoma. Dick Dickens grabbed the Engine House reins in 2002, bringing in head brewer Doug Tiede. Heads turned and medals were hung. In 2011, The X Group added the Engine House to their local restaurant empire, with Shane Johns and Donovan Stewart running the kettles and hanging even more medals, mostly for their sours and saisons. Two years ago, they separated the brewery from the restaurant and opened E9 Brewing in Tacoma's Historic Brewery District. This past year, they have cranked out an endless supply of new, delicious beers, five of which are in our to-go beer flight today, Peaks and Pints Pilot Program: E9 Brewing On The Fly.
Peaks and Pints Pilot Program: E9 Brewing On The Fly
E9 Tacoma Brew
5.1% ABV
Columbia Brewing Co. brewed Tacoma Brew in the late 1800s in Tacoma's now Historic Brewery District. Beer made at the facility gained national attention for its flavor and smooth aftertaste in the early 1920s, prompting the brewery to double in size and increase capacity by the mid-1930s. Success at the plant got the attention of another brewery, Heidelberg Brewing Co., which purchased the Columbia plant in 1949 and set out for another round of remodeling. The facility was bought yet again a decade later by Carling Brewery, making it the only West Coast holding of the otherwise East Coast beer company. The brewery is long gone but Tacoma Brew, a Kolsch, is still being brewed. Tacoma's Engine House No. 9, now E9 Brewing located in Tacoma's Historic Brewing District, bought the recipe for the breweries' "Tacoma" brew and still serves it many, many years after the originating brewery held its last call. Tacoma's first beer has a medium body accentuated with crisp Northwest hops.
E9 Cloak of Feathers IPA
6.1% ABV
Classic "slightly hazy" from E9's house English yeast strain with double dry hopping of Chinook, Centennial and Amarillo for orange citrus, tropical fruit and melon aromatics.
E9 Vertigo! Hazy IPA
6.9% ABV
E9 brewed a new batch of fan favorite Vertigo Hazy IPA — a light haze, hop-forward IPA massively dry hopped with Sabro and Nelson Sauvin for tropical fruit/citrus aromatics followed by tropical fruit and coconut flavors.
E9 Mind & Time
7% ABV
E9 Brewing's new West Coaster with heavy hopping of El Dorado, Belma and Idaho 7 for bright and fruity IPA with a nice resinous pine backbone. 
E9 Tonight, We Ride
8% ABV
Singer/songwriter Tom Russell 2014 release Tonight We Ride, subtitled "The Tom Russell Cowboy Anthology," is an updated version of Cowboy'd All to Hell, a 2010 collection of some of the artist's best songs about horses, Native Americans, the Wild West, and more.  E9 Brewing's Tonight, We Ride is a collection of Southern Hemisphere hops — Rakau and Wai-iti — as well as Amarillo, double brewed and massively dry hopped for tropical fruity goodness.
---