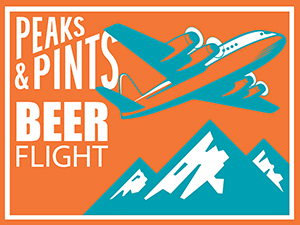 You don't like chocolate milk. Yes, you guzzled the stuff when you were toddlin', but the appeal of chocolate-flavored liquid nourishment waned as you matured. You don't like Kahlua, either, but that's a story for another day. Not surprisingly, the problem you have with most iced mochas is that they taste too much like chocolate milk. How pleased you were, then, to discover mocha stouts and porters. Believe it or not, beer and chocolate make a great pair. And because you like coffee, chocolate, porter, and stout individually, there's a darn good chance you'll like them together. And while the premise of a mocha stout may imply a heavy or overly rich brew, most are smooth, laid-back, and satisfying. With the turn in weather, Peaks & Pints presents a to-go flight of chocolate coffee beers, a flight we call Peaks and Pints Pilot Program: Mocha Beer On the Fly.
Peaks and Pints Pilot Program: Mocha Beer On the Fly
Grand Teton First Mug Mocha Porter
5% ABV
Like your first mug of coffee on a cold winter day, Grand Teton Brewing First Mug Mocha Porter will warm you up. This beer is brewed with fresh Alpine Air Coffee, locally roasted in the brewery's hometown of Victor, Idaho, with a 25 percent Ethiopian and 75 percent Columbia blend. Brewed with 2-row, Marris Otter, Chocolate Rye, CaraMunich 3 and Victory malts, expect With abundant chocolate, plum and coffee flavors.
Bend Trade War Export Stout
7.5% ABV, 31 IBU

Bend Brewing's foreign style stout is brewed with a blend of Golden Promise and Canadian two-row, six different specialty malts and flaked barley. The mouthfeel is slick and full, rich and oily. The aroma of coffee and chocolate hit first, followed by toasty malts and a slight hoppy scent. The taste stouts full of dark malt flavor, coffee, burnt caramel and decadent chocolate. The finish has a sneaky chocolate milk-esque attack that slides in and lingers a bit after the flavor evolution, but you'll be fine.
Block 15 Cosmic Cold Brew
7% ABV
Working alongside their south Corvallis neighbors, Bespoken Coffee Roasters, Block 15 Brewing elevated their classic Nebula Stout with a 24-hour cold extraction on freshly roasted coffee beans. Cosmic Cold Brew is exactly what you want from a coffee stout. It's dry, complex, balanced, and delicious with flavors of coffee, chocolate, dark fruit and pepper. On the nose, expect spice, coffee, caramel, chocolate, vanilla, well-aged fruit cake, and cinnamon.
Alesong Mocha Rhino Suit
12.2% ABV, 31 IBU
The name Rhino Suit isn't something the Alesong Brewing & Blending owners wear to raise awareness and funds, but rather it's a term dropped by their winemaker friend while Doug Coombs, Brian Coombs and Matt Van Wyk listened to his business advice. The Sonoma winemaker said you must wear a rhino suit every day to battle through walls of negativity. After the meeting, the Alesong owners knew the name of their first beer. The Mocha version of their imperial stout is a blend of imperial stouts aged in Heaven Hill bourbon barrels and finished on hand-selected and freshly roasted Nicaraguan coffee and Honduran cocoa nibs from the local artisans at Coffee Plant Roasters and Chocolate Alchemy. Notes of vanilla and coconut marry with the flavors of dark cocoa and roasty coffee for a decadent treat.
Epic Big Bad Baptist
12.1% ABV, 65 IBU
In 2008, entrepreneurs David Cole and Peter Erickson opened Epic Brewing — a strong beer microbrewery in Salt Lake City, Utah, like those found in their home state of California. In 2013, Epic expanded its brewery operations into Colorado by opening a second brewery in the River North district of downtown Denver. Their highly-regarded Big Bad Baptist whiskey barrel aged imperial stout is brewed with cocoa nibs and coffee beans for big and bold flavors of malt, bourbon, coffee with little sweetness. Pro tip: As the beer warms more whiskey appears on the backend.
---