Peaks and Pints Tournament of Beer: NW Double IPA Winner
After three weeks of high-intensity, single-elimination games played by the best Double IPAs in the Pacific Northwest, the Peaks and Pints Tournament of Beer: NW Double IPAs, or April Ale Absurdity, finally concluded with the long-awaited championship yesterday. Featuring two undoubtedly delicious Northwest-brewed double IPAs — the undefeated Block 15 Brewing Sticky Hands and the No. 1 seed Bale Breaker Brewing Bottomcutter — the game was perhaps the most highly awaited double IPA game in years. In a back and forth battle, Block 15 Brewing Sticky Hands defeated the Bale Breaker Bottomcutter by 38 votes.
It was a tale of two halves, as Bottomcutter dominated the morning and early afternoon, jumping out to a big lead. Riding one of Bale Breaker's actual bottomcutter machines into the game, Bottomcutter intimidated Sticky Hands with the machine's noise, as well as Bale Breaker staff holding high giant posters depicting Bale Breakers four generations and almost 90 years of hop industry farming, plus strong social media play. However, the second half wasn't so fortunate for Bottomcutter, as Sticky Hands, well, began to use its hands, to perfection. Votes stuck to Block 15's double IPA left and right. It was as if Sticky Hands was pulling votes out of thin air. Tournament of Beer analysts believe Block 15's own, in-house March Madness tournament in which Sticky Hands beat all its sibling ales and lagers might have been the perfect prep for the Tournament of Beer: NW Double IPAs.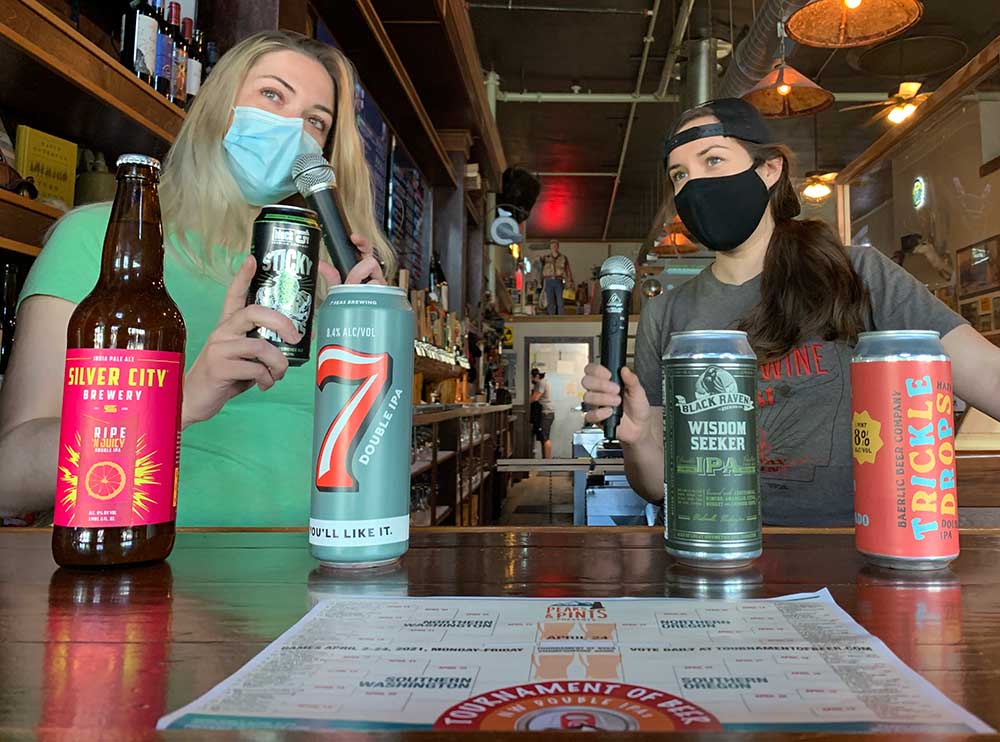 (Cue doodley do doodley do doodley do effect)
In February 2021, Peaks & Pints asked craft beer enthusiasts to nominate their favorite double IPAs brewed in Washington and Oregon. Then, April 2-24, Peaks and Pints bottle shop, taproom and restaurant in Tacoma pitted those top 64 nominated doubles IPAs against one another in the mother of all craft beer brackets. You saw the carnage: No. 1 seeds fell, powerhouses butted heads, and surprise double IPAs made a run at the prize. Here's a brief recap of the 2021 Tournament of Beer: NW Double IPAs. …
The first two weeks saw the bracket advancing higher seeded double IPAs, which was expected. Notable Washington region games included Number 14 seed Sumerian Hopruption beating number 3 seed Stoup Neck Tats, number 14 Everybody's Velvet Tiger caging number 4 seed Trap Door Juiced UP, and number 14 seed Sig Brewing Terraformation toppling number 3 seed Backwoods Double Cutt. Over on the Oregon side, there weren't any seeded upsets.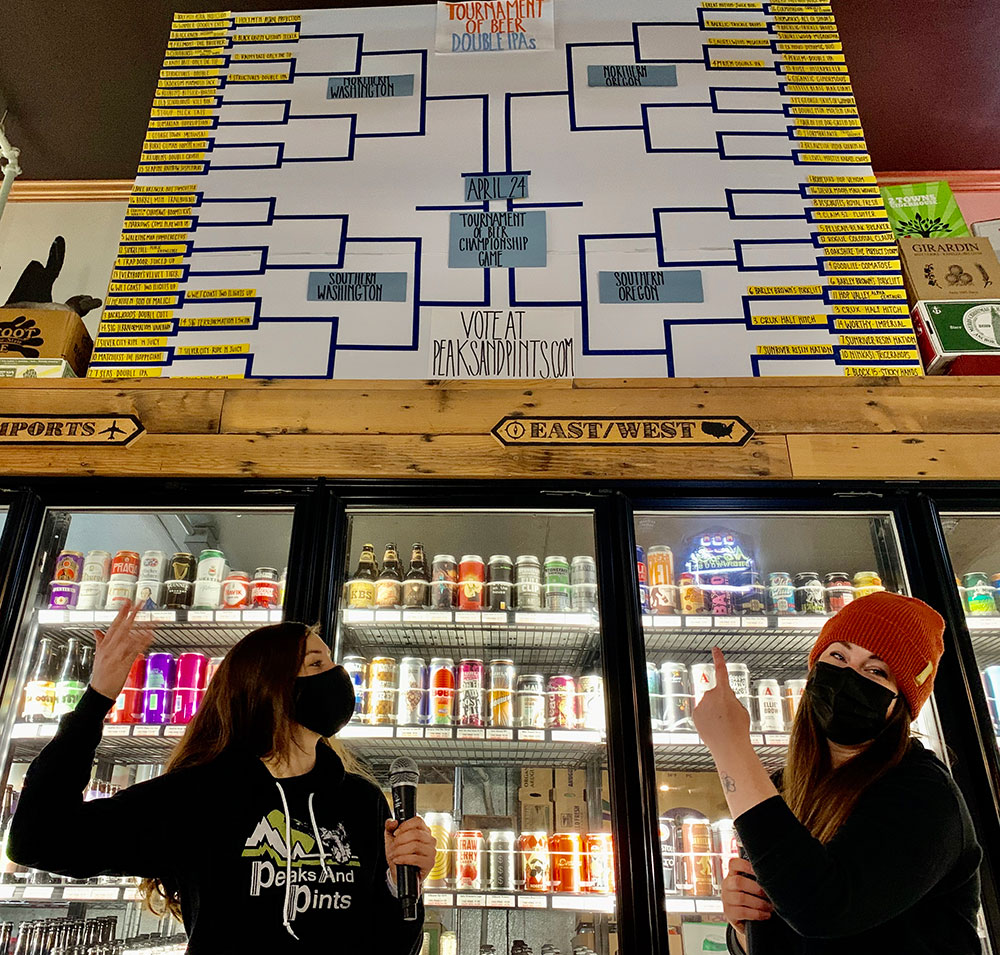 Week three was when the serious work began, with the best of the bracket trying to (Mosaic) hop into the Final Four.
In the Northern Washington Region, Holy Mountain Astral Projection edged out Structures Double IPA for a seat in the Great Eight. Georgetown Meowsa beat the popular Old Schoolhouse Kief Box, then sent Astral Projection into the universe for a spot in the Final Four.
In the Southern Washington Region, No. 1 seed Bale Breaker Bottomcutter eased past Everybody's Velvet Tiger, while Wet Coast Two Flights Up handed fellow Pierce County brewery 7 Seas a big loss. Bale Breaker came at Wet Coast with everything they had and secured a spot in the Final Four.
In the Northern Oregon Region, Great Notion Juice Box and pFriem Double IPA moved quickly through the bracket before pFriem boxed up Great Notion. Fort George Skies of Wonder handed perennial Hair of the Dog and their Green Dot a loss in the Sweet 16 but didn't have enough left to beat pFriem, who adanced to the Final Four.
In the Southern Oregon region, Boneyard gobbled up votes left and right with their Hop Venom, including biting Pelican Beak Breaker in the beak to advance to the Great Eight. Block 15 Sticky hands pushed Barley Brown's Forklift out of the way and still had enough to beat Hop Venom for a spot in the Final Four.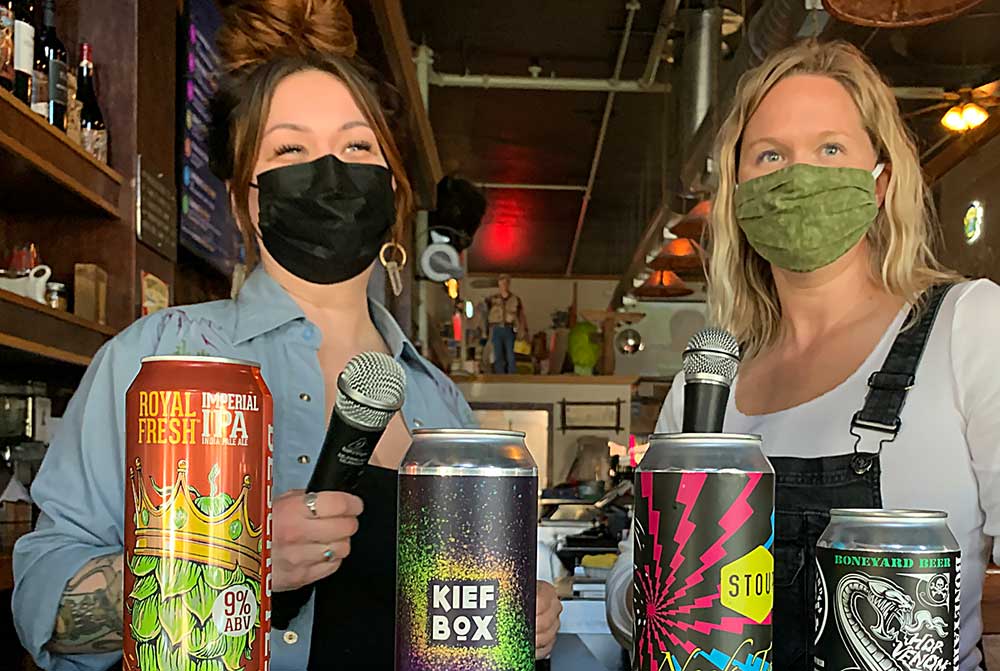 Georgetown Meowsa. Bale Breaker Bottom Cutter. pFriem Double IPA. Block 15 Sticky Hands. Each brewery has a different double IPA philosophy. As much as Meowsa, the Georgetown Brewing cat, dislikes the term "juicy," Meowsa, the beer, is juicy, fruity and has very little bitterness for the style. Bottomcutter may be light in color but is supremely drinkable double IPA with pine, honey, orange, and grapefruit swirling around a bunch of caramel. pFriem Double IPA bursts with flavors of baked grapefruit, ripe papaya, with a touch of malty sweetness, plus a touch of tangerine rind melded with resiny hoppy goodness on the finish. Sticky Hands begins with an aromatic blast of tropical fruits, citrus and dank herb, transitions into luscious hop flavor, and ends with a balanced bitter finish.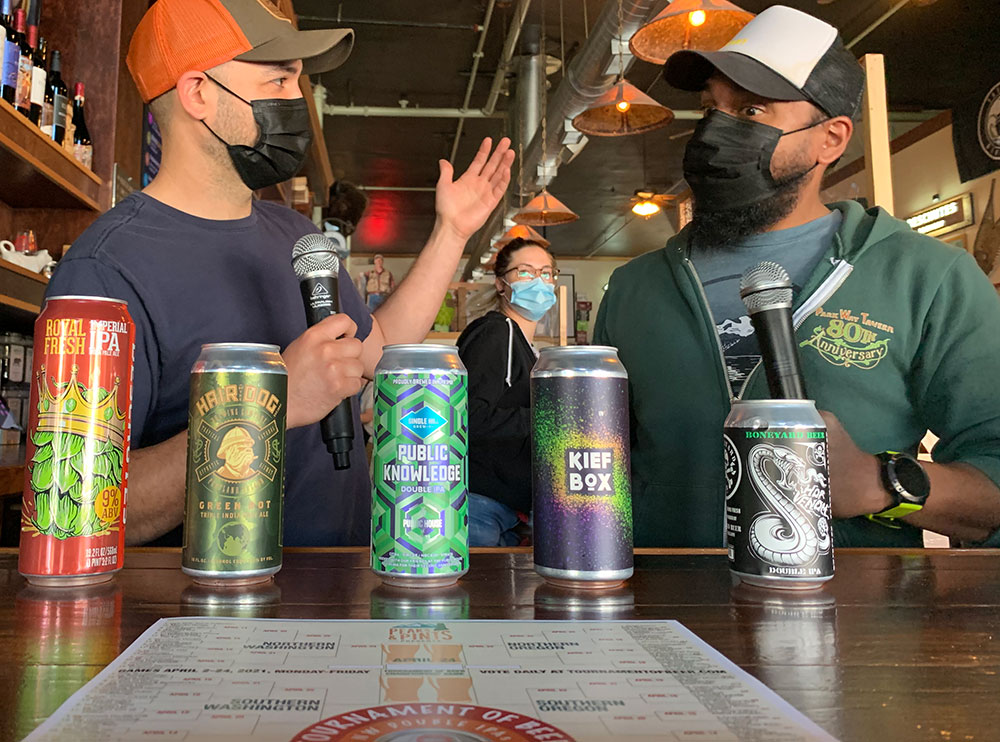 In the Final Four, Bottomcutter messed with Meowsa until the cat-themed beer became skittish. Block 15 rode its hop technology into the Championship Game sending pFriem back to Hood River.
This year's Tournament of Beer Championship Game felt a little more normal than last year's COVID scare affair. Last April, Peaks & Pints was a to-go operation only, with no competing breweries visiting or taunting. This year, Peaks & Pints was forced back in Phase 2 like the rest of Pierce County, eliminating any sort of Championship party again, although people could enjoy Bottomcutter and Sticky Hands on draft inside Peaks. No giveaways. No competing breweries banter. No blurry party photos for this post. The final tally came and went without much fanfare.
A huge congratulations to Block 15 and Sticky hands. It was an impressive run. Block 15 will receive the Tournament of Beer trophy after completion of the engraving and a permanent handle at Peaks & Pints through the summer.
So, it's official: Block 15 Sticky Hands is the winner of Peaks and Pints Tournament of Beer: NW Double IPAs. Drink it up, Pacific Northwest!
Thank you!
Peaks and Pints would like to thank its staff who did all the commentary this year, plus manage the giant wall bracket, hand out ballots and field questions — they held their composure and trademark smiles behind the masks. Also, thanks to all the awesome folks who voted. You rock!
LINK: Peaks and Pinks Tournament of Beer: NW Double IPAs previous games
LINK: Tournament of Beers: NW Double IPAs explanation
LINK: Hot Damn! Yes, I want to subscribe to Peaks & Pints 6-Pack of Things To Do newsletter and be hip to local happenings!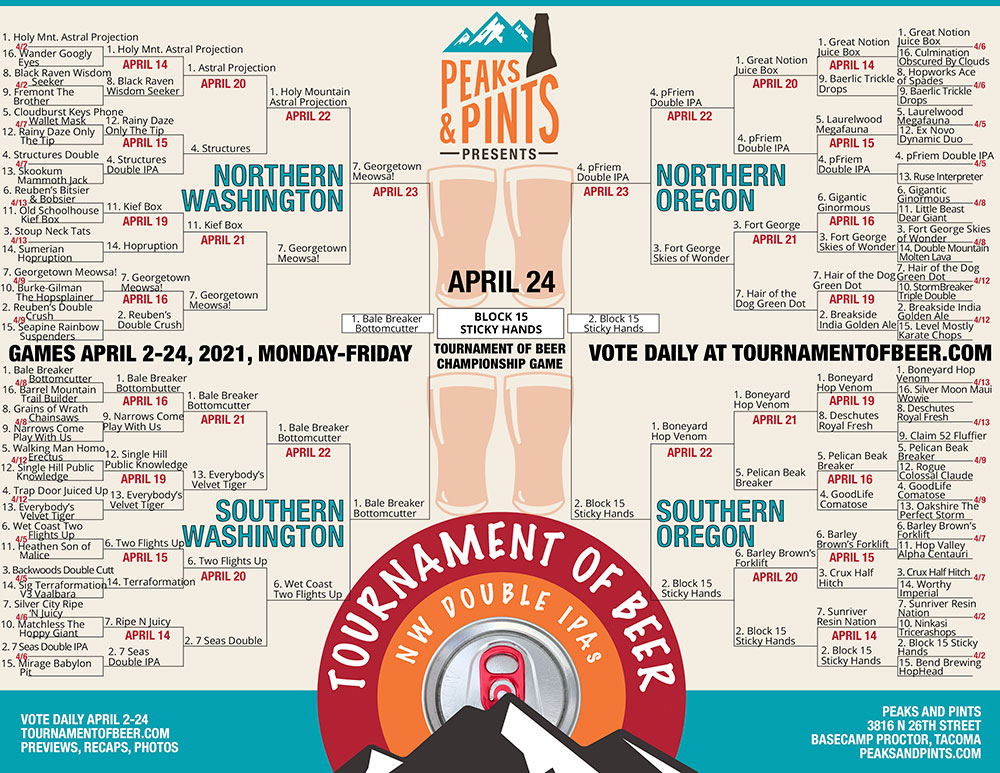 ---