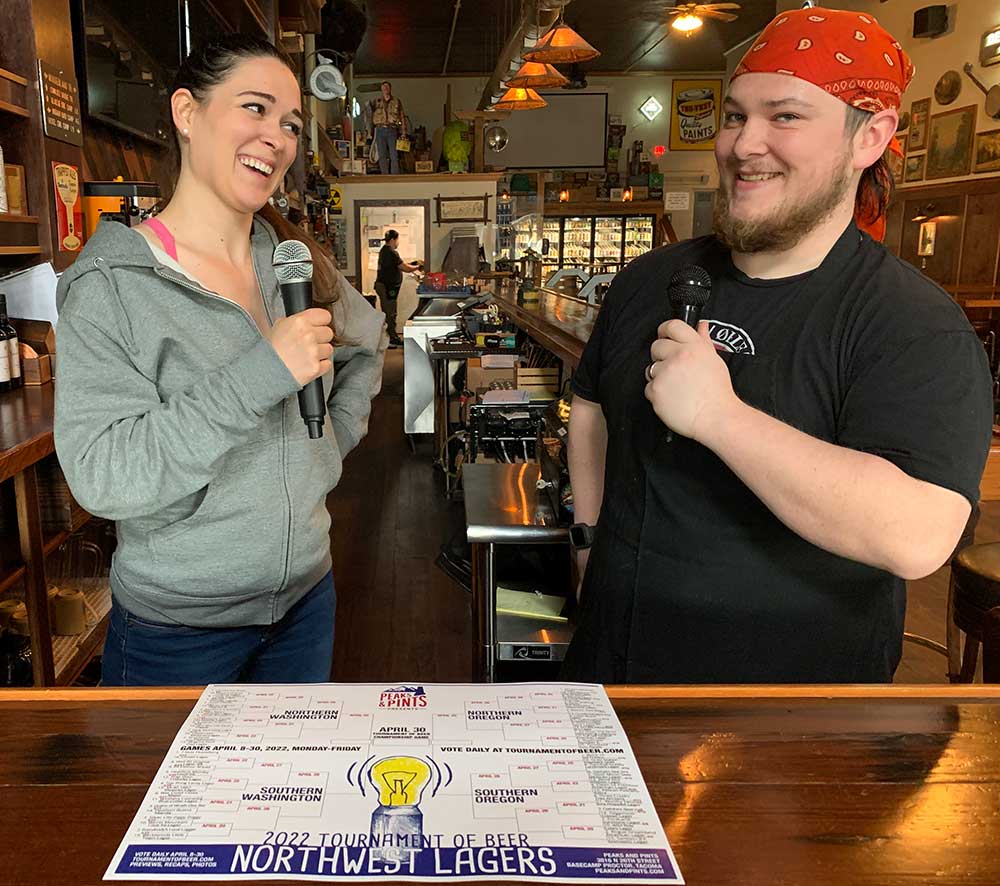 Peaks and Pints Tournament of Beer: Northwest Lagers Final Four April 29
CLAIRE BRINICH: And then there were four. …
CALEB PLETCHER: Welcome to the Peaks and Pints Tournament of Beer: Northwest Lagers Final Four everyone! I'm Peaks cook Caleb Pletcher and believe it or not there have been days during this lager tournament when, by noon or so, it was already obvious which lager would be moving on and which would be going home. There were blowouts … oh were there ever. Sometimes, it made our job a little easier; we could work on the next day's copy at a decent hour of the evening without fear the game would suddenly turn. Oh, but yesterday was different.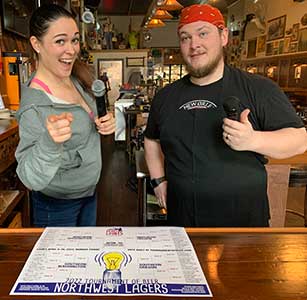 BRINICH: Yesterday, the votes just kept coming — from tip off to the final buzzer. Hi folks! I'm Peaks bartender Claire Brinich. One of the games was indeed a blowout. Two games were close. One game was a dead heat with an hour left to vote. The largest victory margin was Pelican's Pelicano Extra! Mexican lager with a 66.57 percent vote win over Terminal Gravity's Landmark Lager. E9 Brewing's Detour Ahead and Everybody's Local Logger traded leads all afternoon, but the Local Logger took a detour at night and lost by 41 votes. Kulshan's Premium Lager kept a 60 vote lead the entire day over Chuckanut's Asian Style Lager but only won by 38 votes in the final two hours. pFriem's Mexican Lager pushed Wayfinder's Number 6 hard, but it wasn't enough to stop the Portland brewery's 9 vote victory.
PLETCHER: Naturally, yesterday's beer voting action set the mark for the highest vote count for a single day so far in the Tournament of Beer: Northwest Lagers. Let's remember every lager nominated into the Tournament is worth a pint. Still, some brewery's lager must win. We began April 8 with 64 pale and light lager brewed in Washington and Oregon. Now, these four boss lagers face off for the ultimate glory — hop to hop battles to determine the best lager in the Pacific Northwest.
BRINICH: Thanks to your votes, we've narrowed down the Tournament of Beer to these four lagers:
>>> Kulshan Premium Lager
>>> E9 Detour Ahead
>>> Wayfinder Number 6
>>> Pelican Pelicano Extra!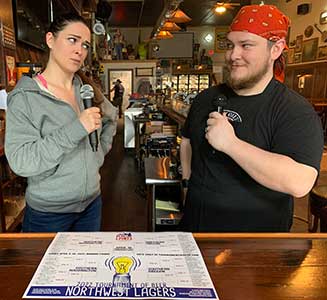 PLETCHER: Today's Final Four matchups are:
GAME 1: Kulshan Brewing Premium Lager (#3 seed) vs. E9 Brewing Detour Ahead (#9 seed)
GAME 2: Wayfinder Beer Number 6 (#2 seed) vs. Pelican Brewing Pelicano Extra! (#13 seed)
BRINICH: Interesting that all the number one seeds were eliminated. If you want to get at it now, click VOTE NOW.
PLETCHER: After today's voting, there will obviously be two Northwest brewed lagers left in the Tournament. The Tournament of Beer: Northwest Lagers Championship Game & Party will begin tomorrow at 5 p.m. at Peaks & Pints in Tacoma's Proctor District. There will be live voting and raffle prizes, and maybe both beers on tap. The Wayfinder Number 6 isn't available until the summer.
BRINICH: Let's do this thing! Please vote for one beer per game. Please vote only once. Voting for today's Final Four battles ends at 11:45 p.m. The winners will be announced tomorrow morning around 10 a.m., followed by the Championship Game!
PLETCHER: Ladies and gentlemen, please join in the singing of our national anthem.
PLETCHER: Thank you Pink! OK, let's get to voting!
Friday, April 29, Final Four Northwest Lagers Games
GAME 1, WASHINGTON REGION
Kulshan Brewing Premium Lager (#3 seed) vs. E9 Brewing Detour Ahead (#9 seed)
BRINICH: After mounting quite a tear through the Tournament of Beer: Northwest Lagers, Chuckanut Brewery's Asian Style Lager's run came to a halt when it faced Kulshan's Premium Lager yesterday. The Bellingham lager now faces E9 Brewing's Detour Ahead for a spot in the Championship Game. Kulshan has the experience with a Tournament of Beer: Northwest Pilsners trophy on their mantle, and an excited staff who took the day off from mountain biking to cheerlead a victory. E9 Brewing has been ripping through this tournament like they own it, except yesterday when they battled out a win over Everybody's Brewing's burly Local Logger. Bellingham vs. Tacoma, here we go. …
SCROLL DOWN TO VOTE >>>>>>>>>>>>>>>>>>>>>>>>>>>>>>>>>>>>>>>>>>>>>>>>>>>>>
GAME 2, OREGON REGION
Wayfinder Beer Number 6 (#2 seed) vs. Pelican Brewing Pelicano Extra! (#13 seed)
Number 2 seed Wayfinder Number 6 has killed it so far in the Tournament of Beer. That said, some prognosticators still assumed the Eastside Portland brewed American lager would go down after facing number one seed pFriem Mexican Lager. Au contraire lagerheads! Now the beer media has another reason to interview Wayfinder Brewmaster Kevin Davey. Pelican Brewing entered the Tournament with a trophy from their Kiwanda Cream Ale's win in the Tournament of Beer: West Coast Flagships. After taking out lagers brewed by Claim 52, Silver Moon, Terminal Gravity and Wild Ride in this Tournament, Pelican flies in for the fight of their life. Let's see what happens!
VOTE BELOW (CLICK "DONE" AFTER VOTING) >>>>>>>>>>>>>>>>>>>>>>>>>>>>>>>>>>>>>

LINK: Tournament of Beers: Northwest Lagers explained
LINK: Hot Damn! Yes, I want to subscribe to 6-Pack of Things To Do newsletter and be hip to local happenings!
LINK: Past Tournament of Beer competitions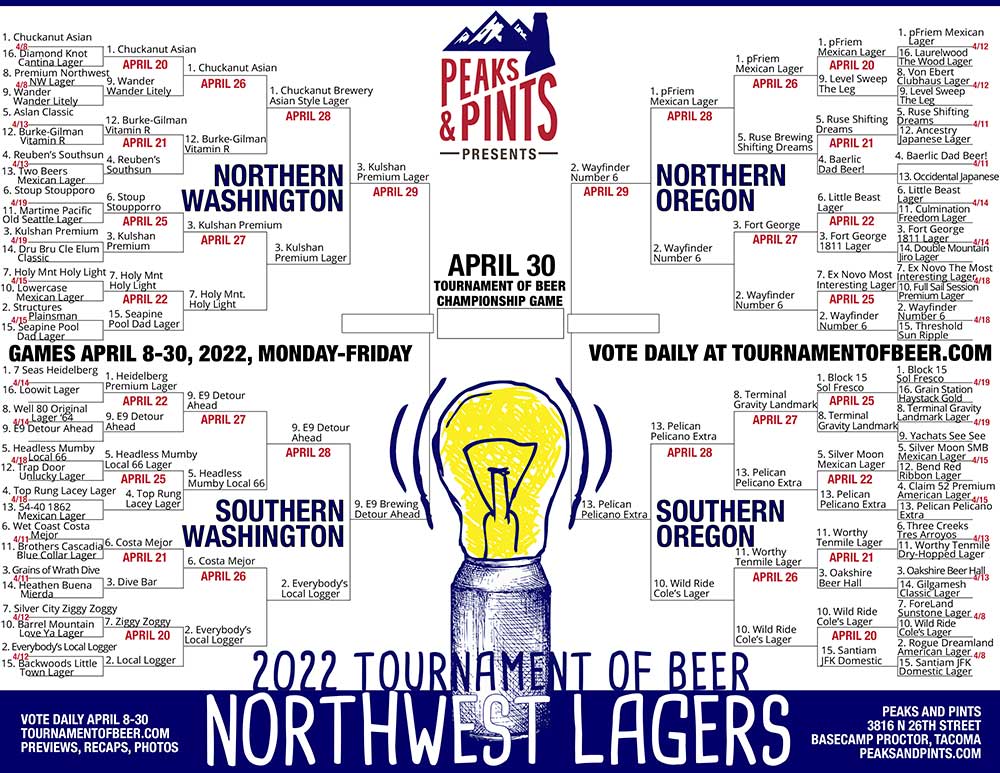 ---