Tournament of Beer: West Coast Flagships Championship April 25
For more than three weeks, Peaks and Pints challenged 64 of the West Coast's best flagship beers to go malt-to-malt in a showdown of craft combat. Some fell easily by the wayside, either due to a rogue mash tun cleaner or simply because they faced a superior opponent. Others captured the flags as easily as they did in junior high. Cascade hop by Cascade hop, you drank your way down to yesterday's Final Four: Deschutes Black Butte Porter, Pelican Kiwanda Cream, Chuckanut Pilsner, and Kulshan Bastard Kat IPA. It was do-or-die, win-or-fly, bring-your-best-or-oxidize. Let's take a look how the Final Four hit the floor. …
Yesterday's Results
GAME 1, 1980-1999 REGION
2. Black Butte Porter, Deschutes Brewery vs. 5. Kiwanda Cream, Pelican Brewing
If there's one thing Peaks & Pints has learned over the years, it's don't mess with the Oregon Coast. The beach community huddles around their own — more often than not with sleeves rolled up and a bit of sand in the nether regions. Pelican Brewing peddles Pelican beers by the seashore — Pacific City World Headquarters, Tillamook, Cannon Beach and Lincoln City — and the boat shoe wearing, kite-totting residents drink it by the boatloads. Pelican Kiwanda Cream Ale grabbed 62 percent of the vote yesterday against the powerhouse that is Deschutes Black Butte Porter. That's impressive. That's the Oregon Coast. Deschutes will be fine. They beat Sierra Nevada Pale Ale pretty easily and that will never leave the history books.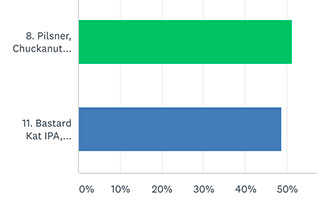 8. Pilsner, Chuckanut Brewery vs. 11. Bastard Kat IPA, Kulshan Brewing
Bellingham is Chuckanut Brewery, and the Commonwealth of Kemper. Bellingham is Kulshan Brewing, and the Republic of Vitt. At 28.90 square miles, Bellingham is hardly big enough for the both breweries, and that includes Friday in the Final Four. Chuckanut vs. Kulshan. Few sentences in Tournament of Beer come with more buzz, especially in April. A half-hour after eighth seed Chuckanut Pilsner beat 11th seed Kulshan Bastard Kat IPA by a few votes, Chuckanut co-owner Mari Kemper stepped into the entrance of her Bellingham brewery's brewhouse. The brewers stayed late, six feet apart, and were texting family members, conducting interviews and watching themselves on YouTube when the familiar voice of Mari Kemper cut through the joyous din. "You guys make a helluva pilsner," she probably said, pausing for a moment. "You just beat the best. Kulshan owner Dave Vitt and his crew brew mighty fine beer, including the Bastard Kat. You should be proud." This game will be the enduring legacy of the Tournament of Beer: West Coast Flagships, etched in the record books as Chuckanut 51.16%, Kulshan 48.84%. Epic.
Saturday, April 25, West Coast Flagships Championship Game
The titanic flagship beer throwdown finale in on! Voting for the 2020 Tournament of Beer: West Coast Flagships Championship game is live. (See below)
After three weeks of voting, you have picked the two most popular flagship beers in Washington, Oregon, and California. What began as 64 malt-slinging flagship beers has been narrowed down to two: Pelican Kiwanda Cream vs. Chuckanut Pilsner.
Welcome to the big dance. Online voting will end at 8 p.m. Sadly, there won't be a Tournament of Beers Party at Peaks & Pints this year, which means no live voting, no toasts, and no blurry photos in the recap. We'll announce the winner at 9 a.m. Sunday, April 26 right here at peaksandpints.com.
5. Kiwanda Cream, Pelican Brewing vs. 8. Pilsner, Chuckanut Brewery
This is Oregon vs. Washington people, but actually flagship beer bragging rights from San Diego, California to the Canadian border.
Player: Kiwanda Cream, fifth seed
Team: Pelican Brewing
Location: 33180 Cape Kiwanda Dr., Pacific City, Oregon
Wonders Years: 1996, we did the "Macarena" at the new $42 million Washington State History Museum building on Pacific Avenue in Tacoma AND Commencement Bay Maritime Association building, which later became the Foss Waterway Seaport, then waited for Guffman at the Tacoma Mall Twin Theatre. Down in Pacific City, Oregon, Jeff Schons and Mary Jones open Pelican Brewing — Oregon's only oceanfront brewpub.
Player Stats: If you love Pelican Brewing Company's flagship beer Kiwanda Cream Ale, you're not alone — it's one of Pelican's most award-winning brews with 21 honors, including 13 gold medals. Inspired by one of America's traditional indigenous 19th century beer styles, Kiwanda Cream Ale is a nod to founding brewmaster Darron Welch's love of history and reputation for brewing beers as they are intended to be. Pelican is the first known craft brewer to honor the early American beer. Made of all local, hand-sourced ingredients — Two-row malt, flaked barley, Mt. Hood hops, CaraPils malt, pure local water and pure ale yeast — Kiwanda Cream Ale is pale gold with a fruity, floral hop aroma, golden color, refreshing body and clean, snappy finish.
ABV: 5.4%, IBU: 25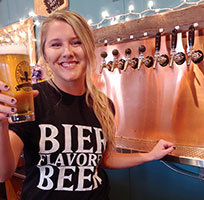 Player: Pilsner Lager, eighth seed
Team: Chuckanut Brewery & Kitchen
Location: 601 W. Holly St., Bellingham, Washington
Wonder Years: 2008, the year came in like a Britney Spears meltdown and out like a No. 1 Britney Spears "Circus." In between, we enjoyed Indiana Elderly Jones, Don Draper drinks and President Obama. Up in Bellingham, Will and Mari Kemper took two decades of professional involvement with craft brewing, both home and abroad, and opened Chucknut Brewery with Josh Pfriem at the helm.
Player Stats: In the early 1980s, chemical engineer and homebrewer Will Kemper paid a visit to the brewmaster of the now-defunct Rainier Brewery in Seattle where he was told he couldn't open a brewery because he wasn't born into it. Good one. In 1984, Kemper, his wife, Mari, and Andy Thomas opened Thomas Kemper Brewery in Poulsbo, Washington. In 1992, Thomas Kemper merged with Hart Brewing, which went on to be Pyramid Breweries. The Kempers saw the ugly side of the business and became consultants with East Coast and international breweries. After a bunch of traveling, they moved back to Bellingham where they opened Chuckanut Brewery in 2008 — a convergence of technical and engineering concepts developed from more than two decades of professional involvement with craft brewing both home and abroad. They hired Josh Pfriem as their head brewer, who went on to open pFriem Family Brewers in Hood Rover, Oregon. Following their passion for German pilsners, the Kempers brewed their own golden, vivid, crisp version with Pilsner malt and secret noble hops. They transferred their multiple award-winning pilsner production from their Bellingham brewery to their 40-barrel production facility in Mount Vernon.
ABV: 5%, IBU: 36
LINK: Tournament of Beer: West Coast Flagships explained
LINK: Tournament of Beer: West Coast Flagships games archive
LINK: Hot Damn! Yes, I want to follow Peaks and Pints on Twitter
---