Tournament of Beer: West Coast Flagships
1982, we were 19 years old. A lot happened that year. Aspartame's claim to fame, Diet Coke, was introduced, Michael Jackson Thrilled us, and we graduated Lakes High School and entered the University of Washington. We donned a pledge pin and dove into chemistry. A Californian fraternity brother handed us a Sierra Nevada Pale Ale bottle that year. One of the nation's first hop-forward yet consistent and shelf-stable beers, the Chico brewery released the Cascade hopped Pale a year prior to us sipping it our frat house's sleeping porch. That flagship beer launched our love affair with craft beer. In a way, those really were the wonder years for us. Through our fraternal access to craft beer, we enjoyed Bert Grant's Perfect Porter, Redhook Ale, Thomas Kemper Blueberry Lager, Pyramid Pale Ale, and a bunch of Heidelberg beer before our wallet laminate allowed. Speaking of flagship beers … let the Tournament of Beer: West Coast Flagships games begin!
Now in its fourth year, this year's Peaks and Pints bracketed beer competition kicks off today, pitting West Coast flagship beers against one another in frothy head-to-head matchups voted online by craft beer enthusiasts. Though the tournament ultimately crowns a champion a la NCAA March Madness style, the real purpose is to champion the beers that put West Coast breweries on the map, which might have become forgotten in a sea of hazy milkshake IPAs and pastry stouts.
With around 8,000 breweries, some of which produce three new beers a week, America is home to the largest and most diverse beer culture in the world. But as exciting new beers appear weekly at Peaks and Pints, we shouldn't forget their forebears: the brews that spawned, defined and advanced the craft beer movement, made by the influential brewers who brought our country from a low of less than 100 breweries in 1978 to where we are today.
Patterned after the NCAA Division I Men's Basketball Tournament, the Tournament of Beer: West Coast Flagships features 64 flagships from Washington, Oregon and California, all seeded by public vote, and separated into four decade regions: 1980s, 1990s, 2000s and 2010s with one flagship beer per brewery.
These top 64 vote getters — the cream of the dream — will compete Monday through Friday on our website, today through April 25. Through online voting, West Coast flagship beer drinkers will pick daily winners until the best flagship is crowned. It's just like March Madness, only with way more piney hops.
The Tournament of Beer: West Coast Flagships grand champion will be announced at the Tournament of Beer Party (hopefully), April 25, at Peaks and Pints, 3816 N. 26th St., in Tacoma's Proctor District. The final two flagships will battle live (hopefully) pouring from our bottle shop, taproom and restaurant's Western red cedar tap log with the champion brewery receiving a permanent handle through the spring and summer 2020.
Please join us here daily to vote on the flagship battles, and maybe enjoy our reminiscing about our flagship drinking wonder years.
OK, let's apply hand sanitizer, and dive into today's First Round West Coast flagship battles. Vote for one flagship beer per game. Voting for today's flagship battles ends at 11:45 p.m.
Friday, April 3, First Round West Coast Flagship Games
GAME 1, 1980s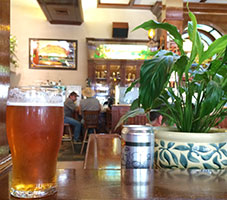 Player: Pale Ale, first seed
Team: Sierra Nevada Brewing Co.
Location: 1075 E. 20th St., Chico, California
Wonders Years: 1980, we watch Mount St. Helens erupt a week after we skipped Lakes High School to drive down to snap photos of the mountain on our Kodak Instamatic. The same year we watched the US men's hockey team amazed the world (and themselves) by beating the Soviet Union. We exited the Villa Plaza General Cinemas theater repeating, "Here's Johnny!" and "I am serious and stop calling me Shirley." Down in Chico, California, electronics nut and homebrewer Ken Grossman brewed his first batch Pale Ale on equipment he resourced from recycled dairy equipment. Ten batches later he nailed the Cascade hopped pale with intense aromas of pine and citrus, a signature that soon sparks the American craft beer revolution.
Player Stats: Grossman and crew planned on making Pale Ale hoppy, choosing Cascade — a new hop at the time named after the Washington mountain range. Brewed with Two-row Pale and Caramelized malts, plus Ale yeast, Pale turned heads with a deep amber color and an exceptionally full-bodied, complex character. The fragrant pine and citrus bouquet and spicy flavor are the results of the generous use of the best whole leaf Cascade hops.
ABV: 5.6%, IBU: 38
Player: Red Tail Ale, sixteenth seed
Team: Mendocino Brewing Company
Location: 13351 South Highway 101, Hopland, California (closed in 2018)
Wonder Years: 1981, the year begins with the Iran hostages finally freed and ends with the Federal Environmental Protection Agency listing Tacoma's Commencement Bay as one of the 10 worst toxic waste sites in the country. In between, the Space Shuttle Columbia successfully made test run; John Hinkley, Jr. shot President Reagan; Prince Charles and Lady Diana wed; but we almost missed it all because, you know, Donkey Kong. Oh, we saw Raiders of the Lost Ark 10 times. Down in Mendocino County, California, Michael Laybourn, Norman Franks and John Scahill buy New Albion's old brewing equipment and open Hopland Brewing, which quickly became Mendocino Brewing, the first brewpub in the California and the second in America. Red Tail Ale, and American amber, becomes their first successful beer. In 1997, billionaire Vijay Mallya of Asian beer giant United Breweries of India purchased the Mendocino Brewing Company. Mendocino Brewing closes in early 2018.
Player Stats: Mendocino flagship Red Tail Ale was brewed in the traditional Old World manner, using premium two-row malted barley, hops and their own special proprietary yeast strain. It was an amber ale with a rich complex refreshing flavor and a crisp dry finish.
ABV: 6.5%, IBU: 40
Tournament of Beer Analysts: Sierra Nevada Pale is considered the first craft beer. Mendocino Red Tail Ale doesn't exist anymore. To put in in 1980's terms: It's like the Apple Macintosh facing off with briefcase alarms on the playing court, respectively.
SCROLL DOWN TO VOTE >>>>>>>>>>>>>>>>>>>>>>>>>>>>>>>>>>>>>>>>>>>>>>>>>
GAME 2: 1980s
Player: Pale American Ale, eighth seed
Team: Hale's Ales Brewery & Pub
Location: 4301 Leary Way NW, Seattle, Washington
Wonders Years: 1983, we watch the Cougars win a second Apple Cup in a row over our Huskies — their first victory at Husky Stadium in a decade, which a lost bet forced us into the freezing Lake Washington. Our Swatch Watch reminded us it was time to hit the Tacoma's Dome's first concert — David Bowie's Serious Moonlight Tour. We saw Darth Vader without his helmet, Mario Bros., and The A Team. Over in Colville, Washington, Mike Hale release the first microbrewed pale ale in the Northwest, Hale's Pale American Ale, on July 4. As demand continued to grow, Hale's moved into bigger plants. After building breweries in Spokane and Kirkland he opened, in 1995, his state-of-the-art, 30-barrel brewery and pub in Fremont.
Player Stats: Hale's Pale American Ale was originally brewed with German-born Hallertau hops because that's the only hop Hale could find. It's evolved into a more Northwest style hop profile with grapefruit, floral, and assertive bitter all flowing harmoniously through the swallow. A light citrus aftertaste leads to a semi-dry finish.
ABV: 4.7%, IBU: 21
Player: Red Seal Ale, ninth seed
Team: North Coast Brewing Co.
Location: 444 N. Main St., Fort Bragg, California
Wonder Years: 1988, Oliver North lost his job. George HW Bush got a new one, as did Sonny Bono who was elected mayor of Palm Springs. To escape the politics and the natural and man-made disasters, we flocked to see Rainman, Die Hard, Beetlejuice, and A Fish Called Wanda. Guns N Roses became a thing. Eddie "The Eagle" Edwards soared over the crowd. Armed with a keen appreciation of quality beer acquired during his time living in the Southwest of England, Mark Ruedrich set out to establish a tradition of independence on California's historic Mendocino Coast with his North Coast Brewing Company, releasing his namesake brew, Reudrich's Red Seal Ale.
Player Stats: North Coast flagship Red Seal Ale went on to win multiple gold medals at the World Beer Championships and other competitions. A prototypical red pale ale that paved the way for many imitators and followers, Red Seal provides balance between malt and hops, which are rumored to be Liberty, Cluster and Cascade. It's a full-bodied, copper-red pale with a long, spicy finish.
ABV: 5.4%, IBU: 42
Tournament of Beer Analysts: Hale yes!
SCROLL DOWN TO VOTE>>>>>>>>>>>>>>>>>>>>>>>>>>>>>>>>>>>>>>>>>>>>>>>>>
GAME 3, 2010s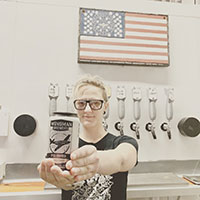 Player: P-51 Porter, seventh seed
Team: Wingman Brewers
Location: 509 1/2 Puyallup Ave., Tacoma, Washington
Wonder Years: 2011, while we were planking others held zombie walks. Honey Badger didn't give a s–t about anything. Melissa McCarthy was the best bridesmaid. On Tacoma's Fawcett Avenue, Ken Thoburn, Derrick Moyer and Daniel Heath opened Wingman Brewers on the back of Thoburn's beloved homebrew porter, P-51. The military-themed brewery went on to innovate on recipes and community outreach.
Player Stats: Wingman Brewers is porter. It's not the only beer style the Tacoma brewery brews, but Thoburn knows the style inside and out. The P-51 Porter was Wingman's first real beer recipe. "It goes back to 2008 when Derrick (Moyer) and I were home brewing," explains Thoburn. "At the time, Lazy Boy Porter from Everett was my favorite beer around, so we tried to emulate that. The beer was initially made for a friend's birthday and called Nalty's Tall Order Porter since he's a tall dude and asked us to make a Porter for his birthday party. The beer went over so well with our friends that it remains the only recipe we've never changed since Wingman started … with Washington-grown barley and Moxie valley hops." P-51 Porter was crowned champion in Peaks & Pints' Tournament of Beer; Northwest Porters in 2018. This flagship will be tough to beat.
ABV: 7.5%, IBU: 31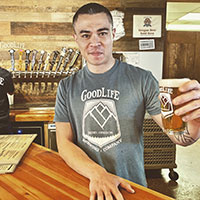 Player: Sweet As! Pacific Ale, tenth seed
Team: GoodLife Brewing Company
Location: 70 SW Century Dr., Bend, Oregon
Wonder Years: 2011, America's Car Museum was completed near the Tacoma Dome; two billion people tuned in to watch the televised wedding of Britain's Prince William to Kate Middleton; Babyonce blew up Twitter, and Curt Plants and Ty Barnett moves from their garage to opening GoodLife Brewing in Bend, Oregon. Southern Hemisphere hops paired with white wheat sent their flagship Sweet As! Pacific Ale straight to multiple winner circles.
Player Stats: Sweet As! Pacific Ale pale wheat won a gold medal at the 2018 Great American Beer Festival. The Bend brewery uses three light malts and Pacifica hops from New Zealand for their popular flagship beer. It has a lot of citrusy hops, but the best characteristic is a honeyed sweetness that sticks to your lips.
ABV: 6%, IBU: 18
Tournament of Beer Analysts: GoodLife Sweet As! Pacific has the hardware to back its incredible sales. Wingman P-51 has "been there and done that" and is accustomed to the tournament's unique forms of pressure and immune to the "stage fright" and "jitters" that are rumored to plague less-experienced beers. If Tacoma wants it, they'll take it.
SCROLL DOWN TO VOTE>>>>>>>>>>>>>>>>>>>>>>>>>>>>>>>>>>>>>>>>>>>>>>>>>
GAME 4, 2010s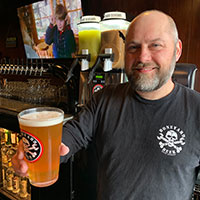 Player: RPM IPA, second seed
Team: Boneyard Beer
Location: 1955 NE Division St., Bend, Oregon
Wonder Years: 2010, United States and Russia agreed to cut their deployed nuclear warheads by 30 percent; Google turned its home page into Pac-Man; Netflix bought rights to stream things; and Tony Lawrence bought an old auto shop tucked away in the backstreets of Bend, Oregon's historical district and opened Boneyard Beer without investors or bank loans. He brewed his flagship RPM IPA focusing on extreme hoppiness rather than bitterness.
Player Stats: Boneyard's flagship RPM IPA sports a classic West Coast piney/resin nose, redolent with some grapefruit and tangerine thrown in for good measure. It has a sweeter, malty side created with pale malt, Munich malt, Aromatic malt, Vienna malt, and dextrose with a hint of honey and caramel that transitions quickly to a very solid, but not overdone bitterness with the mid-palate flavors of pine, grapefruit, apricots and faint honey, thanks to six different Northwest varieties of hops at more than 2.5 pounds per barrel. It's neither very strong, nor ultra-hoppy, so fitting somewhere near the median point in flavor profile.
ABV: 6.5%, IBU: 50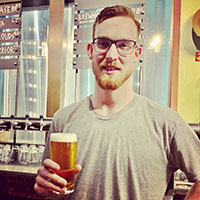 Player: Overkill IPA, fifteenth seed
Team: Grains of Wrath Brewery
Location: 230 NE 5th Ave., Camas, Washington
Wonder Years: 2018, Victoria Woodards began her term as mayor of the City of Tacoma. She is Tacoma's third African-American mayor and third female mayor, and the second African-American female mayor preceded by the first, Marilyn Strickland. Drake's "God's Plan" fills the streets. Down in Camas accomplished brewer Mike Hunsaker and crew open Grains of Wrath with metal filling the taproom. Medals follow.
Player Stats: GoW's clean and crisp flagship Overkill IPA with Simcoe, Galaxy and Mosaic hops rocks the stone fruit, passionfruit, citrus, pine and dankness. Overkill IPA is also an homage to Lemmy and Motorhead, one of head brewer Hunsaker's favorite bands. In fact, the Overkill can sports a not-so-subtle tribute to Motorhead's War Pig graphic, with fonts that also pay homage to the band. It's so metal.
ABV: 6.5%
Tournament of Beer Analysts: This is basically a battle of the West Coast IPA bands. Both IPAs rock with large groupie followings. Boneyard's eight-year tour advantage could come into play. This Tournament of Beer: West Coast Flagships game will be the talk of the social distancing circles today!
VOTE BELOW (VOTE ON ALL FOUR GAMES)>>>>>>>>>>>>>>>>>>>>>>>>>>>>>>>>>>

MONDAY, APRIL 6 TOURNAMENT OF BEER: WEST COAST FLAGSHIPS ACTION
Game 1, 1990s: Ridgetop Red, Silver City Brewery (206 Katy Penman, Bremerton, Washington) vs. Racer 5, Bear Republic Brewing (110 Sandholm Lane,
Cloverdale, California)
Game 2, 1990s: IPA, Stone Brewing (1999 Citracado Parkway, Escondido, California) vs. Dick Danger Ale, Dick's Brewing (3516 Galvin Road, Centralia, Washington)
Game 3, 2000s: Vortex IPA, Fort George Brewery (1483 Duane St., Astoria, Oregon) vs. Brew Free! Or Die IPA, 21st Amendment Brewery, 563 2nd St., San Francisco, California)
Game 4, 2000s: Universale Pale, Fremont Brewing (1050 N 34th St., Seattle, Washington) vs. Immersion Amber, Two Beers Brewing (4700 Ohio Ave. S., Seattle, Washington)
LINK: Hot Damn! Yes, I want to follow Peaks and Pints on Twitter
---