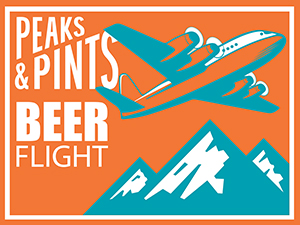 We are thinking about you. How are you doing? Miss the road? Peaks & Pints imagines that during this time of extraordinary disruption and anxiety there's the temptation to drown in fatalism, to shake your head and sigh and just throw in the karmic towel. Realize that this IS the perfect moment to change the energy of the world, to step right up and crank your personal volume; right when it all seems dark and bitter. Maybe, if we strive to transform our collective isolation into an opportunity for communal solitude, we might discover that it is, as it has always been, the seedbed for growth in holiness and wholeness, for communion and connection, for resistance and renewal. You are not failing. You are far from alone. The waves will shift. You'll get back out there and see the world again. Peaks & Pints is thinking of you when we came up with today to-go beer flight, Peaks and Pints Pilot Program: Thinking Of You On The Fly. Be well.
Peaks and Pints Pilot Program: Thinking Of You On The Fly
Revision To Dream
7% ABV, 35 IBU
You had a dream. You were invisible at a social media meet-up. Everything was dark, dark, dark. The room became consumed with huge iPads. They throbbed and bounced down from the ceiling, nearly crushing you. THEN: you woke up screaming and went out to the antechamber, where your governess, Sylvie, was watching the BBC. You demanded that she go unplug the apple TV in the servants' upstairs kitchen, which backed up to your wall, and she obliged you. When she returned, she had a can of Revision Brewing's To Dream, a collaboration with Belching Beaver, and featuring Samba hops which offer notes of candied orange and mango. Weird, huh?
Hoof Hearted Thanks For Letting Us Play Tonight
5.5% ABV
Imagine five women in their 20s outside The Bravery's trailer, somewhere in America. Knock knock. Who's there? It's me. Go away. Knock knock. Who's there? It's me. Please go away. Knock knock … It didn't exactly happen like that, but you, a Tacoma singer-songwriter duo, had your manager spend six months handing out your demo CD to The Bravery's people, and finally The Bravery said, OK, you can be our opening act. After the show, you approached The Bravery and said, "Thanks For Letting Us Play Tonight." You still relive that magical night every time you take a sip of Hoof Hearted Brewing's Thanks For Letting Us Play Tonight Pale Ale. The beer's perfectly hazy and aggressively double dry-hopped with Galaxy giving the pale ale a nice pineapple nose. It's well balanced with generous tropical and citrus flavors.
Evil Twin How Cool Is This? In The Catskills We Can Get That True Upstate Experience
8% ABV
As you stare out your window at Tacoma, your summer trips to The Catskills overwhelms you. Oh, you love to take the short, steep, mildly treacherous hike up to Kaaterskill Falls where the rushing cataract plunges 260 feet in two lacy drops. You found a rock, pulled out your paints and recreated one of the most painted views of the 19th century. How you long to be there. That's your true upstate New York experience. Yes, we know, it's not the same, but grab Evil Twin's How Cool Is This? In The Catskills We Can Get That True Upstate Experience double dry-hopped double IPA brewed with Citra, Simcoe, and Ekuanot. Enjoy the peach, melon, lime zest and pine sap as you hear the waterfall in your head.
Wet Coast Bindle Punk IPA (v.5)
7.5% ABV, 57 IBU
No matter how much we want to deny it or discount it, the South Sound was built by and for the railroad that runs through it. Tacoma was the end of the line for the transcontinental tracks a century ago, and that fact continues to shape who you are. In your 20s, you were a train bindle punk, carrying everything you owned in a bindle over your shoulder. You "decked" trains (riding on top), inspired by author Jack London's The Road, "And let me say right here that only a young and vigorous tramp is able to deck a passenger train, and also, that the young and vigorous tramp must have his nerve with him as well." Today, you grab a can of Wet Coast Brewing's Bindle Punk IPA (v.5), and dream of those days as you enjoy experimental hops HS1228 (U.S.) and NZH107 (New Zealand) for tropical and citrus flavors, over flaked oats for a slight haze.
---