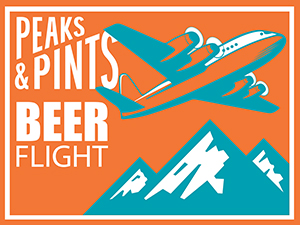 The last three weeks, Peaks and Pints pitted 64 of the West Coast's best in a malty head-to-head battle of flagship beers. We speak, of course, of the Tournament of Beer: West Coast Flagships. Sixty-four Washington, Oregon and California flagship beers were selected and seeded by the public in March 2020. During this tournament, some flagships fell easily by the wayside, either faltered due to a defective mash tun paddle or simply because they faced a superior opponent. Malt by malt, the United States' left coast r drank its way through the first two rounds followed by the Sweet 16, the Great Eight, and today's Final Four between Deschutes Black Butte Porter and Pelican Kiwanda Cream Ale; Chuckanut Pilsner and Kulshan Bastard Kat IPA with online voting on this website ending at 11:45 p.m. In conjunction with today's Final Four games, Peaks and Pints offers a to-go flight of the four beers, a flight that we call Peaks and Pints Pilot Program: Tournament Flagships On The Fly.
Peaks and Pints Pilot Program: Tournament Flagships On The Fly
GAME 1: 1980-1999 REGION
Deschutes Black Butte Porter
5.2% ABV, 30 IBU
In 1988, Gary Fish established his brewpub concept, Deschutes Public House, in downtown Bend. Named after the Deschutes River, Deschutes was Central Oregon's first brewery. Fish hired John Harris (founder of Ecliptic Brewing Co.) from McMenamins to brew black Butte Porter. Fish named his porter after a stratovolcano in the Deschutes National Forest near the brewery. The aroma bears a hint of nuttiness, followed by the unmistakable smells of rich yet soft milk chocolate. Black Butte Porter is slightly bitter in the first sip, but mellows out with a chocolate and roasted finish. As creamy and chocolaty as it should be, this is the porter all other porters strive to be.
versus
Pelican Kiwanda Cream
5.45% ABV, 25 IBU
In 1996, Jeff Schons and Mary Jones open Pelican Brewing — Oregon's only oceanfront brewpub — in Pacific City, If you love Pelican's flagship beer Kiwanda Cream Ale, you're not alone — it's one of Pelican's most award-winning brews with 21 honors, including 13 gold medals. Inspired by one of America's traditional indigenous 19th century beer styles, Kiwanda Cream Ale is a nod to founding brewmaster Darron Welch's love of history and reputation for brewing beers as they are intended to be. Pelican is the first known craft brewer to honor the early American beer. Made of all local, hand-sourced ingredients — Two-row malt, flaked barley, Mt. Hood hops, CaraPils malt, pure local water and pure ale yeast — Kiwanda Cream Ale is pale gold with a fruity, floral hop aroma, golden color, refreshing body and clean, snappy finish.
GAME 2: 2000-2019 REGION
Chuckanut Pilsner
5% ABV, 36 IBU
In the early 1980s, chemical engineer and homebrewer Will Kemper paid a visit to the brewmaster of the now-defunct Rainier Brewery in Seattle where he was told he couldn't open a brewery because he wasn't born into it. Good one. In 1984, Kemper, his wife, Mari, and Andy Thomas opened Thomas Kemper Brewery in Poulsbo, Washington. In 1992, Thomas Kemper merged with Hart Brewing, which went on to be Pyramid Breweries. The Kempers saw the ugly side of the business and became consultants with East Coast and international breweries. After a bunch of traveling, they moved back to Bellingham where they opened Chuckanut Brewery in 2008 — a convergence of technical and engineering concepts developed from more than two decades of professional involvement with craft brewing both home and abroad. They hired Josh Pfriem as their head brewer. Following their passion for German pilsners, the Kempers brewed their own golden, vivid, crisp version with Pilsner malt and secret noble hops.
Kulshan Bastard Kat IPA
6.66% ABV, 70 IBU
In 2012, Bellingham native David Vitt founded Kulshan Brewing, which would go on to be one of the fastest-growing breweries in Whatcom County. Crisp and snappy up front, smooth in the middle, and dry in the finish, Kulshan's highly drinkable and flavorful Bastard Kat IPA grabbed gold at the 2015 Washington Beer Awards. Brewed in the West Coast IPA tradition with a prolific full hop flavor and aroma of Cascade hops, this beer balances said hop's grapefruit and pine notes with caramel, bread dough and white cake.
---