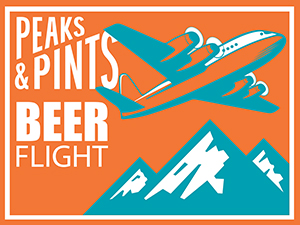 Think mountain climbing in Washington state and the mind naturally gravitates to Mount Rainier. No other mountain within the contiguous United States is as extensively glaciated or has as much prominence. Climb for Clean Air is an exclusive mountaineering training and fundraising program designed to give you the training, technical support and guide services you need to summit magnificent mountains safely, including Mt. Rainier. Famous Rainier Mountaineering, Inc. guide Lou Whittaker help create Climb for Clean Air, helping novices reach the top while raising money for the American Lung Association.Tonight, from 6:30-8:30 p.m., the Climb For Clean Air folks will host an information session at Peaks and Pints. In conjunction, lets drink a flight of mountain-themed beers that we call Craft Beer Crosscut 11.14.19: Flight For Clean Air. Oh, Peaks and Pints co-owner Ron Swarner will be climbing Mt. Rainier with the Climb for Clean Air folks this summer. Please help him raise money for the American Lung Association and his journey up the mountain here.
Craft Beer Crosscut 11.14.19: Flight For Clean Air
Harmon Skyline Trail Wildflower Sour
5% ABV
In August 2016, Harmon Brewing Head Brewer Jeff Carlson, Production Manager Bill Lundeen and Director of Brewery Operations Jesse Holder as well as Peaks and Pints staff collected yeast from wildflowers blooming along the Skyline Trail at approximately 5,400 feet on the south slope of Mount Rainier. The yeast was added to a sour blonde base, inoculated with Saccharomyces and aged for a year. In September 2017, it was blended with a blonde base that was aged two years in a foeder. It's a funky, tart, pale amber-colored ale that's light in body and exhibits aromas of stone fruit, oak and spice. Harmon ceased brewing operations this past summer, but Peaks and Pints holds on to the great memories and this delicious beer. 
Kulshan Tree-dimensional IPA
6.4% ABV
Kulshan Brewing collaborated with Peaks & Pines on the Tacoma craft beer lodge's house beer, Tree-dimensional-IPA. Paying homage to the outdoor enthusiasts who join Peaks daily in Tacoma's Proctor District, Tree-dimension IPA is the perfect beer to toast the powder, currents or trails, as well as revealing the sprains. Tree-dimensional IPA, or Tree-D, continues Peaks & Pints' love affair with old school piney IPAs, this time brewed with Simcoe, Idaho 7, CTZ, Centennial, and whole leaf Cascade in the hop back for all the pine, plus creamy mouthfeel and bitter finish.
Great Divide S'mores Yeti
9.5% ABV, 75 IBU
Reach for Great Divide's S'mores Yeti and find yourself transported to a cozy campfire setting without ever leaving the comfort of Peaks and Pints; though enjoying this decadent imperial stout next to our fireplace is definitely encouraged. This s'mores version of the Denver brewery's award-winning creamy Yeti Imperial Stout hits the nose with roasted malt, chocolate, marshmallow, and some vanilla, followed by roasted malt, graham cracker, cocoa and marshmallow with long chocolate finish.
Hopworks Abominable Winter Ale (Whiskey Barrel Aged)
10.2% ABV
This Hopworks Urban Brewery beer began its life as Abominable Winter Ale before being gently whisked away and laid to rest in freshly emptied Kentucky bourbon barrels. In the bourbon barrel, the beer picked up notes of vanilla, oak, spice, caramel, and whiskey.
Two Beers Wonderland Trail IPA
7.1% ABV, 84 IBU
No better way to end this mountain beer flight than Two Beers Brewing's salute to the famous trail circumnavigating Mount Rainier. It's the Seattle brewery's first foray into the West Coast-style, a light bodied IPA complemented by 2-Row, Vienna and Munich malts while featuring a seamless blend of Washington-grown Amarillo, Citra, Mosaic and Cascade hops. Expect a slightly sweet aroma of tangerine followed by a wave of citrus and passion fruit.
---