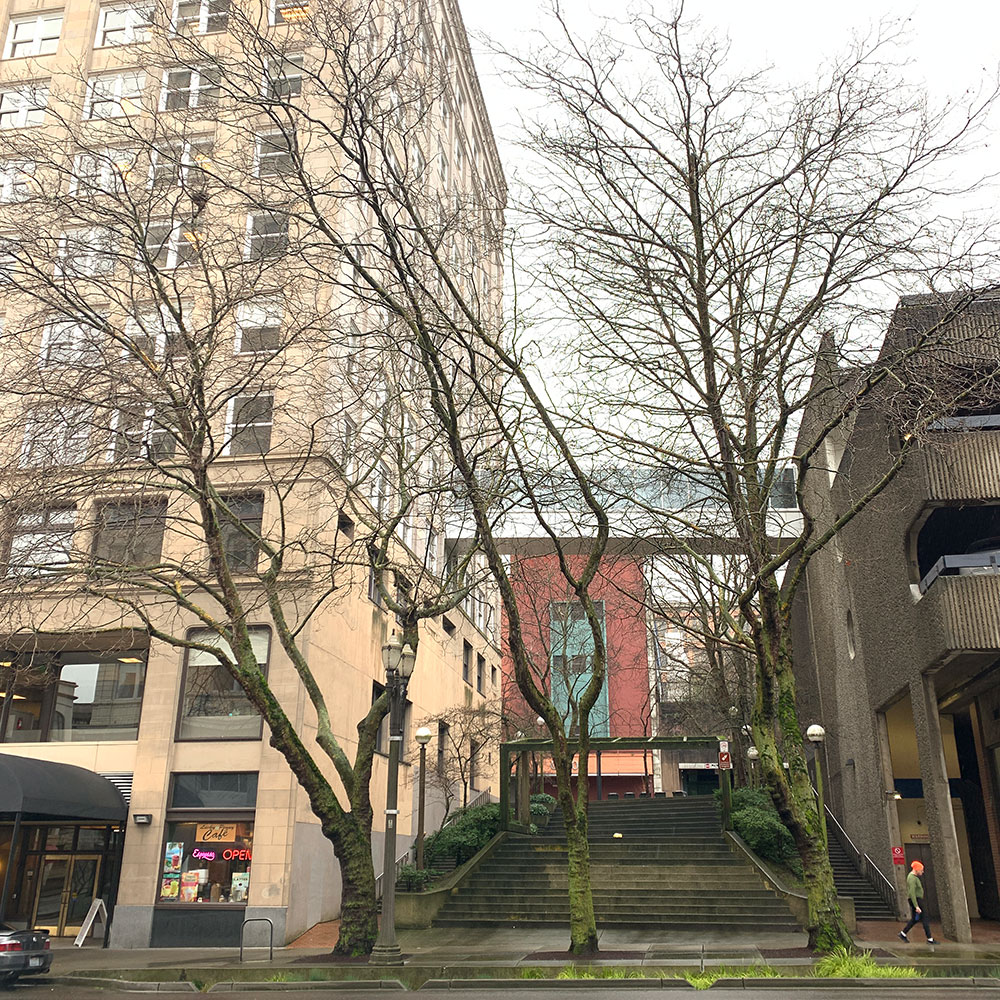 Tree-dimensional Tacoma: London Planetree
"Every time I look at the London planetrees along Pacific Avenue near 10th Street, I think how awesome it would be to have a block after block of these magnificent trees," says Sarah Low, executive director of the Tacoma Tree Foundation. "London planetrees can grow to be 75 to 100 feet tall, which is quite large for a street tree. However, when we could consider the context of, say, these particular trees in downtown Tacoma — they are quite small compared to the surrounding buildings. For a tree to be noticed on a street full of skyscrapers, it needs to be big. Next time you are driving, or better yet, walking down Pacific, take a look at these trees and marvel at their perseverance."
Low speaks of Platanus × acerifolia, the London plane, London planetree, or hybrid plane, is a tree in the genus Platanus, which was found growing in London in 1663, but fits Tree-dimensional Tacoma, Peaks & Pints' weekly Tacoma tree column. Inspired by our house beer, Kulshan Brewing Tree-dimensional IPA, Peaks & Pints branches out for a weekly look at terrific trees of Tacoma, in conjunction with our friends at Tacoma Tree Foundation. The TTF will be the guest speaker at Tacoma Green Drinks February 2020 gathering at 6 p.m. Thursday, Feb. 6 in Peaks & Pints' events room.
"London planetrees were planted in cities throughout the United States and Europe because of their pollution tolerance," continues Low. "In the early 1900s, they were planted along boulevards creating an elegant approach to downtown squares and municipal buildings. These trees weathered some unimaginably bad air quality, and kept on growing."
The London planetree, a deciduous tree, is a hybrid tree resulting from a cross between two sycamore species: Platanus occidentalis (American sycamore) and Platanus orientalis (Oriental plane). Like all sycamores, the London plane has bark that peels away in irregular patches to show creamy whitish-green inner bark. Its green leaves are around 4 to 9 inches wide with three to five lobes, and its fall foliage is a rather plain yellow-brown. Small flowers appear in clusters in the early spring, gradually ripening into fruit balls that turn brown in the fall. Today, it's all branches.
After checking out the London plane in downtown Tacoma, enjoy a Tree-dimensional IPA (6.8%) at Peaks & Pints. Kulshan Brewing collaborated with the Tacoma craft beer lodge on their house beer. Paying homage to the outdoor enthusiasts who join Peaks daily in Tacoma's Proctor District, Tree-dimensional IPA is the perfect beer to toast the powder, currents or trails, as well as reveal the sprains. Tree-dimensional IPA, or Tree-D, continues Peaks & Pints' love affair with old school piney IPAs, this time brewed with Simcoe, Idaho 7, CTZ, Centennial, and whole leaf Cascade in the hop back for all the pine, a little citrus, with a creamy mouthfeel and bitter finish. The Tree-D is now in cans, too!
Tacoma Tree Foundation is dedicated to educating, empowering, and supporting community members in neighborhood-based greening. In other words, the Tacoma organization strives for a greener, healthier, more connected Tacoma — which plants well with Peaks and Pints. We will host TTF fundraisers during Tree-dimensional IPA's reign as our house beer, which pours through October 2020.
LINK: Kulshan brews Peaks and Pints Tree-dimensional IPA
LINK: Tree-dimensional Tacoma: Sugar Maple
LINK: Tree-dimensional Tacoma: Tulip Poplar
LINK: Tree-dimensional Tacoma: Giant Sequoia
LINK: Tree-dimensional Tacoma: Pin Oak
LINK: Tree-dimensional Tacoma: Douglas Fir
LINK: Tree-dimensional Tacoma: Incense Cedar
LINK: Tree-dimensional Tacoma: Plume Sawara Cypress
LINK: Tree-dimensional Tacoma: Western Red Cedar
LINK: Tree-dimensional Tacoma: Ponderosa lemon hybrid
LINK: Tree-dimensional Tacoma: Monkey Puzzle Tree
---