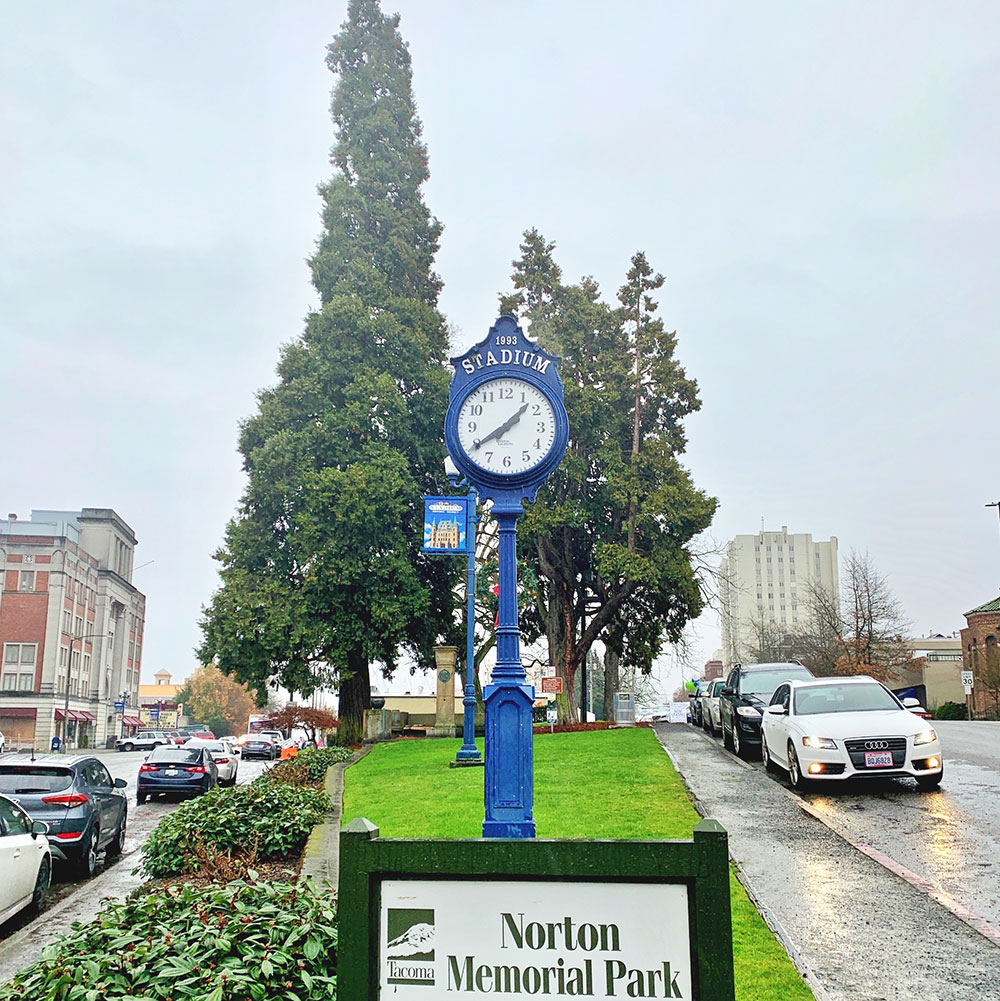 Tree-dimensional Tacoma: Incense Cedar
"We have so many spectacular specimen trees in Tacoma," says Sarah Low, executive director of Tacoma Tree Foundation. "One that has been capturing my attention lately is the Incense cedar in Norton Memorial Park at St. Helens and South First Street. In Tacoma, we are a bit north of the native range of incense cedar but, despite being far from home, this tree is still thriving."
This Incense cedar (Calocedrus decurrens), also known as the California incense cedar, produces fragrant fan-like needles on evergreen branches, and fits Tree-dimensional Tacoma, Peaks and Pints' weekly Tacoma tree column. Inspired by our house beer, Kulshan Brewing Tree-dimensional IPA, Peaks and Pints branches out for a weekly look at terrific trees of Tacoma, in conjunction with our friends at Tacoma Tree Foundation. Kulshan joins Peaks and Pints Saturday for a Tree-dimensional IPA can release party, beginning at 6 p.m.
"This particular incense cedar was planted nearly 100 years ago and has grown to a towering height, and yet it is narrow enough to fit in, what very well might be, the smallest park in Tacoma," adds Low. "People often wonder or worry about whether we can have large trees in urban areas with limited space, but this incense cedar shows us how it's done. If you go check it out soon, you can take in its aromatic smell and gather some of its really cool wing-like seeds."
Incense cedar is a medium sized tree 80 to 120 feet high. The leaves are small, scale-like, oblong-ovate, in whorls of four, decurrent, and closely adnate on the branchlets and aromatic when crushed. The flowers are monecious, appearing in January on the ends of short lateral branchlets of the previous year. The fruit is reddish-brown or yellowish-brown that ripens in the early autumn and remains on the tree until spring. The bark is bright cinnamon-red, broken into irregularly ridges, and covered with closely appressed plate-like scales.
Check out this Incense cedar in Tacoma's Stadium District then head to Peaks and Pints for a Tree-dimensional IPA (6.4%). Kulshan Brewing collaborated with Peaks and Pines on the Tacoma craft beer lodge's house beer, Tree-dimensional-IPA. Paying homage to the outdoor enthusiasts who join Peaks daily in Tacoma's Proctor District, Tree-dimension IPA is the perfect beer to toast the powder, currents or trails, as well as reveal the sprains. Tree-dimensional IPA, or Tree-D, continues Peaks & Pints' love affair with old school piney IPAs, this time brewed with Simcoe, Idaho 7, CTZ, Centennial, and whole leaf Cascade in the hop back for all the pine, plus creamy mouthfeel and bitter finish.
Tacoma Tree Foundation is dedicated to educating, empowering, and supporting community members in neighborhood-based greening. In other words, the Tacoma organization strives for a greener, healthier, more connected Tacoma — which plants well with Peaks and Pints. We will host TTF fundraisers during Tree-dimensional IPA's reign as our house beer, which pours through October 2020.
LINK: Kulshan brews Peaks and Pints Tree-dimensional IPA
LINK: Tree-dimensional Tacoma: Sugar Maple
LINK: Tree-dimensional Tacoma: Tulip Poplar
LINK: Tree-dimensional Tacoma: Giant Sequoia
LINK: Tree-dimensional Tacoma: Pin Oak
LINK: Tree-dimensional Tacoma: Douglas Fir
---