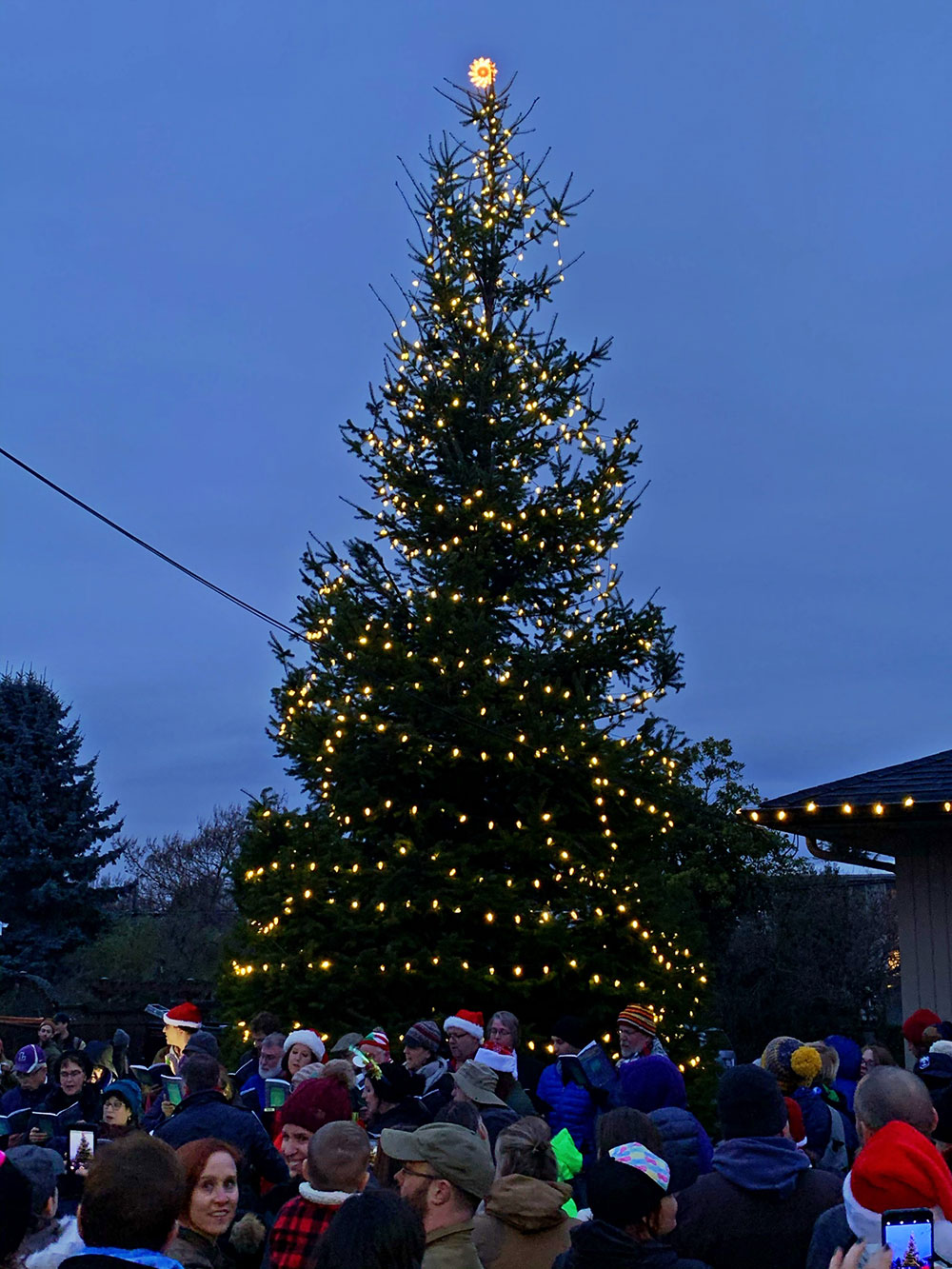 Tree-dimensional Tacoma: Douglas Fir
I think that I shall never see
A poem lovely as a tree.
A tree whose hungry mouth is prest
Against the earth's sweet flowing breast;
A tree that looks at God all day,
And lifts her leafy arms to pray;
A tree that may in Summer wear
A nest of robins in her hair;
Upon whose bosom snow has lain;
Who intimately lives with rain.
Poems are made by fools like me,
But only God can make a tree.
— "Trees" by Joyce Kilmer
Applause broke out after Heather Gray read Kilmer's poem Sunday night in Tacoma's Proctor District. Several hundred people gathered around the Douglas fir outside Gray's Basin Pacific Insurance office listening to the poem Gray's mother read to her as a child. The occasion wasn't a tree poetry slam, but rather the official lighting of the tree anchoring Proctor's Peppermint Place," the holiday season personae of the bustling Tacoma neighborhood.
This Douglas fir (genus Pseudotsuga), genus of about six species of evergreen trees of the conifer family Pinaceae, native to western North America and eastern Asia, fits Tree-dimensional Tacoma, Peaks and Pints' weekly Tacoma tree column. Inspired by our house beer, Kulshan Brewing Tree-dimensional IPA, Peaks and Pints branches out for a weekly look at terrific trees of Tacoma, in conjunction with our friends at Tacoma Tree Foundation, and this week, our friends at Basin Pacific Insurance.
"Fir trees are very special to me," explains Gray. "I grew up climbing fir trees on the Pine Lake Plateau, which is now called the Sammamish Plateau in King County. The fir trees were huge! My brother, the neighbor kids and I would climb to the very top of the trees. We could see for miles. On windy days the trees would rock back and forth in the wind and sometimes we would get the trees rocking ourselves, just for the fun of it."
The official Proctor's Peppermint Place tree arrived the same summer when Gray and her husband and business partner, John, opened the insurance agency on North 26th Street.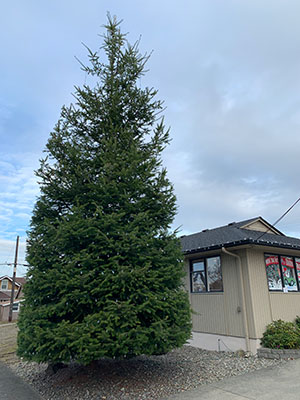 "We opened Basin Pacific Insurance in the summer of 2009," says Gray. "That same summer this little tree decided to plant itself. In those 10 years it has survived several very hot summers and being run over by a pickup truck. In the hot weather we carefully watered the tree to insure that it would survive. The pickup truck backed over the tree and took the top off, so I just reshaped it and it has continued to grow straight. To me it is a symbol of our business. We have had ups and downs but we continue to persevere and when I am having one of those tough days I like to look out on our tree and gain fresh perspective and encouragement that we too will continue to grow just like the tree."
Douglas fir is the largest and tallest member of the pine family. Living trees have been documented up to 16 feet in diameter and up to 326 feet tall. Even larger and taller trees once existed in western Washington. It is also the most widespread of all western trees. It can be found growing from southern Mexico to central British Columbia, and from Colorado to the coast. Even in western Washington, it grows in all but the wettest locations – anywhere with a fire history.
Check out the decorated Douglas fir at 4001 N. 26th St., then head to neighboring Peaks and Pints for a Tree-dimensional IPA (6.4%). Kulshan Brewing collaborated with Peaks and Pines on the Tacoma craft beer lodge's house beer, Tree-dimensional-IPA. Paying homage to the outdoor enthusiasts who join Peaks daily in Tacoma's Proctor District, Tree-dimension IPA is the perfect beer to toast the powder, currents or trails, as well as reveal the sprains. Tree-dimensional IPA, or Tree-D, continues Peaks & Pints' love affair with old school piney IPAs, this time brewed with Simcoe, Idaho 7, CTZ, Centennial, and whole leaf Cascade in the hop back for all the pine, plus creamy mouthfeel and bitter finish.
Tacoma Tree Foundation is dedicated to educating, empowering, and supporting community members in neighborhood-based greening. In other words, the Tacoma organization strives for a greener, healthier, more connected Tacoma — which plants well with Peaks and Pints. We will host TTF fundraisers during Tree-dimensional IPA's reign as our house beer, which pours through October 2020.
LINK: Kulshan brews Peaks and Pints Tree-dimensional IPA
LINK: Tree-dimensional Tacoma: Sugar Maple
LINK: Tree-dimensional Tacoma: Tulip Poplar
LINK: Tree-dimensional Tacoma: Giant Sequoia
LINK: Tree-dimensional Tacoma: Pin Oak
---