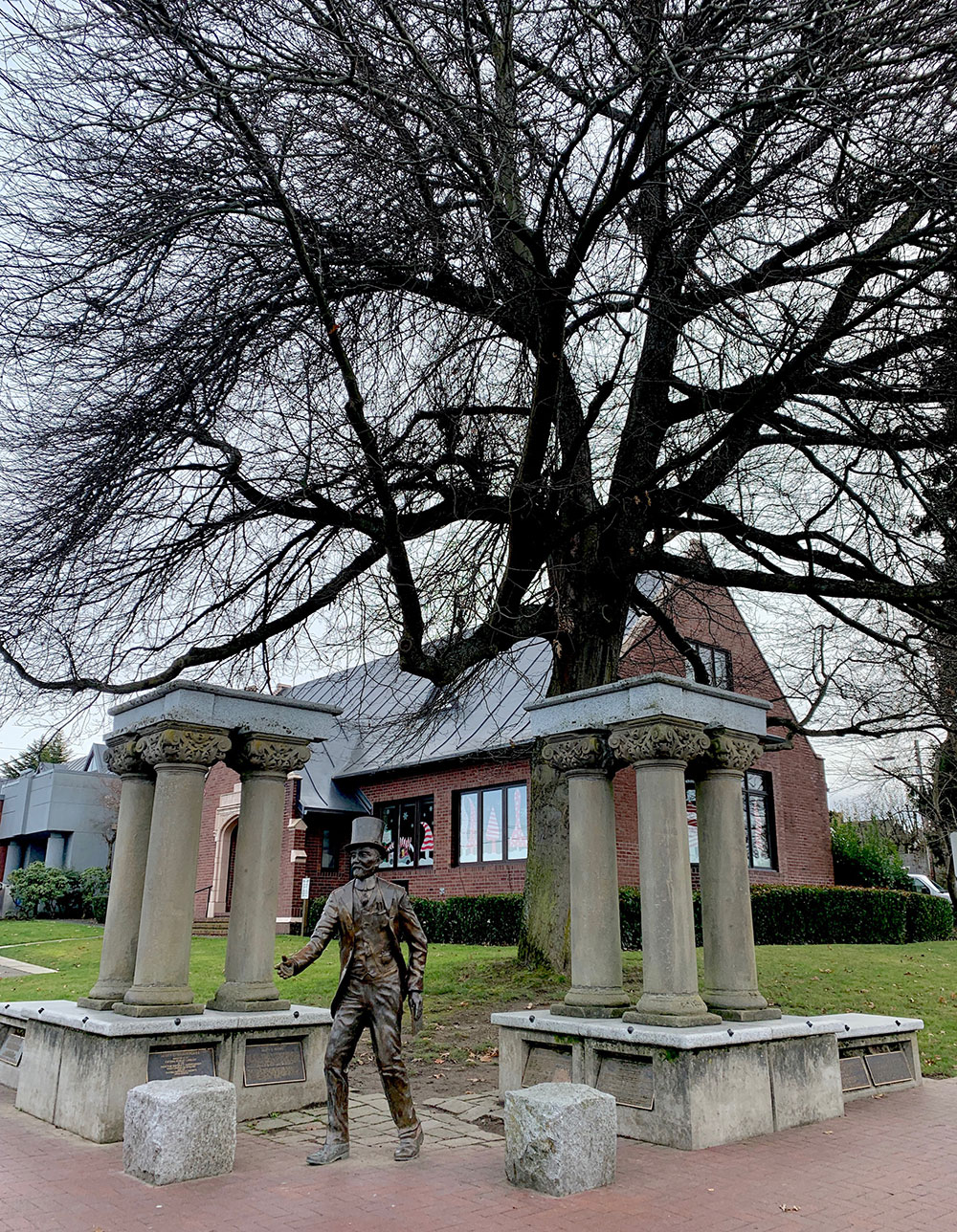 Tree-dimensional Tacoma: Pin Oak
Oak tree i'll put u 2 the test
Oak tree when it comes 2 dancing
Im the best
Oak tree ready 2 debut
Oak tree spread ur branches
U know what 2 do
I can do the oak tree
As you can gather musician Morris Day thinks oak trees are cool. The residents of the Lakewood neighborhood of Oakbrook adore them, at least before the Country Club chopped them all down. And, the denizens of Tacoma's Proctor District cherish the ancient pin oak watching over the life sized portrait-in-bronze of Tacoma "super salesman" Allen C. Mason on the grounds of the Wheelock Library. Also known as the Quercus palustris, or swamp Spanish oak, this medium-sized deciduous oak fits Tree-dimensional Tacoma, Peaks and Pints' weekly Tacoma tree column. Inspired by our house beer, Kulshan Brewing Tree-dimensional IPA, Peaks and Pints branches out for a weekly look at terrific trees of Tacoma, in conjunction with our friends at Tacoma Tree Foundation.
Oak trees are consequential. If we snuff out oaks our whole world changes. Oaks hybridize readily, with lots of gene float between the species. They share genes that are advantageous. Gene flow between species help oaks adapt to novel climates, help them migrate. They share genes while species maintain their distinctiveness. Oaks are intellectually very satisfying.
The pin oak is a broadly pyramidal tree that requires ample space, so may not be suitable for residential landscapes; as a park or library grounds subject, there are few trees its equal. Our neighborhood pin oak is one of the faster growing oak trees. Tolerant of wet soils, pin oak trees usually grow 60-80 feet high and 25-40 feet wide — though in the right soil conditions (moist, rich, acidic soil), pin oaks have been known to grow over 100 feet tall.
"Pin oaks are known for their fast growing and can grow two feet per year," says Sarah Low, executive director of the Tacoma Tree Foundation.  That's a lot of carbon sequestration. Not only are mature pin oaks actively taking in carbon dioxide, they are also especially good at reducing nitrogen dioxide. In other words, pin oaks make our environment healthier and that's good for everyone."
Check out the magnificent pin oak outside the Wheelock Library, check out a book, and then head to Peaks and Pints for a Tree-dimensional IPA (6.4%). Kulshan Brewing collaborated with Peaks and Pines on the Tacoma craft beer lodge's house beer, Tree-dimensional-IPA. Paying homage to the outdoor enthusiasts who join Peaks daily in Tacoma's Proctor District, Tree-dimension IPA is the perfect beer to toast the powder, currents or trails, as well as reveal the sprains. Tree-dimensional IPA, or Tree-D, continues Peaks & Pints' love affair with old school piney IPAs, this time brewed with Simcoe, Idaho 7, CTZ, Centennial, and whole leaf Cascade in the hop back for all the pine, plus creamy mouthfeel and bitter finish.
Tacoma Tree Foundation is dedicated to educating, empowering, and supporting community members in neighborhood-based greening. In other words, the Tacoma organization strives for a greener, healthier, more connected Tacoma — which plants well with Peaks and Pints. We will host TTF fundraisers during Tree-dimensional IPA's reign as our house beer, which pours through October 2020. 
LINK: Kulshan brews Peaks and Pints Tree-dimensional IPA
LINK: Tree-dimensional Tacoma: Sugar Maple
LINK: Tree-dimensional Tacoma: Tulip Poplar
LINK: Tree-dimensional Tacoma: Giant Sequoia
---