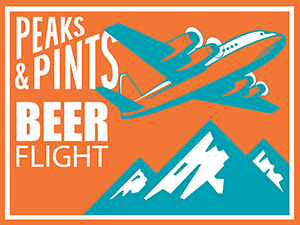 Not all stouts — a style marked by the use of roasted malts and barley — are created equal, with alcohol levels, recipes, flavorings and textures running the gamut. From the traditional stouts that emerged after porter rose to popularity in England in the 1800s to today's kaleidoscope of craft variations, the characteristics found within the category are myriad. This differential stout fact is front and center during Peaks and Pints' Dark Side of Thanksgiving, an eventful week with scarce and salient selections from the dark side. Running through Friday, Nov. 29, the left side of Peaks and Pints' Western red cedar tap log houses dark elixirs, including oatmeal stouts, which is the focus of today's beer flight, Craft Beer Crosscut 11.26.19: Flight of Dark Side Oatmeal Stouts. As advertised, oats make an appearance in the recipe for oatmeal stouts, but the ingredient is used more for texture than flavor. Originally conceived as an alternative to the rising popularity of milk stouts in Great Britain, the addition of oats yields a creamy mouthfeel but without any sweetness.
Craft Beer Crosscut 11.26.19: Flight of Dark Side Oatmeal Stouts
Narrows Dark Mode Stout
5.5% ABV, 20 IBU
Narrows Brewing Dark Mode is the Tacoma brewery's brand new, almost year-round oatmeal stout. Brewed with rolled oats and chocolate malt and then boiled for an extended time, this stout is creamy and sweet with refreshing notes of coffee, dark chocolate and oatmeal cereal.
Modern Times Black House
5.8% ABV, 40 IBU
Modern Times Beer is the only brewery in the world to roast their own coffee, which allows them to be extremely persnickety about which beans they buy and how we roast them. Their Black House oatmeal coffee stout is not only brewed with Ethiopian and Sumatran coffee beans, but also Kiln Coffee malt also makes its way to the pot. It kind of tastes like a chocolate-covered espresso bean, only drier and more like beer.
Perennial Prodigal
11.5% ABV
Perennial Artisan's Prodigal is an imperial oatmeal milk stout with a massive fudge and roast malt character. It's a foundation for all the stouts in this flight, leading the way with only a handful of cacao nibs and Madagascar vanilla beans to round out the edges. Rich chocolate malt hits the nose with notes of roasted malt, lactose sugar, vanilla and some dark fruit. Prodigal pours deep brown with a thin mocha brown head that has little retention or lacing. Starts with rich roasted malt, fudgy chocolate and dark fruit flavors as well as having a rich, full body and a slick, viscous mouthfeel. It finishes impeccably smooth with lactose sugar and vanilla flavors.
Founders Canadian Breakfast Stout
11.7% ABV, 45 IBU
Founders' brewers awoke early one day and brewed their Breakfast Stout with flaked oats, chocolate, and two kinds of coffee beans. In 2010, they aged the Breakfast Stout in spent bourbon barrels that had most recently been aging pure Michigan maple syrup. Canadian Breakfast Stout, or CBS, was born, with notes of syrupy malt and strong alcohol. In 2019, they added a nitrogen-carbonated version for an even more creamy bourbon maple experience.
Fremont 2018 Bourbon Barrel Aged Dark Star
13.6% ABV, 50 IBU
Fremont's 2018 Bourbon Barrel Aged Dark Star is a blend of 24, 18, 12, and 8-month Bourbon Barrel-Aged Dark Star in 7-12-year old Kentucky bourbon barrels. The roasted and chocolate malts complement the smooth oats to bring you an imperial stout wrapped in the gentle embrace of bourbon barrel-aged warmth. A touch of sweetness dances in balance with the hops to finish with a wave.
---