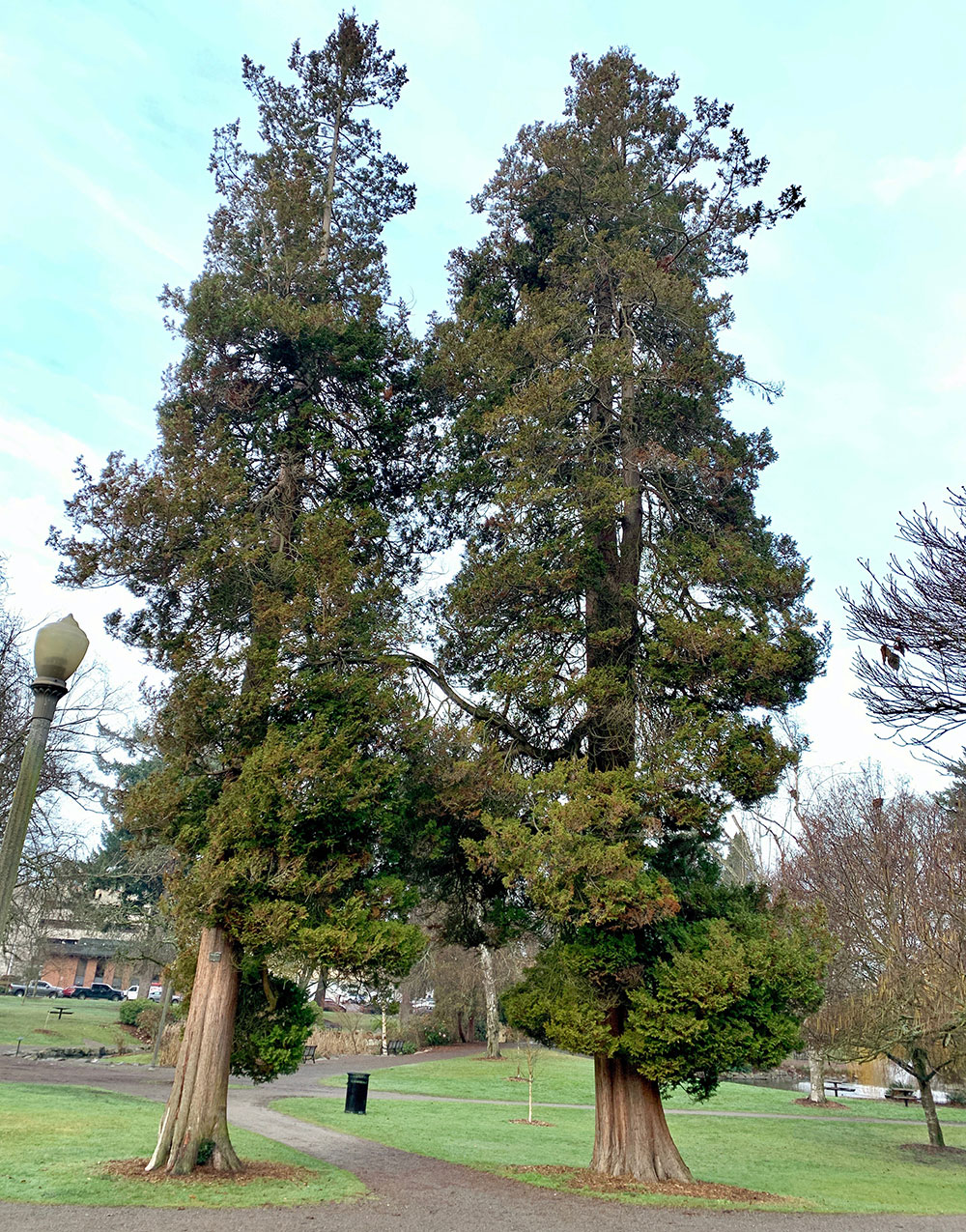 Tree-dimensional Tacoma: Plume Sawara Cypress
"This week I suggest checking out the two Plume Sawara cypress trees, or Chamaecyparis pisifera, in Wright Park," says Sarah Low, executive director of Tacoma Tree Foundation. "First of all, I think you should get a free beer if you can spell "Chamaecyparis" without looking, just saying. … Also, it's worth noting when talking about Chamaecyparis pisifera that there are so many cultivated varieties of this species that they can take almost any form from large tree to tiny shrub. The Plume Sawara cypress trees in Wright Park are quite large. They grow on both sides of a path downhill from the W.W. Seymour Conservatory. They stand like complimentary bookends with a thin space between. They have grown upward together and they have left a little room for the other to move around. They have a good sense of personal boundaries, and because of that, among other reasons, Plume Sawara cypress rarely need pruning — you heard that right, pruning is not a requirement."
These slow-growing evergreen coniferous trees with a conical shape fit Tree-dimensional Tacoma, Peaks and Pints' weekly Tacoma tree column. Inspired by our house beer, Kulshan Brewing Tree-dimensional IPA, Peaks and Pints branches out for a weekly look at terrific trees of Tacoma, in conjunction with our friends at Tacoma Tree Foundation.
Check out the Plume Sawara cypress trees in Tacoma's Wright Park then head to Peaks and Pints for a Tree-dimensional IPA (6.4%). Kulshan Brewing collaborated with Peaks and Pints on the Tacoma craft beer lodge's house beer, Tree-dimensional-IPA. Paying homage to the outdoor enthusiasts who join Peaks daily in Tacoma's Proctor District, Tree-dimension IPA is the perfect beer to toast the powder, currents or trails, as well as reveal the sprains. Tree-dimensional IPA, or Tree-D, continues Peaks & Pints' love affair with old school piney IPAs, this time brewed with Simcoe, Idaho 7, CTZ, Centennial, and whole leaf Cascade in the hop back for all the pine, plus creamy mouthfeel and bitter finish. The Tree-D is now in cans, too!
Tacoma Tree Foundation is dedicated to educating, empowering, and supporting community members in neighborhood-based greening. In other words, the Tacoma organization strives for a greener, healthier, more connected Tacoma — which plants well with Peaks and Pints. We will host TTF fundraisers during Tree-dimensional IPA's reign as our house beer, which pours through October 2020.
LINK: Kulshan brews Peaks and Pints Tree-dimensional IPA
LINK: Tree-dimensional Tacoma: Sugar Maple
LINK: Tree-dimensional Tacoma: Tulip Poplar
LINK: Tree-dimensional Tacoma: Giant Sequoia
LINK: Tree-dimensional Tacoma: Pin Oak
LINK: Tree-dimensional Tacoma: Douglas Fir
LINK: Tree-dimensional Tacoma: Incense Cedar
---