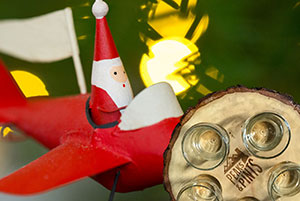 The Tacoma Little Theatre stages comic Ken Ludwig's 'Twas the Night Before Christmas at 7 p.m. It's the story of Emily, and her pet mouse, Amos, who face another disappointing year of being by-passed by Santa until they find themselves thrust in the heart of all the action at the North Pole. Thanks to a conscientious elf, Calliope, played by Alexandria Bray, they help  "save Christmas" for others who were similarly stripped off the Jolly Fellow's Nice List. Drop by Peaks and Pints before or after the show for a holiday beer flight we call Christmas Beer Crosscut 12.18.19: Nice List. Indeed, this is a nice list of holidays beers, and one perry, too.
Christmas Beer Crosscut 12.18.19: Nice List
Pear Up Cranpeary Caramel
5.2% ABV
Pies are a holiday staple, but sometimes can be tedious to make. If you want the flavors of a pie without all the work, we suggest you try East Wenatchee cidery Pear Up's Cranpeary Caramel. Dry, not too sweet, this was a surprise treat for us. You can taste the salted caramel without the sticky sweet mouthfeel that we were dreading when I saw the description. The cranberry is hidden, although it does have a light tartness.
Wingman P-51 Kegnog
8% ABV, 31 IBU
The P-51 Porter was Wingman Brewers' first real beer recipe. "It goes back to 2008 when Derrick (Moyer) and I were home brewing," explains Thoburn. "At the time, Lazy Boy Porter from Everett was my favorite beer around, so we tried to emulate that. The beer was initially made for a friend's birthday and called Nalty's Tall Order Porter since he's a tall dude and asked us to make a Porter for his birthday party. The beer went over so well with our friends that it remains the only recipe we've never changed since Wingman started … with Washington-grown barley and Moxie valley hops." Wingman Brewers introduced a peanut butter and coconut porter to the Port Townsend Strange Brewfest several years ago. It was a huge hit. Wingman went on to separate the two flavors and release both as seasonals, followed by a string of variants, including Kegnog, which is P-51 brewed with eggnog.
Block 15 Oaked Saint Nick
9% ABV
Named after the Patron Saint of Brewers, Block 15 Brewing's Ol' Saint Nick is a generously malt-forward winter warmer featuring grist notes of toffee, cocoa, dark fruits, and caramel alongside citrusy hops and a warm, lingering finish. When the Corvallis brewery conditioned the winter warmer in oak foeders, Oaked Saint Nick arrived with a sack full of vanilla and oaky tannins.
Sierra Nevada Narwhal Imperial Stout
10.2% ABV, 60 IBU
In the movie Elf starring Will Ferrell, Mr. Narwhal appears in the beginning of the film saying goodbye to Buddy, who was going to New York City to find his dad. In the Sierra Nevada imperial stout Narwhal, the stout appears as one of the driest imperial versions you'll come across. Roasty, too, but with an uncharacteristically wave of deep, dark fruitiness, ending in medium-high bitterness and substantial alcohol burn. The sweetness and hops are moderate and just enough to blend in with the dark fruit, chocolate and coffee flavors and aromas, to keep a balance. A slight touch of extra bitterness at the end, and no alcohol aftertaste or hotness, help leave a clean finish.
Heathen Reindeer Tears
10.6% ABV, 94 IBU
Tonight, Drinking For Conservation will be at Peaks and Pints for their Cheers and Beers for Reindeers, a fundraiser to save caribou. Naturally, reindeer shed tears as they believed in the title of tonight's event. It's only appropriate we bring back Heathen Brewing's Reindeer Tears for today's Christmas Beer Crosscut. This bourbon barrel-aged American barleywine pours cloudy rosé copper with a cream-colored pillow of fine foam that reduces after a minute or so. The nose is brown sugar, burnt orange, wheat, bourbon and citrus. The Tears begins with smooth malts molasses, a bit of toffee followed by caramel. As it warms sweet dark fruity esters appear. As the Tears rolls the bourbon, booze and light spicy oak note along with blunted aged pine hops and spicy wintertime cookies cut perfectly into the thick bodacious sweetness.
---