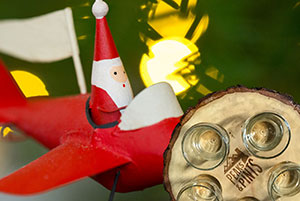 Don't let these dark days get you down, filos. Hop in the Christmas Revels' time machine, journey back to the Balkins days of colorful folk stories, beautiful harmonies, lively dances, resplendent costumes, and intriguing traditions from the region that stretches from the northeastern border of Italy east to the Black Sea. We're talking singing, dancing, storytelling, beauty, mystery, and hilarity at Tacoma Arts Live's Rialto Theater. As it has been for the past quarter of a century, this production is directed by B. J. Douglas. It relies, once again, on musical direction by, and the lovely voice of, Megan Oberfield. But, this is the first year you can enjoy a holiday beer flight before or after the 7:30 p.m. That's right; stop by Peaks and Pints for Christmas Beer Flight 12.17.19: Christmas Revels.
Christmas Beer Flight 12.17.19: Christmas Revels
Iron Horse Cozy Sweater
4.5% ABV, 7 IBU
Some things you can never un-see, and a knitted reindeer sweater your grandma gave you is one of them. Iron Horse Brewery pokes fun at ugly holiday sweater with its delicious vanilla milk stout, Cozy Sweater. Full of holiday cheer but a little lighter on the alcohol this brew wears a dark and chocolaty beer foundation. Then comes the lactose adding a smooth and round mouthfeel, plus a touch of sweetness with vanilla beans. Expect a sweet latte flavor mixed with some other tastes of roasted malt and a little bit of vanilla.
Rogue Santa's Private Reserve
8.1% ABV, 22 IBU
Rogue Ales Santa's Private Reserve is a Belgian dark ale packed with tangerines and boysenberries. Rogue Brewmaster John Maier must have been listening to "The Twelve Days of Christmas" but hates drummers as this craft beer was brewed with 11 ingredients: Munich, Carahell, Special W, Caramalt and C-75 malts, Magnum and Rogue Farms Independent hops, Dark Belgian Candi Sugar, brown sugar, Imperial Workhorse Yeast and Free Range Coastal Water. The candi sugar enhances the sweet and tart characteristics of the fruit, and the beer takes a little bit from both sides of the list: it will put a little color on your cheeks, but finishes on the sweet side.
Wingman P-51 Kegnog
8% ABV, 31 IBU
The P-51 Porter was Wingman Brewers' first real beer recipe. "It goes back to 2008 when Derrick (Moyer) and I were home brewing," explains Thoburn. "At the time, Lazy Boy Porter from Everett was my favorite beer around, so we tried to emulate that. The beer was initially made for a friend's birthday and called Nalty's Tall Order Porter since he's a tall dude and asked us to make a Porter for his birthday party. The beer went over so well with our friends that it remains the only recipe we've never changed since Wingman started … with Washington-grown barley and Moxie valley hops." Wingman Brewers introduced a peanut butter and coconut porter to the Port Townsend Strange Brewfest several years ago. It was a huge hit. Wingman went on to separate the two flavors and release both as seasonals, followed by a string of variants, including Kegnog, which is P-51 brewed with eggnog.
Narrows Griswold Hazy IPA
6.8% ABV, 45 IBU
Narrows Brewing holiday beer, Griswold Hazy IPA, is brewed with 2-Row and malted wheat. This year, the Tacoma brewery decided to double dry hop with Citra resulting in one of our most creamy and hoppy batches to date for the hap, hap, happiest Christmas since Bing Crosby tap-danced with Danny f—ing Kaye.
Trap Door HoliDANK
8.5% ABV
Some people like bud, some people like beer, and some like both. Those who are a connoisseur of both have taken to attributing the term "dank," a term that means pungent, funky and odoriferous, to both good weed and very hoppy IPAs. Dank means an extremely overpowering odor that can smell like the citrus and pine flavors everyone loves, including Trap Door Brewing out of Vancouver, Washington. Their winter double IPA HoliDANK is dry hopped with classic dank hops Mosaic, Simcoe, Centennial, and Columbus for all the Piney, floral dankness.
Photo courtesy of pugetsoundrevels.org
---