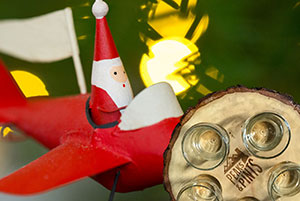 The Tacoma breweries support good causes in their communities throughout the year, but at the holidays they also band together to do more. When Douville Home Group and Peaks & Pints approached five such breweries with the Hoppy Holiday Food Drive concept, all five said "yes" faster than you can say "253," especially when they learned the Emergency Food Network would be the beneficiary. Indeed, 7 Seas Brewing, E9 Brewing, Narrows Brewing, Odd Otter Brewing and Wingman Brewers have been collecting canned goods all month, with the final food count and celebration party at 6 p.m. inside Peaks & Pints. The five breweries will have two beers on tap tonight. Drop by Peaks with non-perishable food and enjoy a holiday beer flight we call Christmas Beer Crosscut 12.16.19: Hoppy Holiday Food Drive.
Christmas Beer Crosscut 12.16.19: Hoppy Holiday Food Drive
Iron Horse Cozy Sweater
4.5% ABV, 7 IBU
Some things you can never un-see, and a knitted reindeer sweater your grandma gave you is one of them. Iron Horse Brewery pokes fun at ugly holiday sweater with its delicious vanilla milk stout, Cozy Sweater. Full of holiday cheer but a little lighter on the alcohol this brew wears a dark and chocolatey beer foundation. Then comes the lactose adding a smooth and round mouthfeel, plus a touch of sweetness with vanilla beans. Expect a sweet latte flavor mixed with some other tastes of roasted malt and a little bit of vanilla.
Unibroue Ale Gâteau Forêt-Noire
10.5% ABV, 20 IBU
Unibroue Brewmaster Jerry Vietz brewed a pastry Belgian strong dark ale — a 10.5-percent cold weather brew that tastes like Black Forest cake. The Ale Gâteau's nose is filled with dark roasted sweet malt, espresso beans, and baking spices, followed by creamy sweet maltiness, dark roast, spices and chocolate flavors. With a medium body and a fine, champagne-like effervescence, the roast, spice and chocolate flavors are complemented by delicate cherry accents and a slightly tart finish.
Rogue Santa's Private Reserve
8.1% ABV, 22 IBU
Rogue Ales Santa's Private Reserve is a Belgian dark ale packed with tangerines and boysenberries. Rogue Brewmaster John Maier must have been listening to "The Twelve Days of Christmas" but hates drummers as this craft beer was brewed with 11 ingredients: Munich, Carahell, Special W, Caramalt and C-75 malts, Magnum and Rogue Farms Independent hops, Dark Belgian Candi Sugar, brown sugar, Imperial Workhorse Yeast and Free Range Coastal Water. The candi sugar enhances the sweet and tart characteristics of the fruit, and the beer takes a little bit from both sides of the list: it will put a little color on your cheeks, but finishes on the sweet side.
Odd Otter Vicious Penguin
5.4% ABV, 22 IBU
A South Korean amusement park risked the fury of animal rights campaigners by making penguins wear Christmas costumes and parade for the amusement of onlookers. To visitors' delight, a family of nine jackass penguins were marched in fancy costumes through Everland, South Korea's most popular amusement park, in Yongin, near Seoul. Some were dressed as Santa, others as Christmas trees, and one, bizarrely, as a zookeeper. No doubt these penguins were pissed. If they could, they probably would drink Odd Otter Brewing's Vicious Penguin, a well-round porter aged on whole vanilla beans for a creamy vanilla flavor paired with notes of coffee, toasted nuts, and chocolate.
Wingman P-51 Kegnog
8% ABV, 31 IBU
The P-51 Porter was Wingman Brewers' first real beer recipe. "It goes back to 2008 when Derrick (Moyer) and I were home brewing," explains Thoburn. "At the time, Lazy Boy Porter from Everett was my favorite beer around, so we tried to emulate that. The beer was initially made for a friend's birthday and called Nalty's Tall Order Porter since he's a tall dude and asked us to make a Porter for his birthday party. The beer went over so well with our friends that it remains the only recipe we've never changed since Wingman started … with Washington-grown barley and Moxie valley hops." Wingman Brewers introduced a peanut butter and coconut porter to the Port Townsend Strange Brewfest several years ago. It was a huge hit. Wingman went on to separate the two flavors and release both as seasonals, followed by a string of variants, including Kegnog, which is P-51 brewed with eggnog.
---
Category:
Beer Line Blog
,
Craft Beer
,
Critical Drinking
,
Crosscut Flight
,
Events and Festivals
,
In The Cooler
,
Peaks and Pints Christmas Beer Flight
,
Peaks and Pints Lodge Meetings
,
Shop
,
Specials
,
Taps Takeovers