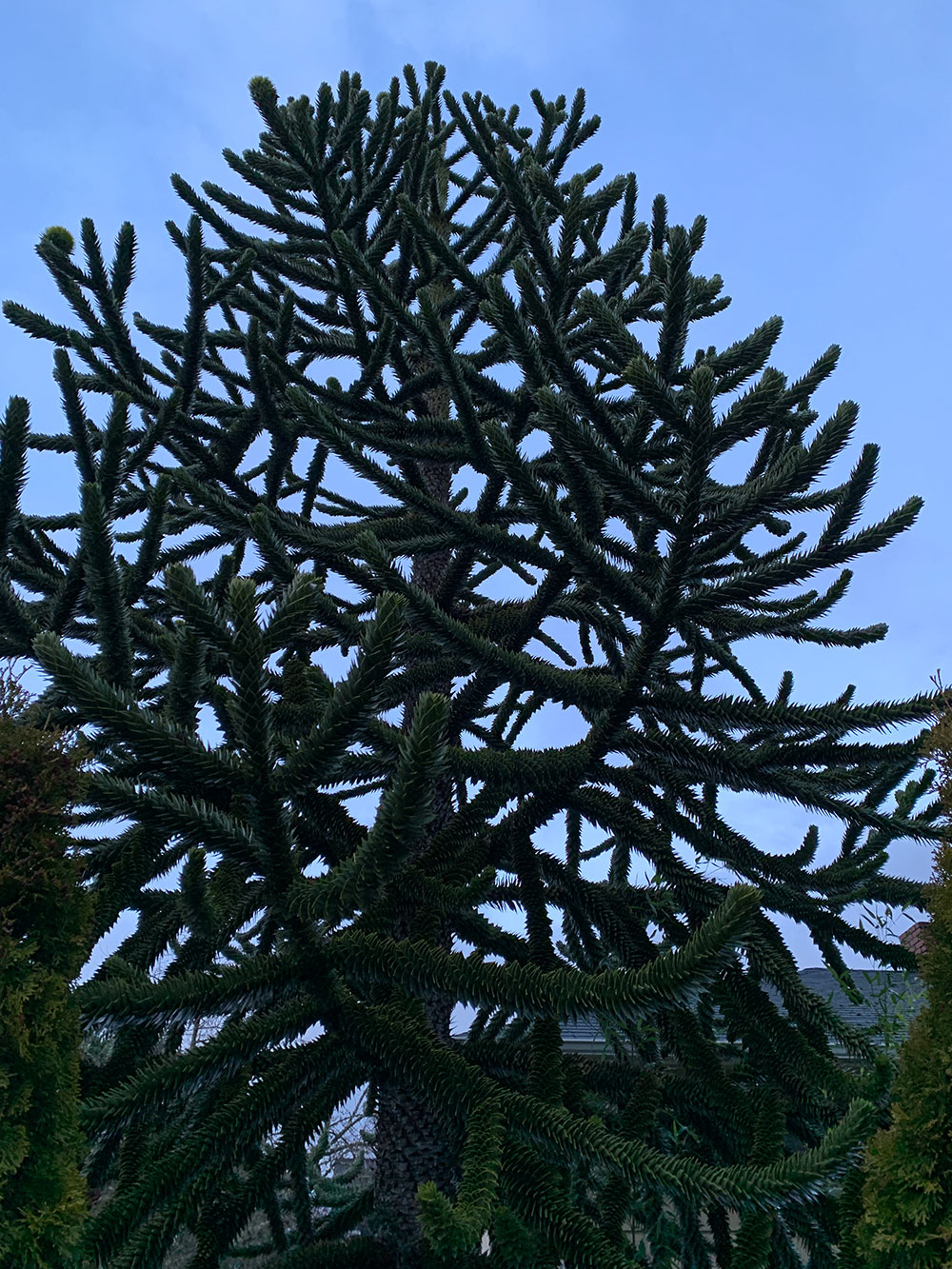 Tree-dimensional Tacoma: Monkey Puzzle Tree
"Monkey puzzle trees are super cool trees," explains Sarah Low, executive director of Tacoma Tree Foundation. "One of my favorites is at North 49th and Baltimore, which is on private property so you have to observe it from a little bit of distance. It has an awesome view of the Sound. This particular monkey puzzle serves as a reminder that many urban forest trees are on private property and it is up to property owners to care for and protect them."
Low speaks of Araucaria araucana, the monkey puzzle or Chile pine, an evergreen conifer native to Argentina and Chile, but fits Tree-dimensional Tacoma, Peaks & Pints' weekly Tacoma tree column. Inspired by our house beer, Kulshan Brewing Tree-dimensional IPA, Peaks & Pints branches out for a weekly look at terrific trees of Tacoma, in conjunction with our friends at Tacoma Tree Foundation. The TTF will be the guest speaker at Tacoma Green Drinks February 2020 gathering at 6 p.m. Thursday, Feb. 6 in Peaks & Pints' events room.
"The Tacoma monkey puzzle is a peculiar, or should I say exceptional, tree with spiraling needles along the branches and even the throughout the bark," continues Low. "The whole tree looks prehistoric and it is in fact a very ancient species. Sadly, they are endangered in their native habitat in the Andes where they are called 'pehuén'. It may be that one day Tacoma's monkey puzzle trees become a seed source for restoring the population on Chile.
The monkey puzzle tree was discovered in 1780 by a Spanish explorer and introduced to England by Archibald Menzies in 1795. Menzies was a plant collector and naval surgeon on Capt. George Vancouver's circumnavigation of the globe, traveling in Captain James Cook's old ship, HMS Discovery. He was served the seeds of this conifer as dessert while dining with the governor of Chile and later sowed them in a frame on the quarterdeck, returning home to England with five healthy plants. Side note: Capt. Vancouver explored and charted North America's northwestern Pacific Coast regions, including the Washington coast, on said voyage
After checking out the monkey puzzle tree on North Baltimore Street, technically in the town of Ruston, enjoy a Tree-dimensional IPA (6.8%) at Peaks & Pints. Kulshan Brewing collaborated with the Tacoma craft beer lodge on their house beer. Paying homage to the outdoor enthusiasts who join Peaks daily in Tacoma's Proctor District, Tree-dimensional IPA is the perfect beer to toast the powder, currents or trails, as well as reveal the sprains. Tree-dimensional IPA, or Tree-D, continues Peaks & Pints' love affair with old school piney IPAs, this time brewed with Simcoe, Idaho 7, CTZ, Centennial, and whole leaf Cascade in the hop back for all the pine, a little citrus, with a creamy mouthfeel and bitter finish. The Tree-D is now in cans, too!
Tacoma Tree Foundation is dedicated to educating, empowering, and supporting community members in neighborhood-based greening. In other words, the Tacoma organization strives for a greener, healthier, more connected Tacoma — which plants well with Peaks and Pints. We will host TTF fundraisers during Tree-dimensional IPA's reign as our house beer, which pours through October 2020.
LINK: Kulshan brews Peaks and Pints Tree-dimensional IPA
LINK: Tree-dimensional Tacoma: Sugar Maple
LINK: Tree-dimensional Tacoma: Tulip Poplar
LINK: Tree-dimensional Tacoma: Giant Sequoia
LINK: Tree-dimensional Tacoma: Pin Oak
LINK: Tree-dimensional Tacoma: Douglas Fir
LINK: Tree-dimensional Tacoma: Incense Cedar
LINK: Tree-dimensional Tacoma: Plume Sawara Cypress
LINK: Tree-dimensional Tacoma: Western Red Cedar
LINK: Tree-dimensional Tacoma: Ponderosa lemon hybrid
---