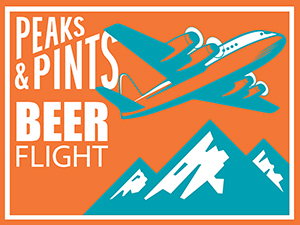 You don't have to pack a striped tote bag, slather your face with SPF 50, haul a cooler heavy with ice, or even think about flip flops in order to bring the beach home. And Peaks and Pints doesn't mean the layer of sand that ends up in the crevices of every tile and floorboard after the fact. Enter pineapple beer. Pineapple (Ananas comosus L.) belongs to the family Bromeliaceae and is one of the most important commercial fruits of the world. The pineapples fruits are normally eaten fresh or as fresh pineapple juice. Pineapple fruits are an excellent source of vitamins and minerals and supply arrays of color, flavor and texture to the pleasure of eating. That's all fine and dandy, but we're talking alcohol and pineapple in today's flight, Craft Beer Crosscut 1.22.20: Flight of Pineapple. We're talking beer brewed with pineapple then ran through a centrifuge and filter so pulp exits, but flavor and aroma remain, or beer aged with pineapple. We're talking some of these beers have strong pineapple flavor, and some more subtle notes. We're talking last one in the water is a rotten pineapple. Aloha!
Craft Beer Crosscut 1.22.20: Flight of Pineapple
Trap Door Funkanomics
6.4% ABV
Trap Door Brewing's Funkanomics is a mixed culture sour saison aged in wine barrels for one year, then dry hopped with Simcoe, Citra, and Nelson Sauvin, and conditioned with pineapple juice, for tart pineapple with ample fruity depth coming from the hops, plus a soft Brett character.
Ten Pin Groove Pineapple Wheat
5.8% ABV, 25 IBU
This American pale wheat beer is a result of a collaboration with Moses Lake band, Dimestore Prophets, and Ten Pin Brewing. The beer takes the easy drinking smoothness of an American wheat ale, just adds enough Mosaic hops to brighten it up with tropical fruit aromas, and takes it home with the juice from ten whole pineapples in every keg. It hits the nose with wheat bready malt and pineapple. Flavor is wheat malt and light pineapple juice with light grainy wheat in the finish with mild grassy hops. Medium bodied with an unexpected light creaminess.
Little Beast Treasure Hunter
4.7% ABV
Little Beast Brewing considered naming Treasure Hunter "Major Pineapple" because the hop flavor and aroma from the El Dorado and Simcoe dry hopping is bursting with pineapple, and some stone fruit. The Portland brewery's sour session IPA is their newest seasonal release. Treasure Hunter has pronounced tartness. The lemony acidity mingles nicely with the flavors of pineapple and stone fruit. It's easy drinking!
Grains of Wrath Double Doink
8.3% ABV
Portland beer bar Lombard House is where Philadelphia Eagles fans go to drink. A year ago, during the NFC Wild Card Game, the Eagles beat the Chicago Bears on a double doink missed field goal by the Bears' Cody Parker in the remaining seconds. Grains of Wraith Brewery co-owner and brewmaster Michael Hunsaker watched the fiasco at the Lombard House, although he wasn't thrilled with the result. Lombard Houser owner Brian Koch and Hunsaker had a good laugh as they collaborated on Double Doink double IPA with flavors and aromas of pineapple, tangerine, and pine.
Stone Viking Space Probe Double IPA
8.5% ABV, 80 IBU
Brewed at Stone Brewing's Napa Valley complex, the new Viking Space Probe Double IPA sports a subtle haze reminiscent of some far-off nebula, and further complimented with the juicy flavors of orange, Fuji apple and pineapple from Ella and Citra hops, this beer is most definitely out of this world.
---