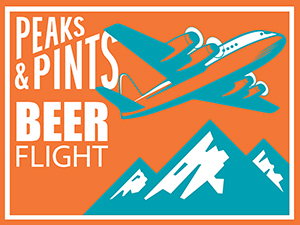 According The Oxford Companion to Beer, "the term 'brown ale' can easily be confusing, or at least not much more useful than the term "red wine.'" That confusion, however, is part of its allure, as the style leaves brewers plenty of room for interpretation. The brown ale has origins in 17th century England, where it was a name given to a dark-colored, mild ale. The American Brown is a style that home brewers have helped define over the past 30 years. The contemporary American Brown is flavorful, balanced and medium bodied, with more overall character than its early English cousins. Recently, Peaks and Pints has noticed browns following the path of pastry stouts — sweet, rich, dessert-like. Today, Peaks and Pints presents Craft Beer Crosscut 1.23.20: Flight of Pastry Browns.
Craft Beer Crosscut 1.23.20: Flight of Pastry Browns
Rogue Hazelnut Brown Nectar
5.6% ABV, 33 IBU
Oregon produces nearly 99 percent of all American hazelnuts. It's the official state nut. It also boasts 230 craft breweries. Naturally, these local goodies make their way into a few beers around the Beaver State, including Rogue Ales' Hazelnut Brown Nectar. At 1993's American Homebrewers Association convention, Rogue Brewmaster John Maier tasted a brown ale with an unusual twist. His pal Chris Studach had added hazelnuts, an addition that later inspired the Oregon brewery to create the rich, malty, and medal-winning Hazelnut Brown Nectar. Its aroma is hazelnut, strong toasted malts, caramel and chocolate. Flavor opens very mild and thin, developing sweet hazelnut notes mixed with some toasted malt.
Urban Family Pecan Joy
5.7% ABV
Urban Family Brewing took a brown ale and added pecans, Madagascar vanilla beans, and brown sugar. This dark colored winter sipper hits the nose with pecan pie, followed by a big hit of vanilla, then roast for days.
DuClaw Dirty Little Freak
5.8% ABV, 30 IBU
DuClaw Brewing Dirty Little Freak Coconut Caramel Chocolate Brown Ale, first brewed in 2014, takes the traditional American brown ale and gives it a sensual new twist — coconut. This medium-bodied, brown is a feast for the senses from its dominant blend of warm, roasted malt, coconut, caramel, and chocolate flavors barely restrained by a gentle hop bite, to its tantalizingly satisfying finish. Coconut gets its freak on the most, followed by caramel and chocolate.
 Ommegang Game of Thrones: My Watch Has Ended
8% ABV
Brewery Ommegang's latest Game of Thrones beer, My Watch Has Ended, is an imperial brown ale brewed with two-row base malt, specialty grains such as oat flakes and chocolate malt, plus maple syrup and fenugreek, an herb with a maple-like aroma and flavor. Hopped with Hallertau Magnum and Styrian Golding varietals and fermented with an English ale yeast, with aromas of sweet maple and caramelized sugar, the beer sports notes of cocoa and toffee and a smooth, velvety mouthfeel finish dry, with gently smoldering roast.
Founders Underground Mountain
11.9% ABV, 30 IBU
Founders Brewing is an imperial brown ale brewed with "earthy" Sumatra coffee before being aged in bourbon barrels for one year in caves below Grand Rapids, Michigan. A team of malts complement the bold Sumatra coffee perfectly, while time spent immersed in oak creates layers of depth and complexity. It's a "celebration of the barrel, the bean and everything in between."
---