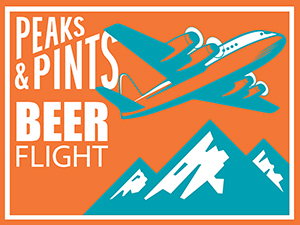 India Pale Ales emerged in the 1700s when British brewers found a market for hoppy beers in India and territories of the British Empire. In 1996, BridgePort launched the first IPA in the Pacific Northwest igniting taste buds with an intensity of hops never experienced before. A few years later, the American spin on IPAs began to capture widespread appeal in the U.S. But the past few years have seen huge changes in the IPA world. Bitter, dank, piney IPAs have been replaced by a new breed of citric, tropical and yeast-hazed brews. The best IPAs brewed today bear almost no resemblance to the ones brewed even four to five years ago. Today, Peaks and Pints takes you on an IPA style tour through our beer flight, Craft Beer Crosscut 1.21.20: Flight of IPA Styles.
Craft Beer Crosscut 1.21.20: Flight of IPA Styles
Kulshan Tree-dimensional IPA
6.8% ABV
The classic American IPA showcases a balanced hop and malt profile dominated by New World hop varietals and pale malts, is often dry-hopped and exudes a citrus, pine and resinous hop character. Meet Kulshan Brewing Tree-dimensional IPA, our house beer for 2020. Paying homage to the outdoor enthusiasts who join Peaks daily in Tacoma's Proctor District, Tree-dimension IPA is the perfect beer to toast the powder, currents or trails, as well as revealing the sprains. Tree-dimensional IPA, or Tree-D, continues Peaks & Pints' love affair with old school piney IPAs, this time brewed with Simcoe, Idaho 7, CTZ, Centennial, and whole leaf Cascade in the hop back for all the pine and citrus, plus creamy mouthfeel and bitter finish.
Firestone Walker Union Jack
7.5% ABV, 70 IBU
The West Coast IPA is an aggressively hopped American IPA intent on wreaking havoc on imbibers' palates. Absurd amounts of hops go into the boil, creating excessive bitterness. Meet Firestone Walker Union Jack. When Firestone Walker elected to use the catch phrase "Passion for the Pale," they were telling the truth. This double dry-hopped IPA has become a West Coast IPA standard by which many others within the style might be measured. A beauteous grapefruit and citrus aroma is achieved through multi-leveled hopping that involves 4-pounds per barrel mix of Warrior, Simcoe, Cascade, Centennial, Amarillo and Chinook. Citrusy, floral, pungent, and powerful, the masterful blend of American hop characters is simply unlike any other. Even with its 7.5 percent ABV, alcohol isn't actually apparent in the taste; in fact, there's nothing weighty or overwhelming about this beer. It's elegant, light, and palatable, and finishes dry and perfectly clean.
Block 15 Sticky Hands
8.1% ABV, 100 IBU
The Northwest IPA fits very well into the American-style IPA category and focuses on American hops characteristics like big juicy citrus in the aroma and flavor that is often balanced by some sweet, caramel malt character. The Northwest IPA is not as bracingly bitter as the West Coast style due to the lack of malt character and low residual sweetness. Meet Block 15 Brewing's Sticky Hands. Block 15 Brewing sits heart of downtown Corvallis, only a few blocks from Oregon State University. The brewery's name hails from Corvallis' previous incarnation as Marysville and the old plat map location from the old town. In late 2011, homebrewers Nick and Kristen Arzner opened the brewery and restaurant serving beers true-to-style with ingredients imported from different parts of the world, along with all the Willamette Valley produced grains, hops, fruits, herbs and yeast. Its Sticky Hands double IPA is a "Hop Experience Ale" featuring ample additions of sticky, resinous, lupulin packed hop buds grown in the Pacific Northwest — although the hop bill can't be found on the Internets. Sticky Hands begins with an aromatic blast of tropical fruits, citrus and dank herb; transitions into luscious hop flavor; and ends with a balanced bitter finish, gently propped up by pale malted barley and fermented with Block 15's privately banked Brewers yeast.
Skookum Splatter IPA
6.2% ABV
The New England IPA is a fantastic introduction to what hops can do beyond bittering a beer. Hazy to opaque in color, these beers are juicy with abundant notes of tropical fruits and citrus, and they're low in bitterness since most of the hops are used in dry-hopping. Meet Skookum Brewery's Splatter IPA. Utilizing relatively high amounts of flaked oats has become a popular way to add a soft, elegant mouthfeel to New England style pales and IPAs, an inclusion also said to contribute to this style's notably hazy appearance and sought after "juicy" character. Skookum Brewery's Splatter is an oat heavy New England-style, juicy IPA with a touch of spelt. Splattered with a blowout of Rakau, Motueka, Denali and El Dorado, Splatter sports notes of sticky papaya, mango, and zesty lime candies.
Fat Orange Cat Sweet Jane Key Lime
7.2% ABV
Milkshake or smoothie IPAs one-up the New England IPA by incorporating loads of oats and lactose for a rich, shake-like quality. Cloudy as a rainy day and velvety in texture, these dessert beers push the limits with sweet adjuncts like vanilla, fruit, cereal or cookies. Meet Fat Orange Cat Beer Co.'s Sweet Jane Key Lime. Fat Orange Cat is a small, seasonal farm brewery in East Hampton, Connecticut, but many of their craft beers, including Sweet Jane Key Lime milkshake IPA, is brewed and canned at Dorchester Brewing in Boston, Massachusetts. Fat Orange Cat's Sweet Jane Key Lime is rich, creamy, fruity, milkshake IPA with nice green citrus, banana, fresh cream, and round tropical, dank, earthy/fruity dry-hop notes. It's vanilla from top to bottom, but complex due to hops and fruit.
---