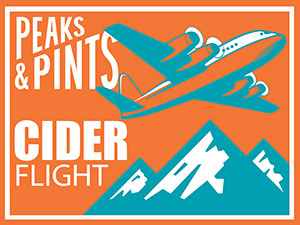 Martin Luther King Jr.'s "I Have a Dream," speech at the March on Washington in August 1963 serves as the touchstone for today's annual King holiday. He brought hope to untold people both black and white. Remembering his dream matters more than ever today as we witness, still, the openly mocking and demeaning of women, blacks, Islam, and immigrants while ignoring human rights, denying science and climate change, supporting violence and conspiracy, and taking away the health care of millions of Americans. It's Monday, which means in addition to Martin Luther King Jr. Day, it's Peaks and Pints weekly cider flight. We suggest attending the Celebrate Martin Luther King Jr. event at the Washington State History Museum from 10 a.m. to 5 p.m. then stop by for Peaks and Pints Monday Cider Flight 1.20.20: MLK Day. WSHM events include Tacoma Arts Live presents a Civil Rights Tour performances of Get on the Bus, at 1:30 and 3:30 p.m., crafts and the exhibit "Men of Change: Power. Triumph. Truth.
Peaks and Pints Monday Cider Flight 1.20.20: MLK Day
Double Mountain Dry Cider
6.7% ABV
Double Mountain had long toyed with releasing their own hard cider, occasionally featuring housemade cider on at the taproom made from owner Matt Swihart's own apples. The brewery finally releases its own Dry Cider in December 2017, blending freshly harvested heirloom apples from Double Mountain Orchards and Hood River Newtowns, Braeburns, and Hanners for old world complexity. Double Mountain gave it plenty of time to dry out and develop the aromas of juicy pear, lychee, green fruit, and chamomile.  It finishes tart, crisp, dry and quenching. 
Finnriver Apple Abbey
6.5% ABV
Made from a select blend of Washington dessert apples from the Yakima Valley, including Jonagold, Cameo, Gala and Honey Crisp, Finnriver Cidery's Apple Abbey is fermented in two batches, with one strain of Belgian-style abbey yeast, at high temperatures. Combined, these ferments present the archetypal Belgian beer nose of tropical fruit with hints of spice and pepper. Lingering sweetness from the apples brings out tropical aromas of ripe banana, with hints of pepper and clove spice. A low acidity allows the lees to wander and create a gentle body. Expect a nutty and bread-like finish.
Tieton Cider Lavender Honey
6.5% ABV
In 2008, Craig Campbell and his wife, Sharon, began experimenting with making cider from dessert apples grown in their 400-acre commercial fruit orchards. Despite naysayers who warned that cider apples required a maritime climate, Craig also planted a two-acre test orchard with 25 varieties of cider apples. Today, their two-acre experiment expanded into Cider View, a 30-acre "high-density" cider orchard. In their commercial cidery, Tieton Cider Works, they blend American heritage, English and French cider varietals with dessert apples to capture the best of what each variety brings to the bottle: sweetness, acidity, tannin and aroma. Their Lavender Honey Cider is made with locally sourced honey and whole lavender buds. The lavender in this cider is slight but it's there and the honey gives it a great mouthfeel and balance.
2 Towns Ciderhouse The Bad Apple
10.5% ABV
2 Towns Ciderhouse's The Bad Apple is an imperial style cider, fermented with Willamette Valley meadowfoam honey and aged on Oregon white oak. The result is a semi-dry, apple-forward cider with rich apple, honey, vanilla, and oak notes. Expect a long finish with lingering tartness and acidity. Don't expect to taste the alcohol. It's well hidden, which mostly presents as warmth.
Winsome Oaked Chipotle
6% ABV
Leroy Radford earned his winemaking chops at Mark Ryan and Baer wineries before launching Flying Dreams Winery in 2008. The winemaker began experimenting with cider, and in 2014, he opened Woodinville Ciderworks, which recently became Winsome Ciderworks. Using only Washington apples, he now produces seven different cider flavor profiles, from Asian Pear and Peach Ginger to Pomegranate Cherry and Oaked Chipotle, which anchors today's cider flight. Winsome Oaked Chipotle offers subtle heat from roasted peppers balanced with caramel sweetness and light smoke notes.
---