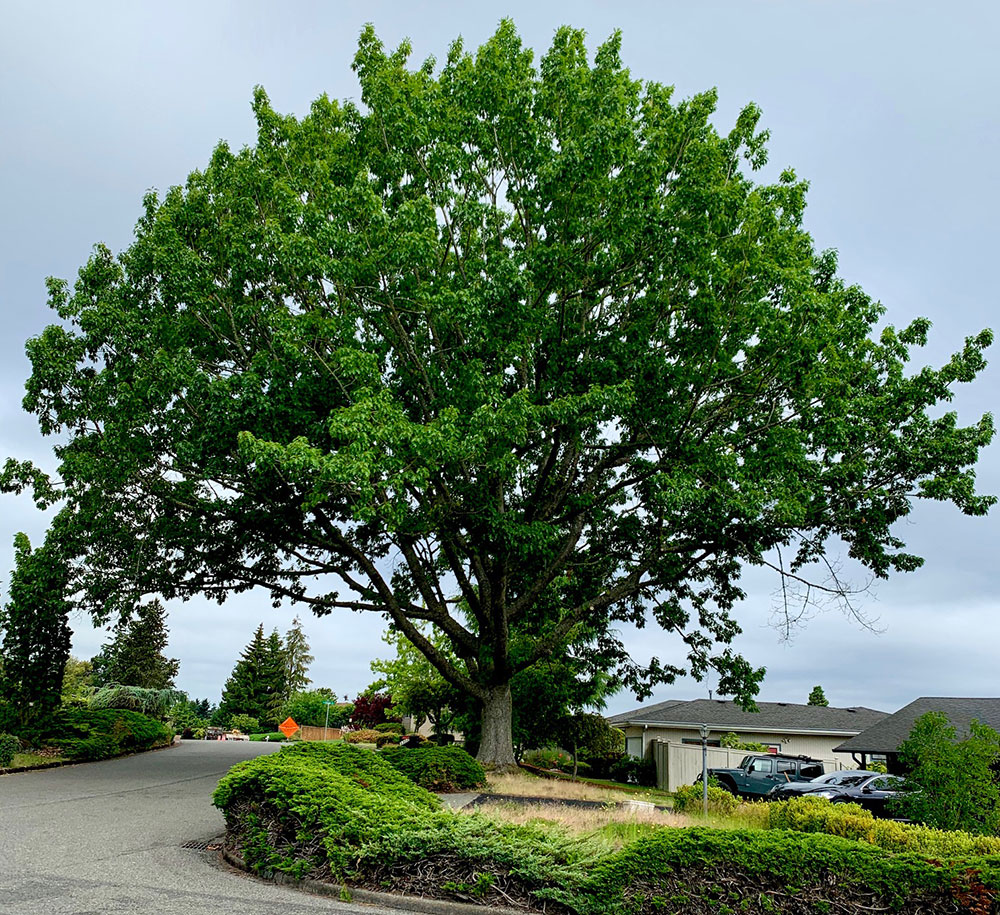 Tree-dimensional Tacoma: Northern Red Oak
"I recently happened upon an incredible northern red oak, Quercus rubra, on Viewpoint Street near North Visscher in Tacoma's West End. The stretched out canopy of this oak is simply beautiful," says Sarah Low, the executive Director of the Tacoma Tree Foundation. "Oaks, red oaks especially, support hundreds of species — some say thousands of species — such as insects, birds, amphibians, and mammals. The insects include the caterpillars that migratory songbirds depend on in order to recover from their journey and to have energy to make a nest for chicks. I have felt a lot of gratitude for the birds this spring, which always leads me to feel grateful for the caterpillars, and the sunshine, and the rain, and, of course, the trees. All living beings are interconnected and oaks are a beautiful reminder."
This red oak close to Vassault Park is this week's Tree-dimensional Tacoma, Peaks & Pints' weekly Tacoma tree column. Inspired by our house beer, Kulshan Brewing Tree-dimensional IPA, Peaks & Pints branches out for a weekly look at terrific trees of Tacoma, in conjunction with our friends at Tacoma Tree Foundation.
The word Quercus likely comes from a Celtic word, which meant "beautiful tree." The "red" in the name is likely due to the red fall color of the leaves, as well as reddish petioles (what connects leaves to twigs) and reddish color of the interior wood. There are two main sub-groups of oak trees in the world: red and white. The main distinction between these groups is a single-leaf characteristic. Specifically, the red oak group has pointed lobes with tiny bristles at the tip of each lobe. White oak trees have more rounded lobes without bristles. Also, red oak acorns take two years to mature on a tree while white oak acorns mature in a single year.
Check out this northern red oak, and then head for a growler fill of Tree-dimensional IPA (6.8%) at Peaks & Pints. Kulshan Brewing collaborated with the Tacoma craft beer lodge on their house beer. Paying homage to the outdoor enthusiasts who join Peaks daily in Tacoma's Proctor District, Tree-dimensional IPA is the perfect beer to toast the powder, currents or trails, as well as reveal the sprains. Tree-dimensional IPA, or Tree-D, continues Peaks & Pints' love affair with old school piney IPAs, this time brewed with Simcoe, Idaho 7, CTZ, Centennial, and whole leaf Cascade in the hop back for all the pine, a little citrus, with a creamy mouthfeel and bitter finish.
Tacoma Tree Foundation is dedicated to educating, empowering, and supporting community members in neighborhood-based greening. In other words, the Tacoma organization strives for a greener, healthier, more connected Tacoma — which plants well with Peaks and Pints. We will host TTF fundraisers during Tree-dimensional IPA's reign as our house beer, which pours through October 2020.
LINK: Kulshan brews Peaks and Pints Tree-dimensional IPA
LINK: Tree-dimensional Tacoma: Sugar Maple
LINK: Tree-dimensional Tacoma: Tulip Poplar
LINK: Tree-dimensional Tacoma: Giant Sequoia
LINK: Tree-dimensional Tacoma: Pin Oak
LINK: Tree-dimensional Tacoma: Douglas Fir
LINK: Tree-dimensional Tacoma: Incense Cedar
LINK: Tree-dimensional Tacoma: Plume Sawara Cypress
LINK: Tree-dimensional Tacoma: Western Red Cedar
LINK: Tree-dimensional Tacoma: Ponderosa lemon hybrid
LINK: Tree-dimensional Tacoma: London planetrees
LINK: Tree-dimensional Tacoma: "Vanderwolf's Pyramid" limber pine
LINK: Tree-dimensional Tacoma: Pacific Madrone
LINK: Tree-dimensional Tacoma: Bradford callery pear
LINK: Tree-dimensional Tacoma: Birth Trees
LINK: Tree-dimensional Tacoma: Red Maple
LINK: Tree-dimensional Tacoma: Magnolias
LINK: Tree-dimensional Tacoma: Western Hemlock
LINK: Tree-dimensional Tacoma: Yoshino Cherry
LINK: Tree-dimensional Tacoma: Weeping Willow
LINK: Tree-dimensional Tacoma: Dunkeld Larch
LINK: Tree-dimensional Tacoma: Flowering Dogwood
LINK: Tree-dimensional Tacoma: Sequoiadendron Giganteum "Pendulum"
LINK: Tree-dimensional Tacoma: Cimmaron Ash
LINK: Tree-dimensional Tacoma: Scarlet Oak
LINK: Tree-dimensional Tacoma: Bigleaf Maple
LINK: Tree-dimensional Tacoma: Garry Oak and Chief Leschi
---