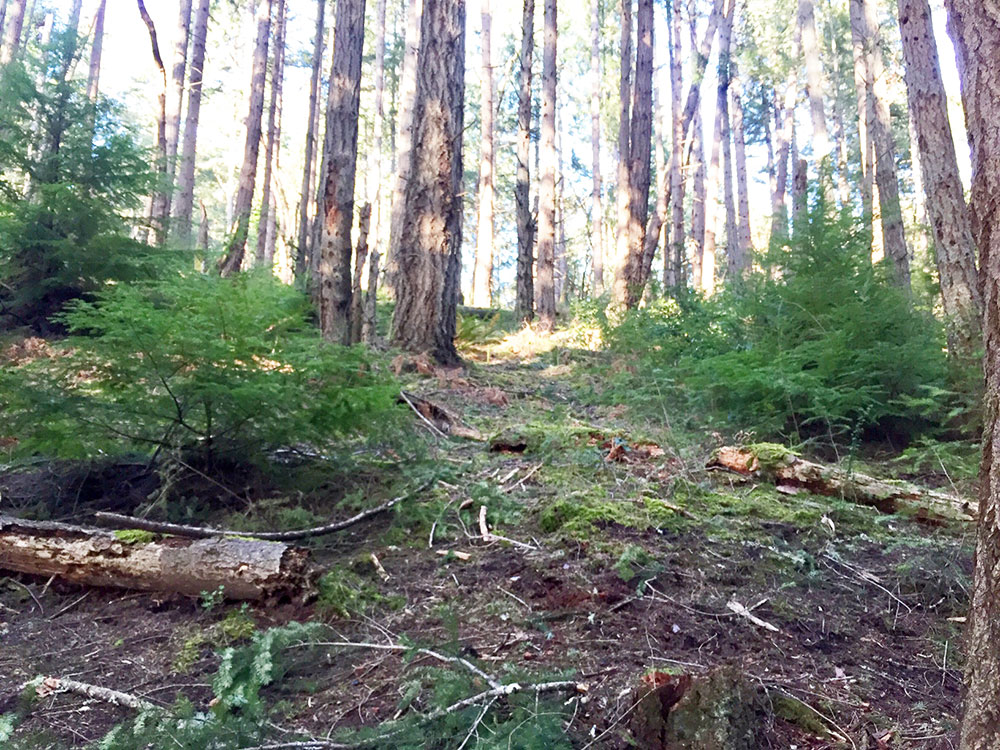 Tree-dimensional Tacoma: Western Hemlock
"Like many people, my family and I have taken to the outdoors more frequently than usual this month," says Sarah Low, executive director of the Tacoma Tree Foundation. "On one of our most recent walks through Point Defiance Park, we happened upon a grove of young western hemlocks, Tsuga heterophylla, under a canopy of Douglas fir. Large trees capture our attention so easily because of their sheer size inspiring awe and, sometimes, fear. But, young trees like these hemlocks can be easily disregarded as unremarkable green stuff."
Tsuga heterophylla, the western hemlock or western hemlock-spruce, is a species of hemlock native to the west coast of North America, as well as this week's Tree-dimensional Tacoma, Peaks & Pints' weekly Tacoma tree column. Inspired by our house beer, Kulshan Brewing Tree-dimensional IPA, Peaks & Pints branches out for a weekly look at terrific trees of Tacoma, in conjunction with our friends at Tacoma Tree Foundation.
"Western hemlocks prefer the cool, damp soils of the Pacific Northwest forests and often grow out of the stumps of fallen trees," continues Low. "Before the fallen fir has even finished decomposing, the hemlock is rapidly growing, its roots spilling over the sides of the stump, the tippy top of the tree, or apical meristem, seeking out the little bits of sunlight shining onto the forest floor. This stump-growing habitat of western hemlocks fills me with a sense of hope and reminds me that growth is continuous and completely dependent on others."
After checking out the western hemlocks near North Salmon Beach Drive and North Mildred Street at Point Defiance Park, fill a growler of Tree-dimensional IPA (6.8%) at Peaks & Pints. Kulshan Brewing collaborated with the Tacoma craft beer lodge on their house beer. Paying homage to the outdoor enthusiasts who join Peaks daily in Tacoma's Proctor District, Tree-dimensional IPA is the perfect beer to toast the powder, currents or trails, as well as reveal the sprains. Tree-dimensional IPA, or Tree-D, continues Peaks & Pints' love affair with old school piney IPAs, this time brewed with Simcoe, Idaho 7, CTZ, Centennial, and whole leaf Cascade in the hop back for all the pine, a little citrus, with a creamy mouthfeel and bitter finish. The Tree-D is in cans, too!
Tacoma Tree Foundation is dedicated to educating, empowering, and supporting community members in neighborhood-based greening. In other words, the Tacoma organization strives for a greener, healthier, more connected Tacoma — which plants well with Peaks and Pints. We will host TTF fundraisers during Tree-dimensional IPA's reign as our house beer, which pours through October 2020.
LINK: Kulshan brews Peaks and Pints Tree-dimensional IPA
LINK: Tree-dimensional Tacoma: Sugar Maple
LINK: Tree-dimensional Tacoma: Tulip Poplar
LINK: Tree-dimensional Tacoma: Giant Sequoia
LINK: Tree-dimensional Tacoma: Pin Oak
LINK: Tree-dimensional Tacoma: Douglas Fir
LINK: Tree-dimensional Tacoma: Incense Cedar
LINK: Tree-dimensional Tacoma: Plume Sawara Cypress
LINK: Tree-dimensional Tacoma: Western Red Cedar
LINK: Tree-dimensional Tacoma: Ponderosa lemon hybrid
LINK: Tree-dimensional Tacoma: London planetrees
LINK: Tree-dimensional Tacoma: "Vanderwolf's Pyramid" limber pine
LINK: Tree-dimensional Tacoma: Pacific Madrone
LINK: Tree-dimensional Tacoma: Bradford callery pear
LINK: Tree-dimensional Tacoma: Birth Trees
LINK: Tree-dimensional Tacoma: Red Maple
LINK: Tree-dimensional Tacoma: Magnolias
---