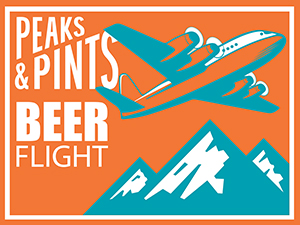 Waffles and beer, oh yes. Crusty, latticed, thick golden food discs, and a frothy pint o' brew — a wonderful way to start the day, end it, or pepper a particularly plodding stretch of permanence. Any excuse is a good excuse when it comes to beer and waffles. Today is National International Waffle Day. Wait, what?! Indeed, while waffles date back to the 1300s in Greece, International Waffle Day originated in Sweden. It's called Våffeldagen. The holiday coincides with the Feast of the Annunciation. This day was also considered the start of spring in Sweden and Europe.  It became a custom for Swedish families to celebrate the two events by making waffles on this day. Anway, Peaks & Pints continues our to-go flights with Peaks and Pints Pilot Program: Waffle Beer On The Fly — five bottled and canned beers associated with waffles and breakfast.
Peaks and Pints Pilot Program: Waffle Beer On The Fly
The Bruery Meemaw's Famous Sticky Bun Stout
9.2% ABV, can

A heavenly aroma from Meemaw's kitchen fills the house, and your nose guides you to a pan of piping hot, golden brown sticky buns, oozing sugary cinnamon deliciousness topped with roasty pecans. The Bruery's imperial stout serves up a delectable tribute to these famous treats, brewed with grandma-approved helpings of maple syrup, cinnamon, and pecans.
Evil Twin Excuse Me, Do You Speak French Toast?
13% ABV, can

Brewed at Twelve Percent in North Haven, Connecticut, Evil Twin's Excuse Me, Do You Speak French Toast? is an imperial stout brewed with maple and cinnamon. Pours dark brown with a thin head. It wakes you up with chocolate, earthy malt, vanilla, syrup, and booze aroma. The big body arrives with soft cinnamon, chocolate, brown sugar and caramel maple. It's sweet, thick and sticky.
Skookum Barrel Aged Breakfast Stout
11% ABV, 50 IBU, bottle

Breakfast stouts didn't receive their name because it is an essential part of a balanced breakfast, but rather it is made from brewed coffees and flaked oats, which themselves are classic breakfast elements. Skookum Brewery brewed an oatmeal milk stout with maple syrup, aged it in bourbon barrels and finished it on Camano island coffee beans and whole vanilla. Sweet malt hits the nose with a fair amount of barrel notes ending with a pleasant coffee aspect. The flavor leans toward sweet coffee with a moderate barrel influence — think brown cow cocktail. It finishes with a mild boozy character.
Avery Double Barrel Maple Stout
15.3% ABV, bottle

Avery brewed an imperial stout, aged it in bourbon barrels, then aged it in maple syrup barrels and dosed with coffee, cinnamon, and extra maple syrup for a shimmering black body with a darker beige head. Double Barrel Maple Stout hits the nose with strong maple and wood with supporting earth, bourbon, coffee, and fudge. The flavor continues on this theme — maple, bourbon and wood leading with fudge and coffee jumping up more, but has a sharp infusion near the finish of cinnamon.
Decadent Coconut French Toast
8.6% ABV, can

In 2016, mad scientist brewer Paul Pignataro founded Decadent Ales, a nanobrewery located in Mamaroneck, New York, and is distributed by Twelve Percent Beer Project, the brewery arm of Twelve Percent Imports, as well as contract-brews at Thimble Island Brewing Co. and Dorchester Brewing Co. in Connecticut and Massachusetts. His Coconut French Toast is a double IPA brewed with Vermont maple syrup, coconut, caramelized sugars, and cinnamon, as well as Simcoe and Mosaic hops. Expect big maple syrup, vanilla, with light coconut and citrus rind.
---